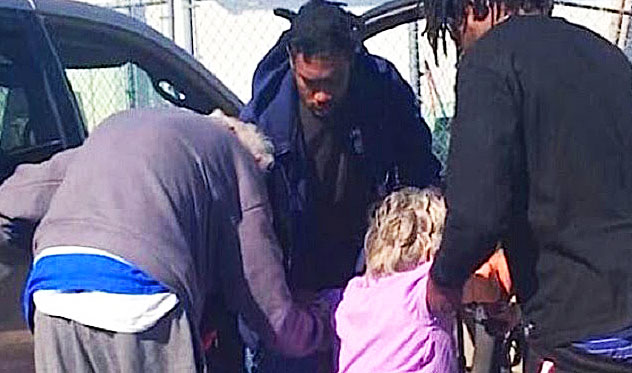 image via – youtube.com
Many elderly people want to remain as independent and self-sufficient as they possibly can, even when they know that they might need a little extra help.  They hate to admit that they can't do what they used to be able to, which is understandable because no one really does, no matter what age they may be.  
Rose and David Griest were adamant about not giving up any of their independence and they didn't want to rely on others.  Rose, who was 89 and David, who was 100 years old, shrugged off offers from their family and friends to help whenever they might need it.  One day Rose had to go to the doctor and she and David decided they could get themselves to her appointment. After visiting the doctor's office they headed home and on the way back they noticed that they needed to get gas.  Not only that, they both had to use the restroom, so they pulled over at a nearby gas station and parked at the pump.  
Rose and David headed for the restrooms and on the way back they ran into trouble.  Both of them were exhausted from the whole trip and were struggling to make it back to their vehicle.  Rose was using a walker and was visibly shaking, it seemed like she was about to fall over. A police officer on duty, Kanesha Carnegie, was across the street nearby when she noticed the pair clearly having problems walking across the gas station parking lot.  She decided to head over and help them out, but on the way, she noticed that three young men were following right behind the elderly couple.
The men were running towards Rose and David and so officer Carnegie whipped out her cell phone and started recording.  She knew nothing bad was happening, instead she believed that she was watching something amazing unfold. The three men surrounded the elderly couple, making sure that if either one fell, they could catch them right away.  They very slowly and gently assisted them back into their car, being completely careful and respectful.  
The men happened to be a trio of rappers from Orlando who were at the gas station that day picking up some snacks.  Joc Koe Stoe, Marty, and Freddy G were inside when they glanced outside and noticed the elderly couple struggling and immediately rushed over to help them.  In a Fox 5 interview, Marty later told the reporter that "I kept thinking, 'She could have been by grandmother.'"  
Without hesitating the young men had dropped what they were doing that day to help the elderly couple in need.  Officer Carnegie shared the heartwarming footage of their selfless act online and it quickly went viral with people happy to see what a difference a simple act of kindness can make. 
Watch the video below for the full story:
Please SHARE This With Family and Friends