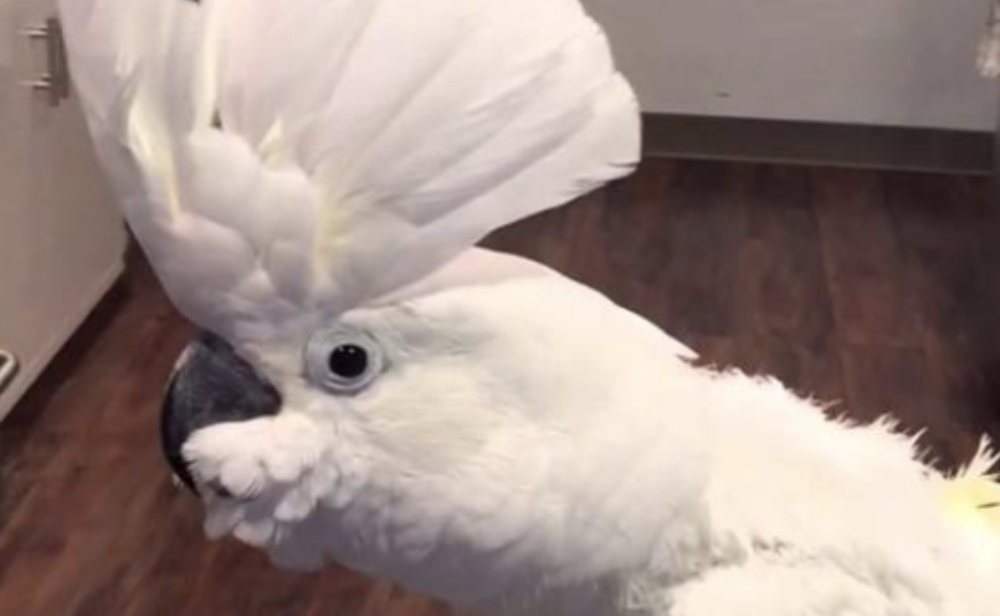 image via – facebook.com
Parrots are among the smartest species of birds in the world. The sometimes colorful, always clever, birds have long captured the imaginations and hearts of people everywhere. They are often quite playful and fun to interact with, and much more complex than a typical, average bird. In fact, parrots are anything but simple and they require a lot of attention, love, and training to truly thrive and be all that they can be. The beautiful snow white cockatoo in this video is proof of how energetic and fun loving parrots truly are.
Cockatoos are a sub-species of parrots and are recognizable by their less colorful plumage and showy head crests. The one seen here is named Louie the cockatoo, and he's happily rocking out to the 70's hit "Shake Your Groove Thing" by Peaches & Herb in this entertaining clip uploaded by Teresa Buxton to YouTube.
The boogieing bird bobs and dances to the catchy tune while his female friend cheers him on from off camera. The sprightly little fellow dances to the disco beat just as good, if not even better, than the dancers on Soul Train! He struts back and forth while pulling off some sweet moves and it's awesome to see this bird's energetic, hippity-hoppity display.
It's safe to say this parrot has a superb natural talent and excellent dancing abilities. At several points Louie raises his stunning head crest and fans it out to show it off completely in all it's glory. He seems to be having a fun time and appears to get really into the music.
His bird dance will make anyone smile and brighten the day! Interestingly, cockatoos love to dance and the beautiful birds share something in common with music history. They bear a striking resemblance to the king of rock and roll, Elvis himself, with their prominent feathered head crests.
The crests look like the popular 1950's men's hairstyle, the type that Elvis rocked, called the pompadour. All 21 species of cockatoos, which are parrots, have the movable head crest which is usually raised when the birds come in to land or when they are aroused.
Going off that information, it's likely that Louie the cockatoo was excited by the music and he just had to rock out to it. It seems like he even manages to keep pace with the tune and overall he puts on a great show!
Please Share With Family and Friends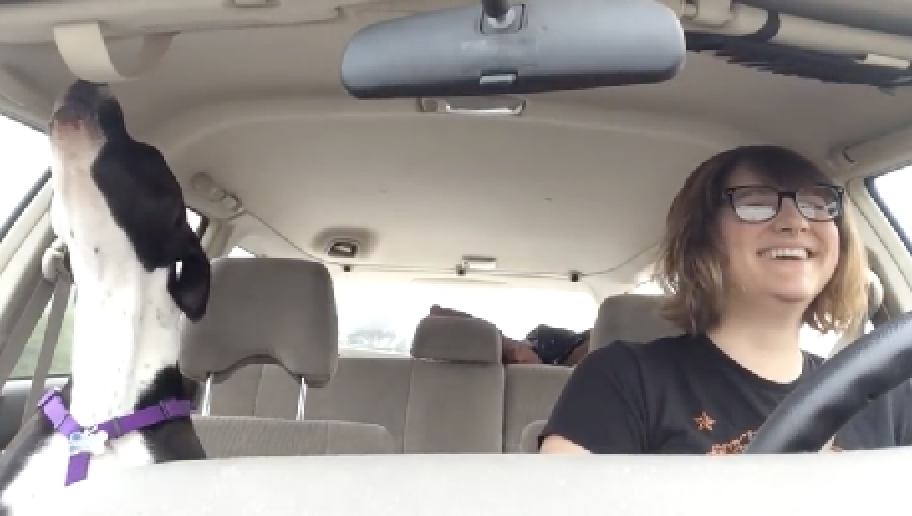 image via – youtube.com
Singing in the car is by far one of the best places to belt out a tune. The sound is contained, the acoustics aren't that bad, and it helps to pass the time. The only thing better than singing your favorite song in the car is singing it alongside your best friend in the whole entire world in your car!
For one girl, that means taking her adorable dog named Honey along for a ride. The sweet black and white spotted pup seems to know what he's in for because he doesn't hesitate to jump right into the passenger seat. It's as if he's been waiting in eager anticipation for this moment to finally come.
As the pair cruise down the street the girl looks over and gives her dog a sweet smile because she knows what's coming up next! Seconds later Michael Jackson's hit song Will You Be There comes over the speakers and when Honey hears the opening chords her face lights up. The song, which was famously featured in the Free Willy movie soundtrack, is her absolute favorite and the dog goes wild whenever it's played.
When you hear her sing, you may think she's kind of off key at first, but she's just warming up her vocals and getting started. After a few moments Honey begins to find her voice and before you know it she's howling along in sweet, harmonic unison to the beat. Her voice is one that only a mother could love, and that's what makes it even more special. When you look over at Honey's owner, it's clear that she loves it when her dog sings. He's by her side, happy, and just spending one on one time and being there with him makes her happy too!
Check it out, pass it along to all your animal lover friends and family, enjoy!
Please Share This With Family and Friends 🙂

The hysterical video you are about to watch below, is just the thing to honor dads whose lives get transformed when they become family men.  They men perform an original song called "DAD'S LIFE", in which they rap about the "uncool" stuff they do, making them all the cooler for their ability to be self-deprecating in such a clever way.
This bit is laugh-out-loud funny, from the lyrics, to the physical humor of them barbecuing, on lawnmowers, being tough about their gardening etc.  These four dads dressed in their tucked in polos, dockers, muscle shirts paired with knee-high white athletic socks…RAPPING!
Of course the humor lies in the exaggeration of the truth of their lives, being paired with their attempt to repackage themselves as some tough dudes, who are not to be messed with.  We all love our dads…their goofiness and devotion to our families is what we cherish about them…but it's really fun to have a laugh WITH them through this hysterical footage. Trust me, this one will make your day!
Please SHARE this hilarious video with your family and friends 🙂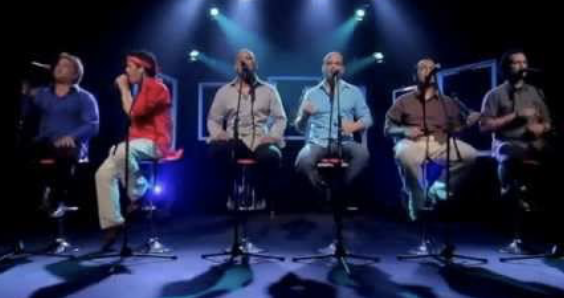 This astounding a cappella vocal arrangement of the Eagles' classic "Hotel California" is proof positive of the greatest instrument of all time, the voice. The Cubans, a remarkable group, display the art form of the human voice in all it's glory.
Though hard to believe, when listening to this haunting rendition of this classic rock song, not a single instrument other than their voices are being used. They recreate not only the guitar solo, but are able to portray the nuanced guitar effects and simulate the unique sound of the drums, showcasing a cappella prowess at its finest.
This song, which has been beloved for so many years, is performed so uniquely and magnificently, that I had to watch it twice to really believe there are no back up instruments! Be transported to the "Hotel California" while you get taken on this incredible musical ride!
Please Share This Incredible Cover Of Hotel California With Family and Friends!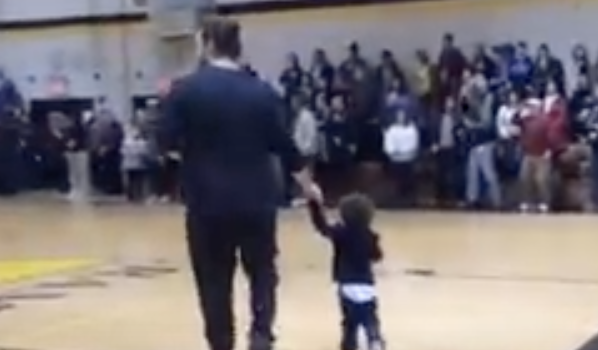 At a recent Southern Regional High School Varsity boys basketball game in New Jersey the crowd gets to their feet for the National Anthem. Simultaneously, a two year old boy walks out onto the court with his father. He is handed the microphone and confidently starts singing the Star Spangled Banner as the crowd looks on respectfully.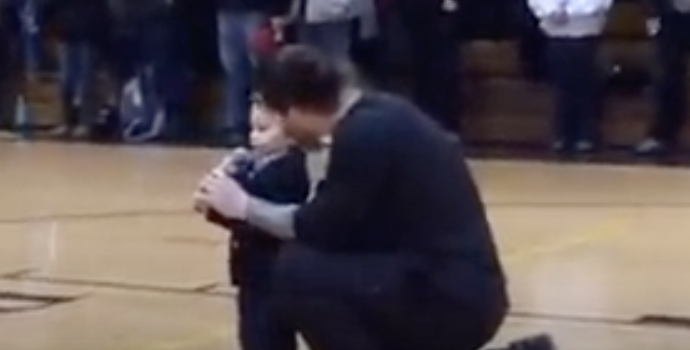 The boy is Trent Harris, son of Cincinnati Bengals long snapper Clark Harris and wife Jessica Harris, and this is his first performance. Where many people would be scared and nervous Trent is a natural and at ease in front of the large crowd.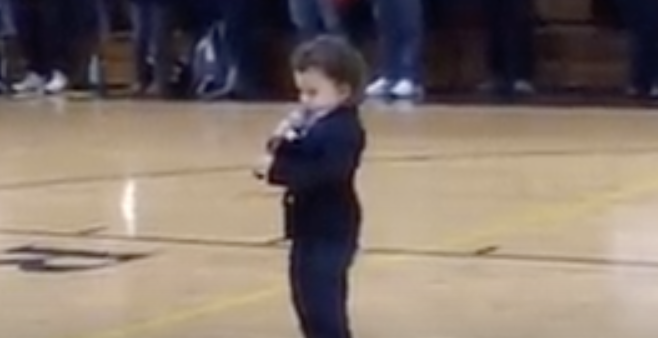 He does not for even a moment hesitate and starts to sing with confidence and certainty, never missing a beat or line from the notoriously tricky anthem. Many who have sung the Anthem before have forgotten words or botched the notes. Little Trent has no problem powering through it and proves he may even have a future in show business.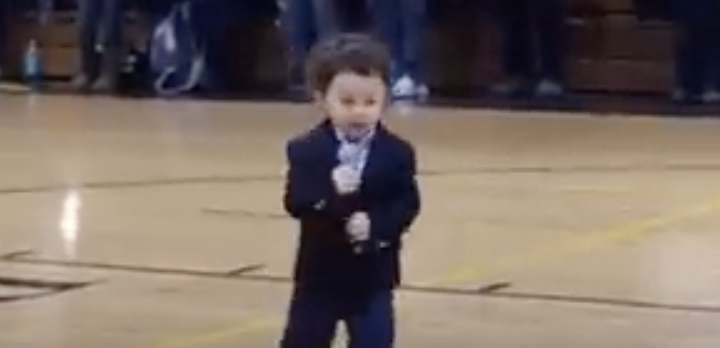 All the while his proud parents look on as he sings his adorable rendition of the song. At the end he does not rush off the court but instead strides confidently over to his waiting parents, smiling and clearly thrilled with just having finished his memorable first public presentation. The end result is no doubt an unforgettable moment for all those witnessing the event.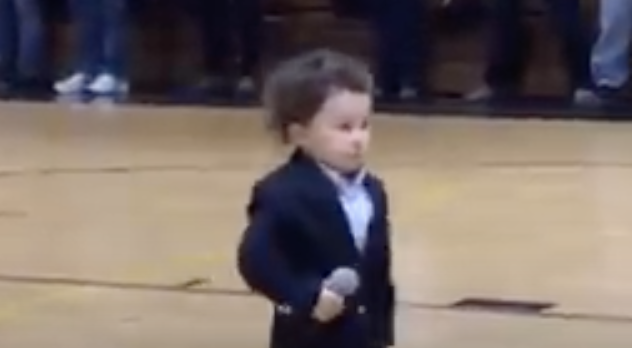 Please Share With Family and Friends