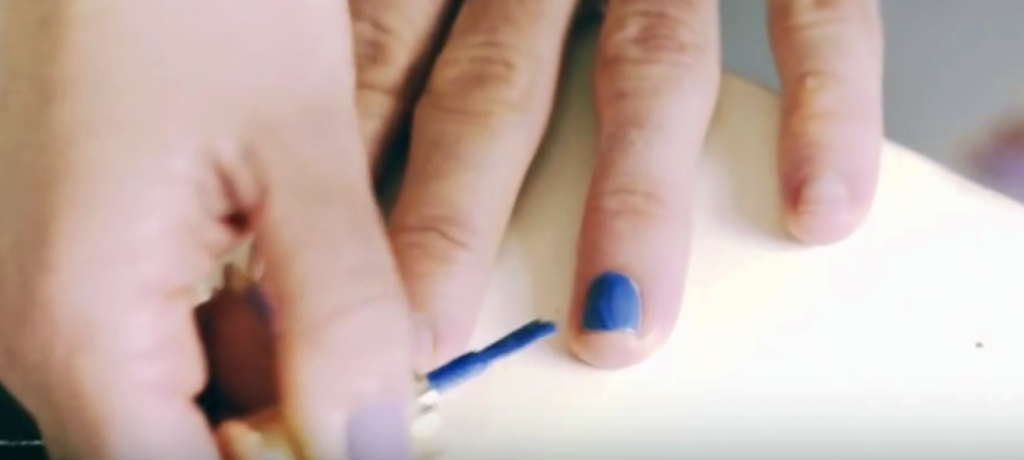 When Elliot Costello went on a trip to Cambodia with Hagar International he knew he'd meet women and children who had been exploited and abused. The non-profit organization runs social service programs there, as well as in Vietnam, which aim to protect the most vulnerable victims of human trafficking and help them recover. However, Mr. Costello never dreamed he'd meet a little girl named Thea who profoundly changed his life for good, and for the better.
Thea was ten years old when he met her at the Hagar shelter. For the past two years the little girl had been exploited by Westerners who physically, sexually, and emotionally abused her. Despite the horrific treatment she'd suffered through, Thea still had love and trust in her heart. She took Mr. Costello's big hand in her tiny one and began to draw a heart with a marker before flipping it over to color in all of his nails. The simple act stayed with Elliot and is what motivated him "to paint one nail to represent the one in five children that suffer physical and sexual violence at the hands of men."
Mr. Costello did not stop there. Instead he started the Polished Man campaign with the hope of drawing some much needed attention to the plight of children around the world who are, or have ever been, victims of sexual violence. The movement revolves around the simple act of supporters painting one finger nail on their hand and sporting it for a week straight in order to represent, and show unity, with children who have been abused. The end goal of this is to spread the word and spark a conversation about violence against children because when people see a man's lone nail painted, their curiosity is piqued and they ask about it. The more awareness of the topic and campaign, the more visible the cause becomes. In turn, that leads to more donations that are needed to help fund and support all of the programs and resources that go to survivors like Thea.
The Polished Man campaign is just a couple of years old but thousands of people have joined the cause already. Celebrities such as Mario Batali and Hugh Jackman have thrown their support behind it and countless others have shared photos and messages on social media to help raise awareness. In the accompanying video Mr. Costello tells his story and provides more information on the campaign. Please share and help spread the word about this awesome idea so that more people participate and paint one of their nails as well.
Please Share This With Family and Friends