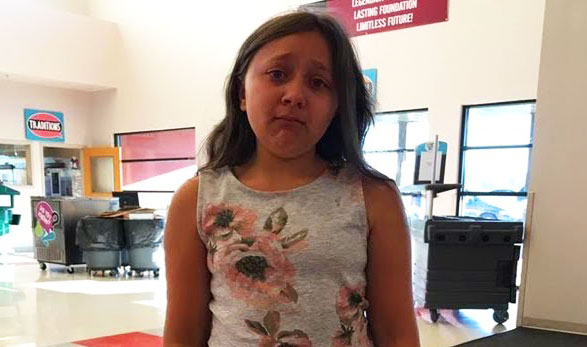 image via – youtube.com
Well it's finally August which means summer is already winding down and it's almost time for some back to school shopping. It's hard to believe that Autumn is already right around the corner when it feels like summer just began yesterday! Parents and their children have already began flocking to stores, to pick up new pencils, pens, book covers, (trapper keepers if they still make them), binders, folders, journals, calculators and so much more. On top of all the school supplies, many will be picking up new shoes, backpacks and clothing to begin the new school year. In particular one item that is super important every year is that perfect outfit to wear for your school photo!
This brings us to today's story which features a young 11-year-old girl named Vegas who is about to start a new school year the the Lockwood Eileen Johnson Middle School In Montana. Overall, Vegas enjoys school and is a really good student and is well liked by almost all of her peers however one day back in September she experienced a nightmare of a school day she never could've imagined.
In late September in schools all across the world 'Picture Day' arrives pretty much on the same time every year. Some kids love Picture Day while others dread it and absolutely abhor it. Whether you love it or hate it, on this day you always have to dress up a little extra, put a little more time into your hair and just look the best you possibly can so your school pictures come out as good as possible.
Vegas had recently received a gift from her sister which was a grayish dress with a floral pattern that she absolutely loved. As soon as she got the dress she knew this would be the outfit she would wear for her school picture. The dress wasn't scandalous at all, it wasn't short, it was very conservative and she even put on black leggings to cover her legs. Mom helped her get ready that morning and the whole family agreed she looked amazing and knew her pictures were going to come out great!
She arrived at school went to class and waited for her time to get called in for her school picture. That's when a school employee more specifically a teachers aid took her aside and told her what she was wearing was completely inappropriate for picture day and she wouldn't be allowed to wear this beautiful dress she got from her sister for her school photo. Vegas obviously confused couldn't understand what was wrong with the dress and why this was happening.
The school responded that the dress showed "too much of her shoulder" which was completely petty and a ridiculous reason to ridicule her, take her aside and embarrass her in front of all the other students. After she was publicly shamed for showing "too much shoulder" they let her take the school picture in the dress, but then they called her parents and told them they had to drive to the school and bring her different clothes that were less "scandalous" for the rest of the day!
Between the public shaming, making her feel horrible about the dress she loved and overall just making a huge spectacle out of a completely innocuous thing, Vegas couldn't take it anymore, broke down and started hysterically crying. The whole day was completely traumatizing to this innocent and sweet little girl and she just couldn't understand why this was happening to her…
Watch the video below for the full story and let us know if you think her dress is inappropriate:
Please SHARE This With Family and Friends