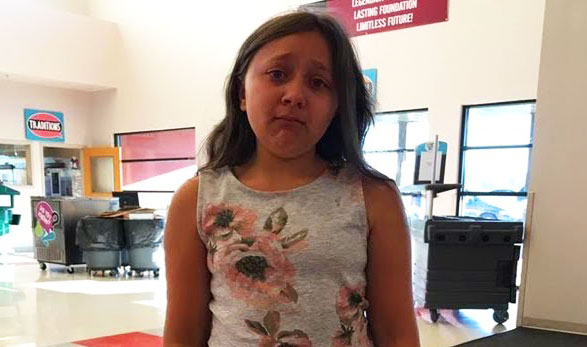 image via – youtube.com
Well it's finally August which means summer is already winding down and it's almost time for some back to school shopping. It's hard to believe that Autumn is already right around the corner when it feels like summer just began yesterday! Parents and their children have already began flocking to stores, to pick up new pencils, pens, book covers, (trapper keepers if they still make them), binders, folders, journals, calculators and so much more. On top of all the school supplies, many will be picking up new shoes, backpacks and clothing to begin the new school year. In particular one item that is super important every year is that perfect outfit to wear for your school photo!
This brings us to today's story which features a young 11-year-old girl named Vegas who is about to start a new school year the the Lockwood Eileen Johnson Middle School In Montana. Overall, Vegas enjoys school and is a really good student and is well liked by almost all of her peers however one day back in September she experienced a nightmare of a school day she never could've imagined.
In late September in schools all across the world 'Picture Day' arrives pretty much on the same time every year. Some kids love Picture Day while others dread it and absolutely abhor it. Whether you love it or hate it, on this day you always have to dress up a little extra, put a little more time into your hair and just look the best you possibly can so your school pictures come out as good as possible.
Vegas had recently received a gift from her sister which was a grayish dress with a floral pattern that she absolutely loved. As soon as she got the dress she knew this would be the outfit she would wear for her school picture. The dress wasn't scandalous at all, it wasn't short, it was very conservative and she even put on black leggings to cover her legs. Mom helped her get ready that morning and the whole family agreed she looked amazing and knew her pictures were going to come out great!
She arrived at school went to class and waited for her time to get called in for her school picture. That's when a school employee more specifically a teachers aid took her aside and told her what she was wearing was completely inappropriate for picture day and she wouldn't be allowed to wear this beautiful dress she got from her sister for her school photo. Vegas obviously confused couldn't understand what was wrong with the dress and why this was happening.
The school responded that the dress showed "too much of her shoulder" which was completely petty and a ridiculous reason to ridicule her, take her aside and embarrass her in front of all the other students. After she was publicly shamed for showing "too much shoulder" they let her take the school picture in the dress, but then they called her parents and told them they had to drive to the school and bring her different clothes that were less "scandalous" for the rest of the day!
Between the public shaming, making her feel horrible about the dress she loved and overall just making a huge spectacle out of a completely innocuous thing, Vegas couldn't take it anymore, broke down and started hysterically crying. The whole day was completely traumatizing to this innocent and sweet little girl and she just couldn't understand why this was happening to her…
Watch the video below for the full story and let us know if you think her dress is inappropriate:
Please SHARE This With Family and Friends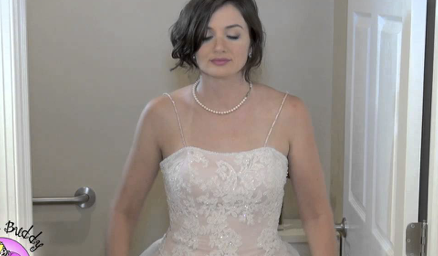 image via – youtube.com
A woman's 'Wedding Day' is for many, still one of life's highlights. The anticipation, the planning and of course THE DRESS! Finding the right dress is the greatest, but the look isn't everything; the comfort of the dress overall, and the ease of walking and dancing also matter.
Even if you manage to find a dress that works both esthetically and practically, there is still one issue that often gets ignored and is quite important. How will you go to the bathroom in this often voluminous item, without having to be helped by three bridesmaids?!
After all, no one wants to spend their wedding day in a dress that has been dipped in the toilet! The greatest inventions are those that fulfill a universal need, that no one else has thought of. A woman named Heather was the one person who did think about this, and actually invented an  ingenious device that will easily allow brides to go to the toilet in privacy and without incident!
"The Bridal Buddy" is a jaw-dropper; the following video shows how easily it works, and no one will ever know you are wearing it on your big day!
Let us know whether you would use this, and what you think of her invention.
Please SHARE This With Your Family and Friends 🙂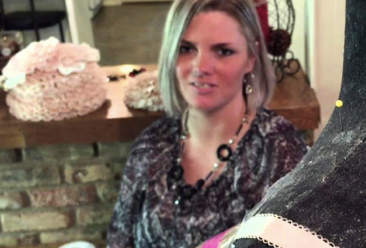 image via – youtube.com
Multiple Sclerosis, is a disease that is actually viral in origin, and often sits dormant until first symptoms get expressed in a person's 20's.  The degree of debilitation can vary greatly from individual to individual, and one's attitude (as with all diseases) can make a huge difference.
In the video you are about to watch below,  Amber Mills, a former Marine who is now a full-time stay-at-home mom of three children, was diagnosed with Multiple Sclerosis.  She had been growing increasingly depressed over the decline in her health, when she read about an unusual contest online; make the winning wedding dress out of TOILET PAPER and win $10,000!
No longer wanting to dwell on her fear and disillusionment with her health challenges, she went to work with pink and white CHARMIN, tape, glue, needle and thread to create the most incredibly beautiful and detailed TOILET PAPER WEDDING GOWN!
With painstaking effort, you will see her craft toilet paper lace, by boiling the toilet paper with glue which she incredibly turns into a work of art.  Pain is not only the touchstone of change, but for Amber it opened the door to an artistic ability that was life-changing.
Have you ever seen anything like this? 🙂
Please SHARE This Story With Family and Friends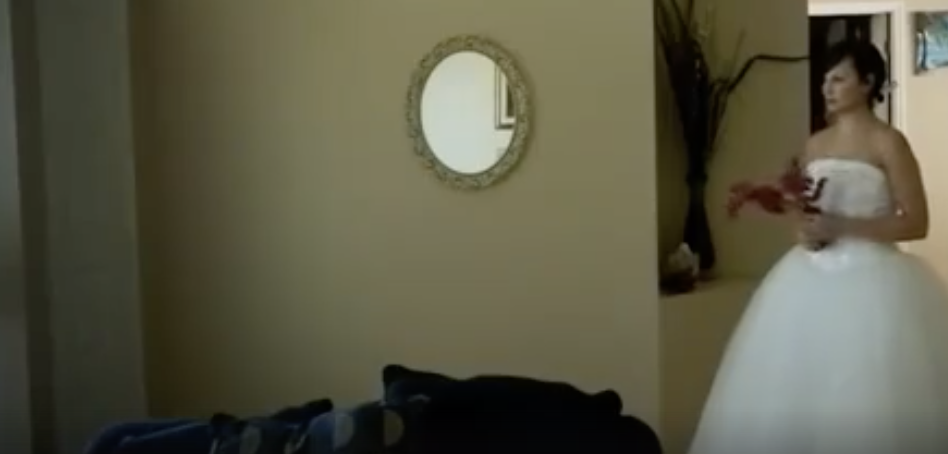 Here is a story that will warm your heart during these cold winter days. After seven memorable years of marriage Chrissy and her husband Brian were coming up on their wedding anniversary. However, they both had to work on the actual date and would not be seeing each other. Not wanting to miss out on it, Chrissy thought up a last minute surprise for her husband that he is sure to never forget.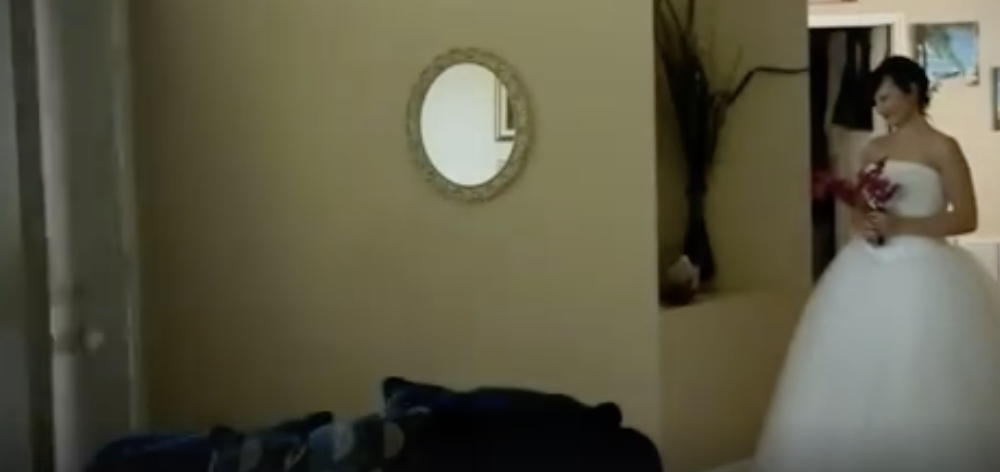 While Brian ran to the store with their daughter she dug out her wedding dress and grabbed a bouquet of flowers. She had the song "Shine Your Light" by Robbie Robertson ready to play and explained "I picked this song because he is a firefighter and it is one of "our" songs since we heard it years ago in the movie Ladder 49."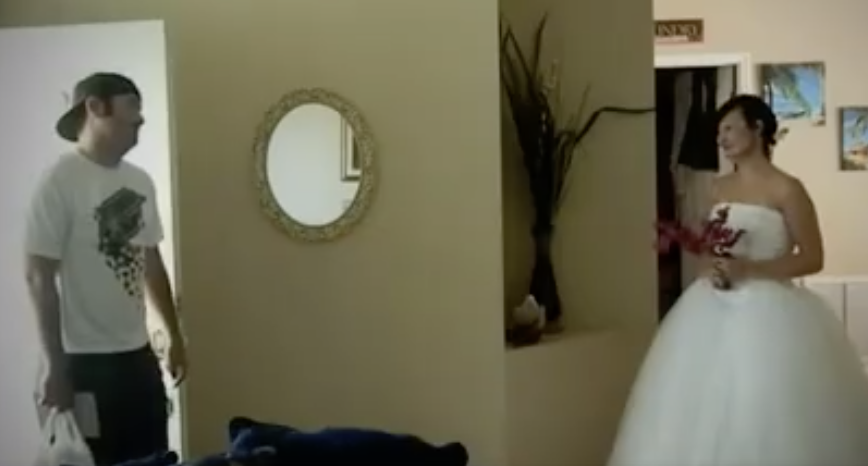 As Brian walks up to the door she cues her child to play the song and stands smiling, clearly excited and happy to surprise him. She has the camera rolling to catch the moment and when Brian walks in he seems lost for words and can only gaze at her, seemingly awestruck at the sight of his blushing bride. They exchange knowing smiles before he crosses the room to embrace her in a sweet hug while the kids look on delighted.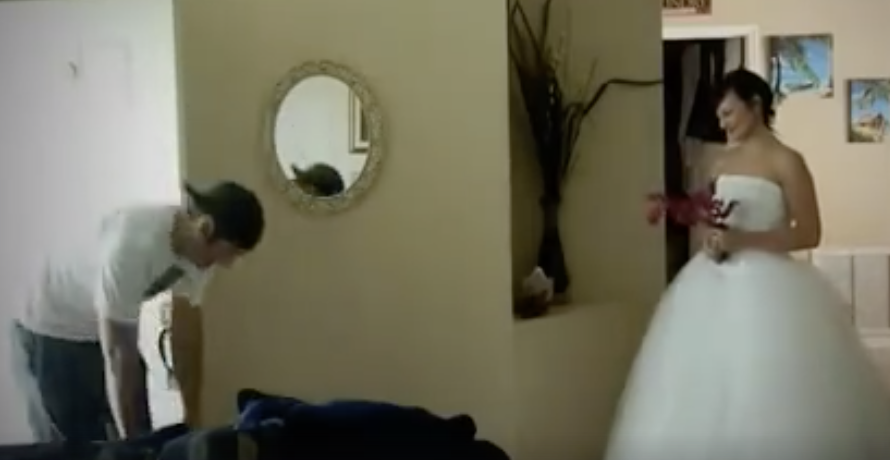 This story perfectly illustrates that you do not need expensive jewelry, flowers, chocolates or other material things to show your love. The most heartfelt moments are often inspired by family, friends, and the simple desire to create a lasting memory. Crissy included her children, the element of surprise and the vision of her from the day they got married. With all this set to a meaningful soundtrack it created a flawless anniversary surprise.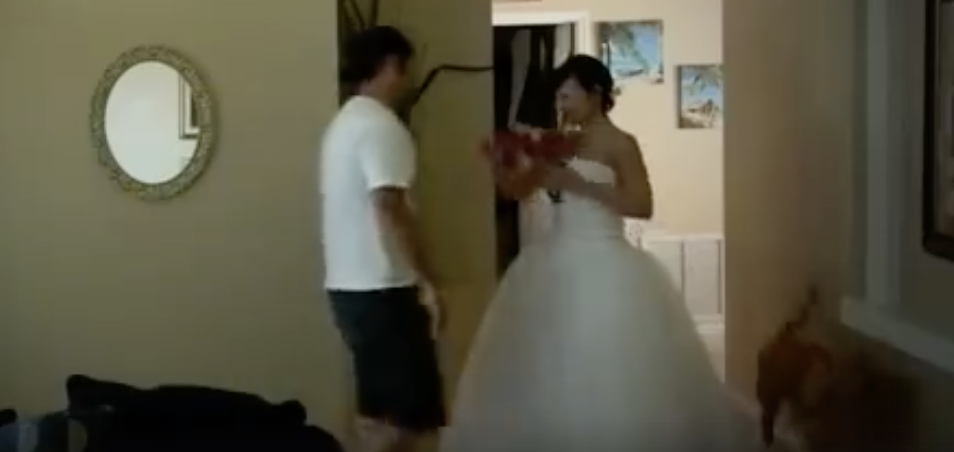 Please Share With Family and Friends