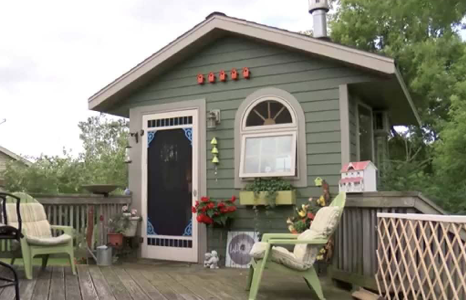 image via – youtube.com
Women often wear many hats, in the course of their days, that can be both fulfilling and over-whelming.  Finding time for themselves to focus on their own needs can be a challenge, but it is important to an overall sense of wholeness and well-being.
Barbara Teckles was an aspiring writer, whose contractor husband worked from home as well.  She had heard of a recent trend for women to find a personal space, similar to the "Man Cave", which has been named a "She Shed".  She needed a space separate from the house to not only pursue her writing, but to unwind, do yoga, and enjoy a kind of solitude that would fill her up in a spiritual sense.
Barbara's She Shed, is 120 square feet, of charm and tranquility…dubbed "MY SPACE.CALM". You will hear her tell her story of her handicapped dachshund who has been an inspiration for her writing, and for her journey of coming to understand her desire to have a place solely for her own needs.
Her husband, lovingly built her She Shed adjacent to their home, and I think you will find thefollowing footage inspirational.  Whether you can afford something like this, or just need to carve out a space within your home, that will help you to be more centered…you will find this video quite useful in reflecting on what it is you do need.
We'd like to hear your thoughts after viewing this footage.
Please SHARE This With Family and Friends 🙂