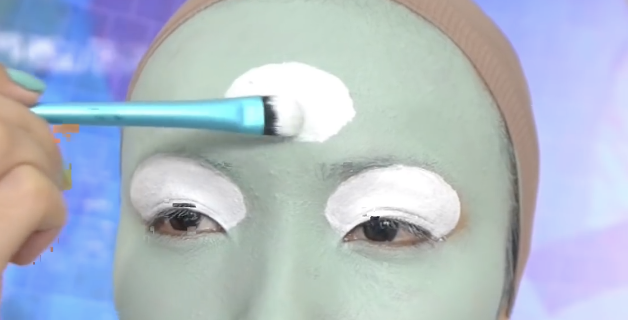 With Summer right around the corner Halloween will be here before you know it and people will be scrambling to put together the perfect costume. In America alone individual consumers will spend an average of $74.34, according to a recent survey done by Prosper Insights & Analytics and National Retail Federation estimates.
That adds up to a whopping total of almost $7 billion dollars and the bulk of that money is spent on costumes. When it comes to dressing up in fancy outfits and trying to outdo friends, no expense is spared by many.
However, the spooky holiday doesn't have to be such an expensive, wallet draining experience. There are many fun and effective ways to get creative and you can pull off an amazing look without breaking the bank. One budget friendly way to achieve "wow!" inducing reactions is to focus a look around elaborate makeup and face paint.
Once you have a crazy looking appearance that is way beyond any of the many run of the mill, mass produced costumes, you automatically stand out from the crowd. Plus, by focusing a look around face paint you don't have to have such an over the top costume and that will inevitable save you lots of money. No one is better at showing people how to create Halloween inspired looks than Promise Phan.
She runs several YouTube channels dedicated to makeup artistry and some of the special effects she pulls off with her palette are just plain awesome. In this video tutorial she shows how to create a Monsters Inc inspired look. Her inspiration from the film was the sorority girl monster 'Britney Davis' who has turquoise colored skin, pink hair, and most notable of all, 3 eyes.
Promise switched up the look she was going for and made it much more dramatic by adding two extra eyes. It's awesome to watch her transform herself in the video and best of all she explains how to copy this exact look so you can achieve it yourself. She always includes a list of the exact products she uses in each video and provides excellent tips and guidelines on how to go about applying the makeup and face paint.
It's not too late to pick up some cheap makeup and face paint and try this look yourself for Halloween. Even if you aren't the most artistically talented individual you can always give it a try. Or better yet, ask a friend who knows how to draw and do makeup to do it for you.
Even if the look isn't exactly what you have in mind, be sure to check out the video, because the least it will do is give you some inspiration!
Please Share This With Family and Friends 🙂