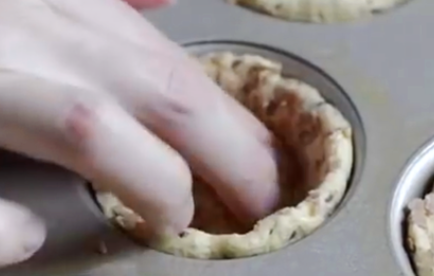 image via – youtube.com
There is no better comfort dessert on these cold winter days, than those that are warm and fill your home with that perfect scent of cinnamon and apple.  The video you are about to watch below, shows you how easy it is to make these inventive "APPLE PIE CUPCAKES!"
The key words here for me are EASY and DELICIOUS.  You will need: flour, brown sugar, walnuts or pecans, butter, 4 Granny Smith apples, a tube of Cinnamon rolls and cinnamon.  The cinnamon rolls get flattened into a greased muffin tin.
After the cut up apple pieces are tossed in a frying pan and cinnamon added they are used to fill the cinnamon rolls and then topped with a combo of mixed flour, brown sugar, nuts and butter.  I would suggest you fast forward to see the finished product at the end of the video; it will inspire you to follow the recipe and enjoy this delightful dessert!
Please SHARE this yummy recipe with your friends and family

Apple pie fries are a fun and delicious take on dessert that everyone will love to chow down on. The 'fusion' food blends together the shape of fried potato sticks and their finger-food friendly functionality with the sweet, yummy taste of all-American apple pie. The pie fries are topped with salt, aka sparkling sugar, and served with a side of ketchup, aka warm gooey caramel sauce!
Even if you're not a baker you can manage to pull this recipe off, it's quick, easy, and much more convenient than making a traditional apple pie from scratch. They will make your house smell amazing and come out the oven all crispy, warm, crunchy, and sugary sweet. Is your mouth watering yet?!
Here's what you need and how to make them:
Ingredients:
1 can of apple pie filling – 2 pie crusts (Pillsbury were used in the video) – 1 egg (for egg wash) – ¼ cup sugar – 1 teaspoon cinnamon – ¼ teaspoon of nutmeg – sparkling sugar (coarse, large grained sugar)
Directions:
Set the oven to 350 degrees Fahrenheit. While that's heating up, place the can of apple pie filling in a food processor and pulse or blend it until smooth or the chunks are tiny. Lightly dust a flat surface with flour and lay out one of the pie crusts. Evenly spread the apple pie filling over the entire crust and then place the remaining pie crust right on top of it.
Use a pizza cutter to slice a series of vertical lines down the crust, then run a few horizontal cuts across it to make fry shapes. Refer to the video for a better idea on how to space the lines and exactly how large to make the fries. Cover a baking sheet with parchment paper and use a spatula to transfer the fries onto it.
In a bowl mix together ¼ cup of sugar, 1 teaspoon of cinnamon, and ¼ teaspoon of nutmeg. Make an egg wash by mixing one egg with a dash of water, brush it over the fries, and then sprinkle the sugar mixture over them. Lightly sprinkle them with a little bit of sparkling sugar before baking for 15-20 minutes at 350 degrees. Remove and allow them to cool before serving.
These taste great on their own but are definitely kicked up a notch when served with whipped cream, caramel, chopped nuts, or whatever toppings and dipping sauces you like!
Please Share This Recipe With Family and Friends 🙂