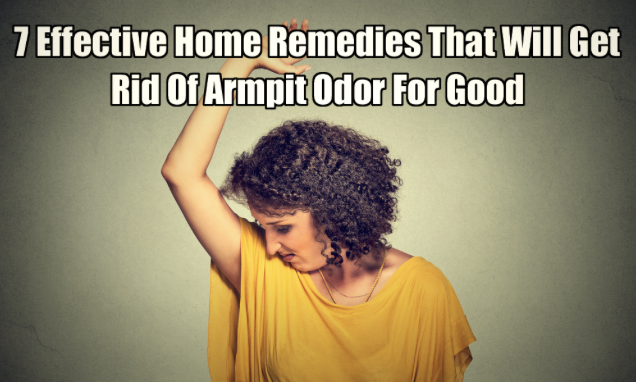 Underarm odor is one of life's stinky little problems. The unpleasant smell is often attributed to sweating, but there is more to it than just that. Of course, sweat plays a major role in it and we often sweat in response to stress, anxiety, hormones, and as a way to regulate our body temperature.
When our sweat glands release their poison it comes into contact with bacteria on our skin. Every single person has all sorts of different types of bacteria covering their body. This bacteria breaks down the protein and fatty acids that are found in sweat, and that is what causes smelly body odor.
Generally speaking sweat alone, in and of itself, doesn't smell all that bad. It's only when it gets broken down by bacteria does it begin to stink.
Most people reach for a stick of deodorant or antiperspirant to combat the unpleasant smells, but those products tend to mask the problem rather than actually help to eliminate it. There are some effective, alternative things that you can do to cut down on the root of the problem, i.e. bacteria causing sweat. They are covered below:
1) Skip Shaving- It seems counter-intuitive, but shaving underarm hair with a razor causes skin irritation. The lotions and creams often used in conjunction with a razor can further irritate sensitive underarm skin and that allows bacteria to grow even more, thus leading to a smellier armpit.
2) Tea Tree Oil- Tea tree oil contains anti-bacterial and anti-fungal properties. When you apply it to your armpits the oil naturally works to kill bacteria. Plus, it smells good in and of itself.
3) Lime- The citric acid found in limes is naturally antimicrobial and can kill up to 99% of bacteria it comes into contact with. Rub a little lime juice under your arms and you'll smell fresh and wonderful.
4) Baking Soda- People often place a box of baking soda in the fridge to eliminate funky food smells in there, but you can also use it on underarms. The powder keeps you dry, naturally deodorizes, and is strong enough to last all day long.
5) Use Natural Soap- Natural soaps, such as castile and goats milk varieties, work well at killing odor causing bacteria. By simply washing and cleaning your underarms regularly with a bar of the stuff you'll smell better.
6) Hydrogen Peroxide- Many people use hydrogen peroxide to clean out minor scrapes, cuts, and burns, but you can also use it to kill underarm bacteria and the odors it causes.
7) Apple Cider Vinegar- When you combine apple cider vinegar with a squeeze of lemon juice and apply it to your underarms you are effectively killing the odor causing bacteria in that area. Just make sure you wash the mixture off your skin with warm water afterwards, and you'll be lemony fresh.
For more information WATCH the VIDEO Below:
Please Share With Family and Friends