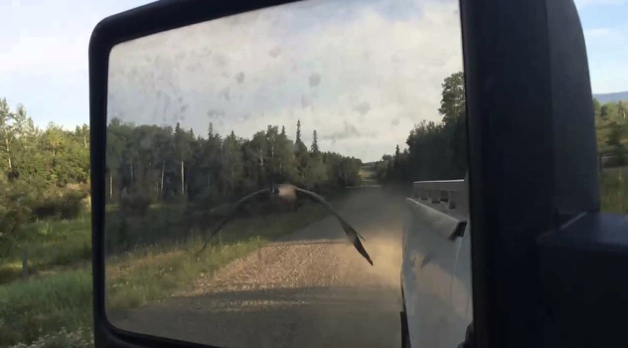 Wow! That's the first word that comes to mind after watching this amazing video depicting the unbelievable kindness of a man who comes upon a wild goose seemingly lost on a country road near Alberta, Canada. He was driving along in his pickup truck when he noticed the goose wandering along without direction.
Wild geese can be very aggressive towards other animals and humans, but that didn't stop this caring man from stopping to get out of his truck and speak gently to the lost goose. He spoke in such a soothing and encouraging tone, that the goose never let out one squawk. He seemed to sense the man's compassion and trusted him on such a gut level, that what happened next was awe-inspiring.
The man got back into his truck and the goose began following on foot and then took flight following the truck. After going a ways, the driver got out and spoke to the goose again telling him he would lead him back to his buddies at the nearby Shining Bank Lake. Getting back in his truck again, the goose takes flight, continuing to follow this amazingly kind man.
This was no wild goose chase! Rather, it was a beautiful example of trust between a human and a wild animal, that not only saved the goose from being run over, but led him back to the safety of his natural environment.
Please Share this inspirational video that exhibits the power of caring engagement between humans and animals