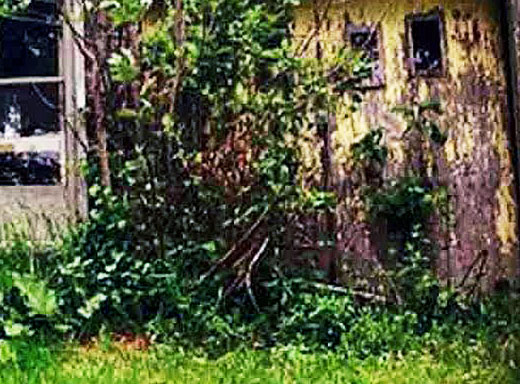 image via – youtube.com
Urban exploring has risen dramatically in popularity over the last several years.  People love looking around old abandoned buildings and homes to see what's hidden behind their walls and Leslie David from Ontario, Canada is one of them.
One day while out looking for places to explore Leslie stumbled upon an old red house with a partially caved in roof and weeds growing over the front entrance.  It looked in pretty rough shape and run down, so she naturally assumed it was abandoned. After making her way carefully inside, she was shocked to see that it was not an old vacant home and that someone was actually living there.  
Rather than be upset that some strange girl had just walked into his house, the homeowner smiled and welcomed her.  He was an older man named Lawrence who had lived there alone for many years. The older he got, the harder it became for him to get around and so he rarely ventured outside.  Adding to his isolation was that he was almost blind, his right eye was gone and the left one was filled with vision blurring cataracts.
Leslie and Lawrence ended up talking for hours about his life and current situation.  She was taken aback at how sweet and kind he was, and it made her sad to see him so alone.  He wasn't eating very well or taking good care of himself, it was like he had almost given up on life, and so she vowed to help him out.  Before she left, she told him she would be back soon to visit and snapped a picture of him in his living room which turned out to be one of her favorite photos
On her next visit Leslie brought dinner and some extra homemade food she'd prepared for the week ahead.  Lawrence was grateful for the kind gesture and shared more of his life story with her. He told her that he'd suffered a stroke during the week and couldn't really move his hands, but after 4 days he did visit the doctor for a check-up. 
Leslie was worried about him he was clearly lonely and just needed someone to care and look in on him every now and then. She decided that from there on out, she would be that person and immediately began to make plans on what to do next.  
Wishing to free up some space for him in the cramped house, she started picking up and going through all the trash that had accumulated.  Since Lawrence had terrible eyesight and limited mobility, getting the random junk out of the way and opening up some extra room made a world of a difference for him.  She also figured out what repairs he needed most on the home and vowed to get them done by the time summer was up.
Over the next couple of months she visited him every so often to check in, have dinner or a drink, and talk about life.  She accomplished all of the home improvement plans she'd made, and his home no longer looked abandoned anymore. When he told her that the day she showed up was the best day of his life, she couldn't help but smile and agree because she felt the same, but vice-versa. 
Meeting Lawrence gave her the opportunity to actually do something kind and helpful for someone, without expecting anything in return. In the end he was better off, and she felt good about it, so it was a win-win situation for them both.
Months went by and Lawrence's health slowly deteriorated.  He was eventually unable to live on his own and so Leslie helped him find a retirement home where he now lives today.  She still makes time to go see him regularly, bringing along his favorite foods and her dog who he adores. She posted this story and shared her experience with the world in the hopes that other people will reach out to someone they haven spoken to in a while, it could make a world of difference. 
Watch the video below for the full story:
Please SHARE This With Family and Friends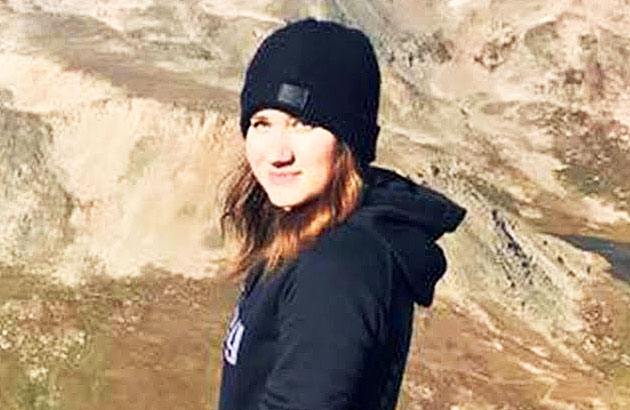 image via – youtube.com
If you heard that a dog was lost somewhere high up on a remote mountain top, what would you do?  If you were an avid hiker with experience climbing 14ers (mountains over 14,000 feet), who knew what you were doing, and who loved dogs, hopefully your response would be the same as what Trinity Smith did. 
She came across a post on the Facebook page of the mountaineer/hiking group 14ers where someone claimed to have heard a dog crying high up on Mount Bross in Colorado. Despite looking around, no one could seem to find any dog and so many people brushed it off as being a coyote or simply someone's else's dog.
Trinity couldn't let it go so easily and it bothered her that there might be a dog stuck up on the mountain.  She'd heard more rumors about a dog barking at night and since the area was desolate and remote, she knew it wasn't simply someone's dog.  She'd also seen a post about a missing dog named Chloe who had ran off while on a hike with her owner at that same mountain.
At 14 years old, Chloe was an older dog with lots of outdoor experience and had always been able to find her way home.  She'd been missing for six weeks and despite her owners searching for weeks, she hadn't been seen since. Trinity thought maybe the two were connected, it made perfect sense and rather than worry about it any further, she resolved to go check and made it her top priority to find the dog. 
On her first day of searching she could hear a dog barking off in the distance but couldn't find it.  Night was falling fast, forcing her off the mountain, but at least she knew there was indeed a dog somewhere out there.  On the second day of searching Trinity's friend, Sean Nichols, joined her.
The two took turns calling out for the dog and been out looking for almost four hours before they finally heard barking far off in the distance.  They moved towards it and once they were close found a spot where the echo wouldn't be distorted. When the dog barked again, they could pinpoint where it was and soon after they found the missing dog, it was Chloe!
The poor animal looked extremely thin and in bad shape.  They'd found her stuck on a steep ledge so weak and malnourished that she didn't have the strength to move.  Sean was able to reach her and picked her up, then he ended up carrying the exhausted dog all the way down the mountain.  When she went missing Chloe had weighed 90 pounds, when she was found her weight had plummeted to just 26 pounds. The first thing Trinity and Sean did was drive to the nearest supermarket to get her some food.  
On the way to the grocery store, Trinity posted that she had found the barking dog on Mount Bross and it tuned out to be Chloe.  The dog's owners found out almost immediately and rushed to meet them at the supermarket. Upon seeing them Chloe lit up, she was finally going home with her family and was safe.  
Initially the vet was worried about how much weight Chloe had lost.  She was quite old and dogs who lose so much of their body weight as Chloe had usually don't get better, instead their bodies shut down.  After a few tense days monitoring her health and weight, they breathed a sign of relief because she started to show signs of improvement and gained weight.  
Trinity and Sean ended up visiting Chloe when she was healthier and were just happy that they were able to rescue her.  They found her in the nick of time, the first snow fell soon after which would have made her survival and locating her all the more difficult.
Watch the video below for the full story:
Please SHARE This With Family and Friends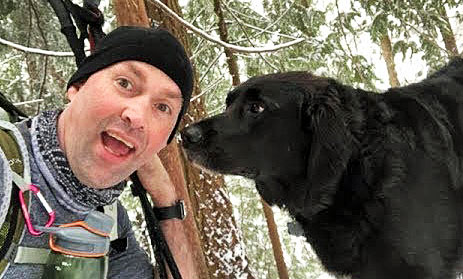 image via – youtube.com
One of the things that dogs love most in the world is going for a walk.  They like being outdoors with their human companions and the change of scenery it provides.  They also usually need to burn off some energy and a brisk walk to the local park or around the block is the perfect way to tire them out.   Plus, many dogs are not allowed to roam freely, so they look forward to their daily walks and get upset if they miss one.  
For one dog living near Teneriffe Falls in Washington state, he gets the best of both worlds, and then some.  The big black dog is named Smokey and he is allowed outside to roam as he pleases. Since he lives so close to the popular hiking spot, he often heads over to the trail head to wait for people to come along and then joins them on their hike.  He basically takes himself for walks whenever he wants, and he does it so often that his owners made a special tag for him!
Recently a young couple went for a hike and spotted Smokey gingerly coming towards him as they set off.  The friendly animal walked right up to them and then alongside as they started down the trail. After going a couple hundred yards they realized Smokey was tagging along which was fine by them.  In fact, the unexpected guest was delightful and very well mannered. He stopped whenever they did and waited patiently as they snapped pictures, he clearly knew the drill.
Once they reached the falls the couple started to worry that maybe the big black dog was lost, and they didn't want to just leave him in the wilderness after their hike.  Seeing that he had tags on, the man, Scott Brown, reached down to check them.
One side of the faded blue bone shaped tag said "Hi, I'm Smokey. I live nearby so please don't take me.  I like to follow hikers sometimes." The flip side read "Don't worry, I'll go home when I get tired. My people love me a lot. Thanks for being nice!"  
Upon reading Smokey's tag the couple laughed with relief.  The sweet dog was simply out on one of his walks and they needn't worry about him because his loving family was waiting for him to come home when he was ready. 
With Smokey leading the way they returned to the parking lot near where they first saw him. He waited patiently as they changed out of their hiking gear and prepared to go home before barking once, turning, and heading back to his home.  
The couple was thankful that Smokey had joined them and felt he'd made their hike all the more memorable.  It seems the fluffy black dog made a lasting impression on them and that's just one reason why dogs are so awesome.
Watch the video below for the full story:
Please SHARE This With Family and Friends