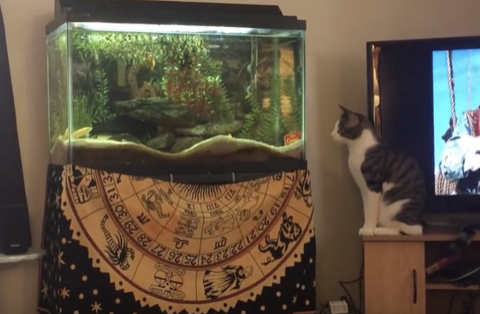 image via – youtube.com
Cats are naturally drawn to little things that dart and move all around. Many a feline will readily chase after toys, bugs, mice, and whatever else is crawling on the floor or blowing in the wind. They also really like fish, whether it involves watching them swim around and trying to catch the little swimmers or eating them for a tasty dinner, kitties love them.
While some cats are incredibly adept at hunting and stalking their prey, others are much less capable, especially when it comes to fishing. A cat named Scat falls into the latter category as is evidenced by this video which shows him attempting to master the feline art of cat fishing.
At first it looks like Scat might know what he's doing. He patiently sits watching and studying his target, a little yellow fish, swim lazily around in the tank. The seconds slowly tick by and when the fish finally turns its back on him he makes his move.
He leaps up off of his perch in the perfect pouncing formation and flies through the air, but instead of getting his fish, he goes right past it and lands on the floor below! Mission incomplete, cat 0, fish 1.
According to the man who posted the video, Trent Vanderheiden, Scat has a habit of doing this move all the time. He has yet to learn the finer points of cat fishing which is good for the fish and everyone else. Check out his hilariously adorable antics and share this with the cat lovers in your life who would appreciate the clip!
Please Share This With Family and Friends Who Need a Smile Today! 🙂