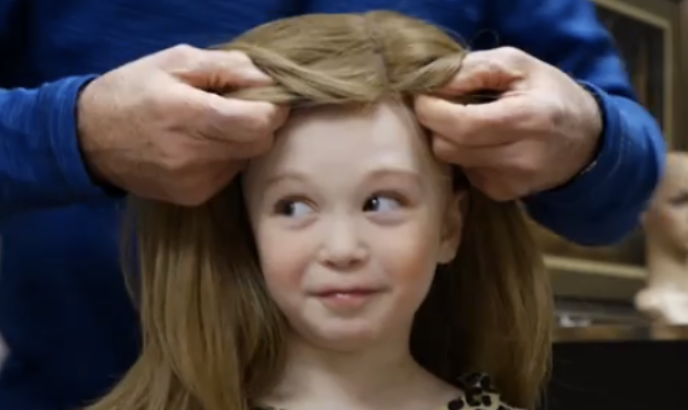 image via – youtube.com
Wigs For Kids is a non-profit organization that has been providing free hair replacement options and support to children for over 30 years. They mainly treat kids who have suffered hair loss due to chemo and radiation therapy, burns, Alopecia, Trichotillomania, and other medical issues that often cause hair loss.
The change in a child's self-esteem and confidence can often be seen immediately after they receive their new hair. By providing high quality and custom made hair pieces, Wigs For Kids helps to restore a child's appearance and the way people respond to them, and alternatively the way they view themselves.
To get an inside look at what goes into making these wigs BuzzFeed followed the hair donation process from start to finish. The first step was going to a salon with Hannah, a young woman who wanted to donate her hair and agreed to have the big cut filmed. The hair was then packaged and sent to the donation center where it was sorted.
Any hair that does not meet strict quality specifications gets separated and the remaining usable hair is sent on the the wig manufacturer. They sew ponytails together, brush the hair and wash it in a chemical bath. Next, a custom made cap is created based on the shape of the future wig owner's head.
Then the hair colors are blended and hand tied onto the wig one strand at a time to ensure it looks as natural as possible. It can take anywhere from 20-30 ponytails to make one wig. The process is very focused on quality and no shortcuts are taken that would jeopardize the goal of realistic, beautiful hair.
The end of the video shows Bridget receiving her brand new custom made wig, made from Hannah's donated hair. Bridget is a young girl who has alopecia which caused her hair to fall out. She waits excitedly in anticipation for her new look and can barely sit still. When she finally sees her new hair she cannot help but run her hands through it and once it is on her she lights up and brushes it.
Her mother explains that this is going to change her whole world and they both thank people everywhere who have donated their hair, including Hannah.
After watching this video your bound to feel good and have your faith in the world restored. For more information please go to Wigs For Kids website (http://www.wigsforkids.org/).
Please Share With Family and Friends