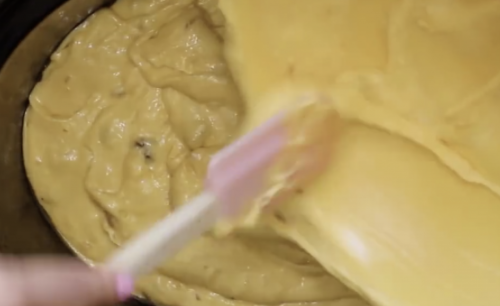 image via – facebook.com
Home-cooked food always seems to taste better than any of the ready-made, store bought variety types, especially when it comes to delicious desserts. The big downside is that baking can be tricky, time consuming and certain recipes are super hard to pull off and get it just right!
It can also take a long time to cook up something delicious and flavorful from scratch. In today's busy non-stop world, between working all day, getting stuck in traffic or taking care of kids, the motivation is simply not always there for most of us. That is what makes crock pots so convenient and easy. They make cooking homemade meals quick, easy, and almost effortlessly.
All you have to do is toss a bunch of ingredients into the pot, set the timer, and let it cook slowly for a couple hours! You can go about your day and when the food is ready it'll be warm and waiting, it's perfect! If you're looking for a really tasty and filling crock pot dessert recipe this quick and easy banana cake is sure to please all types of palettes.
Plus, you can use up those old bananas laying around and satisfy your sweet tooth at the same time. Unlike many other cakes made from scratch, this one requires little time or effort on your part. Here's a list of all the ingredients it calls for:
1 ¾ cup plain flour – 2 tablespoons baking powder – ½ teaspoon salt – ¼ teaspoon baking soda – 1/3 cup of butter or margarine – 2/3 cup sugar – 1/2 cup chopped walnuts – 2 eggs, well beaten – 2 tablespoons dark corn syrup – 3 ripe bananas well mashed
Gather all the ingredients and start by beating the two eggs in a bowl. Place the peeled ripe bananas in a separate bowl and mash them up with a fork. In a medium sized bowl sift the flour, salt, baking powder, and baking soda into it.
Mix the sugar and butter together in yet another bowl so that they form a creamy consistency and then stir in the corn syrup, eggs, and bananas. Finally, add the dry ingredients to the wet ingredients and mix them all together very well.
Grease up the inside bowl of the slow cooker with a coating of butter and then place a generous amount of flour inside. Tip it all around so that the flour sticks to the butter and completely coats the inside, this will prevent the cake from sticking and make the removal a lot easier.
Place the banana bread batter into the floured and buttered crock pot and cover it with the lid. Cook times may vary depending on your crock pot.You'll know it's done when you stick a toothpick in the middle of the cake and it comes out clean.
If there is cake batter sticking to the pick, continue cooking a little longer or until it comes up clean. Allow the cake to cool before removing, it should slide right out when you turn the cooker upside down but you may have to run a butter knife around the edge to help ease it out.
How you decide to serve the banana cake is all up to you. Cream cheese frosting pairs well with it, as do chopped nuts, a sprinkling of brown sugar, whipped cream, or fresh berries. Really any toppings and additions will work, or none at all because it tastes yummy all on its own!
Pass this delicious banana cake slow cooker recipe along and help add a little more sweetness, and convenience, to the lives of your friends and family. Bon Appétit!
Please Share This Recipe With Family and Friends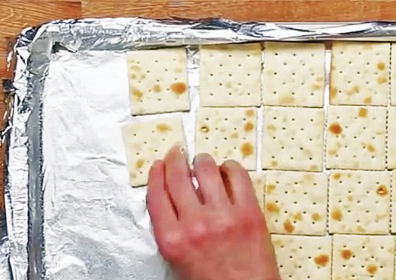 image via – youtube.com
I don't know about you, but when I want to indulge in a dessert, there is nothing better than the combination of Sweet and Salty.  Honestly it does something to the pleasure center in my brain that makes it a crazy addictive combo. Because I love this combination, I was drawn to this video that you are about to watch below.
I love making things from scratch if they are easy to follow, and have a really mouth-watering recipe, like the one presented by Lori Nolan of the Tasty YouTube channel. She and her mom tasted this at a party 20 years ago, and lucked out by getting the recipe. This "cracker candy" is a perfect dessert for any occasion, and people will be amazed at the secret ingredient…SALTINE CRACKERS!
The tutorial below will show you how to make a Caramel Sauce from Brown Sugar and Butter.  Watch how she pours this over the Saltines and a final layer of Chocolate Chips and Pecans.  Then see how she turns this into a delicious crunchy Bark. Have you ever seen anything look so tasty and delicious in your life?
I'll be making this at some point this week! Will you be trying out this yum recipe? Let us know how it turns out!
Please SHARE This Delicious Recipe With Family and Friends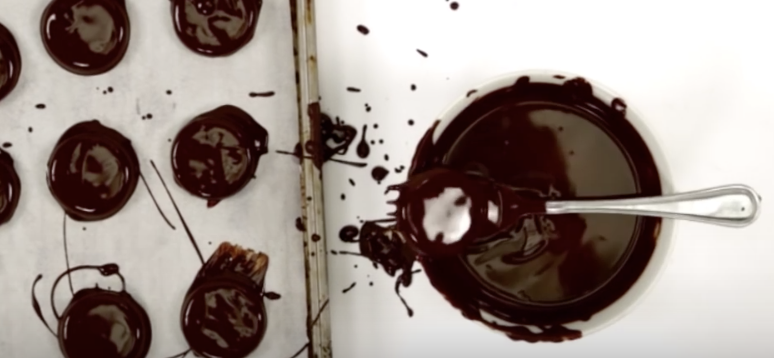 The history of St. Patrick's Day comes from the Declaration which was allegedly written by St. Patrick. Patrick was born into a wealthy family in Roman Britain during the fourth century. His dad was a deacon and his grandpa was a priest in the Christian church. When Pat was sixteen, Irish raiders kidnapped him and made him a slave in Gaelic Ireland. For six years he was a slave that worked as a shepherd. During these years Patrick 'found God'. When he found God, God told him to escape to the coast, where a boat would be waiting to take him back to his family. He listened to God and sure enough, the boat was waiting on the coast to take him home. When Patrick got back he became a priest.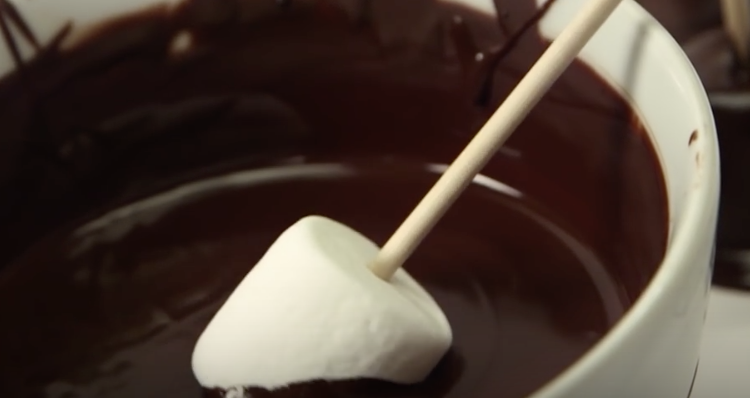 Legend says, Saint Patrick used a three-leaved shamrock to describe the holy trinity to the Irish pagans. He became Ireland's greatest saint and was responsible for converting the Irish Pagans to Christianity. On March 17th St. Patrick died, however his legend steadily grew over the following centuries. We wear green to represent the shamrock that St. Patrick used to describe the Holy Trinity. Also, green has been associated with the country of Ireland since the mid 1600's. Green flags, ribbons and shamrocks have all been recorded as early as the 1680s.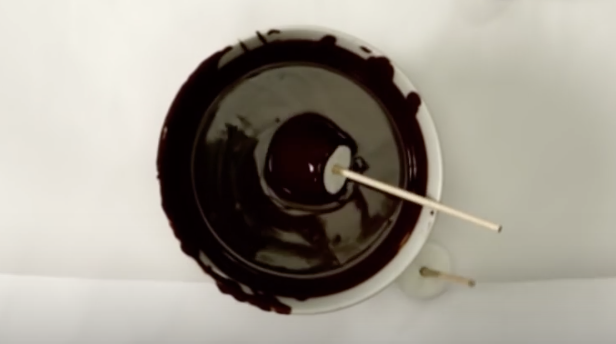 With St. Patty's day right around the corner it is a perfect time to make a yummy dessert. In the video below we will learn how to make these adorable Leprechaun Hat Thin Mint S'mores. The best part about this St. Patty's Day treat is that they are super easy to make. Follow the simple instructions in the video below, and those little leprechauns will be coming to eat your treats in no time!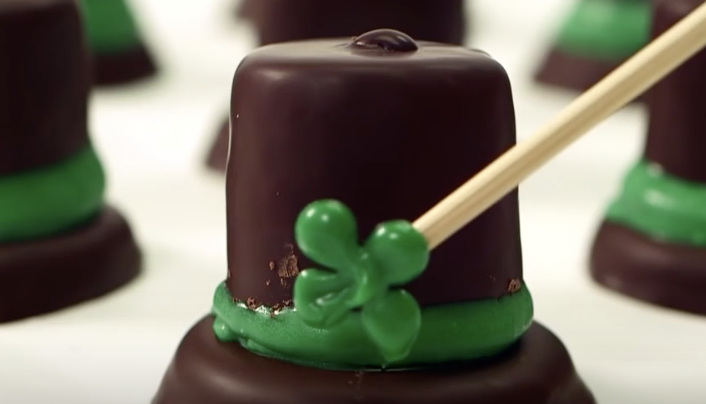 Please SHARE This With Family and Friends