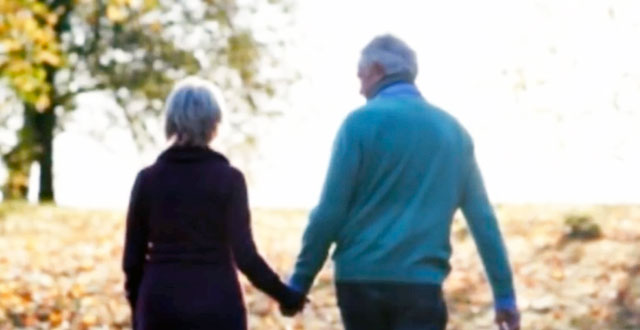 image via – youtube.com
Love and marriage is truly one of the best perks of being a person on planet earth. When you find "the one" or your true soulmate, it's as if fireworks, sparks and everything from the fairy tale love stories becomes real. When marriage and love last for decades as a couples grow old together, they all go through ups and downs. It's not all sunshine and roses, but if there is love, trust and good communication you can get through the good, the bad and the ugly no matter what!
This brings us to today's beautiful love story between a couple who had been married for decades. They had an amazing relationship that truly did last the test of time. Their love and commitment to each other was undeniable and when you hear the rest of this story you will soon understand why. Like all couples, things would sometimes get tense, but from their recollection the decades they had been together were amazing. But, strangely nobody ever saw them fight or yell at each other, and neither of them could even recall a single screaming bout.
One day the wife was admitted to the hospital and doctors told her, that she had an incurable disease, there was nothing they could to stop it and she would soon die. Their entire marriage she was holding back a secret that not even her husband knew and it was pretty much the key to why they never even had a single fight.
Right before they were married, she recalls her grandma telling her that if the marriage was to last, they should never fight or argue. On the surface to most of us this seems like a pretty tall order. Many couples can't even get through a few hours without bickering at each other. However, she took her grandmother's advice to heart and decided to follow her instructions to a T.
The couple had been together for decades, her husband truly couldn't recall a single fight they ever had, and for the most part it had honestly been the best marriage ever. They always talked through everything calmly and peacefully and somehow throughout all the years this just worked to everyone's amazement. They were always honest and told each other absolutely everything. Well almost everything, the man's wife had a box that she kept on the top shelf of the closet in her room.
She had always told him he was not allowed to open the box under any circumstances. He had always wondered why, but his curiosity didn't get to the point that he ever secretly went into her closet and opened it. He respected her privacy and her wishes for him not to open this 'secret box'.
Now that her time on earth was soon coming to end as she was suffering from a terminal disease. She believed if she passed on and her husband opened the box without her telling him what was in it and the reason behind it, he may be angry and take it the wrong way.
One day in the hospital she said to him, I want you to go back to house get the box and open it, so I can tell you my one secret I have kept from you for all these years. Her husband agreed, left the hospital went into her closet and got the 'forbidden box'. He opened it up, and saw two dolls which were crocheted and then he was stunned to see that there was $95,000 dollars underneath the two dolls! He was obviously very confused, but he drove back to the hospital immediately.
He walked into her hospital room, and she finally revealed the truth about this box and what it meant. She started off by telling him every time she felt like she felt angry at him, wanted to fight scream and yell, she would instead calmly just knit a doll instead. She had done this for decades without him having any idea this was going on.
He couldn't believe what he was hearing and was so moved that he instantly began to cry happy and sad tears all at the same time. He loved this woman so much and he couldn't believe she made this sacrifice to make their marriage absolute perfection. He said to her since there are only two dolls in the box does that mean you were only mad at me twice? Also where did the $95,000 dollars come into all of this.
She laughed and told him, the $95,000 was from selling all the other dolls she had crocheted throughout the years. He laughed as well as he always enjoyed her sense of humor that she maintained all the way up to her last moments on earth.
This story is a great reminder that true love does still exist out there and hopefully all of us will one day be as blessed as these two amazing people and meet our soulmates.
Watch the video below for the incredible full story:
Please SHARE This With Family and Friends