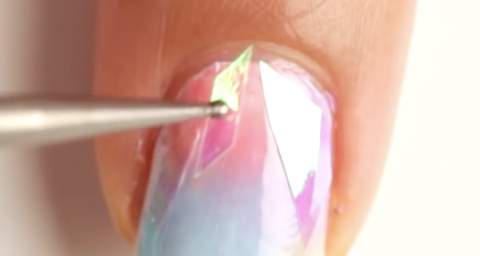 image via – youtube.com
Nail art is a lot of fun and some trends just really call to people who like to try an edgy look.  If you are one of those people, the video you are about to watch below is for you.  It is known as shattered glass; a new Korean nail art.
Park Eun Kyung is the nail creator; her nail lab, Unistella by E.K. has been known to come up with some of the most unique trends out there.  This amazing effect of shattered glass is illustrated by YouTube channel "Creativenailart", in an easy-to-follow way that makes it possible for you to try it at home.
She paints her nails white as a primer, then using liquid latex, she protects the edges of her nails. After drying she uses a small makeup sponge with polish colors to imprint on her nail which will help to produce the glass effect after she applies cut iridescent tissue paper and then the final coat.
It really creates a cool illusion.  Let us know what you think.
Please SHARE this creative DIY with your friends and family