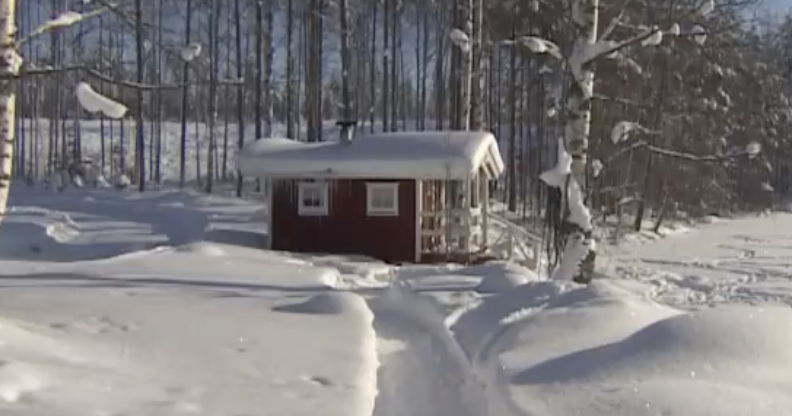 As I scan the internet I am always particularly touched by videos that exhibit unlikely bonds between animals of different species.  Although it seems to occur quite often, it never ceases to amaze me, that a horse and a chicken, an elephant and a kitten or a dog and a monkey form a protective and nurturing relationship.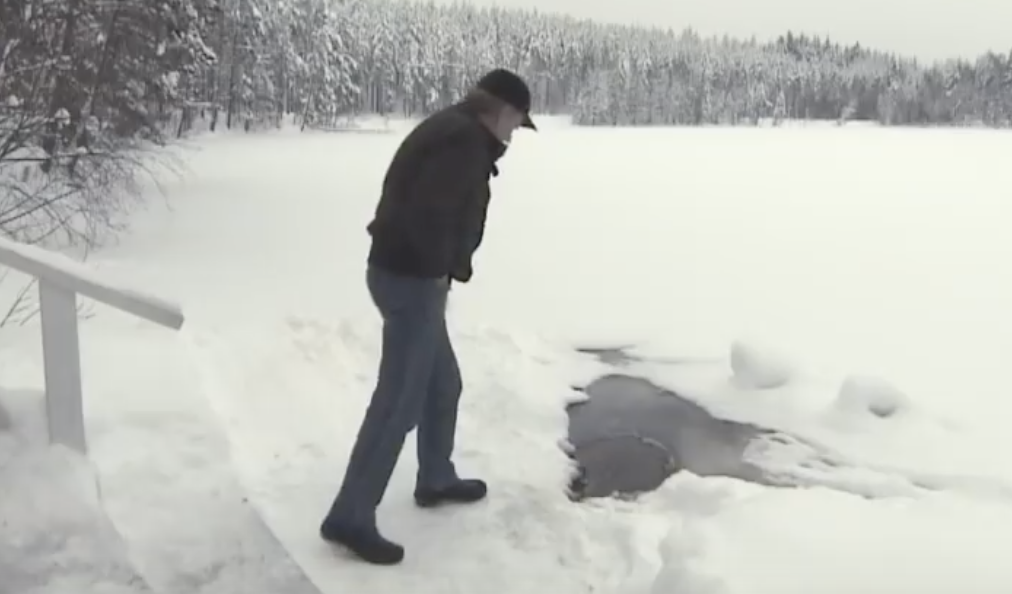 In a world where there is so much violence, it somehow makes me more hopeful that perhaps there is something intrinsically good and loving in human beings, that may ultimately outweigh our competitive and destructive instincts…one can hope.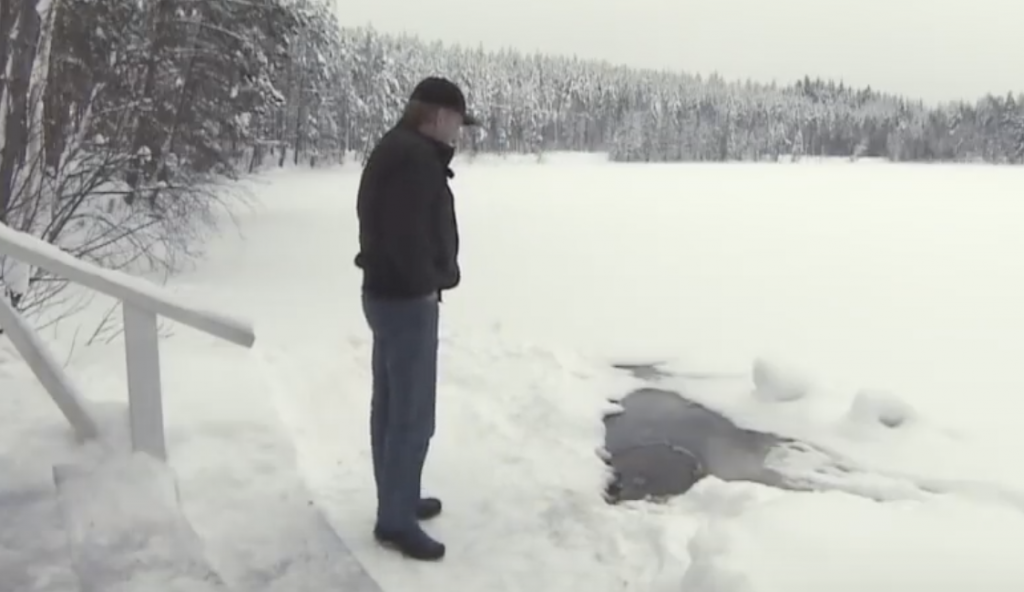 The video that you are about to watch below, is yet another instance of unlikely trust betweenan elderly Finnish man, Seppo Laaman, and an animal that lives in a hole surrounded by snow and ice near his home.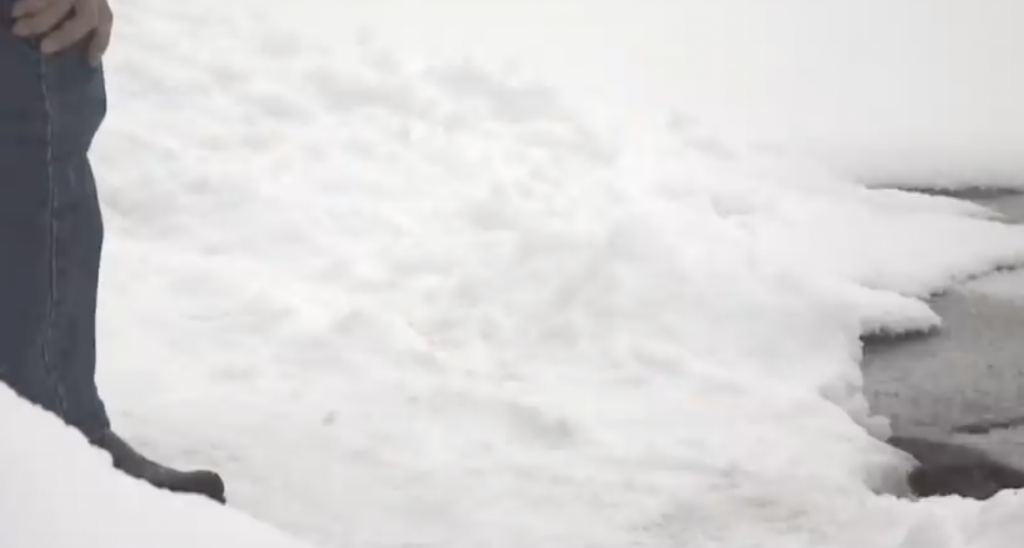 This lovely man opened his front door one day, to find this starving wild otter whom he nicknamed "Iivari", needing help.  He fed him fish and worms to restore him to a healthy enough condition to go back and live in his natural environment in the wild.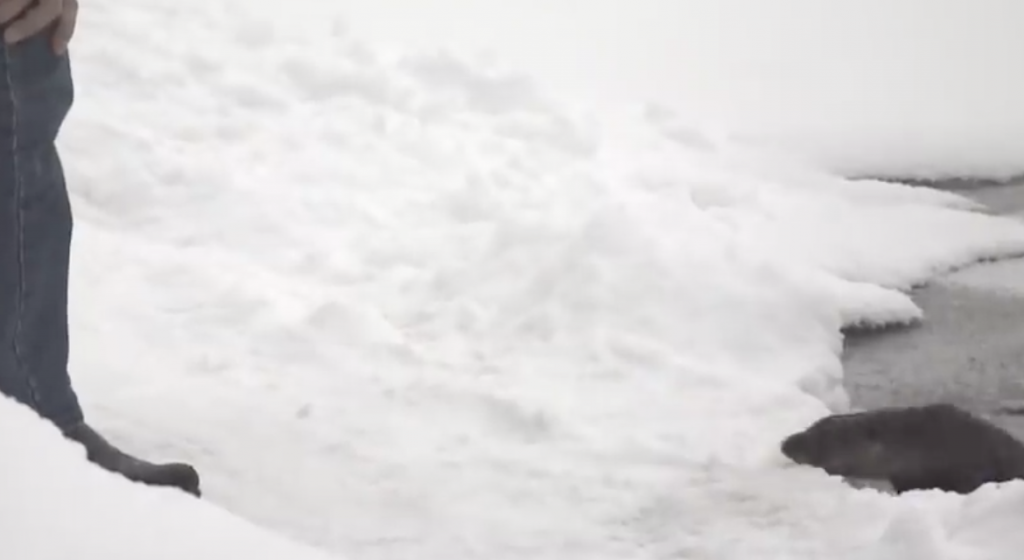 As you watch this heartwarming footage of their trusting relationship, understand that this smart little otter is not Seppo's pet.  They have an understanding, as you will see them communicate, that is mutual and has boundaries that are free.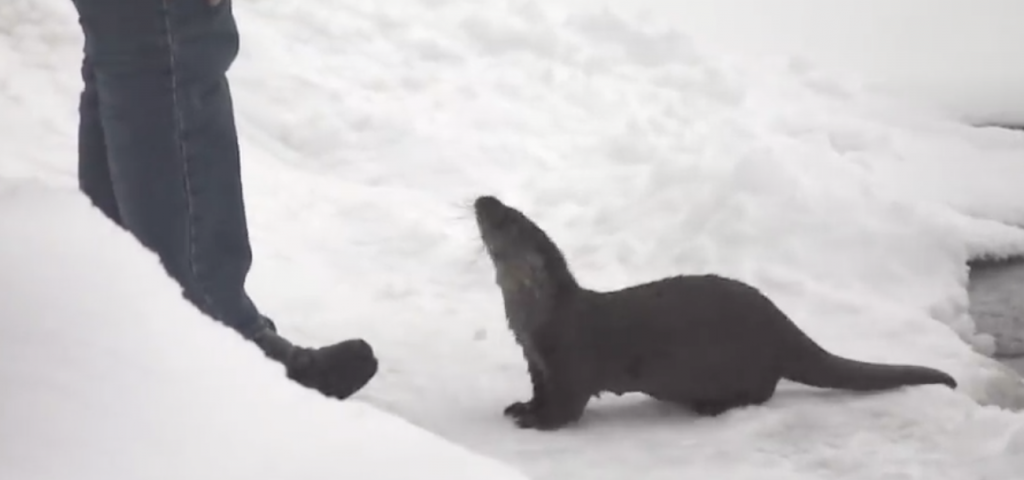 Please SHARE This With Family and Friends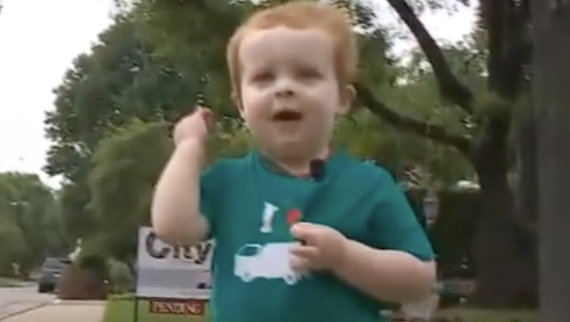 A child's first real and true friend is special and will always hold a place near and dear in their hearts. When we are young and innocent we are drawn to certain individuals simply because they're nice and we feel safe around them. It doesn't matter what they've done in life or have to offer us, it's more basic and simple than that. Which is partly why 2 year old Deacon Ross developed a special connection with his family garbage man, O Dee, and calls him his best friend. The little boy eagerly awaits O Dee's arrival every Friday, or O Dee Day, when he stops by the family house to collect the recycling.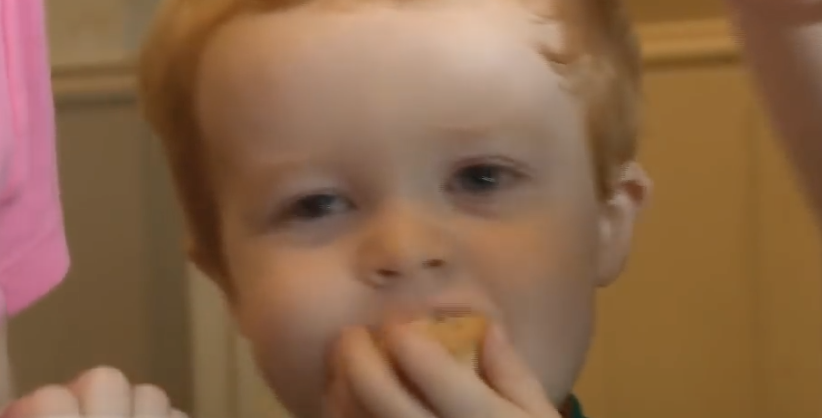 This video shows the bittersweet last day that Deacon will get to see O Dee. His family just sold their house and are moving to a bigger one in order to accommodate another child. Deacon has already chosen the unborn baby's name and would like to see his parents call the child O Dee.
When Deacon and his sister detect the familiar rumble of the garbage truck down the street she excitedly yells to her mother "We hear O Dee's truck!" Deacon is already outside waiting by the road for his best friend to stop by. He has on a special green t-shirt emblazoned with an I heart emoticon garbage truck picture on the front.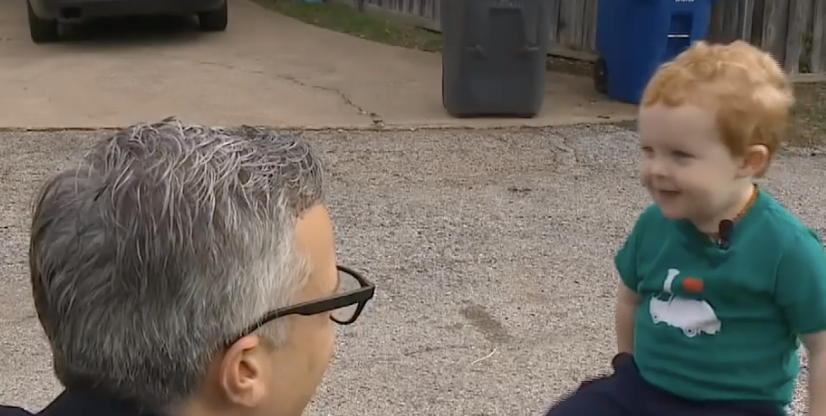 Finally, the garbage truck pulls up in front of the house with O Dee on back and Deacon's face lights up with joy and delight at the sight. He jumps off and greets Deacon with a fist bump for the last time.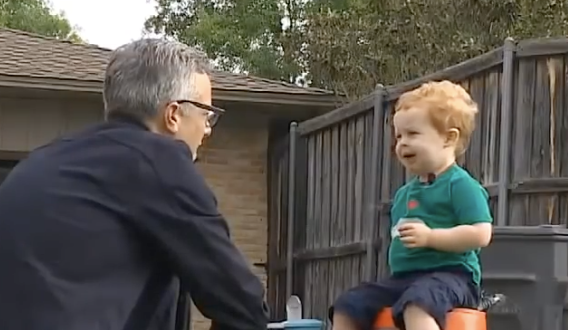 Deacon's mother thinks he is not quite aware of the fact that this is the last time O Dee will stop by the house. She does know that he holds a special place in her son's heart, which is why she made baskets filled with an assortment of cookies and mugs for Deacon to give to O Dee and his crew.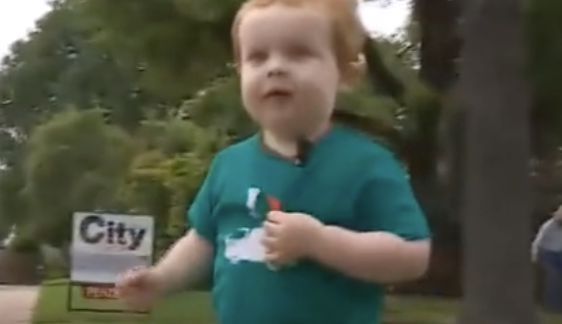 It's a simple way to thank them for the job they do, but more so for the friendship and care he has shown her son. After giving O Dee his gift, and a brief visit, Deacon says goodbye to his first best friend. The sight both breaks and warms the heart to watch. It is a sad final farewell, yet also so sweet and special that a young boy found such happiness in an unlikely best friend.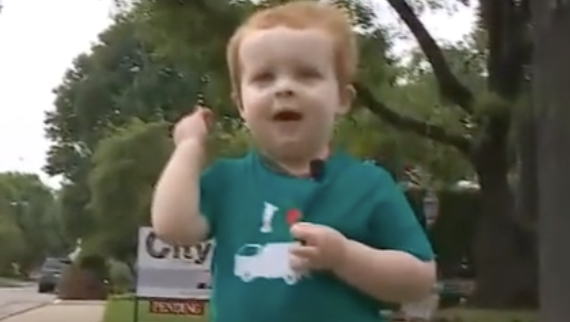 Please SHARE With Family and Friends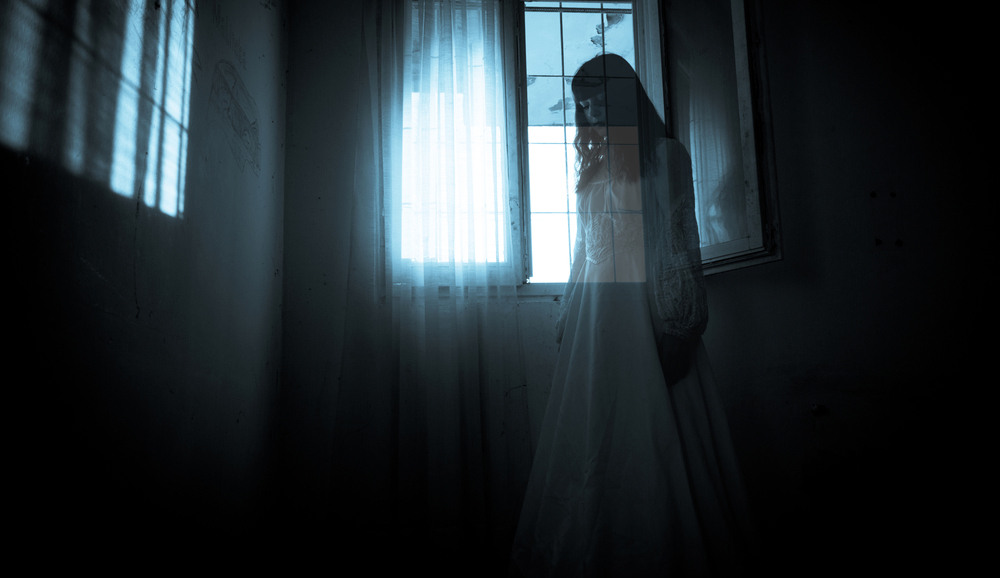 image via – shutterstock.com
Until my dad died at the young age of 70, only 8 months after being diagnosed with the killer cancer of the pancreas, I was highly skeptical about people who professed to feel the presence of a loved one who had passed.  I wrote it off to their imagination tricking them, due to the pain of their feelings of loss.
Although my parents had moved to Chicago, and I remained in New York, we saw each other quite a bit; my dad and I were early risers, so we often spoke by phone as we drank our morning coffee.  There was so much that I missed about no longer being able to actually talk with him, especially our "coffee talk".  After his death I was so emotionally spent, that I felt nothing for a while.  One morning after preparing my coffee, I sat down and began drinking as I stared at the bare trees of winter.  I felt a pat on my back, and looked around assuming my husband had entered the room…no one was there!
This kind of thing would happen as I would drink my morning coffee, for many years after my dad passed.  Part of me thought this was all in my head because I just missed him so much.  One day I smelled his after-shave, as I nervously was getting ready for an important interview…somehow I just knew that he had been watching over me and made his presence known in this way.  I broke down in tears of relief and appreciation.
It has been my experience, as well as that reported by many who have suffered the loss of someone very dear to them, that grief is not something you just get over.  It is more painful in the beginning (first few years), but actually continues throughout the course of your life.  Unless you have had the experience of a deceased love one making their presence known, you might not believe in this otherworldly experience.
Whether you are a believer in such paranormal events or not, I think you will find the video you are about to watch below, thought-provoking.  It's discussion of people's reports of how they have experienced the presence of their loved ones who have passed, is varied and certainly is open for interpretation.  The intriguing ways people are "touched" by those who have died include:
1. Lucid Dreams
2. Visions
3. Feeling Their Touch or Presence
4. A Sudden Change in Temperature
5. Unexplainable and Repeated Electrical Phenomena
6. Objects Disappearing and Reappearing Somewhere Else in Your Home
7. Smelling Them
After you watch this footage let us know your thoughts and feelings about these reported experiences.
Please SHARE This With Family and Friends