Japanese scientists announced that e-cigarettes contain 10 times the level of cancer-causing carcinogens than its counterpart in the tobacco world. At one time, e-cigarettes were touted as the answer to smoking without the complication of so many dangers.
The electronic nicotine products have increased in popularity with many believing that they are receiving a hit of nicotine without the health damage of a normal cigarette, laden with chemicals.
However, the research commissioned by the Japanese Ministry of Health found formaldehyde and acetaldehyde carcinogens in the liquid produced by a number of e-cigarette products, a health ministry official stated.
The group also learned that e-cigarettes can fuel potentially  life-threatening drug-resistant pathogens. This is based on lab study where they tested e-cigs vapor on live methicillin-resistant Staphylococcus aureus (MRSA) and human cells.
The formaldehyde carcinogen was found to be much more present in the e-cigarette liquids than in the chemicals used in regular cigarettes, according to the official.
"In one brand of e-cigarette the team found more than 10 times the level of carcinogens contained in one regular cigarette," said researcher Naoki Kunugita.
"Especially when the wire (which vaporizes the liquid) gets overheated, higher amounts of those harmful substances seemed to be produced."
However, Kunugita added that the levels of the formaldehyde carcinogen fluctuated in the final results.
"You call them e-cigarettes, but they are products totally different from regular tobacco," the Japanese health ministry official said.
"The government is now studying the possible risks associated with them, with view to looking at how they should be regulated."
Earlier this year, the World Health Organisation (WHO) urged governments to ban the sale of e-cigarettes to minors because of the "serious threat" posed to them.
The UN health agency said that despite the lack of evidence on the damage caused by e-cigarettes, there was enough "to caution children and adolescents, pregnant women, and women of reproductive age" about their use, adding that they should be outlawed from indoor public spaces.
According to the US Center for Disease Control and Prevention (CDC): "More than a quarter of a million youth who had never smoked a cigarette used electronic cigarettes in 2013, according to a CDC study published in the journal Nicotine and Tobacco Research. This number reflects a three-fold increase, from about 79,000 in 2011, to more than 263,000 in 2013."
You have our permission to reprint this article via creative commons license if you attribute us with a live backlink to this article. – Organic Health
The Heart Attack Grill is a burger joint in Las Vegas Nevada.  It has become a place of controversy because of it high calorie menu, provocative food names and waitresses wearing sexy provocative outfits.  The place is hospital themed meaning the waitresses are "nurses", instead of orders they take "prescriptions", and instead of customers they are "patients".  All the "patients" wear hospital gowns, and if you don't finish your meal you get a paddling from one of the "nurses."
You can order the "Single", "Double", "Triple" and even "Quadruple Bypass" burger.  The burgers range from 8 ounces to 32 ounces.  Customers who weigh over 350 lb (160 kg) eat for free if they weigh in with a "doctor" or a "nurse" before each burger.  You are not allowed to get anything to go and you are not allowed to share any food with your friends!
Have you ever witnessed anything like this before?
Please Share With Family and Friends
Source: Wikipedia
Even one sip of soda can cause health problems on your body. This infographic shows the dangers of what soda can do to you when it goes in your body.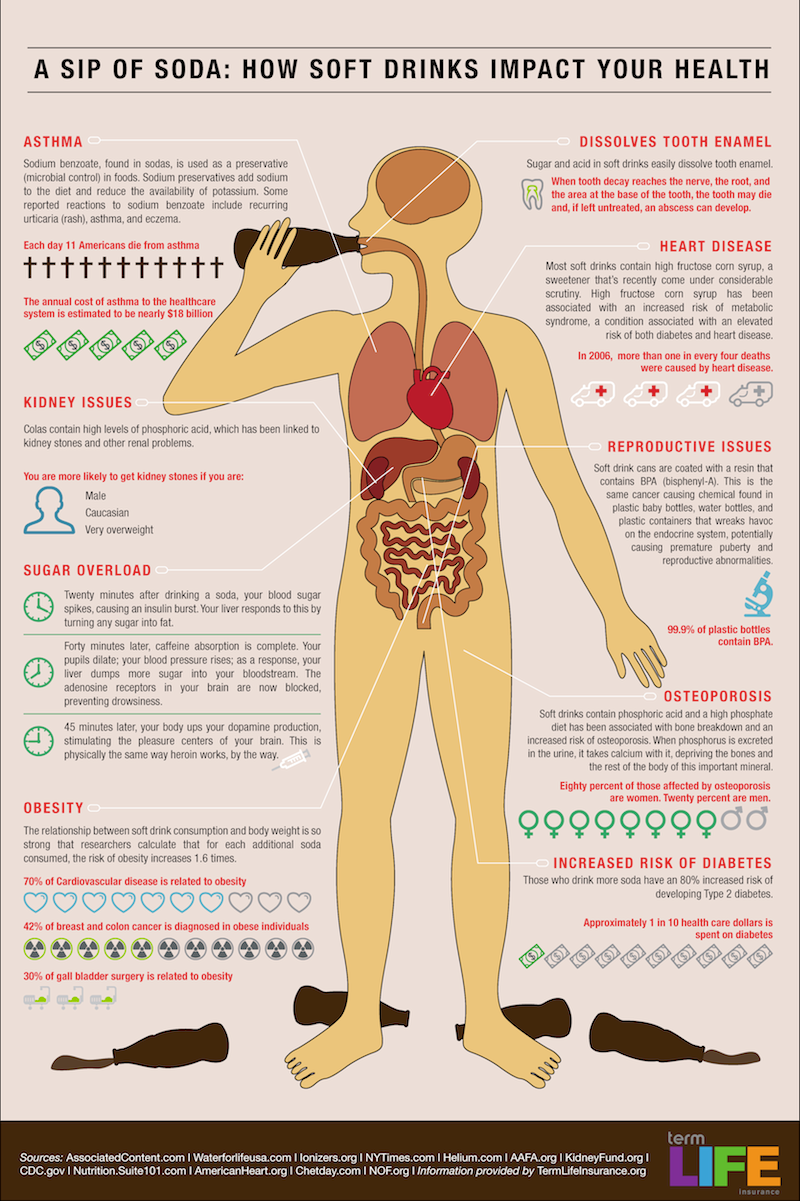 There are many religions that specifically forbid the consumption of pork. The meat is considered "unclean" and non-kosher. Is there a reason for this? Is there more to this religious teaching that we should all be aware of?
It seems as though the religions that condemn pork consumption are on to something, in fact there are many scientific claims to back this up.
Thanks to www.collective-evolution.com for the original article
Pigs are scavengers by nature, which means that they will eat almost anything, including rotten food, feces, urine, carcasses and even cancerous growths. Unfortunately the digestive system of a pig is incapable of effectively removing these accumulated toxins from the body because a pig
will digest its food entirely in about 4 hours. This is simply not long enough to remove the excess toxins that were ingested, these toxins are then stored directly in the fat cells and organs of the pig itself.
"Sweating like a pig" yet? Ironically enough, that statement isn't true -pigs do not have sweat glands which means they are unable to remove excess toxins by sweating (like we do). So naturally this means that pork meat would be a much more toxic meat than others and when you consume it you would be taking in those toxins as well. With our current environments, we really don't need to expose our bodies to even more toxins if we don't have to.
According to an investigation by Consumer Reports, 69% of all raw pork samples tested (of about 200 samples) were contaminated with a dangerous bacteria known as Yersinia enteroclitica. This bacteria can cause fever, gastrointestinal illness, diarrhea, vomiting and cramps.
Ground pork was more likely to be contaminated than pork chops. This pork also tested positive for other contaminants including a controversial drug called ractopamine, which is banned China and Europe. Many of the bacteria that were found in the pork were actually resistant to multiple anti-biotics, which makes treatment problematic and potentially lethal if you were to get sick.
According to the report:
"We found salmonella, staphylococcus aureus, or listeria monocytogenes, more common causes of foodborne illness, in 3 to 7 percent of samples. And 11 percent harbored enterococcus, which can indicate fecal contamination and can cause problems such as urinary tract-infections."
Pigs are a host to a number of parasites, viruses and other organisms, many of which can be directly transmitted to humans, some include:
Taenia solium -an intestinal parasite that can cause tissue infection and loss of appetite.
Menangle virus –a virus that can cause fever, chills, rashes, headaches and sweating.
Trichinella –A parasitic roundworm that can cause edema, myalgia, fever and malaise.
Hepatitis E –A viral inflammation that can cause fatigue, nausea and jaundice. More severe cases can lead to liver fibrosis and cirrhosis.
The study does indicate that if you were to cook the pork properly you can reduce the risk of the these parasites affecting you, but there is no guaranteed temperature for safety when it comes to pork.
If you still choose to consume pork, follow the following guidelines to increase safety.
As issued by Consumer Reports:
When cooking pork, use a meat thermometer to ensure that it reaches the proper internal temperature, which kills potentially harmful bacteria: at least 145° F for whole pork and 160° F for ground pork.
Keep raw pork and its juices separate from other foods, especially those eaten raw, such as salad.
Wash your hands thoroughly after handling raw meat.
Choose pork and other meat products that were raised without drugs. One way to do that is to buy certified organic pork, from pigs raised without antibiotics or ractopamine.
Look for a clear statement regarding antibiotic use. "No antibiotics used" claims with a USDA Process Verified shield are more reliable than those without verification. Labels such as "Animal Welfare Approved" and "Certified Humane" indicate the prudent use of antibiotics to treat illness.
Watch out for misleading labels. "Natural" has nothing to do with antibiotic use or how an animal was raised. We found unapproved claims, including "no antibiotic residues," on packages of Sprouts pork sold in California and Arizona, and "no antibiotic growth promotants" on Farmland brand pork sold in several states. We reported those to the USDA in June 2012, and the agency told us it's working with those companies to take "appropriate actions." When we checked in early November, Sprouts had removed the claim from its packages.
What About Organic Pasture Raised Pork?
While this pork is obviously going to be much better for you to consume, it is very hard to find, and still poses certain health concerns. Pasture raised pork is very susceptible to Trichinella spiralis infection, also known as the "pork worm." Trichinella is one of the most widespread parasites in the whole world, it has the potential to cause some very serious health concerns. Trichinella can be killed in the cooking process but one has to follow guidelines closely to make sure the meat is cooked through.
It is said that pork can be a "healthy" meat, but this entirely depends on how it was raised as well. Most if not all of the pork most of us consume is factory farmed. According to research by Dr Mercola: "So for most all industrially raised pork, I believe there is enough scientific evidence to justify the reservations or outright prohibitions in many cultures against consuming it. Nearly all pigs raised in the U.S. come from Concentrated Animal Feeding Operations, or CAFO's. These inhumane environments are typically toxic breeding grounds for pathogens.
These animals spend their short, miserable lives on concrete and steel grates. Antibiotics are given liberally with their feed, making their massive waste even more toxic.
This is why you can smell a CAFO swine operation miles before you see it. At an operation like Joel Salatin's, you couldn't smell any sign of pigs. These pigs were raised humanely and organically, where both animal and land are managed symbiotically.
Unfortunately, raising animals in CAFO's is the standard for Americans. For many of us, CAFO pork is the only option available.
Granted, the occasional consumption of pork might be fine, but it's a risk, and the more you consume it the more likely it is that you will eventually acquire some type of infection."
If The Pressing Health Concerns Aren't Enough…
It's a sad fact that 97 percent of all pigs in the United States today are raised in factory farms. This means that these pigs will never get to run on grass, breathe fresh air, or play in the sun. They are cramped and crowded into huge warehouses and fed a diet largely consisting of drugs and anti-biotics to keep them alive and to encourage rapid growth.
Many people believe that pigs are highly intelligent creatures. Some say they are smarter than dogs, and others say they are smarter than your average 3 year old. Pigs can form complex social networks and they also have excellent memories.
If pigs were given the sufficient space that they need, they wouldn't be soiling the areas where they sleep and eat, but in the factory farms the pigs have no choice but to live in their own feces, urine and vomit. Because of this, many (about 1/4) of pigs suffer from mange, an extremely itchy painful rash that doesn't go away.
Sadly, because of the conditions the pigs are forced to live in they are inhaling toxic gas such as ammonia that comes from the urine and feces, this gas irritates the animals lungs to the point where over 80% of the pigs raised in the U.S. have pneumonia at the time of slaughter.
The horrors that these creatures have to endure on factory farms goes on and on, what was mentioned here is just the tip of what is actually going on behind closed doors.
What Can We Do?
If you insist on eating pork, do so extremely sparingly, and if you can, make sure that it is raised without the use of anti-bitoics, hormones and other chemicals, that it has been raised on a pasture and fed a healthy diet. You have a right to choose, so choose wisely. Every single day you make a choice of what you are putting onto your fork.
Sources are embedded within this article as well as below.
http://draxe.com/why-you-should-avoid-pork/
http://articles.mercola.com/sites/articles/archive/2012/12/12/eating-pork.aspx
Stay Positive!

Humans experience an array of emotions, anything from happiness, to sadness to extreme joy and depression. Each one of these emotions creates a different feeling within the body. After all, our body releases different chemicals when we experience various things that make us happy and each chemical works to create a different environment within the body. For example if your brain releases serotonin, dopamine or oxytocin, you will feel good and happy. Conversely, if your body releases cortisol while you are stressed, you will have an entirely different feeling associated more with the body kicking into survival mode.
What about when we are thinking negative thoughts all the time? Or how about when we are thinking positive thoughts? What about when we are not emotionally charged to neither positive nor negative? Let's explore how these affect our body and life.
Positive vs. Negative
Is there duality in our world? Sure, you could say there is to a degree, but mostly we spend a lot of time defining and judging what is to be considered as positive and what we consider to be as negative. The brain is a very powerful tool and as we define what something is or should be, we begin to have that result play out in our world. Have you ever noticed, for example that someone driving can get cut off and lose their lid, get angry and suddenly they are feeling negative, down and in  bad mood? Whereas someone else can get cut off while driving and simply apply the brake slightly and move on with their day as if nothing happened. In this case, the same experience yet one sees it as negative while the other doesn't. So are things innately positive and negative? Or do we define things as positive and negative?
Cut The Perceptions As Much As Possible
After thinking about it for a moment you might realize that there are in fact no positive or negative experiences other than what we define as such. Therefore our very perception of an experience or situation has the ultimate power as to how we will feel when it's happening and how our bodies will be affected. While we can always work to move beyond our definitions of each experience and move into a state of mind/awareness/consciousness where we simply accept each experience for what it is and use it as a learning grounds for us, we may not be there yet and so it's important to understand how certain emotions can affect our health.
"If someone wishes for good health, one must first ask oneself if he is ready to do away with the reasons for his illness. Only then is it possible to help him." ~ Hippocrates
Mind Body Connection
The connection between your mind and body is very powerful and although it cannot be visually seen, the effects your mind can have on your physical body are profound. We can have an overall positive mental attitude and deal directly with our internal challenges and in turn create a healthy lifestyle or we can be in negative, have self destructive thoughts and not deal with our internal issues, possibly even cloak those issues with affirmations and positivity without finding the route and in turn we can create an unhealthy lifestyle. Why is this?
Our emotions and experiences are essentially energy and they can be stored in the cellular memory of our bodies. Have you ever experienced something in your life that left an emotional mark or pain in a certain area of your body? Almost as if you can still feel something that may have happened to you? It is likely because in that area of your body you still hold energy released from that experience that is remaining in that area. I came across an interesting chart that explores some possible areas that various emotions might affect the body.
When you have a pain, tightness or injuries in certain areas, it's often related to something emotionally you are feeling within yourself. At first glance it may not seem this way because we are usually very out of touch with ourselves and our emotions in this fast paced world, but it's often the truth. When I've had chronic pains in my back, knees, neck or shoulders, it wasn't exercise, physio or anything in a physical sense that healed it, it was when I dealt with the emotions behind it. I know this because I spent the time and money going to physio and even though I wanted and believed I would get better, something wasn't being addressed still. The more I addressed the unconscious thought pattern and emotions throughout my body, the more things loosened up and pain went away.
When you get sick or are feeling a lot of tightness and pain, often times our body is asking us to observe yourself and find peace once again within yourself and your environment. It's all a learning and growing process we don't have to judge nor fear.
You Have The Power
Davis Suzuki wrote in 'The Sacred Balance', 'condensed molecules from breath exhaled from verbal expressions of anger, hatred, and jealousy, contain toxins. Accumulated over 1 hr, these toxins are enough to kill 80 guinea pigs!' Can you now imagine the harm you are doing to your body when you stay within negative emotions or unprocessed emotional experience throughout the body?
Remember, you have all the power in you to get through anything life throws at you. Instead of labeling with perception the concepts of negative and positive as it relates to each experience you have in your life, try to see things from a  big picture standpoint. Ask yourself, how can this help me to see or learn something? Can I use this to shift my perception? Clear some emotion within myself? Realize something within another and accept it? Whatever it may be, instead of simply reacting, slow things down and observe. You will find you have the tools to process emotions and illness quickly when you see them for what they are and explore why they came up. If you believe you will get sick all the time, and believe you have pain because it's all out of your control, you will continue to have it all in an uncontrollable manner until you realize the control you have over much of what we attract within the body.
Sources:
http://www.collective-evolution.com/
After months, Jake Bouma finally gets the results of how is cancer responded to the treatment.  Anybody who has been through this knows how emotionally charged a moment like this can be.  Jake had gone through four rounds of chemotherapy to treat his Hodgkin lymphoma.
Please Share With Family and Friends