Up and coming rapper King Los stopped by the radio show Sway in the Morning.  As a 16-year-old high school student, Los, began writing poetry and literature to deal with the pain of losing his father to murder. At 18 he started rapping, when he would participate in the local Baltimore battle rap scene.  Los originally was signed to Bad Boy Records but left in 2014 and is now signed to RCA records.
Sway asks King Los if he would participate in the "5 Fingers of Death", which means he freestyles on the spot to 5 different beats.
While the beat switched, so did his flow and Sway was throwing out random words for Los to throw in his rhymes.  This is truly a natural poet as each word was thrown to him he was able to rhyme incredibly.
Sway is so mind boggled in this he can barely believe what he just heard.  He even goes on to compare him to the greats like, "Biggie, Tupac and Jay-Z."  This is must-watch.  You will definitely be impressed.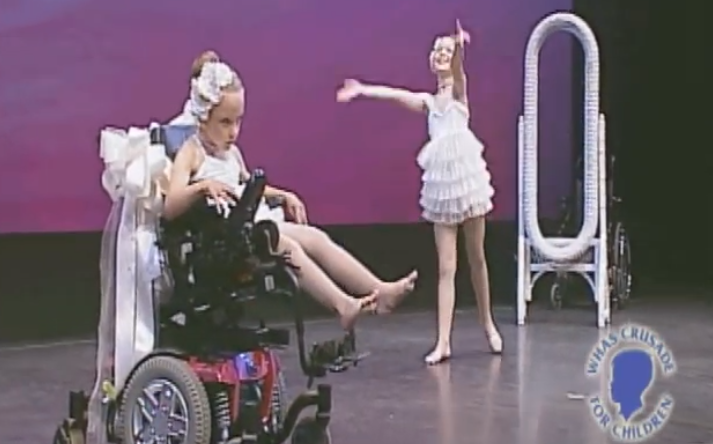 Meet two beautiful sisters Gracie and Quincy Latkovski who both love to dance.  They love getting on stage, having the spotlight on them and wowing the audience with their incredible dancing.  However, Gracie has cystic fibrosis and cerebral palsy and has been in a wheelchair for her whole life.
Even though she has this disability, she doesn't let it stop her from being a normal little girl.  She still loves doing all the things little girls love to do.
In the video below, these two talented little girls give an amazing performance to the song "Reflections" by Jackie Evancho.  The choreography is set perfectly to the song lyrics as the two sisters mirror each other, representing their deep bond.  This is such a beautiful and emotional performance.  Enjoy!
Please Share This With Family and Friends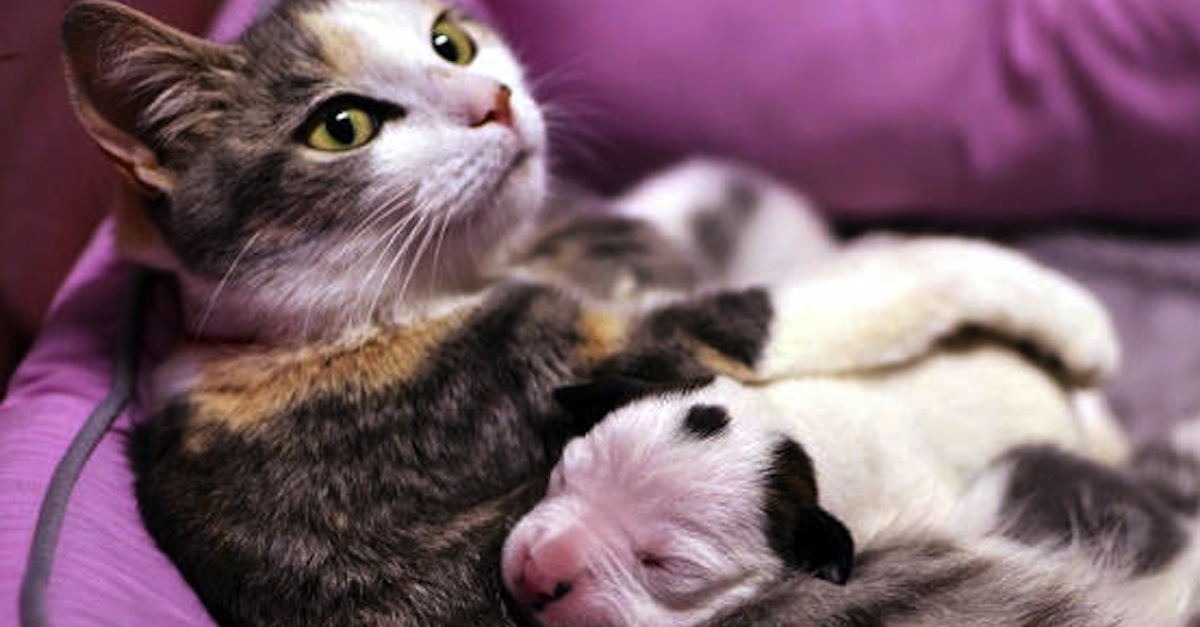 A one day old puppy was found abandoned, fly covered, and all alone in a garage. With no mother around and no time to spare the baby pit bull mix was brought to the Animal Protective League Shelter in Cleveland, Ohio. Upon the little black and white puppies arrival an assembled team treating him had to quickly determine what his best options for recovery were. They decided to try and place him with a stray cat who had just given birth two days earlier at the shelter. The two were carefully introduced and almost immediately the mama cat sniffed and nuzzled the tiny dog. Her affection and acceptance were clear and from then on the puppy had a new mother.
The video clip here shows the happy part of this incredible story. Noland, the puppy, and his feline mother, Lurlene, can be seen snuggling together along with the other four now-sibling-kittens. They look so warm and cozy all curled up in one big fur ball. It is a touching testament to the love and affection that a mother has for her babies and for ones she adopts. The maternal instinct seems to know no boundaries for this mama cat. She lovingly took in a puppy right beside her own kittens, watching over and nurturing them all.
The cutest part of the video is when the foster mother/volunteer is feeding Noland and Lurlene is right by her side watching over her new son. She looks so concerned about him and like she wants to be part of the additional feeding that the growing puppy needs. When she licks and paws at him while he is in the lap of the volunteer it seems like she is saying to her new baby 'I'm right here, don't worry.' It melted my heart to see that!
Update to this story: Noland's mother was found chained, emaciated and too scared to care for her puppy and the owner was convicted of animal neglect. Noland thrived and stayed with his new cat family in a foster home until he was too big whereupon he was placed with puppy litter. All the cats and dogs were eventually adopted, even Noland's mother. The story got the shelter national attention and won them a Petco Foundation Grant worth $25,000. All this because one mother cat's love for a puppy in need.
Please Share With Family and Friends
How do you define your happiness? For me, at least it's not about having it all, it's about making the best out of every situation you are faced with and learning to just enjoy the simplest of pleasures.
This family seems to understand that down to a tea.
Instead of complaining and being negative about the winter, as most of us have been, Joseph Colangelo decided to turn the coldness and snow into a positive experience.
This awesome father built a massive backyard luge track for his young kids.  I can't think of anything more fun than this.  I wish my dad had thought of something so clever.
Watch the video below to see how fun he makes winter for his kids.
Usually when we think about cats and dogs we don't see them as best friends.  But in this beautiful story Charlie the dog and Scout the cat defy all odds.  From the first day they met, they became best friends and they never left each others sides.  They shared a bond so deep that nothing could break it.  Read their touching story below.
If you liked that story, Watch This:
Trent Harris took the court at a recent Southern Regional High School varsity basketball game in New Jersey to show off his little singing skills in an entirely different rendition of our "The Star-Spangled Banner."
In reality, the 2-year-old sort of mumbled all the lyrics, but that doesn't make his memorization skills any less impressive.  This little boy is just so adorable, and brave for getting out there.