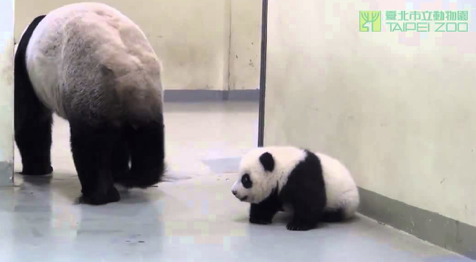 image via – youtube.com
There is something magical about Giant Pandas. Throughout the ages the furry black and white animals have always charmed and fascinated people. Maybe it's their gentle nature or their roly-poly bodies, whatever it is, people love and can't get enough of them.
In recent years, thanks to conservation efforts and diplomacy, China has been sending Pandas to different countries as part of an exchange program. Whenever a Panda is brought to a new zoo in a country they are met with lots of excitement, celebration, and fanfare.
Crowds flock to see the bears and much attention is lavished on them in the media and behind the scenes. Special habitats are constructed and a highly skilled team of handlers, zookeepers, and veterinarians are put in place.
Such was the case in 2008 when the Taipei Zoo in Taiwan received two Giant Pandas, a male named Tuan Tuan and a female named Yuan Yuan. Five years later, with the help of artificial insemination, the couple was able to have a baby.
Yuan Yuan gave birth to Yuan Zai, an adorable and healthy baby girl, in the summer of 2013. The tiny cub can be seen in this video with her mother, who is munching on some tasty bamboo. Apparently Yuan Yuan thought her baby was fast asleep, but the little tyke was actually wide awake and roaming around the rooms of their enclosure at the zoo.
The cub finally gets caught when she peeks her tiny little head into the room her mother is in. Yuan Yuan immediately gets up and lays down the law, gently grabbing her baby by the scruff of her neck and dragging her back to bed!
The scene is all too familiar, mom is just trying her best to put her little baby to bed and like all kids when it comes to nap time, Yuan Zai is less than thrilled at having to go to sleep. It's wonderful to see that this mommy cares so much for her baby and is going off her instincts when it comes to her role.
These days the Giant Panda's very existence is threatened and they are now classified as an endangered species. Part of why they're so vulnerable is that their range is small, they only live in a couple of mountain ranges in Central China.
Those areas have become increasingly developed, with farmers and other industries clearing the land and forest. No one knows for certain how many of them are living in the wild and estimates place the number at anywhere from 1,500-3,000.
The conservation efforts of zoos are becoming vitally important to the continued growth and existence of a healthy Panda population, and Yuan Yuan and Yuan Zai are living proof of how these programs are working.
Did this video make your day? Let us know if it put a smile on your face! 🙂
Please Share This Adorable Video With Your Family and Friends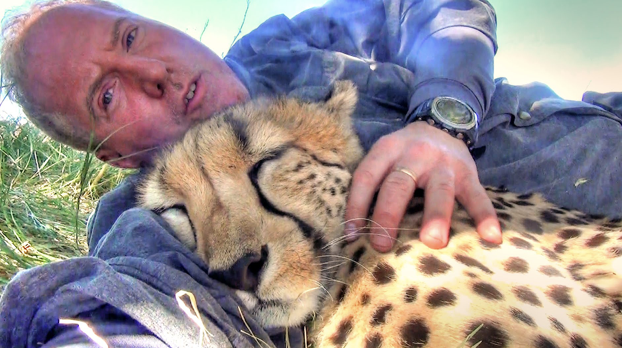 A volunteer at the Cheetah Experience in South Africa, Dolph C. Volker, put out this extraordinary video to illustrate the possibility of having an affectionate relationship between a human and a big cat.  He writes, "Many people see Cheetahs hunting, running, killing, resting, or raising their young in documentaries, TV, or zoos.
I wanted to show people the up-close and personal side of Cheetahs. I was pleasantly surprised how wonderful their personalities can be. Cheetahs are not considered a 'social' cat but they love, display affection, love attention (the tamed ones) and very interactive."
The footage you are about to view shows Volker with an adult Cheetah named Eden, who has taken an immediate liking to him, within a few days of meeting.  He said that he was able to "trust her completely", as Eden's comfort with him increased.
His take on her treatment of him was reflective of her experiencing him as another Cheetah.  This included the astounding behavior we get to view in this video which Volker narrates as it takes place in front of our eyes;  "grooming, nibbling, biting, pacifying, purring, laying on me, and sleeping… cuddling up close to me. I'm amazed how much more interactive and affectionate Cheetahs are compared to the average domesticated cat."
I have to say that although I found this video captivating, I had to question Volker's judgement in laying down with Eden; at any moment she could get carried away with her affection and bite him, without meaning to hurt him.
Volker talks about this, although he believes that by listening to her purring he was capable of gauging whether at any moment he could be in danger.
Please Share This Incredible Encounter With Family and Friends