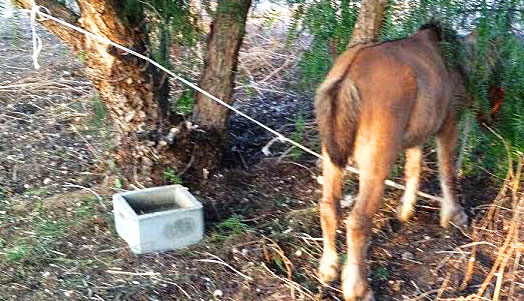 image via – youtube.com
In September, Spanish police encountered a pony tied to a tree. The elderly animal was not in a good place. The pony had been abandoned in the heat of a Spanish summer. Essentially, the animal was not in prime condition.
When the police officers approached, they couldn't help but gasp at the poor pony's emaciated body. Evidence of poor treatment was all over the animal's torso. When the officers got closer, the animal wouldn't even look up at them. Luckily, the officers knew what they were doing.
The officers were from the Easy Horse Care Rescue Centre (EHCRC) located in a village nearby. The officers brought the pony to the center. Specialists estimated the pony to be around 20 years old. They noted that upon arrival, he was malnourished, dehydrated, and weak. Worst of all, one of the pony's eyes was literally rotting inside his head likely caused by a neurological disorder.
Luckily, the pony was finally in a place where he had the opportunity to experience real love and care. After taking care of his immediate injuries and thoroughly feeding the pony, the EHCRC devoted a page on their website to the animal. They wrote on the page that while the pony was a special needs animal and would require special care, he is already much healthier. It was truly a miracle that the officers found the poor animal in time.
Watch the video below for the full story:
Please SHARE This With Family and Friends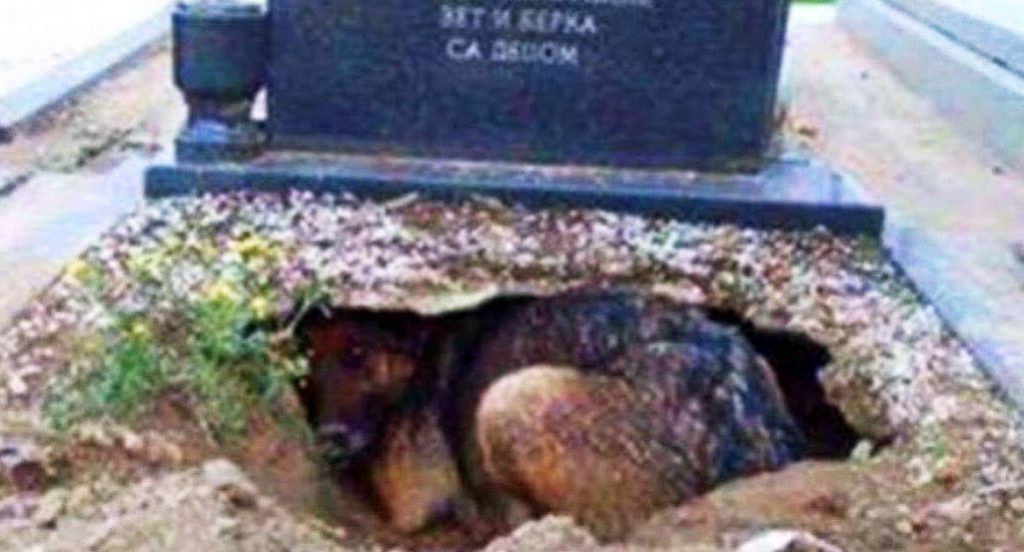 image via – youtube.com
A little while back animal lovers across the internet were moved by a sweet photo that went viral. The picture was from Serbia and depicted a german shepherd lying at a grave. Many thought it looked like the dog was grieving for his deceased master. However, something about the photo was not quite how it appeared.
Science has confirmed that dogs can actually feel love for you as they have the intellect equivalent similar to a two-year-old. Since dogs can love, is it possible that the dog was truly mourning? Possibly. There are certainly examples of dogs doing the same thing in history. One animal rescuer was not fully convinced.
Vesna Mihaljoski investigated the grave. Upon arriving, she confirmed that the dog was still at the grave. She looked closer. First, she noticed that the dog was actually in a hole that it had dug beneath the grave. Second, she was actually cuddling a litter of puppies.
The real reason that the dog refused to leave the grave was now clear. She had dug a den to protect her puppies. Luckily, Mihaljoski decided to adopt the mother and her pups. It turns out that the dog wasn't mourning at all. With that discovery, the story turned from a tragic one into a happy one!
Watch the video below for the full story:
Please SHARE This With Family and Friends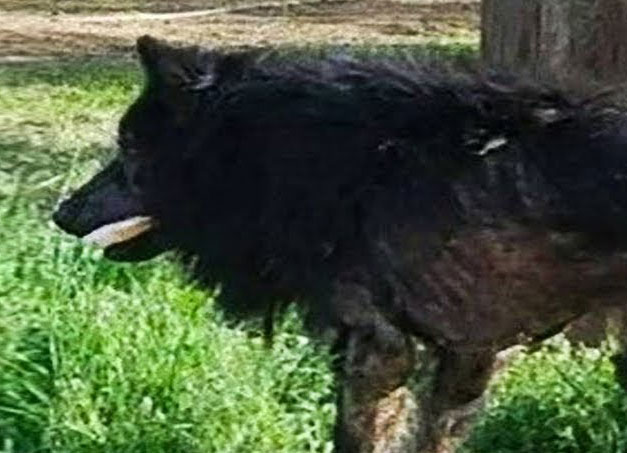 image via – youtube.com
Fear of the unknown paralyzes many people in all walks of life. We have all been alone at our house, hear a strange sound and become absolutely terrified by what most likely is nothing at all. Many people, mostly children, but even some adults have a fear of the dark. The ominous presence darkness and not being able to see what could potentially be in the room strikes fear in the heart of many. Fear can cause many people to freeze and not be able to be brave in the face of a dangerous situation. Also if people are scared of something they tend not to approach it and will pretend it isn't there and ignore it.
This brings us to today's story featuring 'Werewolf' a mysterious canine who showed up one day on the side of the road in Mandara Ranchos California. From afar the canine looked imposing, scary and freaky and many residents of the area were aware of his presence but nobody had the courage to approach him.
His hair stood straight up, he looked completely disheveled, he was hunched over in an odd position and people really didn't know what to do. Weeks then months had passed and around the town he began being referred to as 'Werewolf' because the residents didn't know what type of creature he was or that he was actually very sick, injured and needed immediate medical treatment or else he would soon die.
Finally after months and months of the dog being there. A brave woman approached and realized that yes this 'mysterious creature' was in fact a dog and it happened to be a German Shepherd mix who had been abandoned, beat up, had scabs, bruises, scabies, broken tail and mange which all led to his scary and unapproachable appearance. This human angel immediately sprang into action put him in her car and drove directly to a veterinarian hospital.
The poor dog who had been suffering horribly for months finally was getting the help he so desperately deserved. The vet did an exam and the dog was so lucky that it was brought in when it was because he wasn't going to make it much longer outside.
Watch the video below for the full story:
Please SHARE This With Your Family and Friends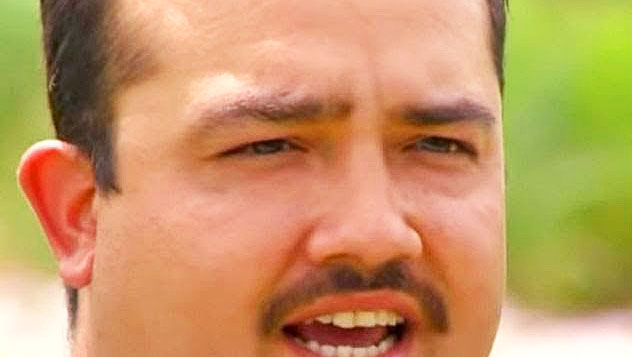 image via – youtube.com
Nothing cools you down faster on hot summer's day than taking a dip in a cool mountain lake.  That was exactly what Angelo Mondragon set out to do on a sizzling hot July afternoon. The 32 year old plumber from Fort Collins, Colorado was in the middle of his summer vacation when he decided to visit friends and family at nearby Windsor Lake.  He was looking forward to relaxing by the waters edge and took along his wife and children.
Once they got to the lake, Angelo and his family found a nice spot to set up on the beach.  Since it was a hot Sunday afternoon in July the place was pretty packed with other young families hoping to escape the oppressive heat.  After settling in and making sure everyone was all set, Angelo headed straight towards the water for a that refreshing dip he'd been looking forward to.
When he entered the water, nothing seemed amiss.  Kids were yelling and splashing all around, playing games and having a blast while their parents and older adults chatted on the beach.  As he waded in further to waist deep water, he suddenly felt something bump against his leg. Whatever it was felt soft and very strange, and Angelo later explained that "It felt like something you normally wouldn't feel in the water."  Wanting to find out what the heck it was, he gently toed at it to bring it up towards the surface. That's when he saw the bottom of young child's foot floating in the water.  
Looking down in shock and horror, Angelo gasped before quickly grabbing the baby and screaming for help.  He carried the little girl out of the water, yelling for her family all the while and for someone to call 9-1-1.  The toddler was limp and lifeless in his hands, wasn't breathing, and had already turned blue. It didn't look good at all. 
Once he got the child onto the beach two off-duty nurses and an off-duty police officer ran over to help him administer CPR.  As they waited for the ambulance to arrive, he prayed that the girl would make it. Working together, they all managed to revive the girl and by the time the ambulance brought her to the hospital she had regained consciousness and was alert.  
The following day Angelo got to meet the little girl he'd saved less than 24 hours earlier at the Children's Hospital in Aurora where she was in good condition.  Her name was Sitlali Hernandez, she was just 3 years old, and had been at the lake that day with her family, just like he was with his three young kids. He also met Sitlali's mother, who thanked him for his quick action and saving her child's life.  
In a later interview Angelo remarked that "If I was not in that right spot at the right time, it could have been a search and rescue mission.  As I told the little girl's mom, when I saw the baby's toes, that became my baby." In the wake of the incident, he decided to try and rally the local community and businesses around collecting flotation devices for anyone who might need but doesn't have or can't afford them.  He was inspired to act, and who knows, he may end up saving more lives down the line.
Watch the video below for the full story:
Please SHARE This With Family and Friends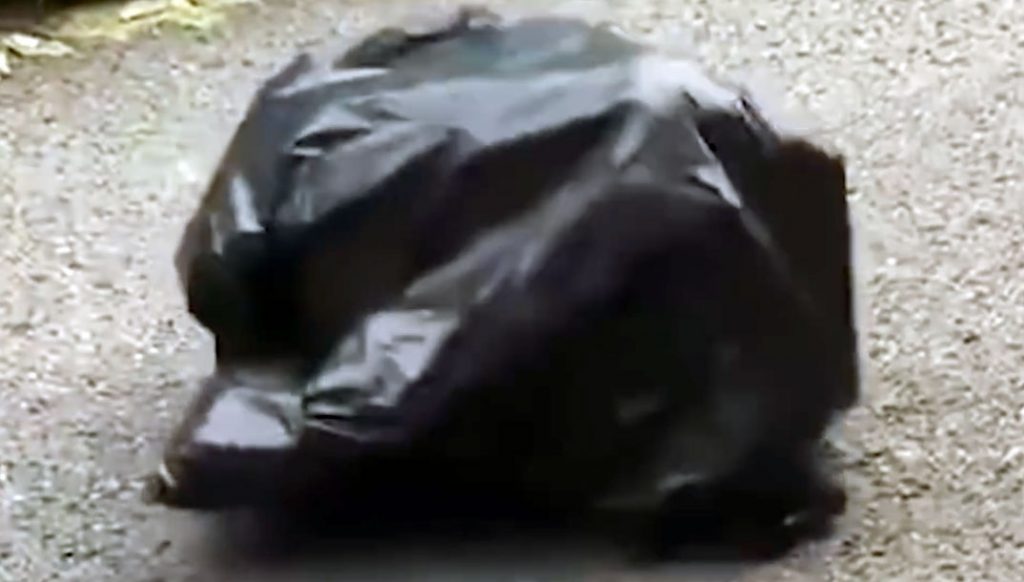 image via – youtube.com
Life works in mysterious ways and if you believe in fate, then here is a story that seemed destined to be right from the start.  We all know how a routine day can change in an instant, and for Malissa Sargent Lewis, her typical morning was thrown off right from the start.  She was running late to work and had decided to cut through a neighborhood in order to quickly reach the elementary school where she worked at.  
The back roads were quiet that early Thursday morning, leaving her free to go at her own pace.  As she rounded a corner, she noticed something up ahead in the middle of the road. It was a black trash bag, nothing unusual in and of itself, but the bag seemed to be moving.  Malissa slowed down and eventually stopped near it, she knew something was alive in the bag. Despite not knowing what exactly was inside, she decided that she had to set it free. 
After walking over to the tied off bag she decided to tear a hole in it to have a peek at whatever was inside.  As she peered in, she gasped out loud in disbelief, it was a tiny little puppy! He was wagging his tail and looking up at her, as if he knew he was finally safe and free of his dark prison.  The poor thing had been stuffed inside a trash bag and thrown out like it was trash in the middle of the road. How could anyone be so cruel and disgusting she wondered.  
Still running late to work, she did the only thing that she really could at that point and took the puppy with her.  He sat on her lap while she drove and when she arrived, she brought him inside with her. Thankfully no one seemed to mind the puppy being at school that day.  In fact, a guidance counsellor who loves animals took him to visit a 2nd grade classroom and all the kids loved the little guy and doted on him.  
Meanwhile, Malissa had called her son to come and pick the puppy up.  They brought him to the vet to make sure he wasn't hurt in any way and up to date on all his shots.  After he got a clean bill of health they took him home and decided to keep him. As for whoever cruelly tied him up and abandoned him in the road, the cops are investigating and looking for them.
In the end, the approximately 8 week old puppy was named Hefty, after the bag he was found in, and is doing well.  He's playful, happy, grateful, loving, and spoiled by his new family who are thrilled to have him with them. It seems that fate had already fell into place that morning when Malissa spotted the bag in the road, and Hefty was destined to be part of her life.   
Watch the video below for the full story:
Please SHARE This With Family and Friends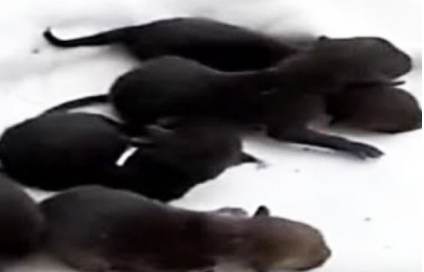 image via – youtube.com
There is no more respectable job on the planet than a firefighter. These brave men and women risk their lives day in and day out to keep regular citizens like us safe. The brave men and women of the fire department truly need to be celebrated for their hard work and dedication to keeping so many potential tragedies from happening. Many of these firefighters have families to take care of and they never know when it could potentially be the last time they say goodbye to their spouse and children.
With all that being said today's story is not about these brave souls saving fellow men and women, rather they are saving innocent animals. The setting takes in the beautiful and captivating Colorado Springs mountains. Is was just an ordinary day for the squad at the fire department. They were all just doing their jobs waiting to jump into action just in case a fire broke out and an emergency needed to be taken care of.
Back in March, a call did come in, but it wasn't about a hot blazing fire scorching the earth, rather it was about a litter of 8 small puppies that seemed to be left for dead alone and fending for themselves in a storm drain! How could anyone abandon such helpless and adorable creatures? One may never know, however the firefighters needed to figure out how to get the poor pups out of the storm drain without any of them being hurt.
They arrived at the seen concocted a plan and began pulling out each puppy gently and carefully. They noted that the puppies had black fur so they believed that most likely they were abandoned black Labrador pups and hopefully their mom was somewhere nearby and would return to take care of her young pups. The adorable little fur babies were too young to survive on their own and were basically just little defenseless fluff balls.
Luckily getting the puppies out of the drain safely was done without too much of any complications. The firefighters waited around to see if their mama would show up seeing that the pups were safely out of the storm drain and maybe she was lurking somewhere close by. They waited and waited but no mother dog showed up, so they brought the helpless puppies to the Pikes Peak Region Humane Society where they could get proper care and hopefully would grow, mature and adapt to their environment like any other dog.
When they got to the humane society a vet took a look at the pups as he examined them. When he looked closer he realized something that left him stunned!
Watch the video below for the full story:
Please SHARE This With Family and Friends