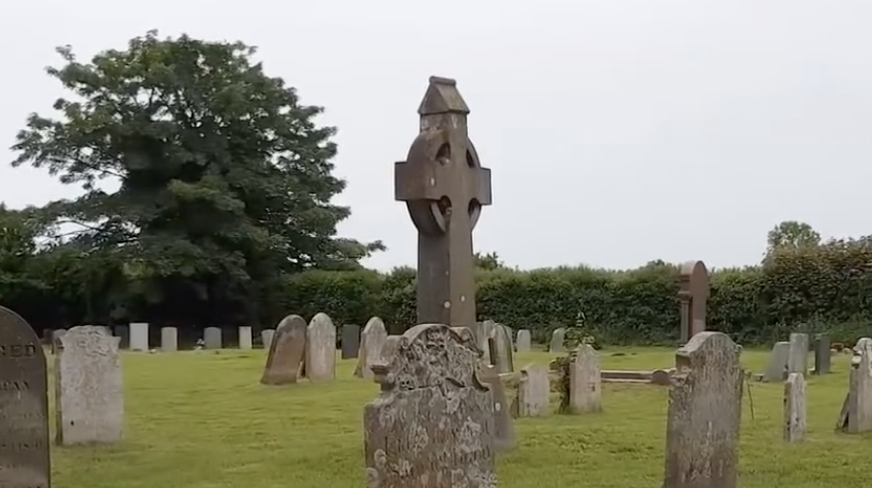 image via – youtube.com
When you think of a cemetery, a quiet, solemn, well taken care of place comes to mind.  It is a sacred spot where people are laid to rest and the idea that the deceased should be left in peace is deeply ingrained in societies across the world.  
What doesn't come to mind is crime, hate, or vandalism, yet just like any other place open to the public, these things do occasionally happen at cemeteries.  One such place was at the Grove Street Cemetery in New London, Ohio. Visitors to the cemetery noticed that a number of items they had placed at gravestones had started to go missing.  Most of what mysteriously vanished were special keepsakes and little trinkets that represented memories of people's loved ones, which naturally left people upset that they'd been taken.
One of the victims, whose parents, grandparents, and great-grandparents were buried at Grove Street Cemetery, said that various mementos she had left there were gone when she went back to visit them.  One such item was a flowerpot that she had given her father back in 1977. While not worth all that much monetarily wise, to her it was priceless and held deep personal meaning.
Thankfully, the cemetery had already installed surveillance cameras on the premises for security reasons.  They caught the thefts on tape and handed the evidence over to police to investigate the matter when they couldn't find the people responsible on their own.  What was on the tapes was disturbing, two older women would drive their car through the cemetery and stop at various gravestones. If they saw something they liked, the women would casually walk over and pick it off the grave, then bring it back to their car. It was as it they were shopping and even items that had been weighed down or secured with heavy bricks were not off limits.  
The police soon identified and arrested the two women from the tapes and when people finally found out who they were they were shocked.  One of the women, Donna Riley, had been elected as the fiscal officer of the nearby Sullivan Township. Her position meant that people entrusted her to oversee and manage the town's monetary funds.  Both she and her accomplice, Evelyne Cantu, were charged with misdemeanor theft which they both initially pled guilty to. However, after they got a lawyer, they both subsequently withdrew those pleas and instead pled not guilty to the charges.  
After the women were caught, no more items went missing from the cemetery and things settled back down to normal.  While most people are taught to honor the dead and care for gravesites, those two clearly were clearly lacking in respect.
Check out the video below for more information on the story:
Please SHARE This With Family and Friends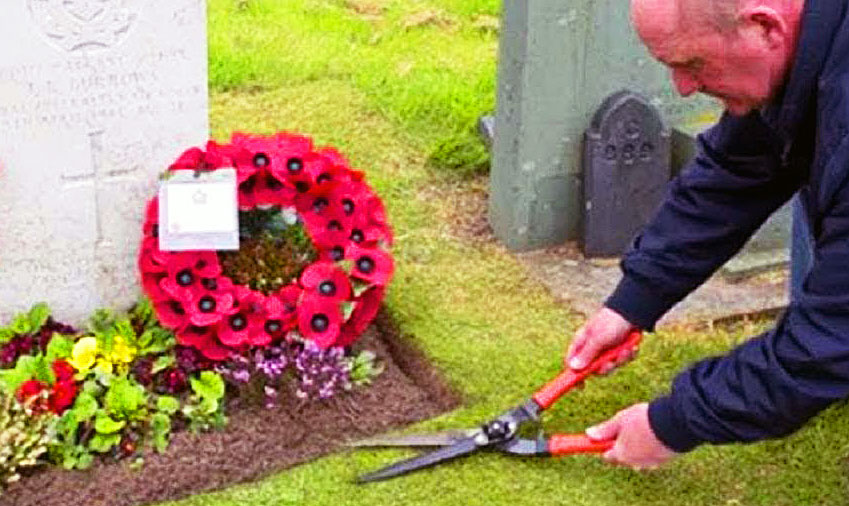 image via – youtube.com
Over twenty five years ago Wayne Hartshorne from Staffordshire, England had gone to visit his grandfather's grave at a local cemetery when he noticed something strange.  On his way out just as he was leaving, he happened to pass by the grave of an Australian RAAF pilot, Warrant Officer John Benjamin Burrows. Wayne was surprised that an Australian man had been buried in the UK, it was so far away from his home country, and he decided then and there that he would tend the gravesite and keep it nice out of respect for the World War II soldier.
Years passed by and eventually some friends of Wayne resolved to figure out the story behind the young man.  From time to time Wayne had tried to look into Burrows past but the information he found was limited in scope.  The two men he turned to for answers were Richard Pursehouse and Lee Dent, both of whom were military researchers.  They uncovered the story of Burrows and how he came to lay to rest in England.
Burrows had been born in a suburb of Melbourne, Australia back in July 1921.  After enlisting in Melbourne he was sent to Britain to train as a navigator with the 297 Squadron, which flew out of RAF Netheravon near Salisbury.  In 1942 he married a local woman named Edna Marjorie Ruth Preece and was sadly only with her for six months.
On April 5, 1943 he had been on a mission that involved dropping propaganda leaflets over German-occupied France that come under heavy fire.  The pilot tried to make it back to base but the damaged plane and heavy fog blanketing the area caused them to crash. Three airmen did survive that accident, but the pilot and Burrows were killed. 
His life had been cut short and he left behind a young widow in Staffordshire.  It is believed that she wanted him buried nearby rather than sent home to Australia and so the cemetery in Cannock, England was where he was laid to rest.  His parents, Alexander and Ada Burrows, picked out a gravestone and had it inscribed with the words "Still living, Still ours, Father and Mother."  
For years Burrows grave had been left alone and no one ever tended to it or came to visit.  His family were so far away and the only connection he had to the area, his widow, had moved to the US and remarried after his death.  When Wayne came across the grave that fateful day in 1992, he vowed to keep the memory of Burrows alive and every month since he has visited it when he goes to see his grandparents.  
A groundskeeper by trade, the upkeep work comes naturally to him.  He's planted flowers and trims the grass. He believes it's the least he can do and now that he knows the story behind the soldier his work has become all the more meaningful.
Watch the video below for the full story:
Please SHARE This With Family and Friends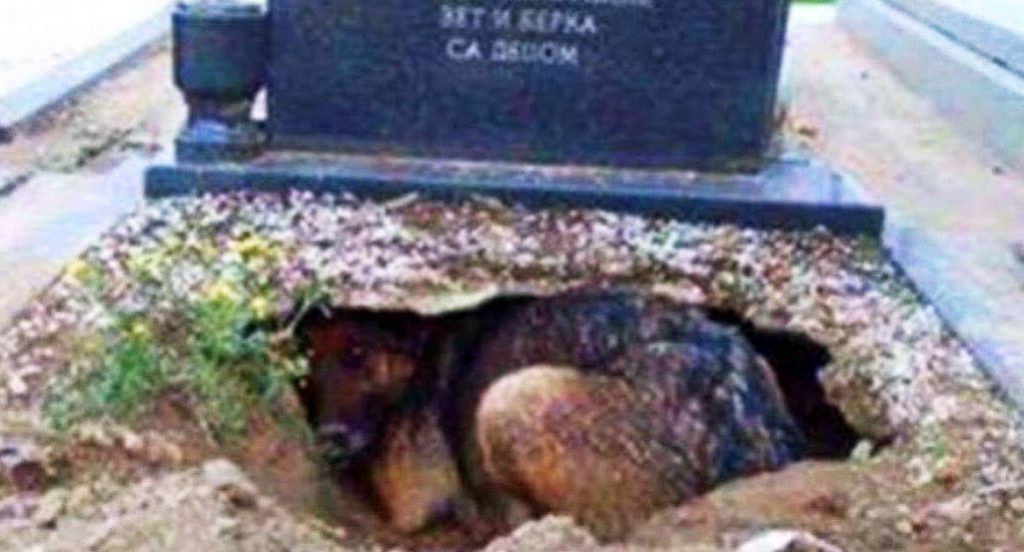 image via – youtube.com
A little while back animal lovers across the internet were moved by a sweet photo that went viral. The picture was from Serbia and depicted a german shepherd lying at a grave. Many thought it looked like the dog was grieving for his deceased master. However, something about the photo was not quite how it appeared.
Science has confirmed that dogs can actually feel love for you as they have the intellect equivalent similar to a two-year-old. Since dogs can love, is it possible that the dog was truly mourning? Possibly. There are certainly examples of dogs doing the same thing in history. One animal rescuer was not fully convinced.
Vesna Mihaljoski investigated the grave. Upon arriving, she confirmed that the dog was still at the grave. She looked closer. First, she noticed that the dog was actually in a hole that it had dug beneath the grave. Second, she was actually cuddling a litter of puppies.
The real reason that the dog refused to leave the grave was now clear. She had dug a den to protect her puppies. Luckily, Mihaljoski decided to adopt the mother and her pups. It turns out that the dog wasn't mourning at all. With that discovery, the story turned from a tragic one into a happy one!
Watch the video below for the full story:
Please SHARE This With Family and Friends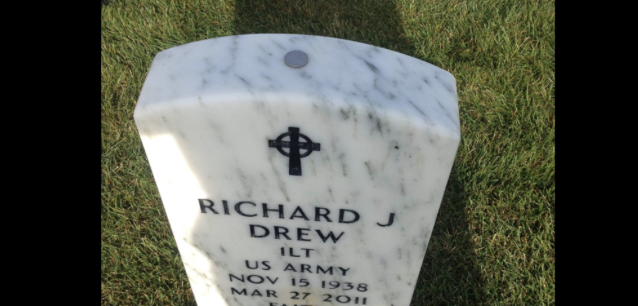 image via – youtube.com
Facebook user, Dave Malenfant, shared this story because it really touched him.  He proudly works at the National Cemetery in Holly, where fallen soldiers lie.  One of his responsibilities is the "Cleaning of the Stones", while doing so he noticed a quarter placed on one of the headstones and wondered about it.
Later on, he saw a nickel placed on another stone, and realized it had to be intentional.  He was so touched that he took pictures, and decided to look into it.  What he learned affected him so deeply that he felt the need to share it with others.
The purpose of a coin left on a headstone is a sign of respect; it lets the deceased soldier's family know that someone took the time to stand before his or her grave, to show gratitude for the fact that they gave  their life in service of our country.  Each denomination of coins has a certain meaning.
The video you are about to watch below goes into greater detail in explaining this custom.  Leaving a penny means you simply visited the grave while a nickel signifies that you trained with the fallen soldier in boot camp.  Leaving a quarter has the deepest significance; it means that you were there when the soldier died.
After watching the video below, please let us know your thoughts about this custom.
Did you know about this?
Please SHARE This With Family and Friends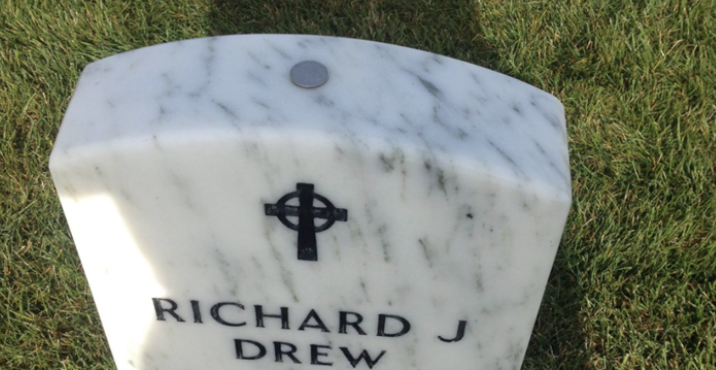 Image via: facebook.com/DaveMalenfant
The national and state veterans cemeteries that dot America are special, sacred places. Burial there is reserved for the brave men and women who made the ultimate sacrifice and gave their lives while serving in the military. If you've ever visited one of these veterans cemeteries before then you may have noticed coins left atop the stone markers, and if you are not in the military then you likely wondered what it all means.
Coins that have been left on or around gravestones indicate that someone stopped by to visit and pay their respects to the deceased buried there. Pennies, nickels, dimes, and quarters are each representative of different meanings. Depending on the denomination, the presence of each type of coin sends its own distinct message, but they all tell the soldier's family and loved ones that someone stopped by.
Leaving a penny atop a grave means that someone visited to pay their respect, while nickels are left to signify the visitor trained at boot camp with the deceased. Leaving a dime at a grave means the visitor served with them at some point or in some capacity. A quarter left on a stone marker is symbolic of the fact that whoever left it was with the soldier when they were killed.
While the practice of leaving coins on military graves dates back to the Roman Empire, it's a relatively recent occurrence here in America. It began in the mid 1960s when people started leaving coins at cemeteries during the Vietnam war as a way to show that they had visited a soldier's grave.
At that time the country was torn and divided by the hugely unpopular war. Rather than contacting a soldier's family directly, and risking either upsetting or getting into an argument with them, visitors chose to simply leave coins to communicate the fact they'd been there.
The tradition has been carried on over the years and it's proven to be beneficial for everyone. At national and state veteran cemeteries the coins are collected annually and the money is used to pay for the upkeep and maintenance of the grounds.
Some of it goes toward paying and covering the burial costs of indigent veterans. Visitors are able to pay their respect and let the deceased's family know that they stopped by. Memories are shared, healing occurs, and people feel better about the past. All of this is possible with the simple act of marking your remembrance with a coin, and that's beautiful.
Please SHARE This With Family and Friends