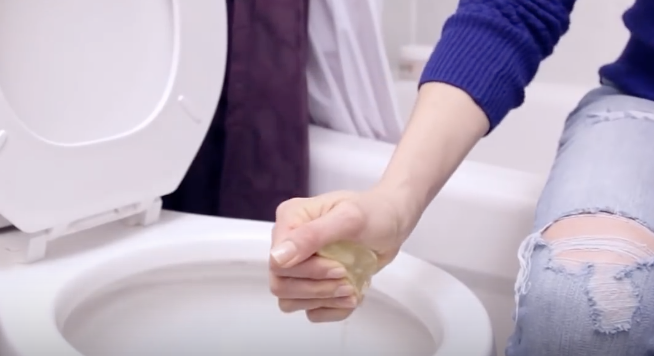 We all know that lemons add great flavor to foods and drinks. We have learned extensively about their health benefits, providing a multitude of anti-inflammatory and anti-cancer benefits. At the center of the greatness of the "Mighty Lemon" is it's concentration of Vitamin C.
However, this video that you are about to watch, is not about the health benefits of lemons. Rather, it shows 10 ways in which lemons can be used as a house cleaning tool, that are just amazing. Not only do they do the job, but leave everything fresh smelling.
It is the acidity in the lemon juice, and the grease-cutting oil contained in the skin, that give lemons such efficient cleaning properties.
The 10 ways to clean with a lemon included in the video below are as: A Fridge Freshener; Microwave Steam Cleaner; Grater 'De-Cheeser'; Scourer for Wood Cutting Board; Descaling the Hot Water Kettle; Glass and Mirror Cleaner; Toilet Bowl Cleaner (with coarse salt); Soap Scum Remover; Sparkling Chrome and Faucets and a Garbage Disposal Deodorizer.
Watch the video to see exactly how easy it is to use lemons for these purposes!
Please SHARE these Lemon Cleaning Hacks With Your Family and Friends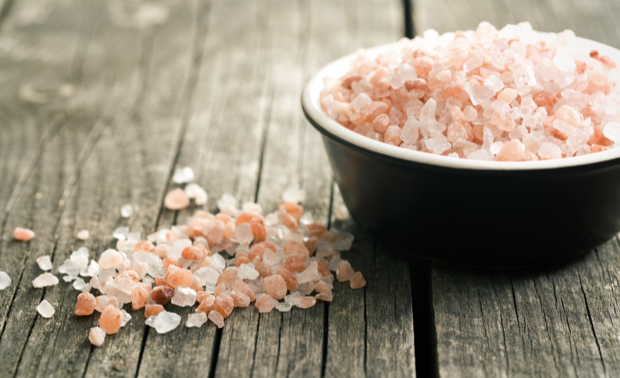 One of the most common complaints that you hear from both men and women is: "I'm so exhausted!"  This seems to be consistent across age groups.  Rather than getting the recommended 7-8 hours of sleep, people have been averaging 6-7 hours per night.
Although, on face-value this doesn't appear to be a huge difference, the toll on our bodies is huge. There is a reason that the medical field has had the 7-8 hour guideline.  In order for the body to recharge sufficiently, it needs that amount of time.
People who suffer from sleep deprivation, think that the pick-me-up from caffeine can make up for the sleep deficit…it cannot!  It can hype you up temporarily, but within a short period of time that increased energy plummets. Certainly putting away our technology devices helps, as well as shutting the TV.
However, life stresses can keep us awake; there is a natural way to remedy sleep deprivation that will benefit our overall health.  The surprising answer lies in salt!  That is, Himalayan Sea Salt, not the unhealthy table salt.
The video you are about to watch, below, is filled with information about the health benefits of Himalayan Sea Salt.  It helps our adrenal glands so that the body becomes more alkaline, thus fighting disease more effectively.
It reduces blood pressure, helps with weight loss and skin problems.  Additionally it helps with depression by regulating our Seratonin, and will help you sleep and wake refreshed by regulating Melatonin.
Combine 5 teaspoons of organic raw honey with 1 teaspoon of pink Himalayan sea salt in a jar.  Put a small amount of this mixture under your tongue at night to improve the quality and length of your sleep!  You will find the following video most informative.
Please SHARE this With Family and Friends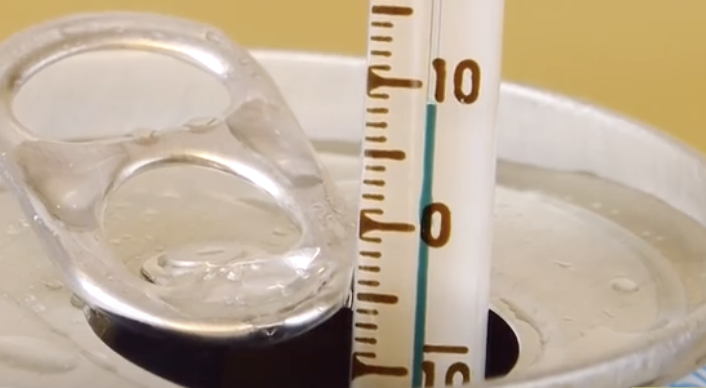 Nothing is as refreshing as an ice cold beverage on a hot summer day. And nothing is as disgusting as chugging a can of warm soda or beer that you thought was cold. Well, chugging a hot can of something would be worse, but you get the point. This summer, if you find yourself stuck with warm cans or bottles that you want to drink sooner rather than later, try this trick from DaveHax. He shows us how to quickly bring a beverage's temperature down from warm to cool by using 4 things that are in most everyone's kitchen. All you need is a bowl, ice, water and salt, plus a warm beverage.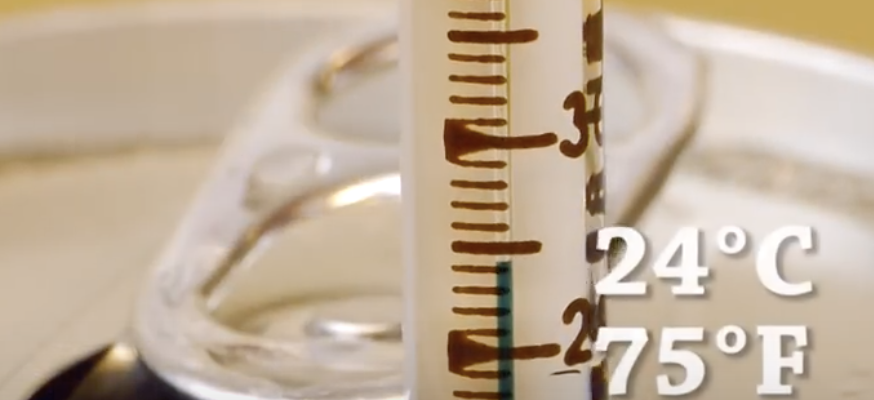 Put some water in a bowl then add about 1-2 tray fulls of ice to it. Sprinkle on a couple of tablespoons of regular old salt and mix it all up. Now place a can or two in the bowl, stir after one minute, and after 2 minutes the can will be cold. Take the can out of the bowl, open, drink, and enjoy!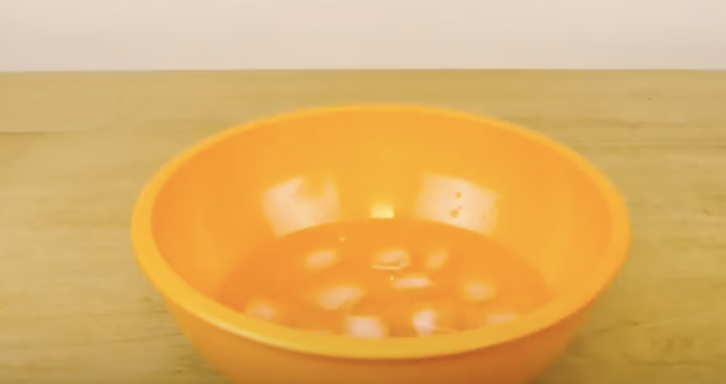 DaveHax explained the science behind this bevy hack by attributing it to the second law of thermodynamics, which states that 2 substances with different temperatures reach thermal equilibrium over time. He said that the salt causes the ice to melt faster but it needs to draw heat energy from somewhere, wherever it is possible and present, to do so. Here it was from the warm can.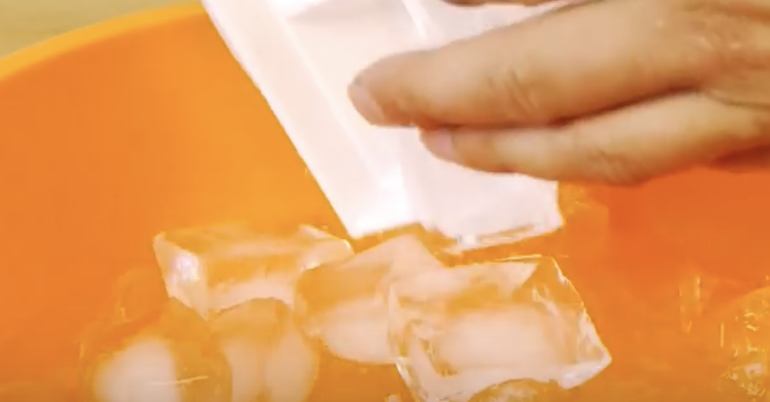 Thus, the can rapidly cooled down as the salt melted the ice even faster than it normally would have. The 2 different temperature things, the lemonade can and the ice, transferred their heat and cold to one another as they went towards thermal equilibrium, with the salt added to speed it up.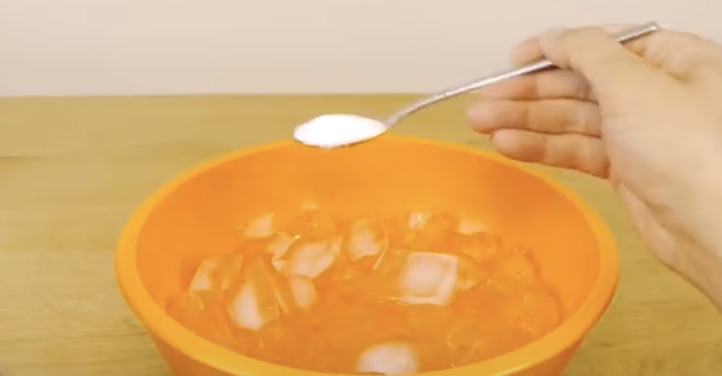 The temperature change was measured and shown to us in the video to prove the point. The lemonade started at a room temperature of 75 degrees Fahrenheit/24 degrees Celsius. After it chilled the can temperature measured 41F/5C, which means it dropped down a total of 34F/19C in just 2 minutes.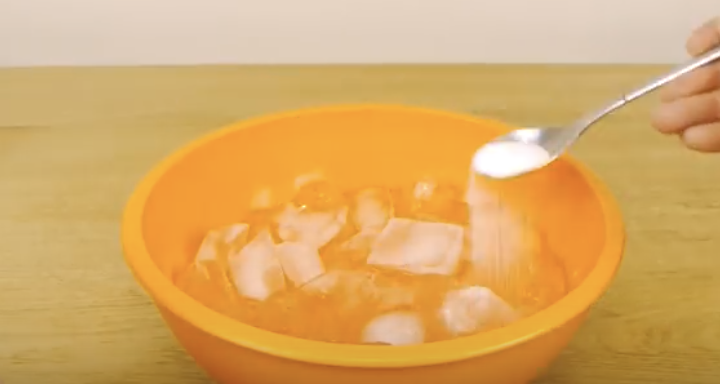 This method works great with soda, beer, juices and any other drinks that come in a can or bottle. It works wonders for all those people out there who hate waiting over half an hour or more for a drink to cool down in the fridge, or those like myself, who are just impatient. Now you can quench your thirst in minutes with a delicious ice cold beverage and skip the painful wait!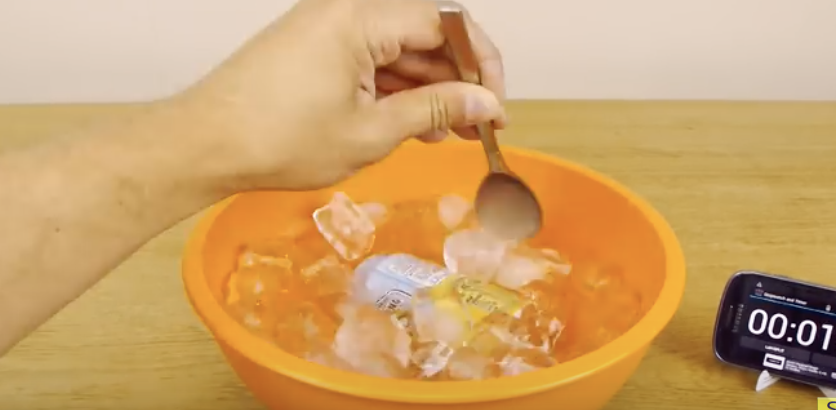 Please SHARE This Trick With Family and Friends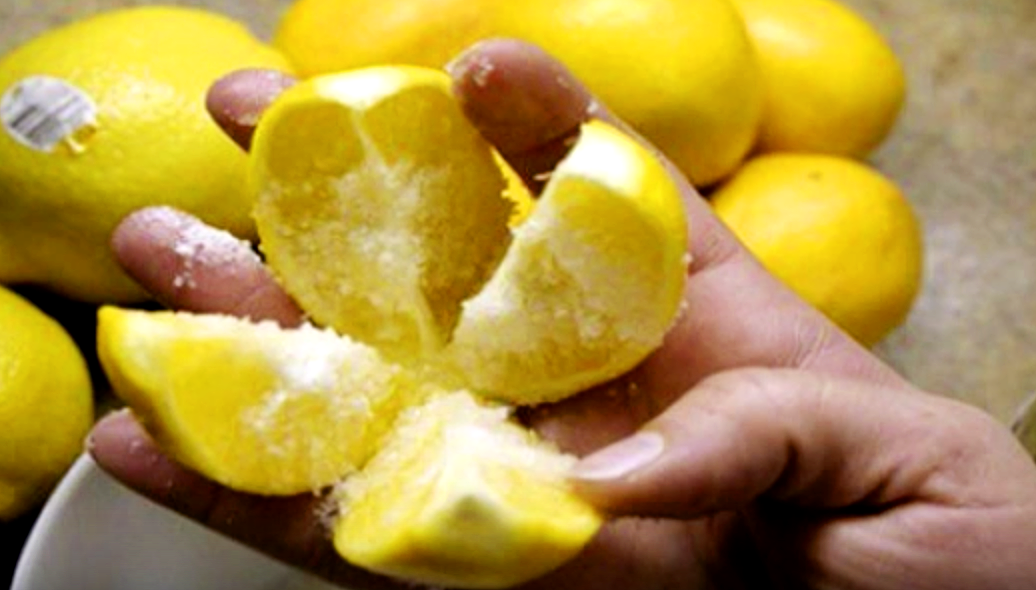 image via – youtube.com
In recent years much has been written about the health and beauty benefits that the almighty LEMON can provide.  Filled with a multitude of vitamins, and an acidity and freshness, which is naturally antiseptic which makes it a great cleaning agent for your body and environment.
The VIDEO you are about to watch below addresses the potency of LEMON SMELL which when cut and combined with salt, has the capacity to 1. Improve Air Quality when placed on your night table as you sleep.  2. By absorbing the toxins in the air, you 3. AWAKE feeling an 4. INCREASED ENERGY, 5. HEIGHTENED ABILITY TO FOCUS, 6. IMPROVED MOOD and 7. IMPROVED BREATHING.  8.  If you have a cold you will find that both your sinuses and throat will feel much better as a result of keeping the cut lemon and salt near your head during the night.
 Other Benefits and Uses of Lemon Juice Include:
1) RIDDING THE SCALP OF DANDRUFF: as it is a natural cleanser of the scalp and and OTHER SKIN ISSUES, such as ACNE, and the WHITENING of DARK SPOTS.
2) SOFTENS CALLOUSES in body areas where skin tends to thicken. By rubbing a half lemon on ELBOWS, KNEES and FEET, thickened skin will SOFTEN and EXFOLIATE.
3) WHITENS NAILS
4) FRESHENS BREATH
5) SOOTHS FOOT PAIN
6) DRINKING LEMON JUICE: aids WEIGHT LOSS, SOOTHES INDIGESTION, LESSENS ARTHRITIC AND RHEUMATOID PAIN, RIDS BODY OF TOXINS by FLUSHING KIDNEYS
7) RICH IN ANTIOXIDANTS which slow aging and prevent tumor growth
Watch the footage below for PROPER CUTTING of the LEMON with ADDED SALT at BEDTIME to gain the benefits for your ENERGY, MOOD, BREATHING and ABILITY TO FOCUS!
Please SHARE these UNUSUAL HEALTH BENEFITS OF LEMONS with your family and friends!