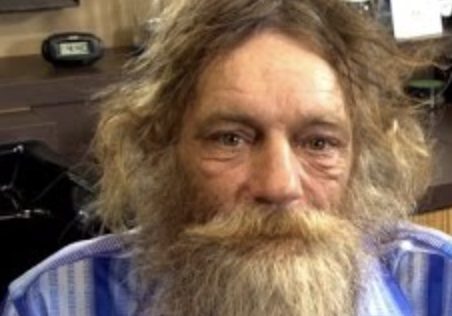 Homeless for the past seven years, fifty one year old former Marine Donald Gould unexpectedly had his life turned upside down when someone shot a video of him doing what he did every day: making magic for passerbys on a public piano. The video immediately went viral, taking the internet by storm. He was simply expressing himself without expecting anything in return, and karma finally rewarded him.
As a direct result of his sudden rise to internet stardom, a group of people who saw Gould's story on youtube decided to give him a makeover of his appearance, and ultimately, his life. First, it's off to the store to get a new wardrobe.
Next, they take him to a barber shop to get a haircut and a fresh shave, his first in eighteen months. But that's not all, they then give him something that will last much longer than a new shirt or a haircut.
Utilizing his incredible musical abilities, they were able to get him a job playing piano at a local restaurant, supplying him with a new lease on life that goes far beyond his appearance. He is now empowered to take his life by the reins and start fresh, which he accepts with open arms.
His first desire is to reach out to his estranged son, taken from the from him after his life fell into ruins following the untimely death of his wife. He is hoping that the unexpected wave of attention that he is receiving will allow his son to come find him, and I sincerely hope his search is successful.
Please Share This Remarkable Story With Family and Friends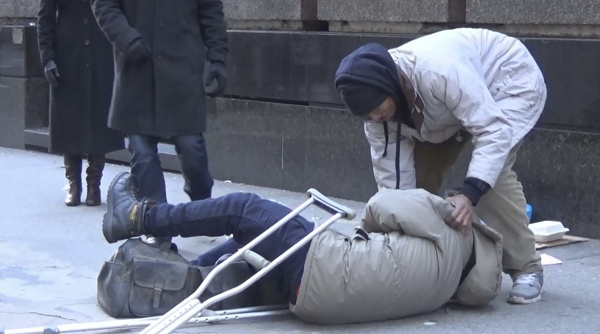 A social experiment in New York City displays the tendencies of the general public regarding giving assistance to strangers based on their appearance. A black suited man, staged with crutches, walks the streets and periodically falls to find out if passers by will help him back up. Without hesitation, there is consistently someone, if not several people, who stop their trajectory to aid the injured and fallen businessman to his feet. They respectfully call him sir as they lend their hand and ask if he is alright.
A different observation is made with a man who is dressed in dirty, tattered clothing. The seemingly homeless fellow hobbles along the street on crutches, tripping many times to take hard blows onto the sidewalk. Surrounding witnesses gape at the man in dismay, but do nothing in the way of offering help.
Some people just stare and slowly walk away, while others are oblivious to the struggle and avoid the obstacle in front of them by walking around. No one even asks the man if he is okay.
There is one person who immediately responds to the wounded hobo and it is another homeless person sitting against a building on the sidewalk. With obvious sympathy and concern, the man leaves his collection cup unattended to make sure the distressed vagabond is not in need of serious attention.
The consoler guides the consoled to standing and helps him gather his belongings before he continues on his way. The story ends with a perfect quote by Johann Wolfgang von Goethe, "You can easily judge the character of a man by how he treats those who can do nothing for him."
Please Share THIS With family and Friends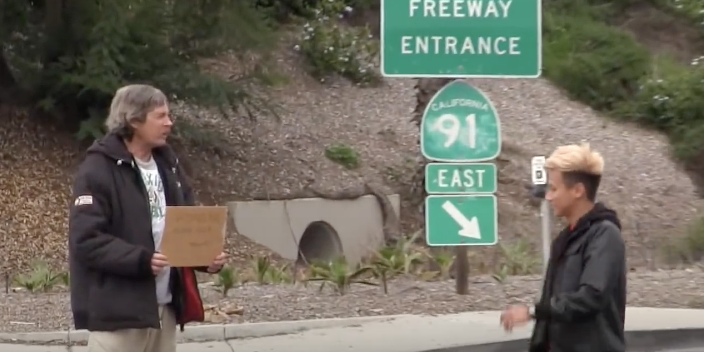 When Josh Paler Lin approached a homeless man on the street to give him $100 he wanted to see how the man would spend the money.  Josh explained that he thought the guy would waste it away on alcohol instead of food and other necessities and that the video he set out to make was originally planned to expose homeless people.  After following the man he ended up capturing a caring and genuine moment that was completely unexpected in the best way possible.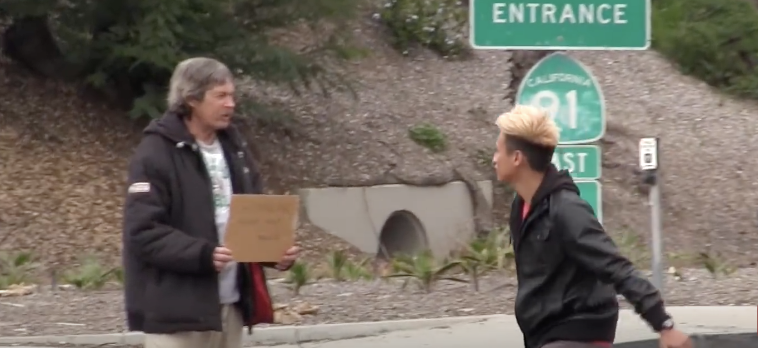 The man went into a convenience store, the type of  mart that sells food and alcohol, and came out with a large bag filled with stuff.  He walked several blocks over to a park and started handing out food and provisions to other people in need.  The man shocked and proved Josh wrong by spending the money to unselfishly help others who are in just as much need as himself.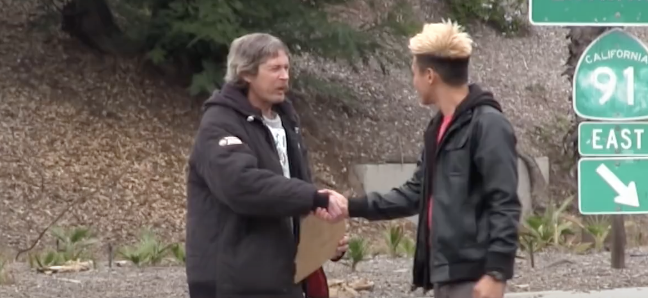 After witnessing the touching sight Josh went over to the man again and told him that he'd been recording and following him ever since he handed him the money to see what he'd do with it.  He admitted he thought he'd spent it on booze and says he is so impressed that he wants to give him another $100.  The man is so grateful and humble and tells his story about how he became homeless.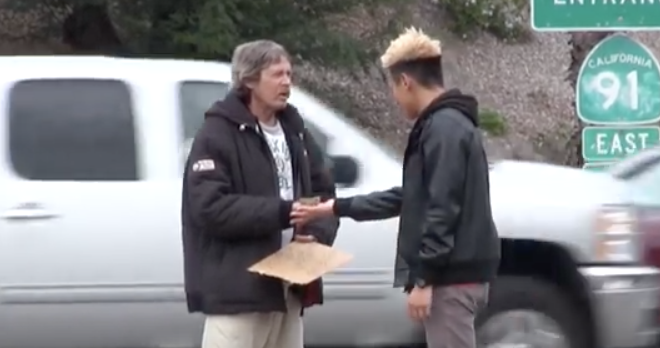 He had been living with his parents when his stepfather was diagnosed with cancer.  The bills were adding up, and insurance covered only so much, so he quit his job to help care for them.  Soon his dad passed away and then his mom passed just two weeks later.  The building they'd been living in was being sold and now he was out on his luck living on the streets.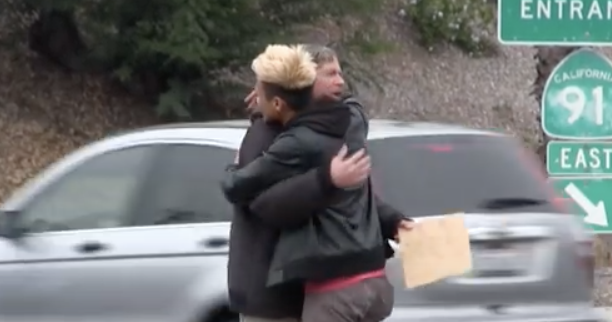 He went on to explain how there are a lot of good people who are homeless not because of drink or drug addiction but because of life circumstances that are beyond their control.  The video is positively eye opening and further proof that you should never judge people based on how they look or appear to you, but rather on how they act.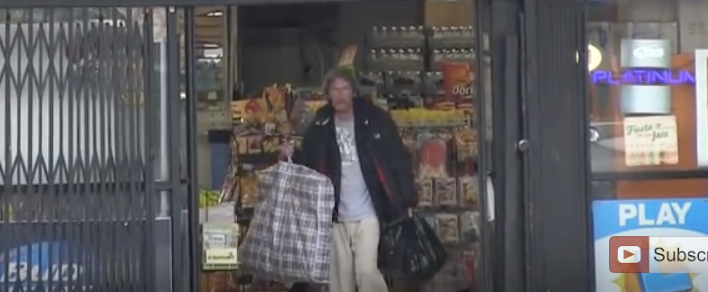 Please SHARE With Family and Friends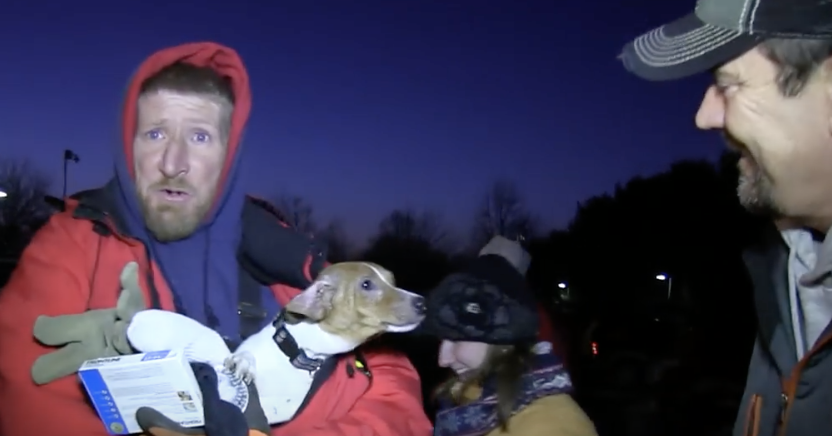 When Tom Mabe of Prank It FWD decided to make a documentary on the homeless and their pets he came across a heartbreaking story of a man and his dog. Tom started off by contacting Beth Green who runs a local non-profit called My Dog Eats First in Louisville, Kentucky. The charities mission is to provide food, supplies, and medical care to the under served, homeless people, and their pets. After spending some time with the volunteers and homeless Tom decided he wanted to do more than just observe and film.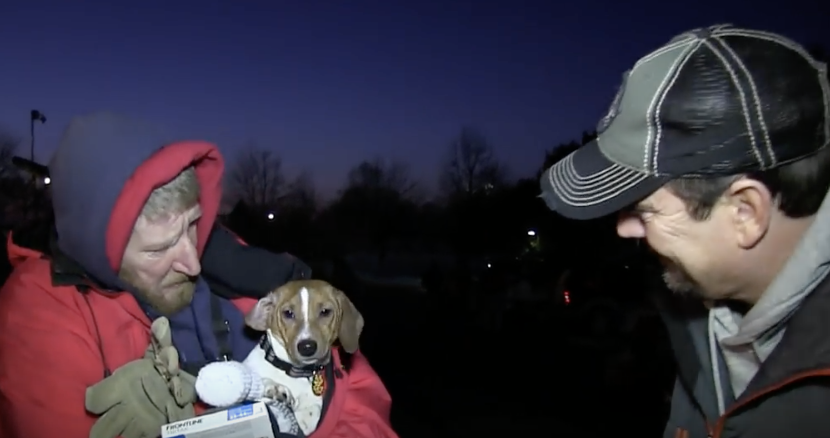 When he learned that a man who had been living out of his truck had surrendered his dog of 12 years because he needed to go to the hospital, Tom teamed up with Beth to help. The man, Ricky, was told by doctors he had less than 6 months to live.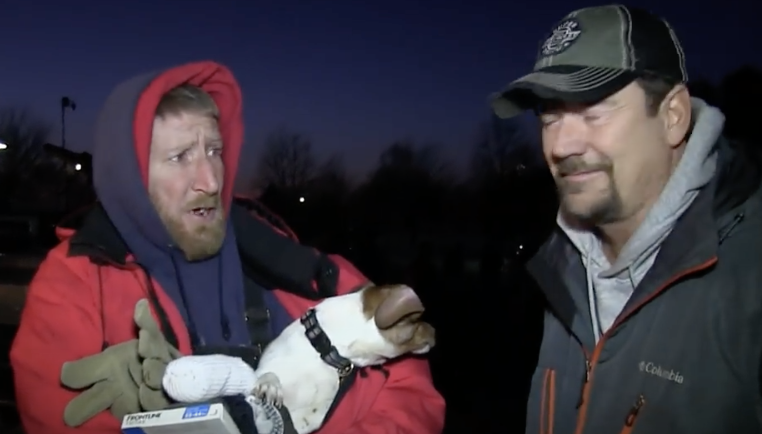 Against their wishes he left the hospital to be with Buddy again, whom Beth had with her to ensure the two would not be separated for long. Ricky and Buddy were each others best friend and loyal companions for the past 12 years, which was Buddy's whole life. When times were rough Ricky would make sure Buddy was fed even if it meant going without food himself.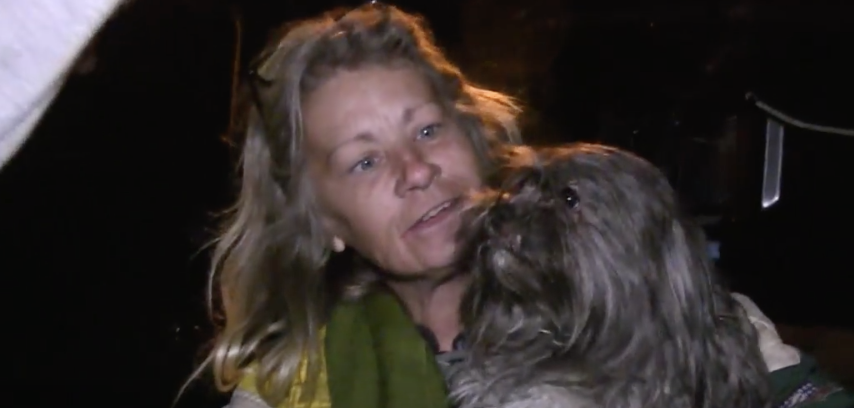 After he checked out of the hospital Beth put Ricky up in a pet friendly hotel for as long as she could afford. When the funds to do so ran out Tom decided to get them their own apartment and made sure it was comfortable and furnished with all the essentials.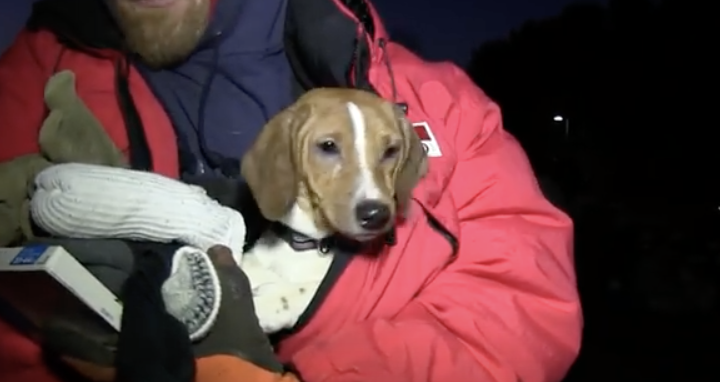 He took Ricky to see the place and surprised him by revealing that it was all for him and Buddy. The happiness and gratitude from the news lit up Ricky's face and Buddy wasted no time in checking out the bed. After years of living in a truck the two now had a large warm place to call their own.
Wanting to do even more, Tom and Prank It FWD ended up giving Beth and My Dog Eats First a years supply of dog food from Halo, plenty of leashes, and a top dog award of recognition for all their work. Tom also came away from the whole experience with a completely new understanding of the homeless and their animals.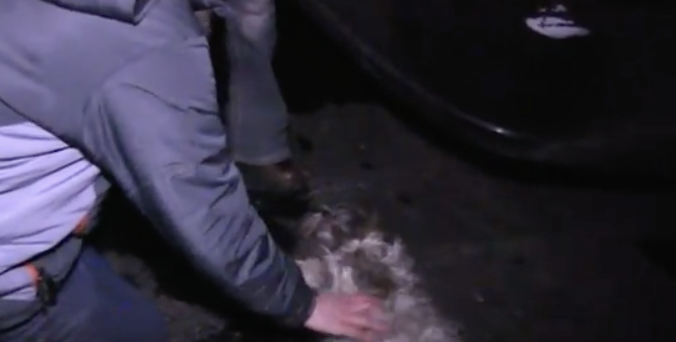 The pets give those who are less fortunate a sense of responsibility, unconditional love, friendship, and a purpose in life. Everyone deserves those things and the story of Ricky and Buddy shows just how much their lives were further enriched through their friendship. The love and devotion they share for each other is clear, especially when Buddy looks up and nestles his head into his owner's side.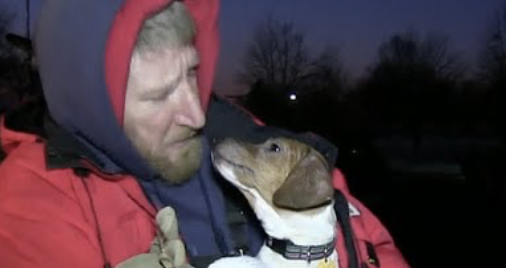 Please Share With Family and Friends