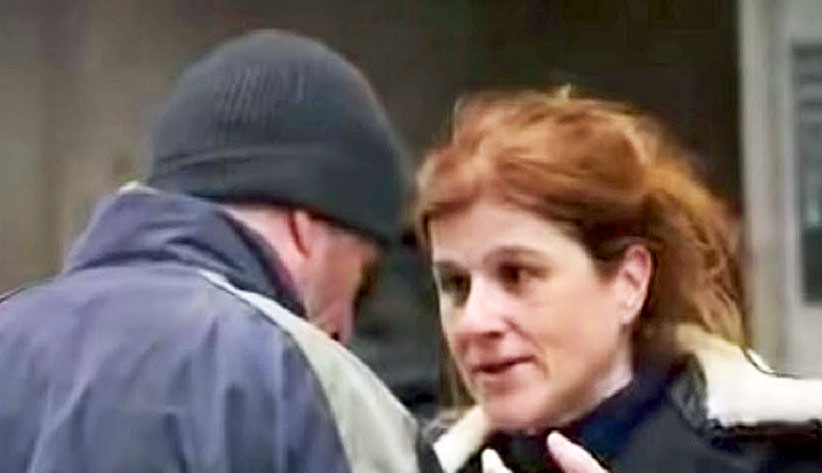 image via – youtube.com
Homelessness is an epidemic across this country and the rest of the world. There are millions of people out there who don't have a home to go back to, a roof over their heads, a warm plate of dinner or a nice cozy bed. They live in treacherous conditions in extreme cold and heat as they try to survive in anyway they can. A lot of times people fall into hard times by no fault of their own, things snowball out of control and before they know it they are out on the streets and homeless.
They go through the trash for food, beg people walking past them on the street for some spare change just so they can eat something before they fall asleep on the sidewalk. Many people in cities are so used to seeing homeless people, that they have almost become invisible.
Day after day people in the city walk past them and it has become such a common site that they are almost numb to it. They feel by not acknowledging their existence they won't feel guilt about walking right passed them without a second thought. The whole situation is so heartbreaking and there really is no easy answer to solve this terrible epidemic..
In today's story we feature a mother named Karine Gombeau from France who had been on a trip to New York City for a few weeks. Like many tourists who visit New York City she was just exploring the vast city taking in all the amazing sights of Manhattan. After a while she got hungry and stopped off at a great pizza place to get some of that world famous New York Pizza which is the best pizza in the world (according to many).
She got a small pizza pie and ate a few slices at the place. She got the rest of the pie boxed up to go, and headed back to her hotel. On the way back, she spotted a homeless man who was scouring through the garbage to fill his empty stomach with some kind of food. She immediately felt her heart drop and she felt the need to help him. The only problem was she had no spare change or money in her purse just a debit card..
That's when she realized she had some leftover pizza and she knew she had to offer the poor homeless man some food.  At first she felt kind of bad that it was all she had to give, but at least it was something and he wouldn't have to go to bed hungry. She gave him the food and actually apologized to him for it being cold, but he was so happy he didn't mind one bit. He thanked her and blessed her as she walked off back to her hotel.
She went to sleep that night and didn't give too much thought to her encounter with the homeless man and the pizza. The next day she did some more tourist stuff and exploring and nothing seemed out of the ordinary. She headed back to hotel again and fell asleep after another long day of walking. The next morning she woke up to something she would never expect in her wildest dreams!
There was a headline on the front page of the paper with a picture of her giving that pizza to the homeless man on the street! She couldn't believe it and she also couldn't understand how giving a homeless man some pizza was newsworthy. That's when she realized who the homeless man was…..
Watch the video below for the full story:
Please SHARE This With Family and Friends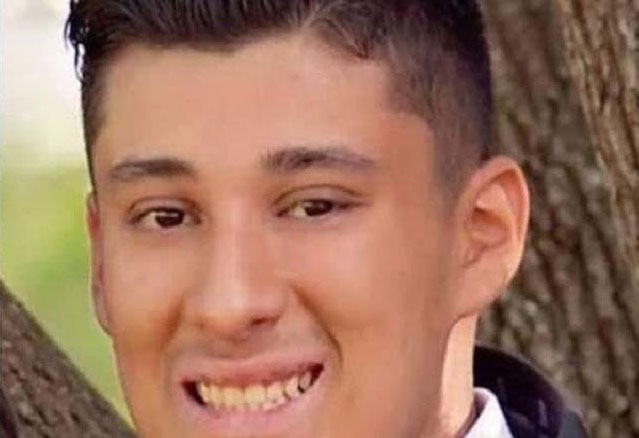 image via – youtube.com
The average fast food worker gets paid minimum wage and works long hours.  They have to serve a variety of customers and cater to their demands. At some locations workers regularly wait on homeless people and oftentimes they only have a dollar or two to spend on what could be the only food they'll eat all day.  Such was the case at the Burger King where Matthew Resendez worked. It was located in the not so affluent part of town and so homeless people would frequent the place.
One evening while Matthew was working at the counter a scruffy looking man approached him.  After asking what he could get for 50 cents, which would be nothing, Matthew did something completely unexpected.  He rang up the most expensive item on the menu and then paid for it himself out of his own pocket. Naturally, the hungry homeless man was grateful and super happy that he got a big meal for free, all thanks to the kindness of a stranger's heart.  Not only that, Matthew also sat down with the man and kept him company while he ate. 
A fellow diner who was also eating at Burger King that night and who had witnessed the selfless transaction went up to Matthew afterwards.  The woman handed him a $100 bill as a tip or reward of sorts for being so kind and generous to the homeless man. Not only did she gift him money, she also wrote a letter to Burger King, letting the corporation know that they had an upstanding and truly caring employee working for them.  
When Matthew got home later that night, he told his mother what had happened.  While she knew he was a good kid, it was still quite unexpected. Her heart was swelling with pride at the kind gesture and so she decided to share his story, and a picture she'd taken of him in his Burger King uniform smiling and holding up the $100 bill, on Facebook.  The post quickly went viral because people were simply glad to see such a happy, positive story. It gave them a feeling of hope and who doesn't love a feel-good story?
It's often said that the homeless are invisible, but for this man at that moment he wasn't, all thanks to Matthew. 
Watch the video below for the full story:
Please SHARE This With Family and Friends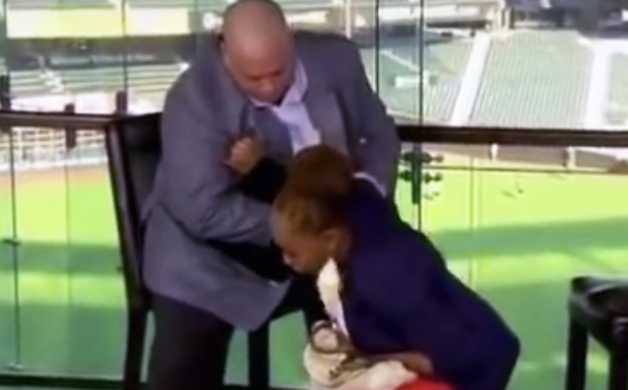 image via – youtube.com
There are many people in the US, who hold down a job that they do with great dedication, and just barely make ends meet.  These people are known as "the working poor".  Angel, the young single mother of three, whom you will hear about in this overwhelming video you are about to watch below, is just such a person.
We see her training a new sales employee named Joey.  Her diligence and kindness in how she explains the job to him, and the degree of her dedication is remarkable.  As she trains him, they both share some personal aspects of their life, that further their understanding of each other's circumstances.
Joe tells Angel that he lost his pizza business, which landed him in hard times, that led him to taking this sales position.  Angel explains that despite her having this job which she loves, she and her children have been living in a homeless shelter for two years!
Joe listens to Angel's plight and her unbelievable commitment to her job and to HIS company.  You see, he is actually the CEO and had decided to go UNDERCOVER in one of his big stores to see how the business was actually operating from the ground up!  He posed as a trainee and Angel was randomly picked to show him the ropes.
The more he worked alongside her, he was so touched not only by her excellent work ethic and dedication to the company, but to her positive attitude about her own situation.  She encouraged him to look on the brighter side of losing his business; better times were sure to come, with hard work and a positive attitude!
He had someone filming his "Undercover program", with the idea of using whatever he found as a tool for other employees.  That film is what you are about to watch.  When the filming was over, he could not stop thinking about Angel and her family.
The filming continued when he decided to meet with her, as he normally looks, and explained to her that his name wasn't really Joey.  What happens next is life-changing not just for Angel but for this CEO with a big heart.  You will be brought to tears of joy!
Please SHARE This Heartwarming Story With Your Family and Friends,  it made my day! 🙂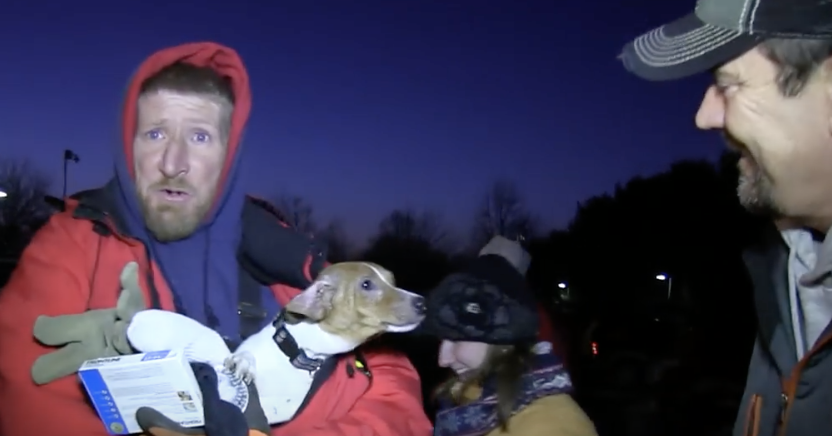 When Tom Mabe of Prank It FWD decided to make a documentary on the homeless and their pets he came across a heartbreaking story of a man and his dog. Tom started off by contacting Beth Green who runs a local non-profit called My Dog Eats First in Louisville, Kentucky. The charities mission is to provide food, supplies, and medical care to the under served, homeless people, and their pets. After spending some time with the volunteers and homeless Tom decided he wanted to do more than just observe and film!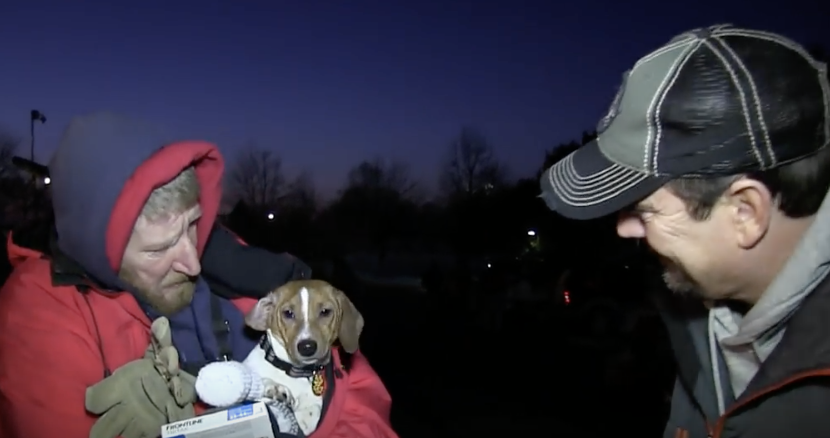 When he learned that a man who had been living out of his truck had surrendered his dog of 12 years because he needed to go to the hospital, Tom teamed up with Beth to help. The man, Ricky, was told by doctors he had less than 6 months to live.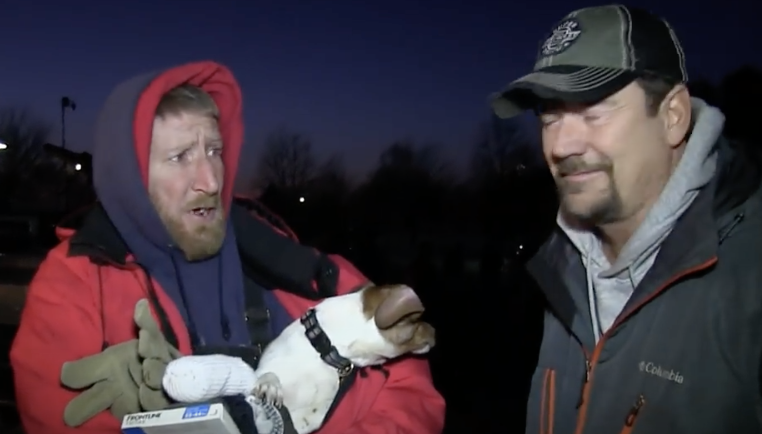 Against their wishes he left the hospital to be with Buddy again, whom Beth had with her to ensure the two would not be separated for long. Ricky and Buddy were each others best friend and loyal companions for the past 12 years, which was Buddy's whole life. When times were rough Ricky would make sure Buddy was fed even if it meant going without food himself.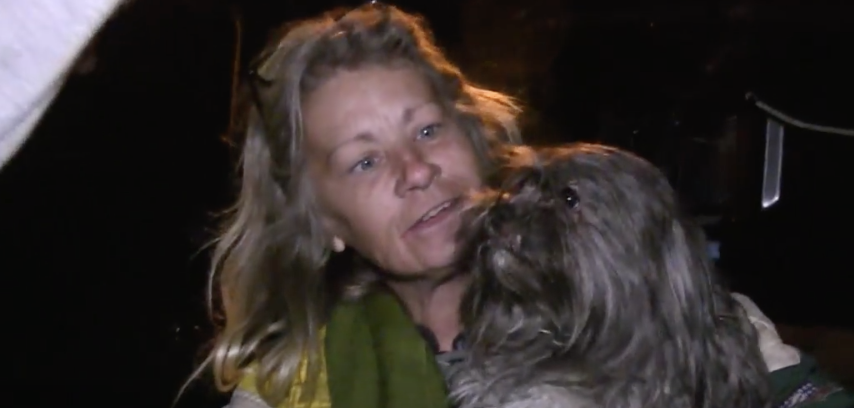 After he checked out of the hospital Beth put Ricky up in a pet friendly hotel for as long as she could afford. When the funds to do so ran out Tom decided to get them their own apartment and made sure it was comfortable and furnished with all the essentials.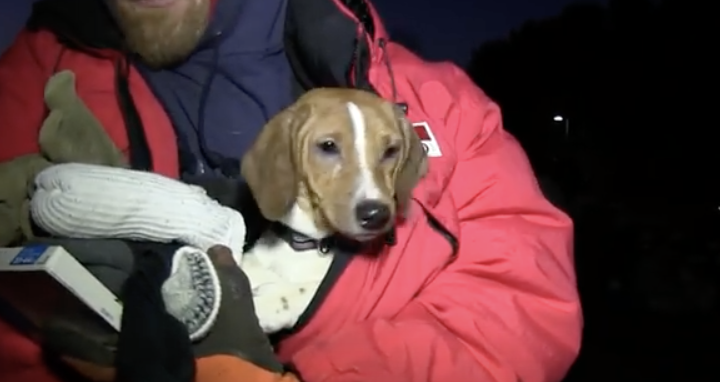 He took Ricky to see the place and surprised him by revealing that it was all for him and Buddy. The happiness and gratitude from the news lit up Ricky's face and Buddy wasted no time in checking out the bed. After years of living in a truck the two now had a large warm place to call their own!
Wanting to do even more, Tom and Prank It FWD ended up giving Beth and My Dog Eats First a years supply of dog food from Halo, plenty of leashes, and a top dog award of recognition for all their work. Tom also came away from the whole experience with a completely new understanding of the homeless and their animals.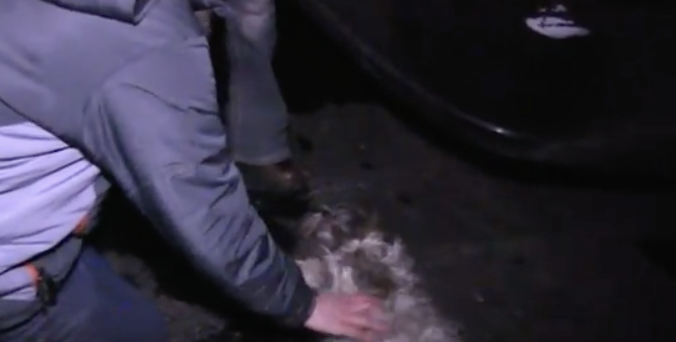 The pets give those who are less fortunate a sense of responsibility, unconditional love, friendship, and a purpose in life. Everyone deserves those things and the story of Ricky and Buddy shows just how much their lives were further enriched through their friendship. The love and devotion they share for each other is clear, especially when Buddy looks up and nestles his head into his owner's side.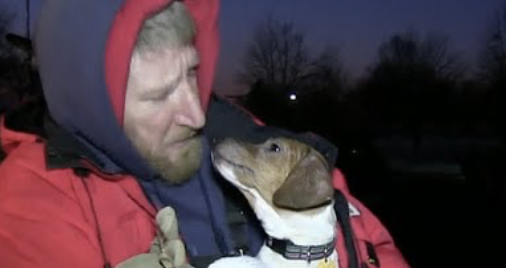 Please Share With Family and Friends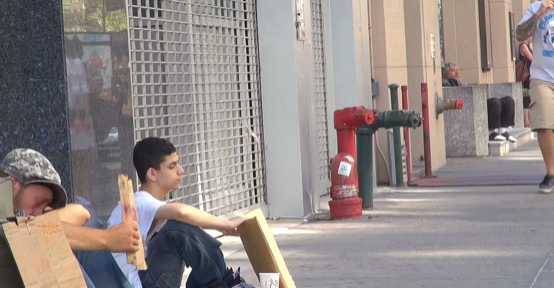 Homelessness is one of the most tragic issues in the United States.  Many of the homeless are mentally ill and without family support or treatment, to help them cope.  Others become ill and have no medical insurance, lose their jobs and have nowhere to turn.
One of the most startling and upsetting group of homeless are vets who have served our nation, try to get employment, and end up on the streets.  Often they are suffering from PTSD and do not get the psychological support they need and deserve, from the government they have served.
There are more and more YouTube channels that are dedicated to social experiments.  Their aim is usually to either reveal the kindness or cruelty of humanity.  In the video you are about to watch below, OCK TV who has done a number of experiments looking at both the reaction to the homeless and the homeless reaction to unsuspected circumstances.
In the following footage the two older brothers have their younger brother, who appears to be 12-13 years old, pretend to be homeless.  They have him sit a few feet away from a homeless vet, with a similar sign that says he is hungry and would appreciate some change.
The reactions to the posing boy and to the homeless vet are startling.  The unbelievable cruelty and conversely generous acts you will witness in the upcoming footage will stay with you for some time, and will hopefully make you think twice when you pass the homeless.
Please SHARE This With Family and Friends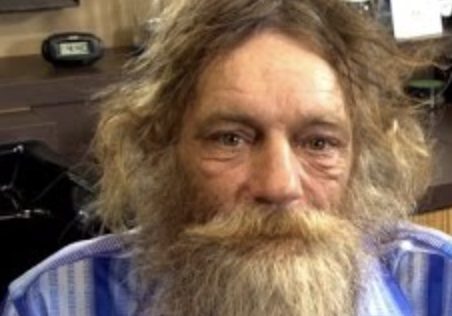 Homeless for the past seven years, fifty one year old former Marine Donald Gould unexpectedly had his life turned upside down when someone shot a video of him doing what he did every day: making magic for passerbys on a public piano. The video immediately went viral, taking the internet by storm. He was simply expressing himself without expecting anything in return, and karma finally rewarded him.
As a direct result of his sudden rise to internet stardom, a group of people who saw Gould's story on youtube decided to give him a makeover of his appearance, and ultimately, his life. First, it's off to the store to get a new wardrobe.
Next, they take him to a barber shop to get a haircut and a fresh shave, his first in eighteen months. But that's not all, they then give him something that will last much longer than a new shirt or a haircut.
Utilizing his incredible musical abilities, they were able to get him a job playing piano at a local restaurant, supplying him with a new lease on life that goes far beyond his appearance. He is now empowered to take his life by the reins and start fresh, which he accepts with open arms.
His first desire is to reach out to his estranged son, taken from the from him after his life fell into ruins following the untimely death of his wife. He is hoping that the unexpected wave of attention that he is receiving will allow his son to come find him, and I sincerely hope his search is successful.
Please Share This Remarkable Story With Family and Friends