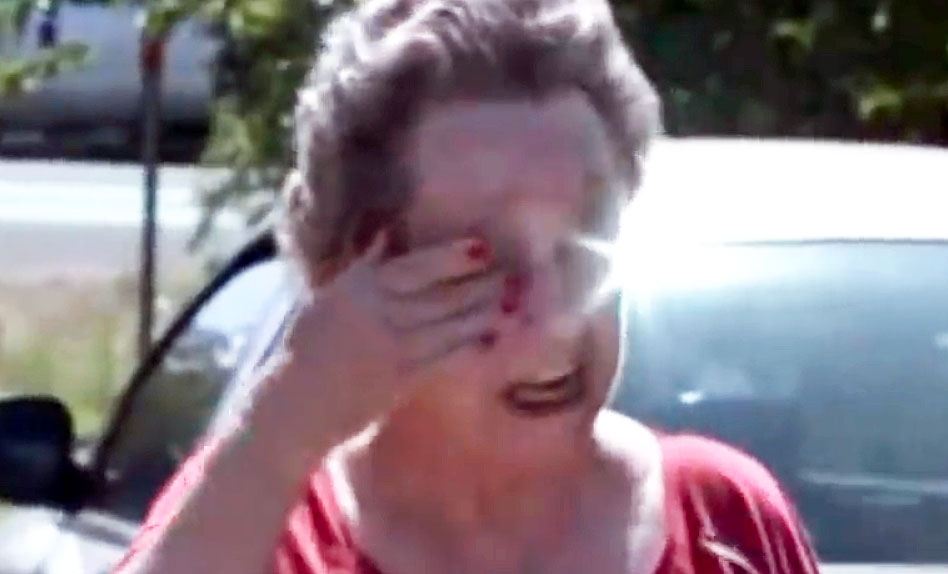 image via – youtube.com
Throughout America cities and communities have enacted rules and regulations regarding the upkeep of residential properties.  If you've ever lived in a place with a HOA, homeowners association, then you probably now how strict and picky they can be. Many of the bylaws on the books encompass people's lawns and what is or is not allowed can vary greatly depending on where you live.  For the most part, any yard that is overgrown, dead, or looks neglected will generally fall afoul of the rules and that's when local officials may take action against the property owner.
For the past fifty nine years 75 year old Gerry Suttle had lived in her home in the small town of Reisel, Texas.  She had recently been issued a notice to appear in court before a judge because the grass on a lot she owns across the street was found to be in violation of the city code.  Several weeks before the notice was sent officials had measured the grass on that property and it came in at 18 inches high, which was too long and broke the rules.
When Miss Suttle failed to appear in court a warrant was issued for her arrest which drew the attention of the local news.  In an interview with the reporter she told them that she had never even received the notice in the first place and that's why she missed the court date.
The next day Miss Suttle was inside her house when she looked up and saw four young boys outside carting lawn equipment in the hot Texas sun.  They had seen her on the news the evening before and wanted to help. The boys, all brothers, couldn't believe that a 75 year old woman was at risk of being arrested and jailed for something as petty as not mowing the grass on a property she owned.  One of the boys, Blaine Reynolds, one of the bothers, insisted it was the very least they could do.
The brothers got right down to it and started to cut the grass.  The lot was quite large, and they knew it would take a while because all they had were push mowers and the temperature was well over 90 degrees.  Seeing what was happening, some neighbors nearby were inspired to act. Several came over with riding mowers and that turned out to be a major help.  Two hours later the lawn had been fully mowed and the lot was now in compliance.
Watching on, Miss Suttle was blown away by the kindness of the boys.  They were strangers who helped her out without expecting anything in return and the simple act of mowing the lawn restored her faith in young people.    
The next day authorities informed her that if she just went to the courthouse and signed some papers indicating that she didn't receive the original notice to appear, the warrant would be dropped.  However, before she could even do that, she received yet another court summons the following day. Municipal officials had disallowed all the hard work the boys and her neighbors had done, but this time she decided to fight the alleged violation of city code.  
Upon hearing that Miss Suttle would have to go to court, the boys said they'd be more than willing and happy to mow the lawn again in order to help her out.  After all, she's 75 years old and no one would want their mother or grandmother doing hard yard work in the extreme Texas heat. Perhaps the municipality can find a better way of working with her on the issue and back down from threatening to arrest her over the length of the grass!
Watch the video below for the full story:
Please SHARE This Story With Family and Friends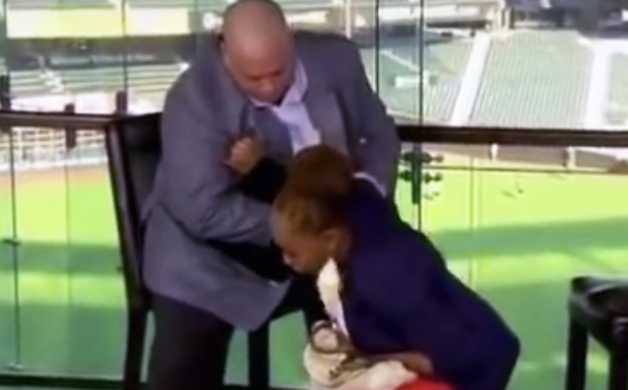 image via – youtube.com
There are many people in the US, who hold down a job that they do with great dedication, and just barely make ends meet.  These people are known as "the working poor".  Angel, the young single mother of three, whom you will hear about in this overwhelming video you are about to watch below, is just such a person.
We see her training a new sales employee named Joey.  Her diligence and kindness in how she explains the job to him, and the degree of her dedication is remarkable.  As she trains him, they both share some personal aspects of their life, that further their understanding of each other's circumstances.
Joe tells Angel that he lost his pizza business, which landed him in hard times, that led him to taking this sales position.  Angel explains that despite her having this job which she loves, she and her children have been living in a homeless shelter for two years!
Joe listens to Angel's plight and her unbelievable commitment to her job and to HIS company.  You see, he is actually the CEO and had decided to go UNDERCOVER in one of his big stores to see how the business was actually operating from the ground up!  He posed as a trainee and Angel was randomly picked to show him the ropes.
The more he worked alongside her, he was so touched not only by her excellent work ethic and dedication to the company, but to her positive attitude about her own situation.  She encouraged him to look on the brighter side of losing his business; better times were sure to come, with hard work and a positive attitude!
He had someone filming his "Undercover program", with the idea of using whatever he found as a tool for other employees.  That film is what you are about to watch.  When the filming was over, he could not stop thinking about Angel and her family.
The filming continued when he decided to meet with her, as he normally looks, and explained to her that his name wasn't really Joey.  What happens next is life-changing not just for Angel but for this CEO with a big heart.  You will be brought to tears of joy!
Please SHARE This Heartwarming Story With Your Family and Friends,  it made my day! 🙂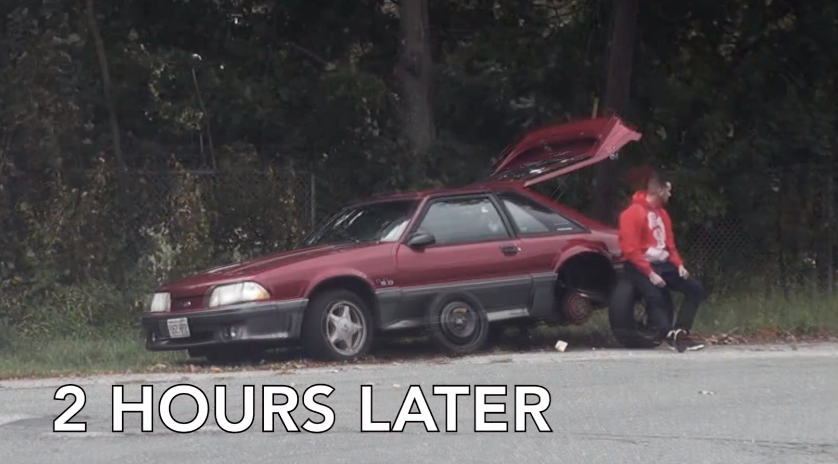 The following video comes to you from Hammy TV; a YouTube channel that has gained notoriety for their hysterical pranks.  For this particular episode, instead of doing a prank, they decided to do a social experiment.  Ryan, set up this social experiment, by jacking up an old car and sitting on his tire as if he needed help with a flat.
He wanted to see how willing people would be as they passed him, driving along in their day. Would someone stop to help him? People looked at him but drove by…for two hours!
No one even slowed down to ask if he needed help, they just drove right by!  So much for the milk of human kindness, until finally someone stopped and pulled up behind him and got out of his car to offer assistance.  Ryan finds out that the man had passed him earlier; he explains that he couldn't stop as he had to make an appointment for his physiotherapy.
This kind soul's name was Eric, and his story of loss and injury brought tears to my eyes.  It never ceases to amaze me when help is offered by those who can least afford to give it.  Many victims of trauma have been given the gift of empathy, that doesn't allow them to disregard another's misfortune.
He says he is happy to help Ryan with the tire, but asks him to get his wheelchair so that he remains steady!  Ryan hears the terrible story of what Eric has been through, and then comes clean about the social experiment. What happens next brought tears to my eyes.
Watch the video and enjoy! You may need some tissues.
Please Share This Video With Family and Friends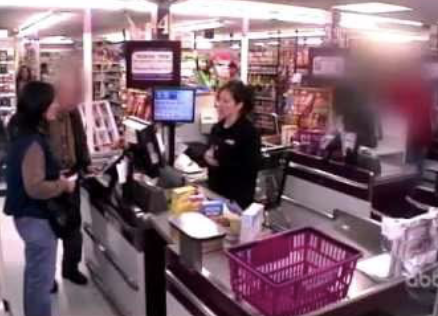 Everyday we watch the news and see an unending barrage of man's inhumanity to man.  It has truly become unbearable to hear of one more act of violence, bullying or indifference.  Small acts of kindness go on every day in our world, but rarely are they reported by the media.
I believe that we not only need to hear about the positive, but need to remain conscious of others' misfortunes so that we can make a difference. The video you are about to watch below addresses just this topic.  Have you ever gone through an embarrassing moment at a grocery checkout when you are short of money?
Can you imagine if you relied on food stamps and still couldn't pay at  the checkout, and you were a single mother of four?  It is heart wrenching to watch people unable to feed their children.  What would you do if a single mother came up short when you were behind her on a checkout line?
Such a scenario was set up in a "Watch what Happens" episode, with actors portraying the struggling single mother.  Do you think that people offered to help, or did they pretend they didn't notice?  Watch what happens when an actor playing a bully starts mouthing off about the unfortunate woman?
The footage below is incredibly eye-opening.  Let us know what you think about this.  What would you do if faced with such a scenario? Watch the video below and let us know!
Please Share This With Family and Friends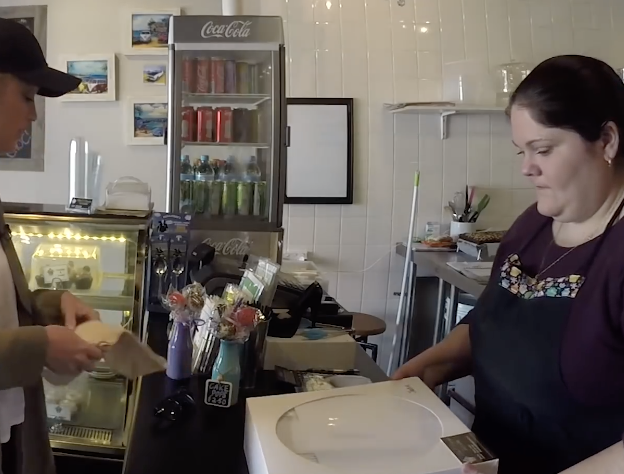 Owning and running a small independent business can be incredibly rewarding, but owner's face a tough uphill battle to survive and prosper once they open up shop and throw open the doors. There is a common misconception floating around that posits 9 out of 10 business fail.
However, the U.S. Bureau of Labor Statistics says that number is wrong and instead data shows about 50% of new establishments survive five years or more. Oftentimes owner's must initially overcome a steep learning curve and, on top of that, unforeseen problems and issues that arise can quickly snowball out of control.
One woman knows these hurdles all too well. Sharon Carter owns and runs Mrs. C's Cupcakes in Penrith, Australia. In the past year she has experienced a series of setbacks and bad luck. She fell behind on her lease because of unexpected medical costs for treatment of her youngest son's unknown degenerative disease.
That in itself is extremely stressful, worrisome, and costly, but Sharon has also been battling ovarian cancer herself. As if things couldn't get any worse, they did, she lost her brother when ha passed away. Sharon's situation was bleak and yet through it all she kept her business up and running and did her best to make ends meet.
When Jackie O, a radio DJ at KIIs 1065, was told about Sharon's bad luck she decided to get involved and help her out. She went to Mrs. C's Cupcakes and bought a box of the sugary treats, then returned 10 minutes later to complain about them. She told Sharon they were stale and tasted off, to which Sharon apologized and sweetly offered to do whatever she could to make her customer happy.
That's when Jackie O insisted that she try one herself to see how they tasted. Sharon opened the bakery box and instead of looking at a dozen cupcakes, she was staring down at $10,000 cash! Her face immediately lit up with surprise, which turned to happiness and tears of joy, when Jackie O explained that the money was to help her out and that a lot of people were rooting for her.
Now Sharon will hopefully have more time to spend with her family and can catch up on her lease. Plus, the publicity of her story can only lead to a boost in business, which can set her up for long-term success and growth. Her reaction, smile, and genuine appreciation make this story all the more heartwarming, and we wish her the best of luck.
Please Share This With Family and Friends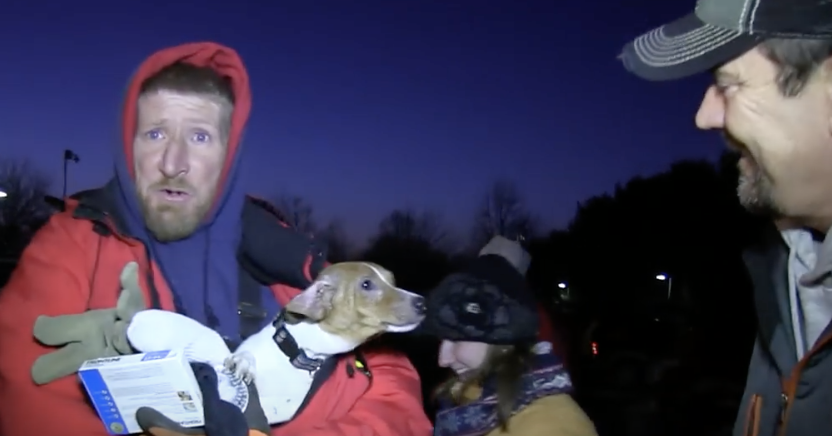 When Tom Mabe of Prank It FWD decided to make a documentary on the homeless and their pets he came across a heartbreaking story of a man and his dog. Tom started off by contacting Beth Green who runs a local non-profit called My Dog Eats First in Louisville, Kentucky. The charities mission is to provide food, supplies, and medical care to the under served, homeless people, and their pets. After spending some time with the volunteers and homeless Tom decided he wanted to do more than just observe and film.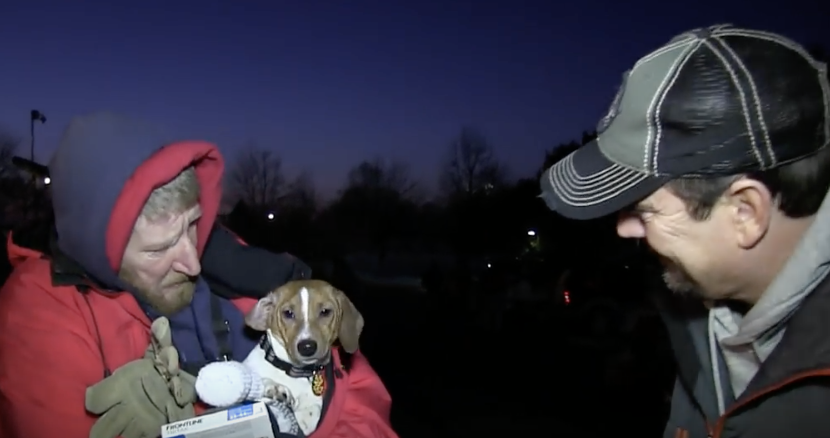 When he learned that a man who had been living out of his truck had surrendered his dog of 12 years because he needed to go to the hospital, Tom teamed up with Beth to help. The man, Ricky, was told by doctors he had less than 6 months to live.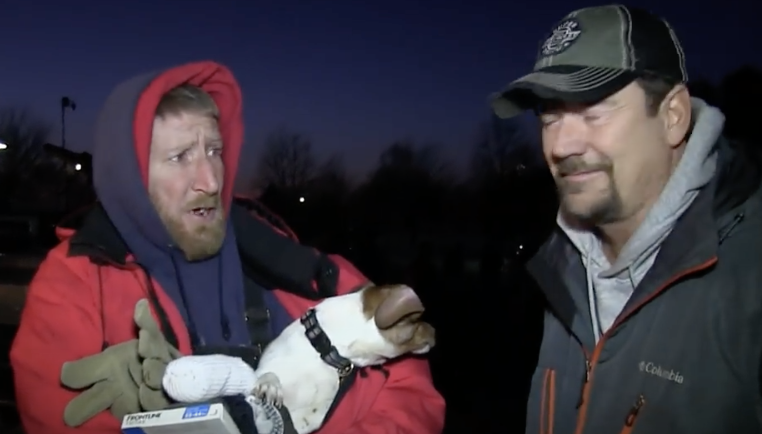 Against their wishes he left the hospital to be with Buddy again, whom Beth had with her to ensure the two would not be separated for long. Ricky and Buddy were each others best friend and loyal companions for the past 12 years, which was Buddy's whole life. When times were rough Ricky would make sure Buddy was fed even if it meant going without food himself.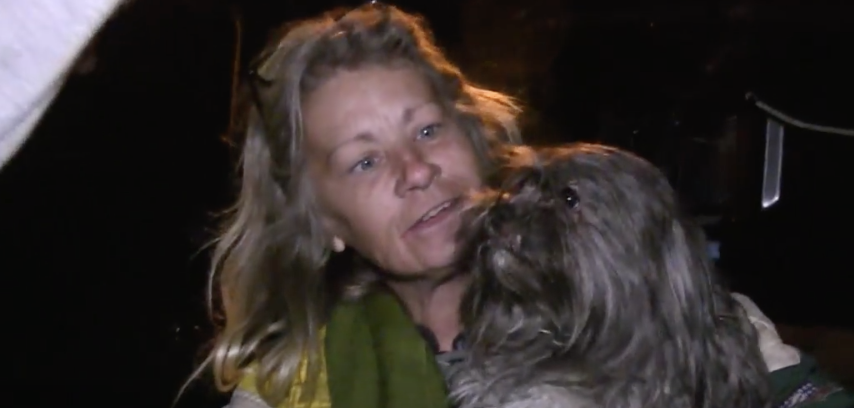 After he checked out of the hospital Beth put Ricky up in a pet friendly hotel for as long as she could afford. When the funds to do so ran out Tom decided to get them their own apartment and made sure it was comfortable and furnished with all the essentials.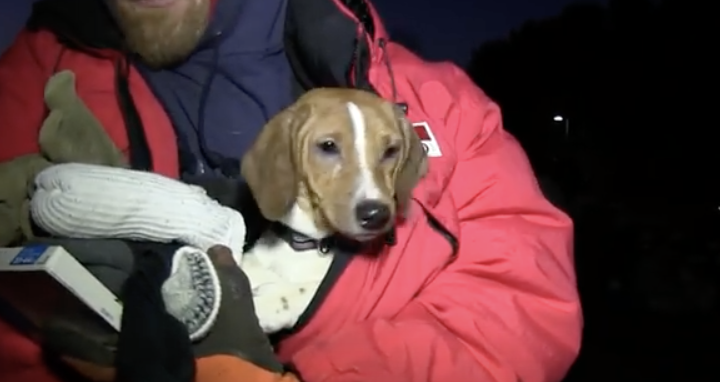 He took Ricky to see the place and surprised him by revealing that it was all for him and Buddy. The happiness and gratitude from the news lit up Ricky's face and Buddy wasted no time in checking out the bed. After years of living in a truck the two now had a large warm place to call their own.
Wanting to do even more, Tom and Prank It FWD ended up giving Beth and My Dog Eats First a years supply of dog food from Halo, plenty of leashes, and a top dog award of recognition for all their work. Tom also came away from the whole experience with a completely new understanding of the homeless and their animals.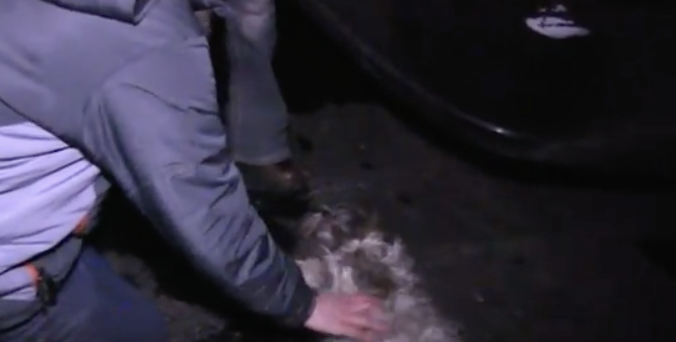 The pets give those who are less fortunate a sense of responsibility, unconditional love, friendship, and a purpose in life. Everyone deserves those things and the story of Ricky and Buddy shows just how much their lives were further enriched through their friendship. The love and devotion they share for each other is clear, especially when Buddy looks up and nestles his head into his owner's side.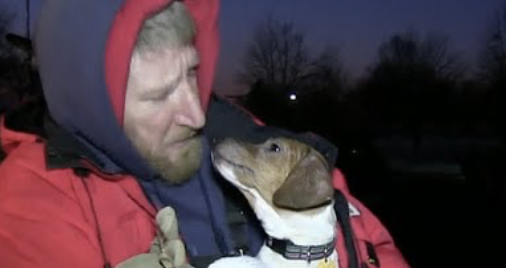 Please Share With Family and Friends