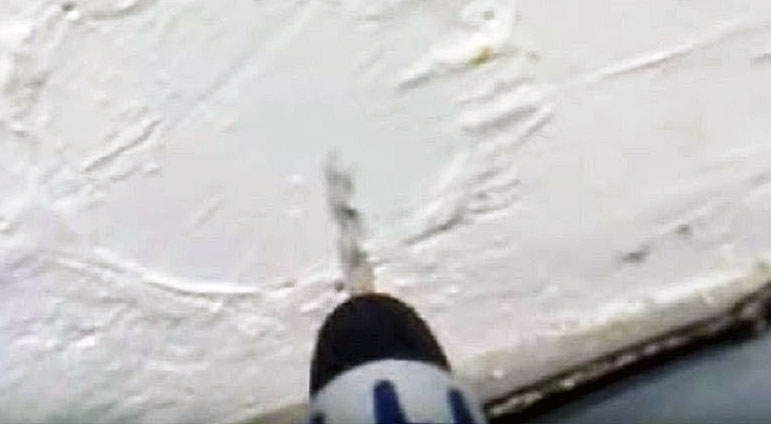 image via – youtube.com
When you move into a new place that you're renting the first thing you should do is look all around and inspect everything.  That way you know what damage may already be there and can document it so that you don't end up getting charged when you move out.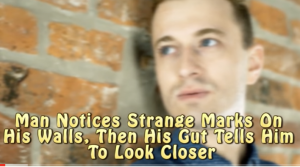 When one man, who goes by the name Cyrex686 on YouTube, was looking around his new home he noticed something quite strange on the walls.  There were two different sized circular shaped markings, some were small and looked like old pipe fittings, but the others were huge and couldn't be so easily explained.  At first, he didn't really think much about them, they just looked like patch jobs on the wall that had been done sloppily but every time he saw them, he couldn't help but wonder.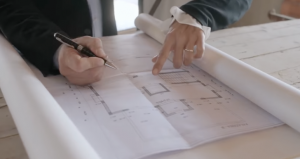 Curiosity eventually got the best of him and he decided to drill the wall to see what was behind the holes.  He set up a camera to document the process and after getting through the first small hole he was somewhat surprised to see a small circle of wood among the concrete.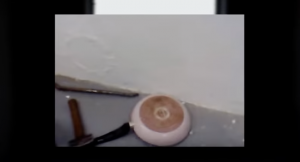 When he tapped on the wood it sounded hollow and so he knew the wood was just a plug. He decided that since he'd already gone this far, he might as well remove the wood and when he did, he found himself staring into dark empty space.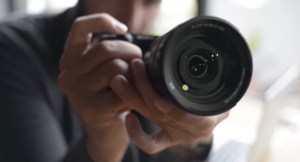 Realizing that he couldn't see much beyond the small opening, he called up a friend to help him open a larger hole.  The two got to work and made an opening that one of them could squeeze through, but when they flashed a light, they still couldn't see what the heck was on the other side.  It looked like an incredibly large room because it swallowed up the light. Their strange finding only led to more questions. What had they found, when had it been plugged up, and why?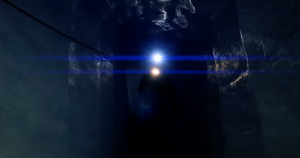 The only way to find out what lay on the other side was for Cyrex to climb in and explore.  He entered the hole and wound up in a large, pitch black, sealed off room. It was empty except for a few scrap pieces of metal and debris and looked like it'd been deserted for years.  He did spot a sewage pipe coming into the room and that led him to the true nature of the room's purpose.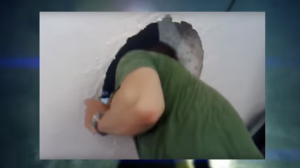 The place he was renting was located in an old industrial factory that had been renovated.  After he'd found the answer to the mystery, he informed his landlord about the oddity.  Rather than being upset about the holes in the wall, the landlord was quite grateful to know that there was another room in the building and didn't penalize Cyrex.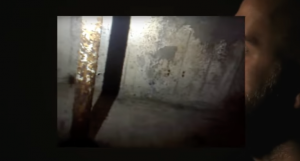 Watch the video below for the full story:
Please SHARE This With Family and Friends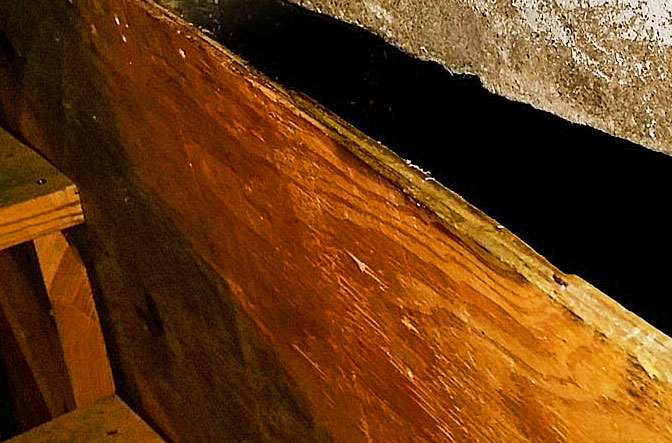 image via – youtube.com
You never know what you're going to get when you buy an old house.  You can hire experts, appraisers, and inspectors in to evaluate it, but even they can easily miss stuff.  When it comes down to it, old houses only reveal their secrets after you move in and start poking around.
One man found this to be true after he bought an old home and noticed something strange.  He was on his way down the cellar stairs when he noticed something that just didn't seem to fit off to the side.  Where the wall should have been was a piece of plywood and when he pulled at the corner of the wood it lifted slightly off the wall. 
He caught a glimpse of a gap behind it and decided to investigate further. Once he had removed the plywood, he found himself staring into an old room that had been sealed off years ago by the previous owner.
Inside the room were a bunch of boxes and a locked safe.  Inside the boxes he found ammunition and live rounds. Box after box he went through and found so much ammunition that it could have easily taken out a small army!  Working carefully, he tried to get into the safe but was unable to and so he kept sorting through all the boxes.
That's when he spotted a grenade laying in the corner of a metal box that was packed with bullets.  As the man examined it, he noticed something that made the hair stand up on his arm; there was no pin in the grenade!
Before he ran out of there and called the bomb squad, the man decided to take a closer look.  He realized that the powder had been emptied from the grenade via a small hole that had been filed in the bottom.  At this point the man needed to know everything that was in the hidden room in case it posed a threat to his life and health.  The next box he opened wasn't nearly exciting, it contained a bunch of pennies and loose change, which was fine by the man.
After going through the rest of the boxes he turned his attention to the safe that he couldn't crack open.  He decided to at least give it one more try and this time around he used heavy duty tools to help him out. When that didn't work, he had no choice but to cut the door off it.  When he finally peered inside, he found a space containing no money, weapons, or jewels, it was empty. All that there was, was a lone spider hanging from its web!
Even though he was disappointed at his lack of an exciting find, the man didn't let the hidden room and safe go to waste.  Instead, he cleaned it all out and converted the space into a storage room for his own stuff. Now it's more of a wine cellar than a bunker and he keeps beer and liquor down in the cool dark room. 
While he'll never know what the previous owner was really up to with all that ammunition, at the very least he should be glad he didn't find a dead body down there.   
Watch the video below for the full story:
Please SHARE This With Family and Friends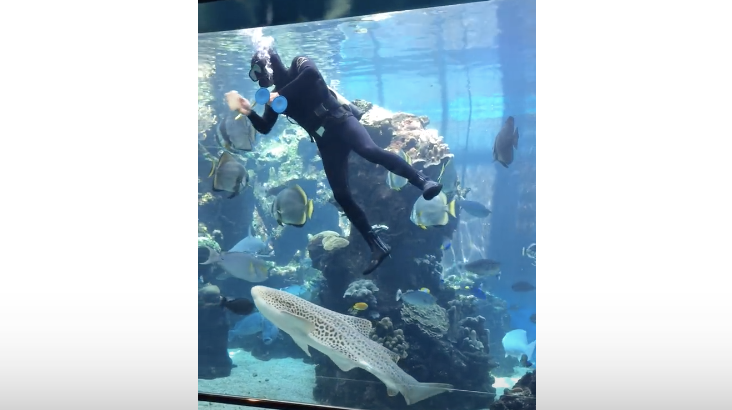 A lot of people have a fear of sharks.  Maybe it's because of the movie Jaws or maybe it's because they have read stories of people getting their limbs torn off by the vicious and hungry apex predators.  Whether you are scared of sharks or not, being stuck in a shark tank seems like something most people would try to stay away from.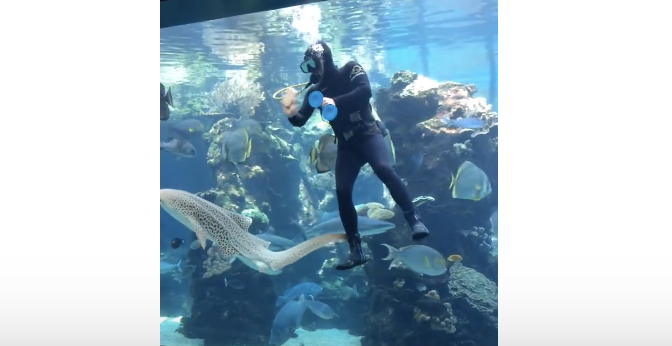 But what happens if you work at an aquarium and your job is to clean the shark tank?  In that case the number 1 rule is to just stay calm and avoid panicking at all costs.  In the following video a shark approaches the tank cleaner but then something happens that no on expected!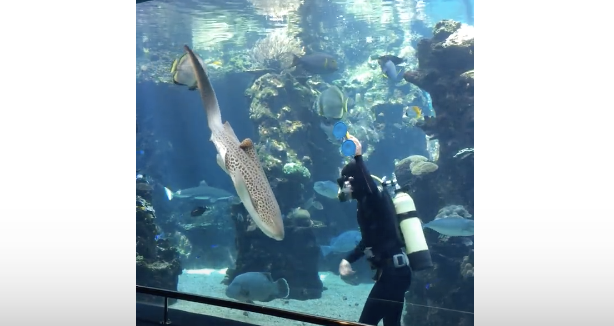 The shark begins to act like a puppy and all he wants from the cleaner is a nice belly rub and some love.  Somehow, the tank cleaner knew exactly what to do and the shark seemed to enjoy it immensely. Maybe sharks will be man's new best friend instead of good ol' puppers!  This is so wild. Enjoy The Video Below.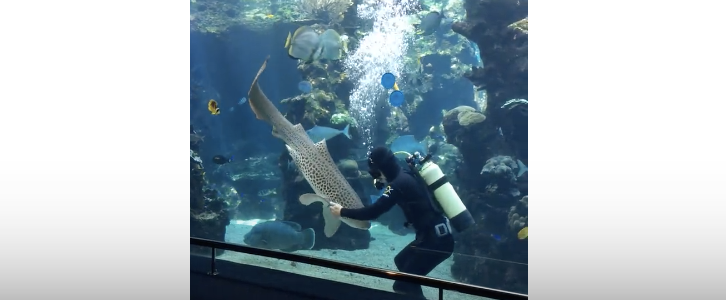 Please SHARE With Family and Friends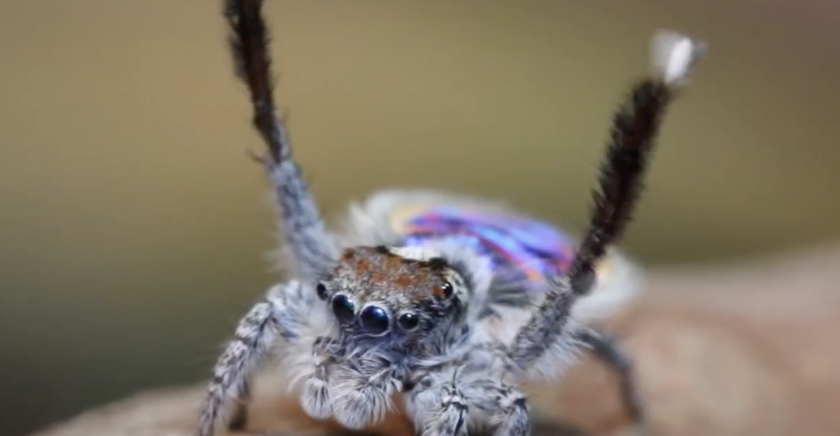 If you have arachnophobia, a fear of spiders, then look away. This video features the colorful and exotic looking Maratus volans, or peacock spider, which is a species in the jumping spider family. They are found in certain parts of Australia, including the island of Tasmania, and pose no threat to humans. These types of spiders don't even need to spin webs because they have the ability to jump and snatch their prey straight out of thin air.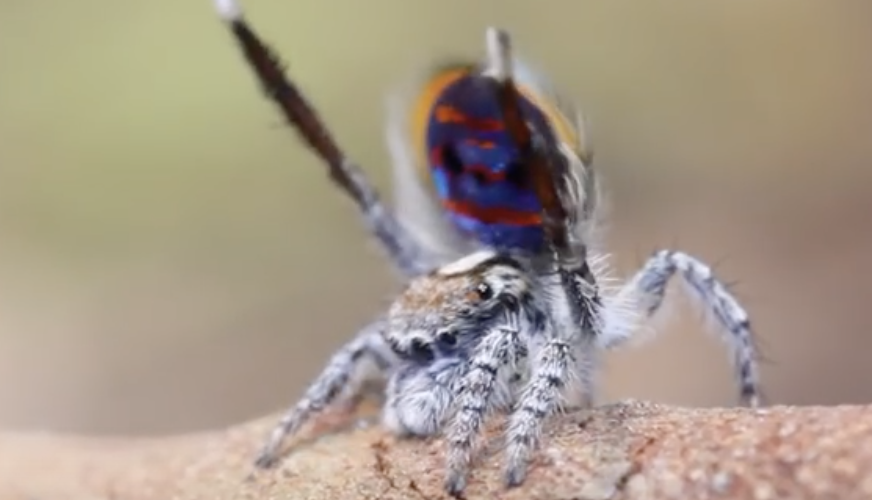 In this YouTube video uploaded by Peacockspiderman, an oddly beautiful coastal peacock spider puts his colors to work when trying to attract a female mate, hence the comparison to a peacock. This particular type inhabits the coastal dunes around Perth in Western Australia. The blue, red, and black colors it displays are on a flap like extension of its abdomen, which can be raised and lowered.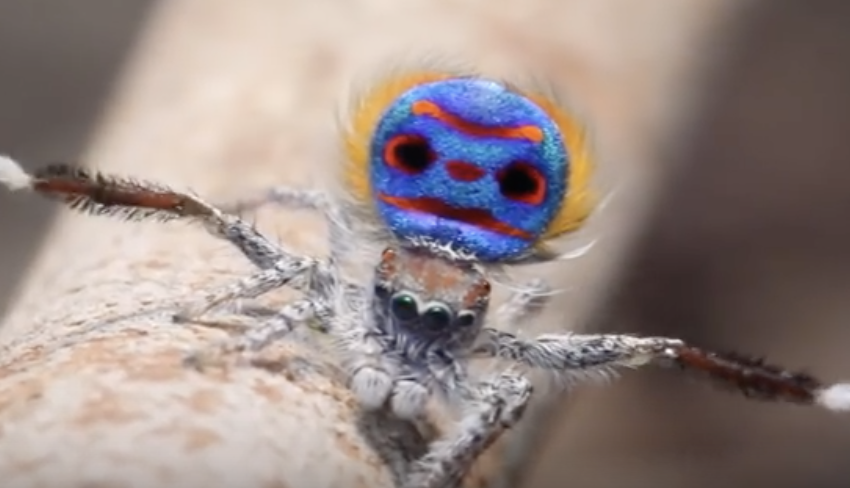 They also have a third pair of legs that can be raised in display and clapped to further help attract the ladies. When the male approaches a potential mate he vibrates his abdomen while simultaneously waving his raised legs and tail. As if that is not enough he also dances from side to side. This mating ritual can last from as little as four minutes up to as many as fifty.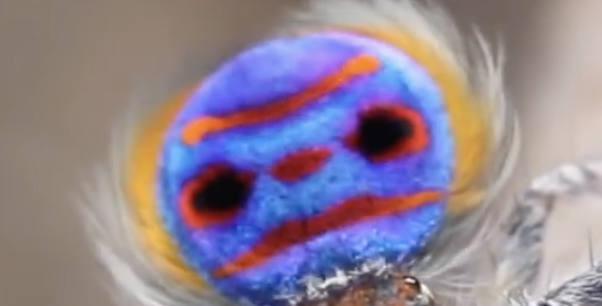 When the female, the brown spider at the end of the video, views this complex display she may be interested and choose to mate with the male. There is the risk that she may already be carrying eggs, or just not impressed. If she is not interested she may attack, kill, and feed on him, but if he is quick enough, he can escape by jumping long distances to get away from the angry female.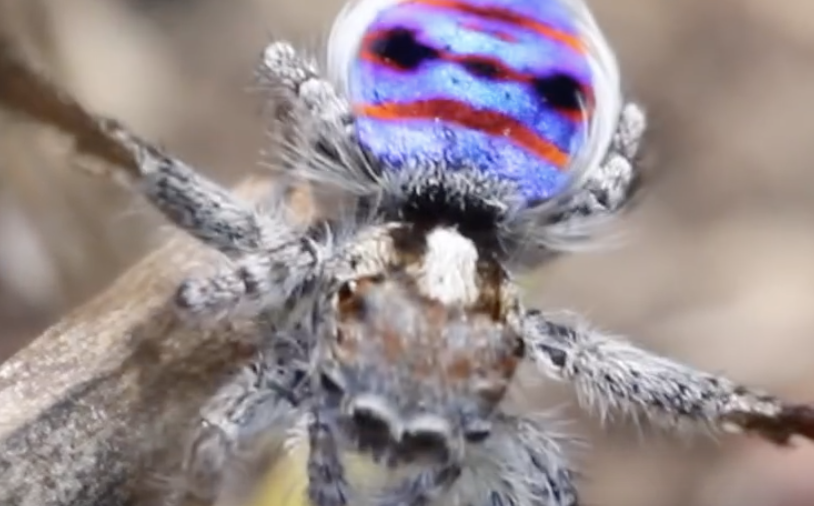 Check out the video to witness the bizarre and intricate mating ritual. You may just learn a new dance move and appreciation for the cute tiny spiders!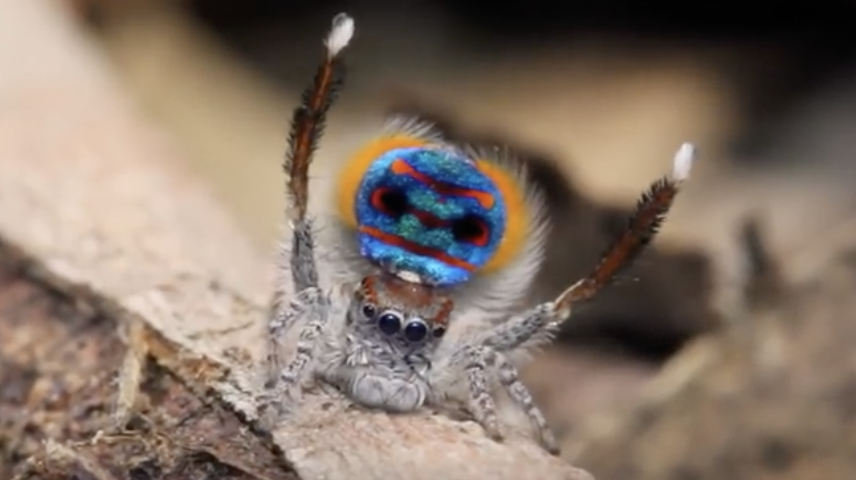 Please SHARE With Family and Friends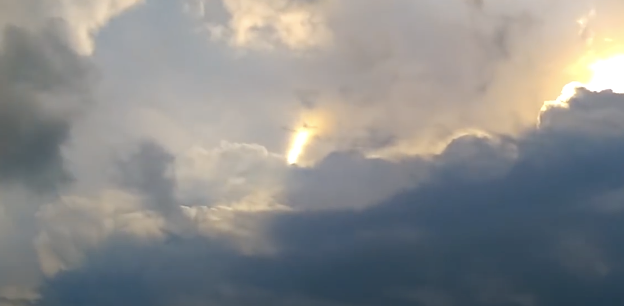 image via – facebook.com
This is one of the most incredible videos I have ever seen! I felt as if the man behind the camera was speaking for me, repeatedly pointing out how shocked he was by what he was witnessing. What in the world is it? It looks like a creature made of light hopping around in the clouds! My first reaction was disbelief.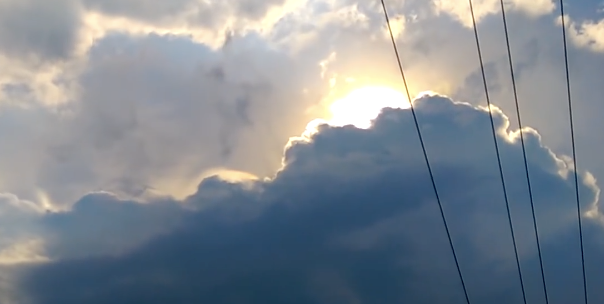 I thought there must be some kind of trick, but the consistency of the light and its constantly changing movements convinced me of its authenticity. My second thought was, "I hope it's a UFO!" There is some speculation that what we are witnessing is a rare phenomenon called "crown flashing."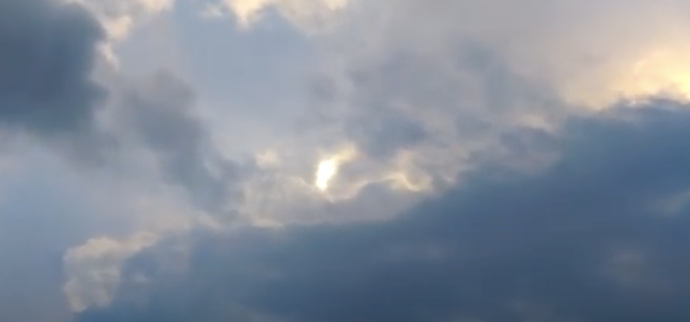 It happens when the ice crystals in the clouds align with the constantly shifting magnetic fields, caused by the electrical activity of a storm. The shifting crystals cause the light to refract and move. Nature is so mysterious and amazing.. No matter how much we learn, she always has another secret. What do you think this is? Let us know!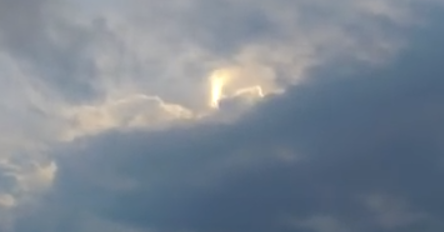 Please Share This With Your Family and Friends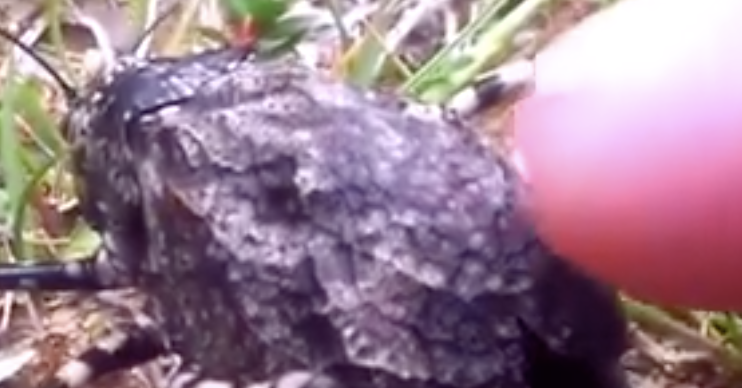 image via – facebook.com
Mother nature never ceases to amaze us and yet there is simply so much that remains a mystery out there in the world. While most animals have been studied extensively, many bugs and insects have yet to be comprehensively observed in the wild. One such type of bug is the rare and elusive Mountain Katydid (Acripeza reticulata).
Found predominantly in the southeastern corridors of Australia, Mountain Katydids, which are also known as Mountain Grasshoppers, are one bug that you wouldn't mind coming face to face with in the wild. They are incredibly easy to miss, and are even harder to spot when you're specifically looking for one, because of their natural built in camouflage.
The exterior part of their bodies is a dull brown or black color and this, combined with the grainy texture, makes them resemble what looks like a piece of bark or a dead leaf on the ground.
However, we all know that looks can be deceiving and the Mountain Katydids of Australia are not as inconspicuous as they initially appear to be. As you can see in the accompanying video, when they are touched even in the slightest manner they transform into bright, colorful little bugs that you don't want to mess with!
The sudden change is caused by their wing casings parting to show off the funky colored lines of bold red, black, and bright blue dotted bands underneath. It's an impressive sight and in the wild bright, flashy, electric colors often signify to predators that the creature they plan on hunting and eating is potentially toxic, poisonous, and/or nasty tasting.
As for Katydids, they aren't poisonous, but they are absolutely revolting and taste terrible since they're chock full of noxious chemicals. The fact that the insects flash their colors after being touched is definitely unique to them because such displays are always done in advance of any possible attack as a warning threat to others to stay away.
Scientists have studied their behavior and yet still remain puzzled as to why the bugs only display once they've been touched, which in the wild would mean something tried to eat them! Seems like too little too late but perhaps there's more to it that humans just can't understand. Either way, be sure to check out the video and see how cool the Mountain Katydid truly looks!
Have you ever seen one these?
Please SHARE This With Family and Friends