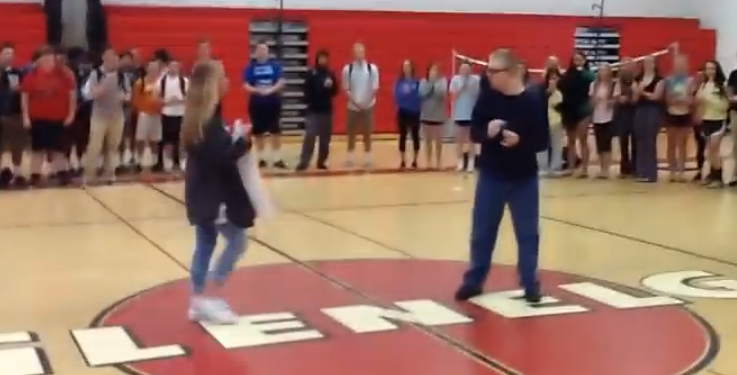 On a recent afternoon students at Glenelg High School, in Maryland, gathered for an unforgettable moment. They had assembled at the school's gymnasium and stood eagerly waiting for one particular classmate's arrival. The student, James, has down syndrome and was about to get the surprise of a lifetime.
The video starts off with James eagerly making his way towards the gym. He is unaware of what is about to happen and as he gets closer the sounds of kids cheering can be heard. When James walks into the gym he is greeted by the sight of his classmates circling the basketball court. As he makes his way into the circle his peers break out into a chant, clapping and cheering him on. At first he looks a bit unsure as to what is happening. However, he quickly overcomes any uncertainty and is reassured by his friends warm smiles and shouts of encouragement. James goes to the center of them all and shows off some of his sweet dancing skills, moving and shaking to their chants.
While he is boogieing down a girl with long blonde hair makes her way towards him holding a sign. It reads "James, Prom?" He stops and the girl, Maisy, asks him if he will go to prom with her. When James says yes the students erupt, cheering loudly, and the pair share a sweet hug.
For everyone gathered in the gymnasium that day, this is a promposal that they will never forget. It is truly a wonderful and sweet moment they all shared and now you too can see it!
Please SHARE With Family and Friends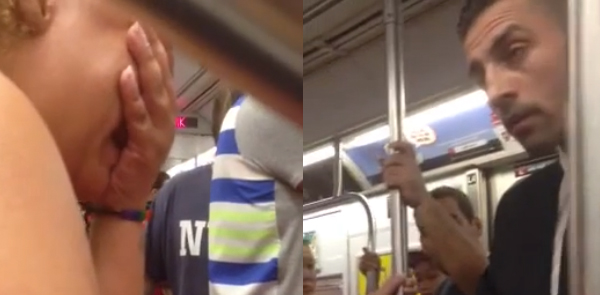 How is it that some people have been endowed with the gift to do good? The man in this video is just such a person. Many people might have the money to do what he did, but would never even have the thought or inclination to do so.
A woman on the subway was trying to earn her days living by selling roses at $1 apiece. Suddenly this man approaches her and offers her $140 for all the flowers. She seems confused at first, as he does so with the contingency that she give the sold roses away for free to others.
As he makes the sobbing woman promise to do so, watch the other commuters take in this incredible gesture. Watch as she shouts out in happiness, following the generous man's instructions. Small acts of kindness never cease to amaze me!
Please SHARE With Family and Friends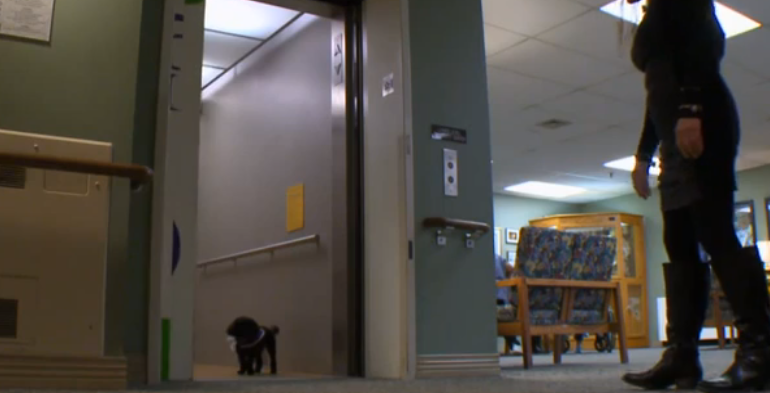 It is often said that "dogs are man's best friend".  What you are about to see will assure you that dogs are both men's and women's best friends!  How does such a tiny little creature have the sensitivity, on its own, to be so caring and loving?
Nala, the Teacup Poodle seems to be a gift from heaven for elderly residents at the Minnesota Lyngblomsten nursing home.  It all started when her owner, Doug Dawson, brought her to work one day when she was a tiny little pup.  As Doug was dispensing the residents' medication, Nala was dispensing love.
She had no training as a therapy animal, but instinctively knows that her presence and affection is doing more for these people than any medicine that can come out of a plastic container.  As Nala has grown she has learned to cruise the nursing home on her own. Not only does she scurry from room to room visiting her friends each day, but she rides the elevator by herself so that she can reach everyone!
Please SHARE With Family and Friends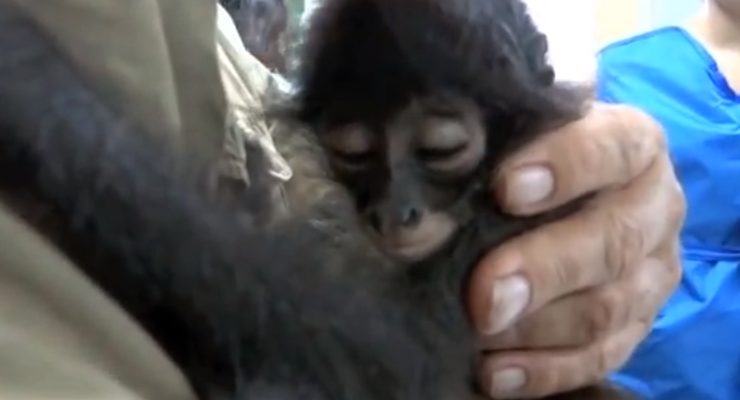 Words cannot express how touching it is, to watch this tiny injured baby spider monkey who was snatched by poachers, get a second chance at life.  Had the Belize Forest Department not been notified little Izzy (as she was later named) surely would have died from shock and dehydration.  This is the leading cause of death in poached wildlife.
She was rushed to the Belize Wildlife & Referral Clinic within 3 hours of being located.  They quickly began to hydrate the sweet little baby, and immediately saw that she had a broken arm which needed to be set.  Further x-rays showed that she had multiple pellet gun wounds that had broken more bones.
The love and care she got from the veterinarians is just heartwarming to watch.  Thanks to the quick action of the authorities to rescue her from the poachers and the excellent medical care she received, Izzy now has a good chance of living a good life back in the wild.
Watch and you will get to see pictures of her as she got to develop normally as she healed, and feel the love.
Please SHARE With Family and Friends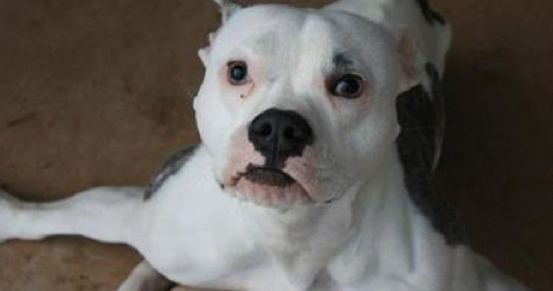 Mikey, Jesse, and Emma were all in for a huge surprise.  Their father had been away on deployment for 6 long months and they had no idea when he was due back.  So when the airman unexpectedly walked through the front door they excitedly ran to greet him.  Tails wagged back and forth rapidly, faint whimpers could be heard and tears of dog joy flowed.  And one little girl, Emma, did something she had never before done, she greeted her dad at the door.
Emma was born with a severe birth defect that causes muscle and neurological problems known as Polyradiculitis.  It caused her to lose the use of her back legs and thus she relies on her 2 good front ones.  She'd been adopted by her new family and had grown really close to her new daddy before he had to leave.  Normally she sits and waits at the end of the entrance hall for her mom to pick her up when she arrives home.  But this time she is so excited and it is too much for her to wait so she goes to the door under her own strength to greet the man she missed so much.  It is the sweetest thing to see and, personally, it brought me to tears.
The American Bulldog and Pitbull mix had been adopted by Melissa Swanson and her husband 3 years ago (she was one years old in the video) from SNARR, a special needs animal rescue.  The organization agreed to let the Swanson's keep Emma for the rest of her life, and yet still keep paying for her expensive and ongoing medical bills.  SNARR truly wants the best for their animals and by placing them in forever foster homes the animals can get the love and attention they deserve.  Best of all, for every single view of Emma's video, SNARR receives money that they put towards helping pay the costs of her medicine and care!!  Help them out by checking out their site and the work they do as well as by sharing the video.
Please SHARE With Family and Friends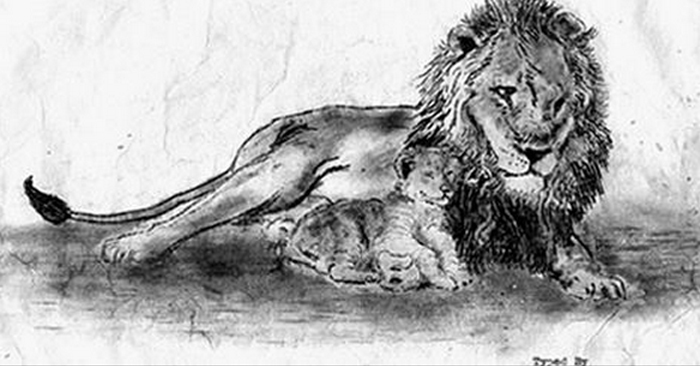 Paul Smith was born in the 1920's when people with cerebral palsy weren't given good odds of living.  There was no such thing as mainstream education for someone with his severe case of spastic palsy which severely limited his ability to speak, move and fine motor ability.  As a result he was illiterate. He had many gifts, the first being perseverance.  After 16 years he learned to speak, and 32 to learn to walk.  
At the age of 11 he devised a way to create paintings using only 10 symbols on the keys of an old fashioned typewriter, as he did not have the fine motor ability to hold brushes or pencils. His artistry developed over the years into truly mind-blowing works of art that he painstakingly worked on as he listened to classical music.  
In the 1960's, after his parents died he moved into a nursing home that became his new family.  In addition to his amazing artistry he became a chess master and enjoyed sports.  Defying the odds, Paul Smith lived to the ripe old age of 85; Living a life of purpose as he created works of art that were innovative and will stand the test of time.  He is an outstanding example of the power of the human spirit to overcome adversity and rise to the highest heights of achievement. You will be amazed at what you are about to view in this inspirational video.
Please SHARE With Family and Friends