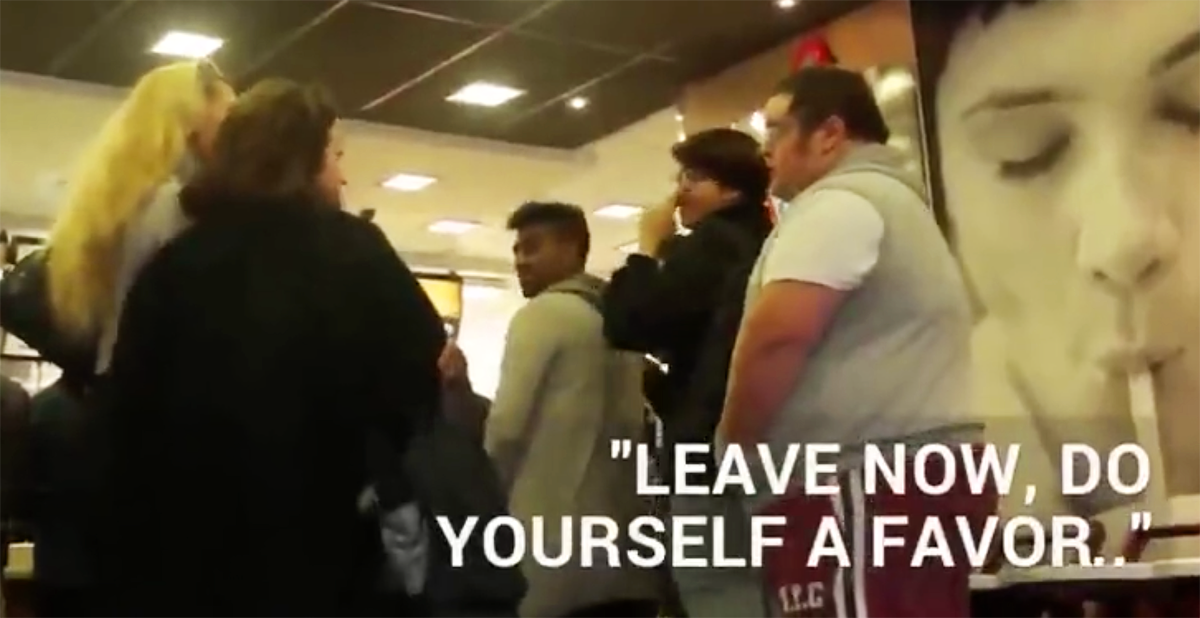 image via – rumble.com
Fat shaming is as disgraceful and cruel as it sounds. It's when overweight people are harassed and criticized about their eating habits or weight by others who are trying to make them feel ashamed of themselves. Basically, it's bullying someone because you think they are fat, and it's wrong.
Many people who fat shame think that they are doing the obese a favor and that their criticism will somehow motivate people to lose weight, eat less, and get healthier. Others are just cruel, mean trolls who say rude things because they can. Regardless of the type or intention, people who fat shame are bullies and they are causing overweight people to not only feel horrible about themselves, but to suffer psychological harm as well. Just imagine how you would feel if you were on the receiving end of a public dress down like the poor guy in this video.
The clip starts off with a group of women standing in line at McDonald's. They had started making rude comments about how they thought fat people shouldn't be in there when they turned to the larger man next to them. The women started harassing the poor customer, saying things like "Leave now, do yourself a favor" and "You should stop eating!" They continued to verbally attack the poor guy until finally another man steps in to his defense. He asks the group of rude women "what are you doing?" but they just drone on spouting off offensive and hurtful things.
Rather than stand there and take it any longer, the second man decided to cool things down a bit by pouring a cup of water over the head of one of the aggressive women! As he dumped it on her he basically told her that it was an instant dose of karma being delivered for her "disrespect," and the crowd went wild! Fellow customers looking on laughed, gasped, and cheered in delight. They'd had enough of all the belittling, fat shaming, and blatant rudeness being displayed by the women. After all, they went to McDonald's for a quick bite to eat and probably just wanted to order their tasty food and be on their way.
After this video came out, the reaction online was immediately split as to whether it was real or fake. It seemed somewhat staged but no one could tell or know for certain if it was. As it turns out, the video was a set-up, made by a prank YouTube station called Trollstation. And while the video may seem cruel and unusual, it's brought some much needed light and attention to a situation that for many people is all too real.
In the end, there's just no need for any extra and unnecessary hate in the world. If someone has nothing nice to say, then they should keep their mouths shut, plain and simple. Life is too short to be miserable, live it for you and only you, not some random judgmental jerks on the internet or the streets.
Please SHARE This With Family and Friends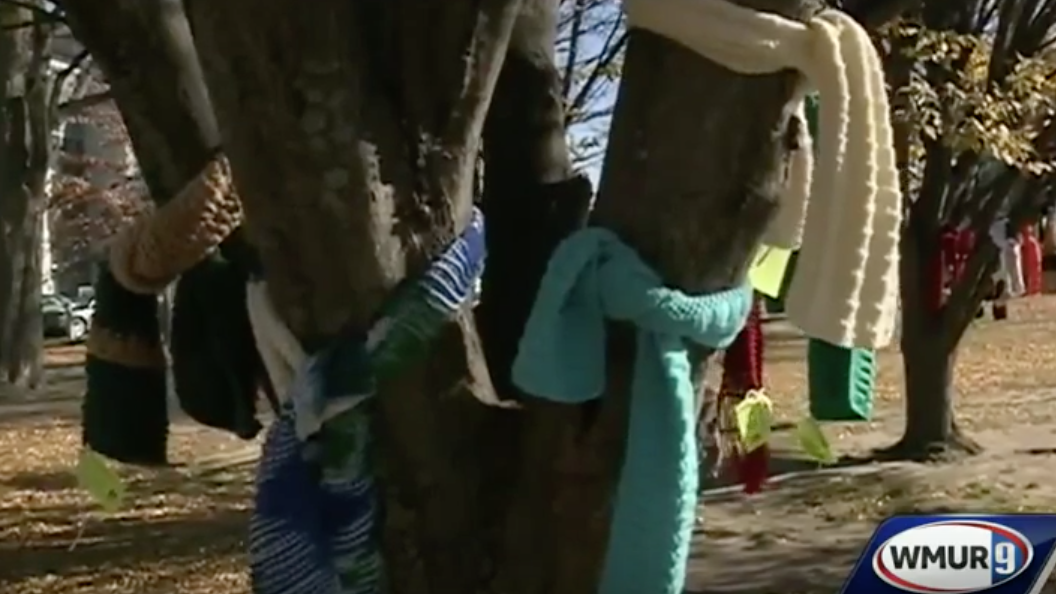 image via – youtube.com
What began as a way for one woman to give back and help others has turned into a nationwide movement of sorts. People everywhere are digging out their old winter scarves, or knitting up new ones, to tie around trees in parks and other well-traveled areas. The purpose is to make a warm scarf readily available to the homeless or anyone else who may need it.
As temperatures drop and freezing cold weather sets it, these scarves can make a huge difference in someones life. It's vital to keep your head and ears covered and warm because when it's not covered you end up losing a lot of body heat. For someone living outside in cold wet conditions, having a scarf to insulate their head and neck against the winter chill could mean the difference between life and death. Plus, there are the obvious comfort factors and having a cozy scarf to wrap yourself up in is always a nice feeling!
Some people are also choosing to include thoughtful messages along with the scarves. Others are more reassuring, such as one tagged with a simple note reading "I'm not lost! Please take me with you if you are cold. Stay warm!"
So how did this awesome idea begin? For Elizabeth Sammons it all started when a post on Facebook featuring the scarves caught her eye. With the help of a co-worker she placed five scarves on trees around the town of Fairbault, Minnesota and soon afterwards a woman contacted her about them. She wanted to bring the project to St. Paul and Elizabeth helped her do just that.
For Elizabeth, the scarves are a way for her to give back and help others who may need it. She knows the feeling of needing something and not being able to get it because she had a heart defect and in June of 2015 she was finally able to receive a heart transplant. After that, she spent her spare time crocheting as many scarves as she could. Then she gave them all away to the homeless or anyone in need of a warm winter scarf.
By the time Elizabeth and her team of volunteers arrived in St. Paul, they were armed with over 1,000 scarves. Some they handed out directly to those in need and the rest they wrapped around trees at over 20 local area parks. That way, the warm knit wear is out there for anyone who needs it.
Please SHARE This With Family and Friends To Help Spread Awareness About This Awesome Project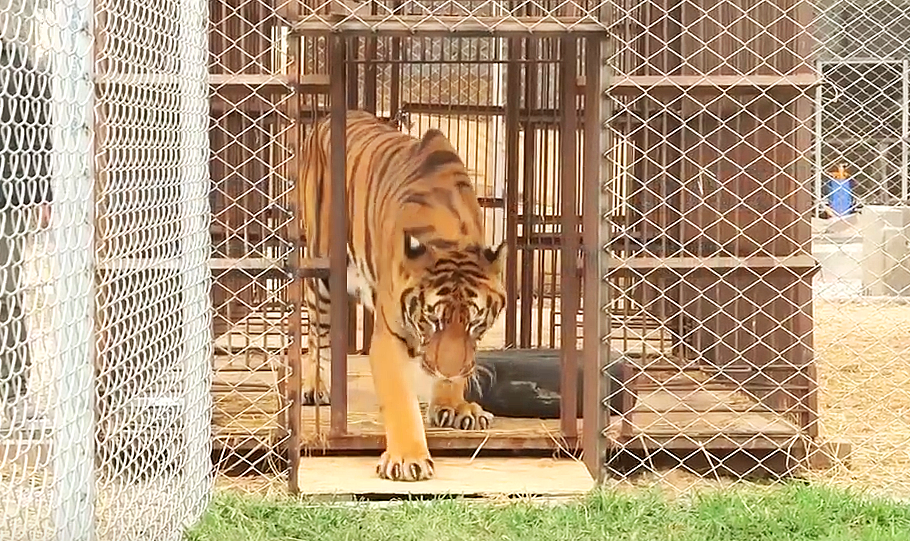 image via – youtube.com
A tiny rusty old cage is no place for any wild animal to live, let alone a full grown tiger. Sadly, that's exactly where a beautiful tiger named Hoover was forced to live his life as part of a traveling circus in Peru.
While the details of Hoover's early life remain mostly unknown, it's believed that he was originally part of a group of 6-12 tigers that the circus used in their shows. By the time his rescuers got to him, he was the last remaining one. Over the past twelve years of his life he had been mistreated, abused, and forced to perform tricks. When he wasn't being openly exploited he was kept locked up in a cramped cage day in and day out, always on the move. He needed help fast or he would die.
Life was anything but natural and comfortable for Hoover. His captors brought him from one town to the next where he was allowed out only for shows. His cage was completely inadequate for such a large, majestic tiger and barely allowed him any room to move around. He spent the days pacing back and forth in the hot, dusty, stale air with nothing to stimulate his mind or play with. All he had was a dusty floor to lay on that was surrounded by metal bars and dirt. There was no real shelter overhead to protect him from the elements and the neglectful state he was held in was horrendous.
The circus that Hoover was found with had been on the run for eight months before authorities caught up with them. For years a number of travelling circuses had operated in Peru using wild animals in their shows. The country recently changed the law and passed a circus animal ban in response to widespread cruelty, abuse, and sub-par conditions in which most circus animals were kept. The ban made it illegal to keep or use animals in circus shows and authorities have been working alongside animal advocacy non-profits, like Animal Defenders International (ADI), to strictly enforce it. Thanks to a tip from the public they'd received, ADI was able to stage a surprise raid on the circus and recover Hoover.
They immediatley took him to their resuce center in Peru and threw open the cage door to let him out and taste freedom for the first time. This video captures the moment he was finally released from his life of abuse and neglect. For the first time in perhaps all of his 12 years he was able to fully stretch out and do the one action that all cats seem to love! After his stretch he cautiously headed through the door and out into the temporary holding pen, where he stepped onto soft green grass. The grass on the bottom of his paws must have felt so strange and yet wonderful.
The veterinarians at ADI checked him out and found he was sick and emaciated. After months of rehab the big tiger was restored back to full health and once he was given the all clear, he was ready to head to his new forever home at Big Cat Rescue (BCR) in Florida. Getting a full grown tiger from Peru to America is no small operation. It took a full year before the U.S. Fish and Wildlife Service finally gave its approval and only then did Hoover's road trip begin. The journey involved multiple trucks and transfers before he was secured into a cargo plane for the final leg of his trip. Vets and caretakers monitored his health closely to ensure he was safe and comfortable every step of the way.
When he finally touched down and arrived at the BCR facility he was released into his new enclosure to check it all out. His new habitat is worlds away from the cramped barren cage he was held in, it's filled with an abundance of plants, trees, grasses, and other greenery. There's also platforms to rest on in the sunshine and a lake to swim and cool off in on the premises. Check out the clip to see Hoover exploring his new digs, drinking from the lake, walking among the trees, and sniffing at the ground. From the looks of it, he loves the water and couldn't be happier!
Hoover will live out the rest of his life at BCR where he's free to wander about his new habitat completely unchained. He no longer faces a life full of uncertainty and constant travel, there are no more people gawking at him, or trainers abusing him. Instead, he finally has the chance to spend his final years among other tigers, in the wild where he's protected and able to move about on his own, and that is beautiful.
Please SHARE Hoover's Story With Family and Friends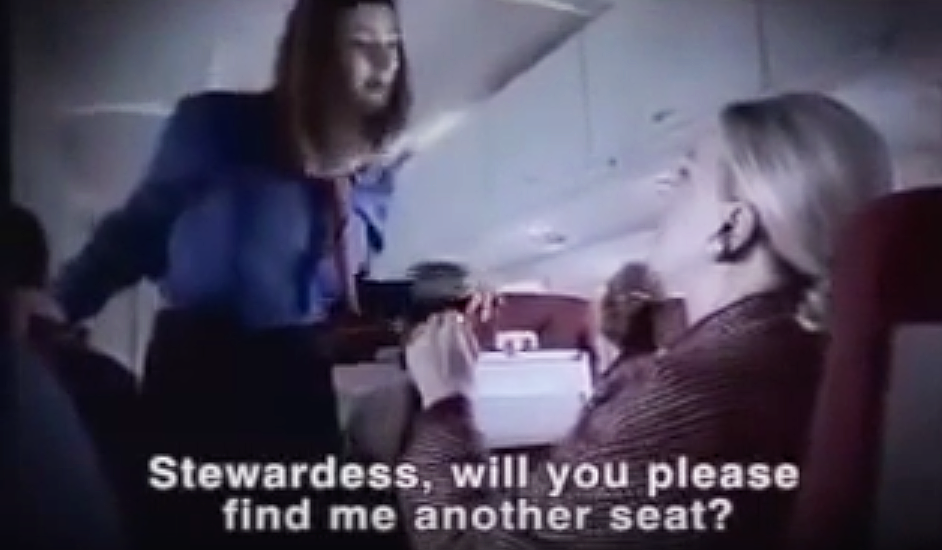 image via – youtube.com
Unfortunately, racism is a cancer in societies across our world, that not only still exists but is causing our world to become more and more dangerous.  It occurs both overtly and covertly, impacting the safety and human rights of people everywhere.
In the video you are about to watch below, a white woman is seated next to a black man on an airplane. She calls over a flight attendant to complain about the situation, asking for her seat to be changed, because she refuses to travel next to this man because of his skin color.
The flight attendant informs her that the economy class is completely filled, but promises to speak with the captain about resolving the situation.  When she returns she announces that a seat is available in first class, as no passenger should have to "travel beside such a despicable person."
Please SHARE this important video with your family and friends!  It was produced by the Universal Declaration of Human Rights (UDHR), to commemorate their 50th anniversary.  They have worked to FIGHT RACISM and PROTECT HUMAN RIGHTS across the world.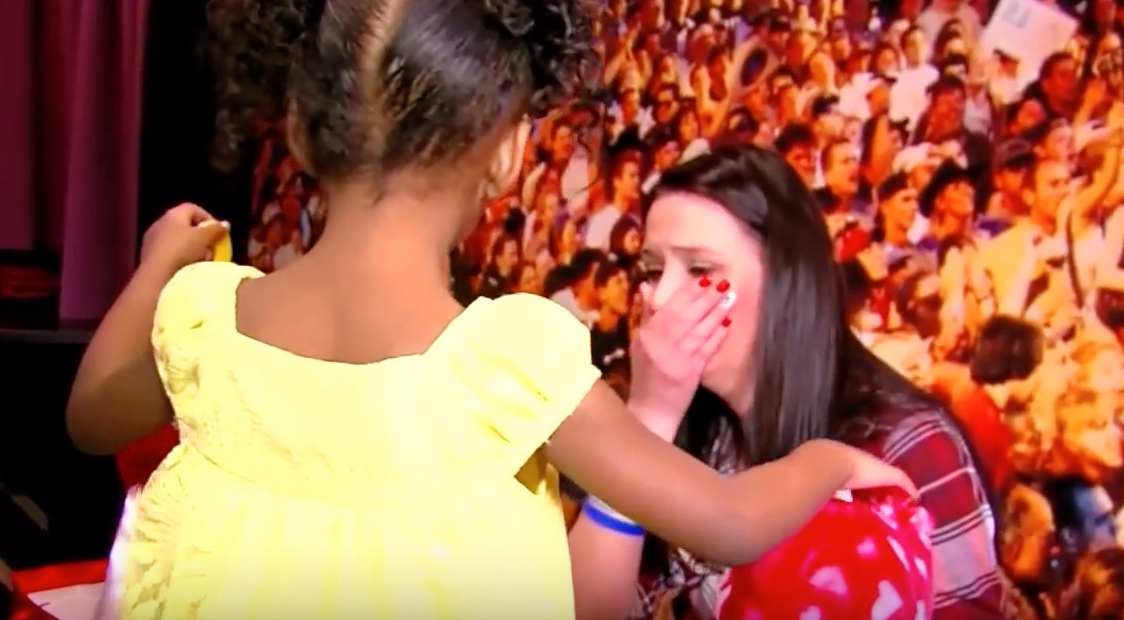 image via – youtube.com
Parents each and every day take a leap of faith, when leaving their children with a babysitter.  We check references and do everything possible to ensure that the person we are hiring is responsible.  Heather Clark did just that, when she left her 7-month-old son, Lukas, with a babysitter she had faith in.  Tragedy struck when Lukas was crying for a prolonged period of time; the babysitter's boyfriend shook him so hard that he stopped breathing.  9-1-1 was called; little Lucas was taken to Montclair Hospital Medical Center, but then needed to be transferred to Loma Linda University Children's Hospital where he was declared brain dead.
The devastation Heather suffered was beyond imagination, but somehow in her unbearable grief she was able to make an incredibly selfless decision, to donate Lukas' organs to other children.  Three children were the recipients of his organs, including one little girl who was born with congenital heart disease.  Jordan Drake had spent most of her young existence in the hospital, clinging to life with the hope of one day receiving a heart that would offer her a chance to grow up.
Lukas' heart was a perfect match, which saved Jordan's life.  The video you are about to watch below, occurs a few years after the transplant.
What you will witness is both heartbreaking and heartwarming, as little Jordan and her mother meet Heather for the first time.  Overcome with emotion, Heather takes a stethoscope and listens to Lukas' heart beating in Jordan's chest.  This was so overwhelmingly emotional, as was the gift they gave to this wonderful mother, who so selflessly wanted to turn her tragedy into a chance to save other children; it gave her solace to know that she might be sparing other parents the unbearable suffering of losing a child.  They had a Build-A-Bear made with a recording of Lukas' heartbeat contained inside of it, for Heather to keep forever.  Watching these generous and loving human beings, will truly restore your faith, that there is so much goodness still out there in this world.
Please SHARE this beautiful story of giving and hope with your family and friends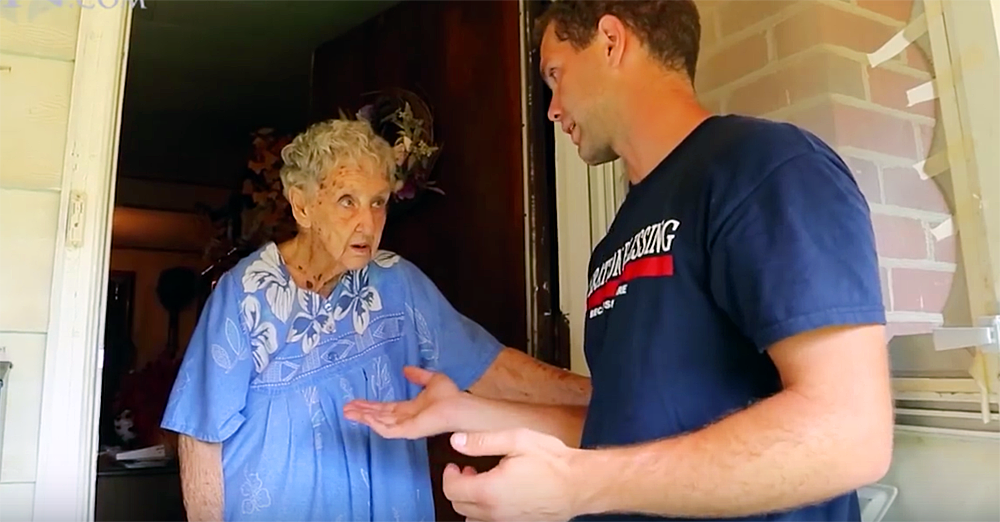 image via – youtube.com
ACTIONS SPEAK LOUDER THAN WORDS!  Words certainly can be powerful, but good deeds show that the intention behind respectful and loving words are real.  Such is the case in the unbelievably touching video you are about to watch below.
Agnes, a 90-year-old widow, had been reported by the neighbors about garbage and junk that had been mounting in her back yard for years.  This was a result of a relative dumping his stuff on her property, which Agnes was helpless to stop.  After being reported, she was terrified and humiliated.  Facing fines she could not afford to pay, Agnes contacted a group called "Operation Blessing", to see if they could help her in some way.
Certainly, as will see in the footage of what they did for Agnes, this was no small act of kindness.  You will be as amazed and touched as Agnes was, to watch these "angels" who came to her rescue.  In these days where we wake up to such horrible news of man's inhumanity to man, this wonderful video is a reminder that we all must try to counter all the hatred.  Doing acts of kindness, large or small, is so important in keeping our hearts open to love and goodness.  Human beings are truly capable of loving selflessness and caring, despite all the darkness currently in our universe.
Please SHARE This Beautiful Story With Your Family and Friends