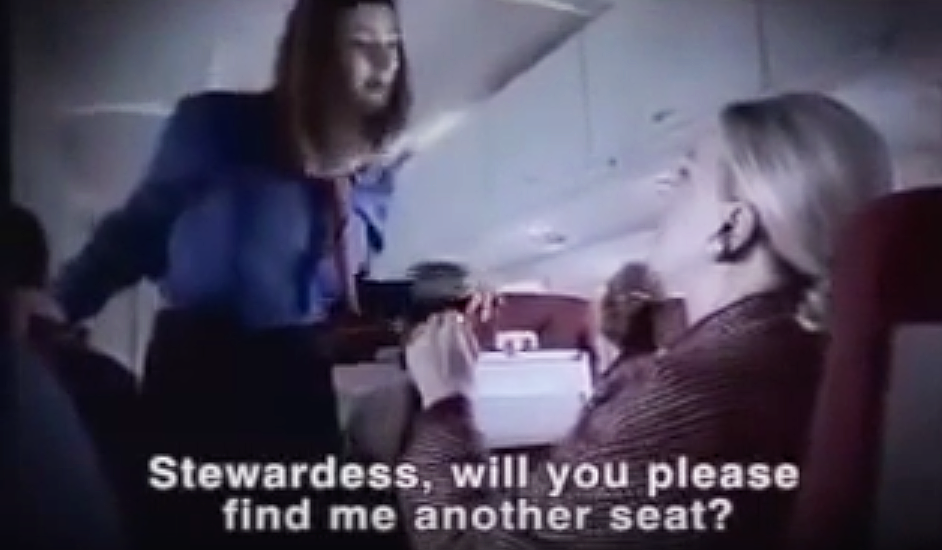 image via – youtube.com
Unfortunately, racism is a cancer in societies across our world, that not only still exists but is causing our world to become more and more dangerous.  It occurs both overtly and covertly, impacting the safety and human rights of people everywhere.
In the video you are about to watch below, a white woman is seated next to a black man on an airplane. She calls over a flight attendant to complain about the situation, asking for her seat to be changed, because she refuses to travel next to this man because of his skin color.
The flight attendant informs her that the economy class is completely filled, but promises to speak with the captain about resolving the situation.  When she returns she announces that a seat is available in first class, as no passenger should have to "travel beside such a despicable person."
Please SHARE this important video with your family and friends!  It was produced by the Universal Declaration of Human Rights (UDHR), to commemorate their 50th anniversary.  They have worked to FIGHT RACISM and PROTECT HUMAN RIGHTS across the world.
Click
Like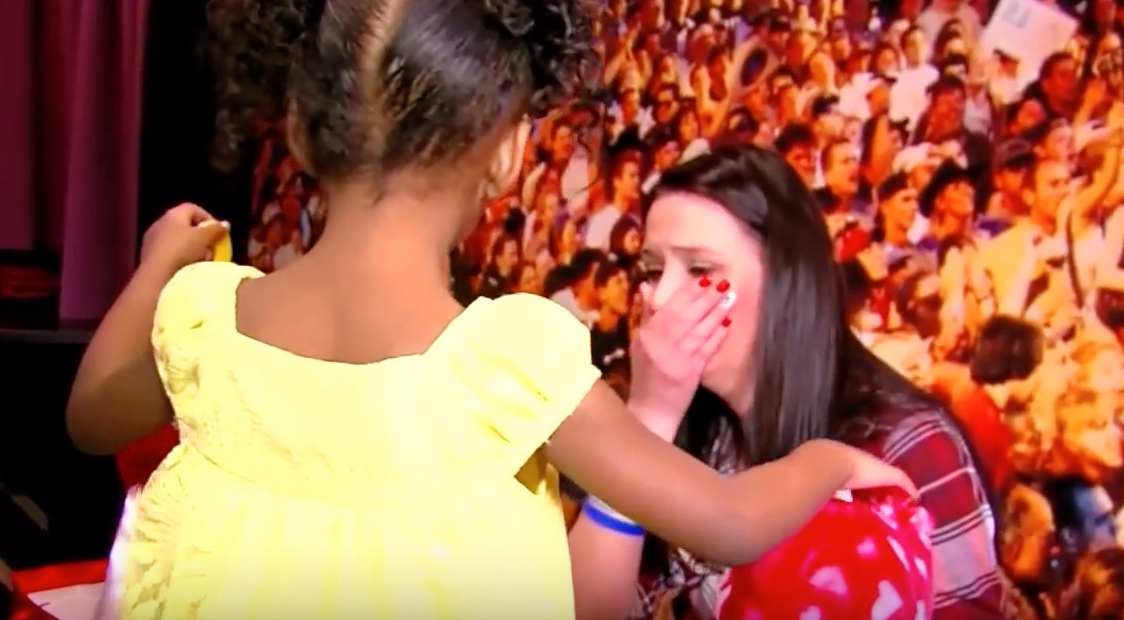 image via – youtube.com
Parents each and every day take a leap of faith, when leaving their children with a babysitter.  We check references and do everything possible to ensure that the person we are hiring is responsible.  Heather Clark did just that, when she left her 7-month-old son, Lukas, with a babysitter she had faith in.  Tragedy struck when Lukas was crying for a prolonged period of time; the babysitter's boyfriend shook him so hard that he stopped breathing.  9-1-1 was called; little Lucas was taken to Montclair Hospital Medical Center, but then needed to be transferred to Loma Linda University Children's Hospital where he was declared brain dead.
The devastation Heather suffered was beyond imagination, but somehow in her unbearable grief she was able to make an incredibly selfless decision, to donate Lukas' organs to other children.  Three children were the recipients of his organs, including one little girl who was born with congenital heart disease.  Jordan Drake had spent most of her young existence in the hospital, clinging to life with the hope of one day receiving a heart that would offer her a chance to grow up.
Lukas' heart was a perfect match, which saved Jordan's life.  The video you are about to watch below, occurs a few years after the transplant.
What you will witness is both heartbreaking and heartwarming, as little Jordan and her mother meet Heather for the first time.  Overcome with emotion, Heather takes a stethoscope and listens to Lukas' heart beating in Jordan's chest.  This was so overwhelmingly emotional, as was the gift they gave to this wonderful mother, who so selflessly wanted to turn her tragedy into a chance to save other children; it gave her solace to know that she might be sparing other parents the unbearable suffering of losing a child.  They had a Build-A-Bear made with a recording of Lukas' heartbeat contained inside of it, for Heather to keep forever.  Watching these generous and loving human beings, will truly restore your faith, that there is so much goodness still out there in this world.
Please SHARE this beautiful story of giving and hope with your family and friends
Click
Like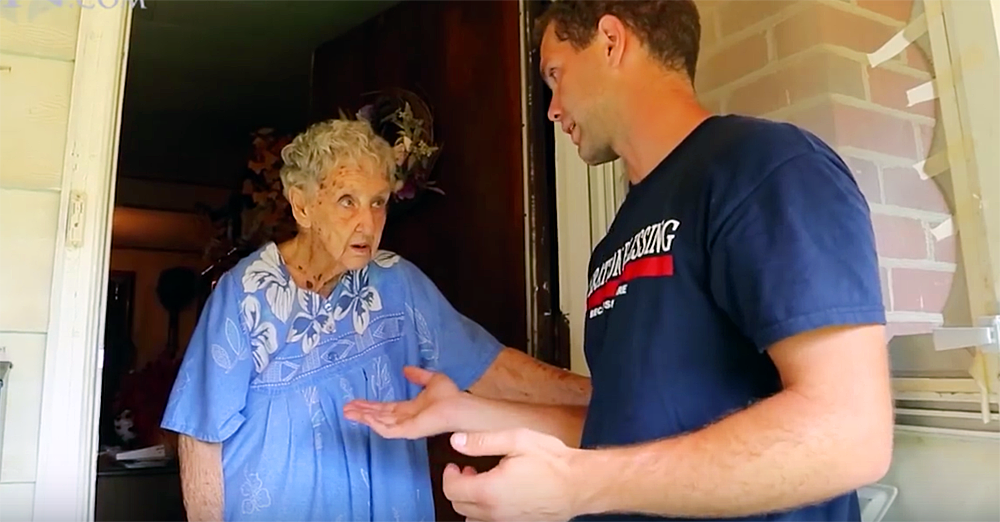 image via – youtube.com
ACTIONS SPEAK LOUDER THAN WORDS!  Words certainly can be powerful, but good deeds show that the intention behind respectful and loving words are real.  Such is the case in the unbelievably touching video you are about to watch below.
Agnes, a 90-year-old widow, had been reported by the neighbors about garbage and junk that had been mounting in her back yard for years.  This was a result of a relative dumping his stuff on her property, which Agnes was helpless to stop.  After being reported, she was terrified and humiliated.  Facing fines she could not afford to pay, Agnes contacted a group called "Operation Blessing", to see if they could help her in some way.
Certainly, as will see in the footage of what they did for Agnes, this was no small act of kindness.  You will be as amazed and touched as Agnes was, to watch these "angels" who came to her rescue.  In these days where we wake up to such horrible news of man's inhumanity to man, this wonderful video is a reminder that we all must try to counter all the hatred.  Doing acts of kindness, large or small, is so important in keeping our hearts open to love and goodness.  Human beings are truly capable of loving selflessness and caring, despite all the darkness currently in our universe.
Please SHARE This Beautiful Story With Your Family and Friends

Click
Like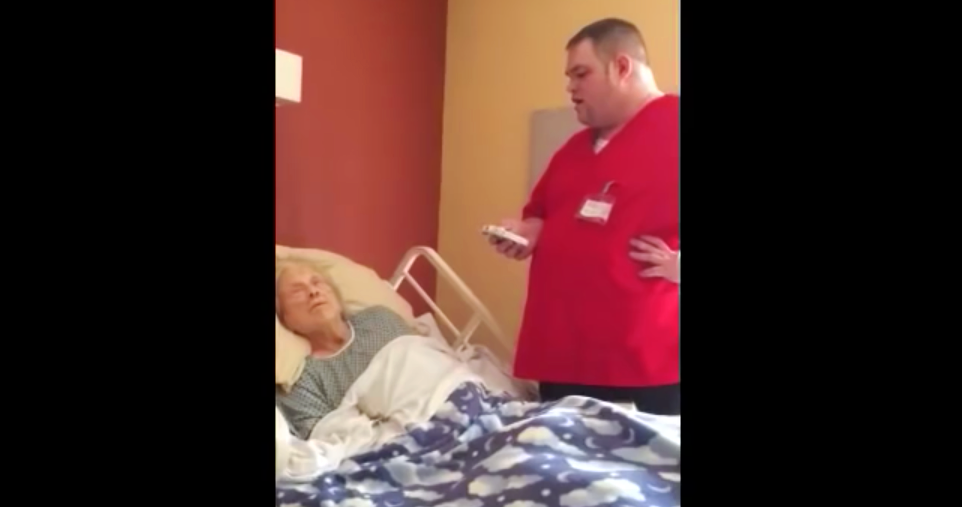 image via – youtube.com
The grief that families go through, when a beloved family member needs hospice care, is emotionally wrenching.  Although the people who go into hospice care are very well trained, and are generally unusually compassionate and exceptionally capable of giving comfort to the gravely ill, many relatives hesitate as they have heard horror stories.
We are putting our loved ones into the hands of strangers when they are in a physically helpless state, and taking a leap of faith that they will be given empathic and tender care.  Unfortunately, what we hear on the news are often horrible stories of abuse, but thankfully those instances are more the exception than the rule.  Hospice care workers are usually exceptional people.
In the incredible video you are about to watch below, footage of the actions of hospice nurse, Josh Woodward, is caught by the camera placed in the patients' rooms at the Austinburg Nursing & Rehab Center in Austinburg, Ohio.  Mary Redmond, who had been a voice and piano teacher to many young students over the years, had become gravely ill and required hospice support.  When Josh was doing rounds, he immediately recognized her face…he had been her student when he was just 9 years old!  She taught him to sing and play piano, and when he recognized her he was so excited, and felt the need to thank her for all she had done for him.  What he does for her each day is caught in this footage that will restore your faith in the goodness of mankind…MAYBE ANGELS DO EXIST!
Please SHARE This Heartwarming Video With Family and Friends
Click
Like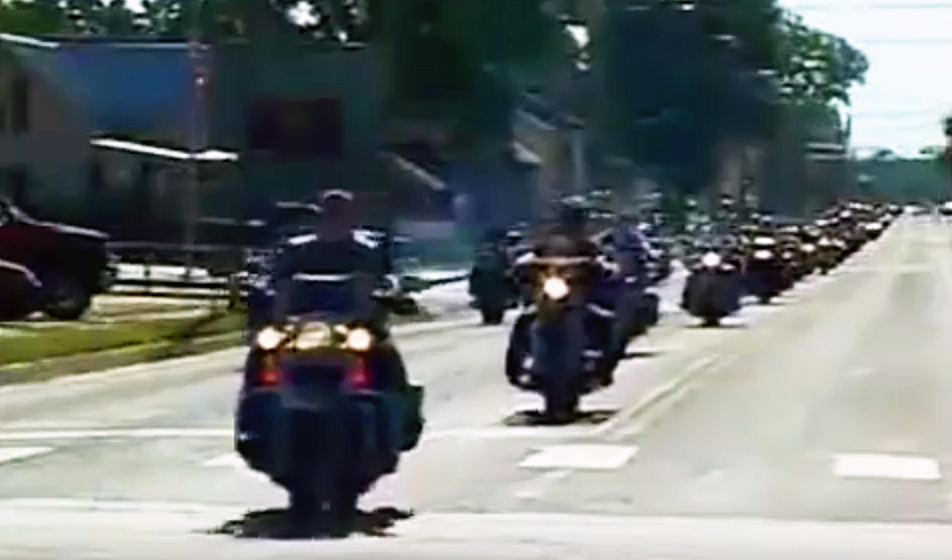 image via – youtube.com
The story you are about to hear in the video below, will simultaneously evoke emotions about mans's inhumanity to man, and restore your faith in our ability to stand up to intolerance and cruelty. Why would members of the congregation from Westboro Baptist Church, come to protest the funeral of a serviceman who had given his life for the United States?
Marine Corporal Richard Bennet, was being laid to rest after dying in a helicopter crash in Iraq, at the age of 25.  This radicalized group of congregants didn't think he deserved respect; they firmly believe that American troops are punished by God because our country accepts homosexuality.
They were all revved up chanting angry slurs at Corporal Bennet's grieving family, never expecting that their hateful speech would be prevented from being heard, and intruding on the family's ability to grieve with respect and privacy.
The video you are about to watch, will tell the loving and courageous interference of "The Patriot Guard", a group of bikers who used their bodies and American flags to form a wall that would prevent the hateful speech from being seen or heard by the grieving family.  The hateful rhetoric was spewed, as free speech allows, but the bikers made sure that their it was not heard by the people mourning.  This was all done without any violence; the revving of their bikes combined with the human wall of visual protection, allowed this family to grieve in peace.
Please SHARE This With Family and Friends
Click
Like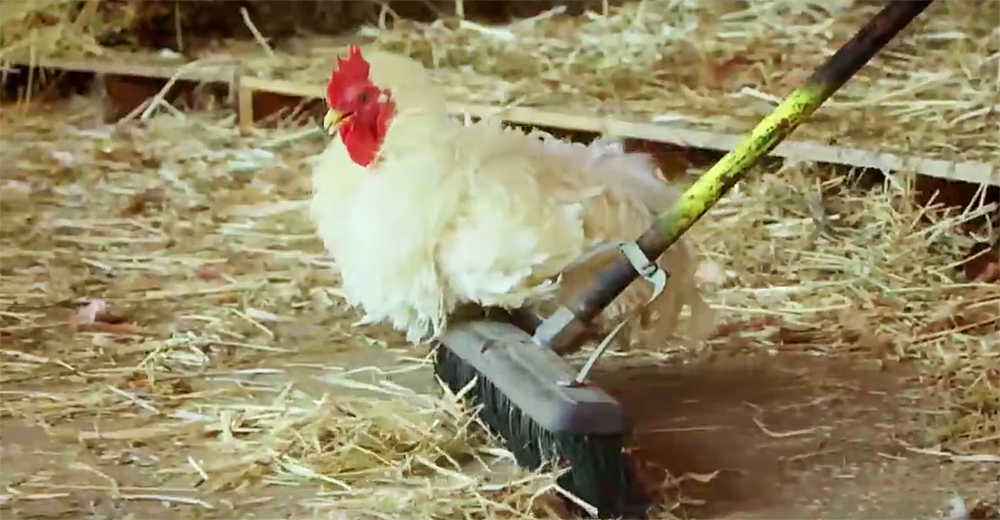 image via – youtube.com
When a rooster named Poodle Roo was acting off his keepers at Apricot Lane Farms in Moorpark, California took note. He wasn't behaving in the customary way, like how a normal rooster would act, and every night he'd leave the warm safety of the chicken coop to head out into the wide open fields to sleep.
Night after night workers would go out looking for him in the dark and they'd always find Poodle Roo roosting all alone on the cold ground. This was dangerous and farm owner John Chester was worried about the little guy when he explained that "Roosters are meant to be the confident protectors of the flock, but no rooster is a match for what lurks at night." In order to keep Poodle Roo safe and secure the farm staff ended up making him a special place to bunk at night in the barn away from the other chickens.
However, the question remained as to why he would rather stay outside in the dark all by himself than in the warm, safe coop with all the other chickens? Mr. Chester, who also happens to be an award winning filmmaker, decided to get to the bottom of it and attempted to reintroduce Poodle Roo back with the rest of the flock. So late one evening the rooster was placed in the coop in the hopes that the others would accept him. They did not, instead all of the other roosters attacked him until he nearly bled to death.
Everyone was taken aback by the sad turn of events and worked around the clock to nurse him back to health. They cleaned his wounds, kept him warm, and prayed he'd recover from the horrible ordeal he went through. Miraculously the little rooster bounced right back and in no time at all he'd healed and made a full recovery.
Around this time it was also discovered that Poodle Roo was partially deaf and blind. The new information shed some light on why he kept running away and was picked on. As Mr. Chester so heartbreakingly put it, "In the mind of this defenseless creature, sleeping alone in the pasture was the safer option."
In true survivor fashion, Poodle Roo grew even stronger from everything he'd been through and came out a more confident rooster than he ever was before. He also started helping out other injured or sick chickens who were brought in to Apricot Lane Farms for recovery. He showed the newbies all the good spots for finding food around the property and patiently waited alongside them if they were weak or limping. Not only that, he also made friends with a lonely barn cat on the farm and is now known as the barn nurse among staff and visitors!
Poodle Roo is a true inspiration. Through all the bullying, fighting, and loneliness he didn't get bogged down in feeling bad for himself and never once did he give up. In the end he came out stronger and better than ever, and he chose to help others through the scary, lonely times they were facing. It's amazing what a difference one partially deaf and blind rooster can make and in the lives of those who know him he's made the world a much better place.
Please SHARE Poodle Roo's Story With Family and Friends
Click
Like