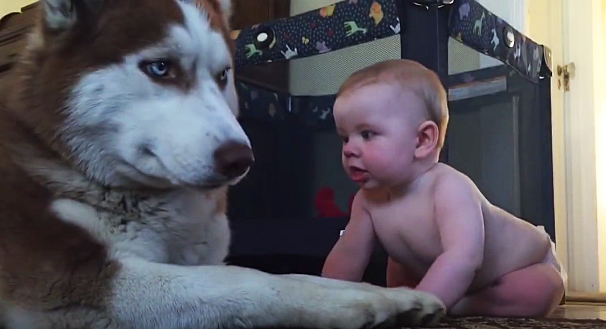 I wasn't a dog person when I was growing up, but have come to love them. I usually favor small dogs because they remind me of babies…and I have always been a baby lover! I had three of my own, but we didn't get a dog until they were older. She ended up being a large dog, but nowhere near the size of the one you are about to watch in the video below.
I'm not sure if the dog is a mixed breed, but it has a head the size of his baby playmate! The baby looks to be 6-9 months old and she has absolutely no fear at all of this giant laying on the floor next to her. Clearly a parent
is filming the video, but I still held my breath as I began to watch the vigor with which the baby handled her canine friend.
It was literally incredible to watch their interaction, as this adorable baby started to play. It looked for a moment like the big guy next to her wasn't so keen on her approach. The baby seemed non-plussed and when on to explore her furry friend. This is footage that is priceless!
Please SHARE This With Family and Friends

Click
Like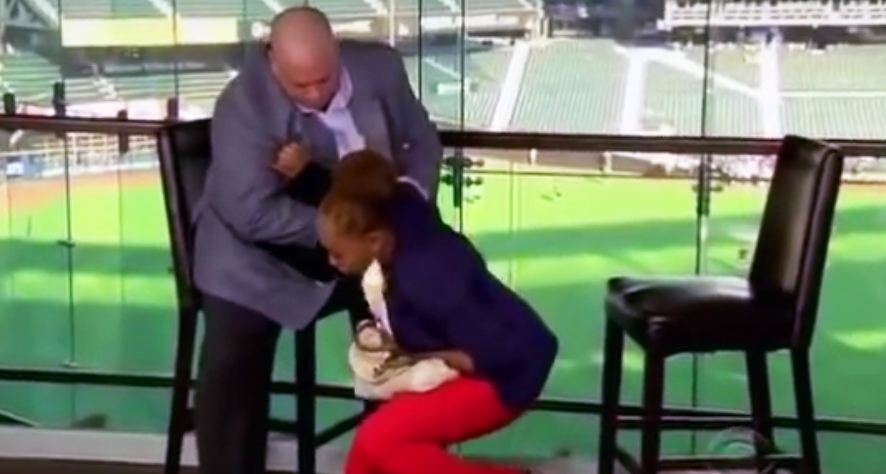 There are many people in the US, who hold down a job that they do with great dedication, and just barely make ends meet.  These people are known as "the working poor".  Angel, the young single mother of three, whom you will hear about in this overwhelming video you are about to watch below, is just such a person.
We see her training a new sales employee named Joey.  Her diligence and kindness in how she explains the job to him, and the degree of her dedication is remarkable.  As she trains him, they both share some personal aspects of their life, that further their understanding of each other's circumstances.
Joe tells Angel that he lost his pizza business, which landed him in hard times, that led him to taking this sales position.  Angel explains that despite her having this job which she loves, she and her children have been living in a homeless shelter for two years!
Joe listens to Angel's plight and her unbelievable commitment to her job and to HIS company.  You see, he is actually the CEO and had decided to go UNDERCOVER in one of his big stores to see how the business was actually operating from the ground up!  He posed as a trainee and Angel was randomly picked to show him the ropes.
The more he worked alongside her, he was so touched not only by her excellent work ethic and dedication to the company, but to her positive attitude about her own situation.  She encouraged him to look on the brighter side of losing his business; better times were sure to come, with hard work and a positive attitude!
He had someone filming his "Undercover program", with the idea of using whatever he found as a tool for other employees.  That film is what you are about to watch.  When the filming was over, he could not stop thinking about Angel and her family.
The filming continued when he decided to meet with her, as he normally looks, and explained to her that his name wasn't really Joey.  What happens next is life-changing not just for Angel but for this CEO with a big heart.  You will be brought to tears of joy!
Please SHARE This Heartwarming Story With Your Family and Friends,  it made my day!

Click
Like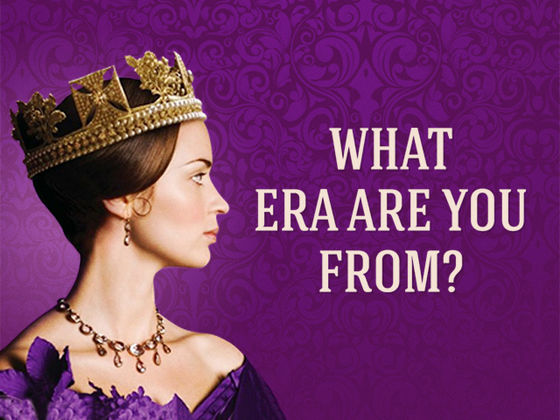 Did you ever have the feeling that you may have lived before in another period of time? Or if you don't believe in such things, have you ever said or had the sense that you would have thrived during a different era? I always had the sense that I had lived in Ancient Egypt and could have been a dancing girl in a Pharoah's court!
The following quiz presents you with 10 questions that offer you a multiple choice of responses from which to choose. Try not to think too much when you choose your answer; "going with your gut" will yield the most accurate analysis of what era you are most drawn to.
You will be presented with 6 pictures and asked to: Choose an interior; What you would like to see most when traveling?; What would you choose to eat for dinner?; What hairstyle would you make? etc. These and 6 other questions or scenarios will help to pinpoint if you are drawn to some other time period.
Do you think you should have been born in Ancient Egypt? If so do you think you were a Pharaoh, Cleopatra or a slave?; Perhaps you belonged in Ancient Greece…a striking individualist who dramatically expresses your emotions and love large and hearty festivities?; Maybe your time was the Roaring 1920's! Are you cheerful and wildly sociable, carefree and drawn to jazz? Perhaps some other period of time is most akin to your tastes. Take the quiz and let us know if the results resonate to what you have always felt.
Please SHARE this quiz with your friends and family on Facebook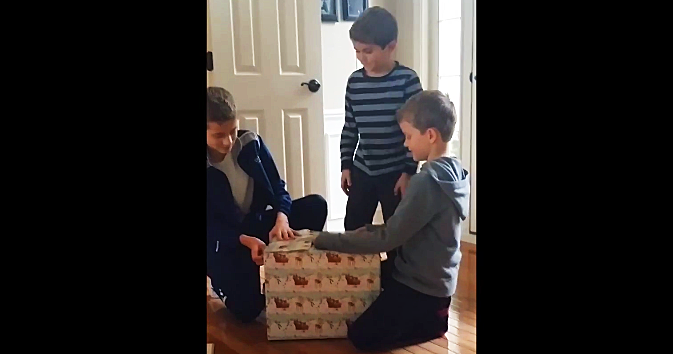 It seems that practically everyone has wanted a dog or cat for Christmas at some point in their life. Who wouldn't want an adorable, furry pet to cuddle up with and love forever and ever? Kids often set their sights on getting one and pester their parents for days on end about it. When Christmas comes around they naturally won't pass up the opportunity to ask one more time because who knows, Santa might just follow through where mom and dad failed to deliver.
Three boys in Indiana did just that and asked for a puppy when they made their Christmas lists. Even though it was a long shot, they held out hope and it paid off. They awoke on Christmas morning and bounded down the stairs, where their mother was waiting with her video camera in hand to record the memorable moment. She told them to open the door, someone had dropped off a package, and they followed her instructions. The oldest son brought the gift-wrapped box inside the house and read through the attached note, which revealed the present was from none other than Santa himself.
The three kids proceeded to open the box and nestled inside of it was every child's wish…a tiny, adorable puppy! The boy's faces all lit up with happiness and sheer joy at the sight of the little guy and they were all beyond thrilled at getting what must have been their best Christmas present ever. One of the kids was so overwhelmed by the sight of the puppy that he couldn't help but cry. He sunk to the floor sobbing while the other two checked out their new best friend. His reaction is over the top and so sweet, you have to see it to understand how surprised and happy he is. Going off his reaction one thing is for certain, he'll definitely love and cherish the puppy forever!
When one of the boys asked what its name was their father immediately replied "Mork," in homage to the dog's lineage since it's half Maltese and half Yorkie. Mork is just as lucky as these kids are, because it looks like he was adopted into a nice, loving family who will treat him right. Christmas surprises are always the best, but nothing will ever beat getting a puppy when that is all you ever wanted!
Please Share This Heartwarming Story With Family and Friends
Click
Like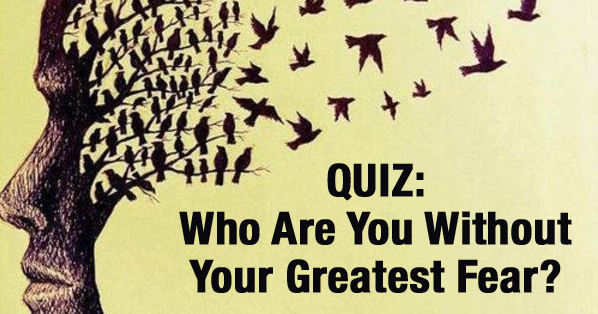 What would your life be like if you could shed your greatest fear? Is there a root cause that keeps you paralyzed from achieving a state of being that would make you feel more whole? The following quiz, which you are about to take, will give you an insight into your "ego ideal" that would reflect your best self. Who are you if you didn't have to make life choices that are dictated by your greatest fear?
A series of 8 questions will be posed that offer a multiple choice of responses. Some examples are: Which image makes you feel most alive?; What on your bucket list have you neglected?; What do you avoid most?; What do you perceive as your greatest strength?, and other inquiries which will serve to analyze who you are meant to be.
Do you think that at heart you are a REVOLUTIONARY?…looking to change the system, resistant to the status quo and to authority? Or perhaps you are a CREATOR at heart; needing to explore something more creatively authentic but are often stopped from taking chances due to a fear of failure? Find out who you are meant to be at your essence if you could shed your greatest fear. Try not to think too much when responding to each question; a "gut-level" response will yield a more accurate analysis. Let us know if the results of this quiz resonate for you.
Please SHARE this quiz with your friends and family on Facebook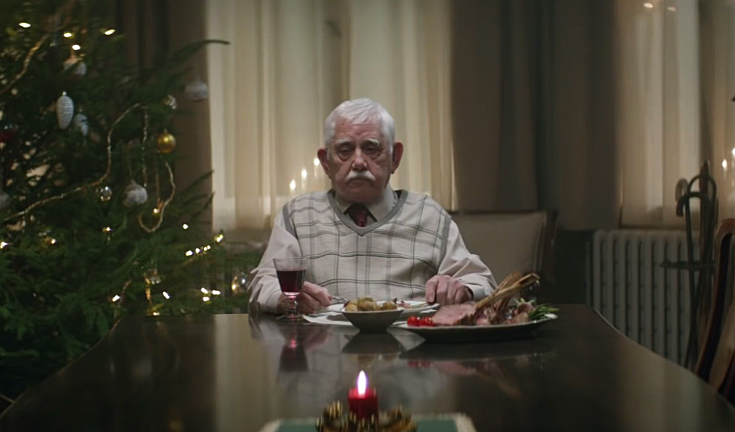 For many people, and especially older folks or those who live alone, the holidays can be extra lonely. The season highlights family, friends, companionship, and sharing cherished moments and precious time together with loved ones. That's why a lot of people who are on their own look forward to December and the holidays it brings, because it means a visit from their children, grandchildren, and the other special people in their lives.
We all know that things can get hectic around the holiday season, especially if you're traveling. People oftentimes plan on going somewhere over the winter break to visit their loved ones and to catch up with friends and family. However, things can change suddenly and those plans may end up falling apart. Whether it's bad weather, an emergency, or something else unexpectedly pops up, we cannot always follow through with what we'd originally intended or would like to do. Unfortunately, that may leave someone who was looking forward to a visit sad and alone over the holidays.
The people at Edeka, which is the largest supermarket chain in Germany, recently released their annual Christmas commercial. Lots of people overseas, and now around the world, look forward to the well made and often touching ads. This year's won't disappoint. It addresses the holiday rush and how a sudden cancellation of plans can really impact a person's soul. It also shows how sometimes you have to go a different, unexpected, and dramatic route to gather people together in these busy times.
It begins with an older gentleman who is looking forward to his families arrival, but then he receives a call from his daughter. She tells him that they can't make it out to see him and promises to make it up and come some other time very soon. He spends the holidays alone and as time continues to pass by, there is still no visit from his loved ones. Then one day they all get a letter in the mail and bad news that he is either sick or has passed away, it's not clear. So they all gather together and head over to the older man's house, but when they arrive they're shocked at the sight before them. I won't give away the ending here, and besides, this is one of those videos you need to watch yourself in order to truly understand the message and point it's making.
All in all, this is what the holidays should be all about; people coming together, slowing down, making others smile, and enjoying life.
Please Share This With Family and Friends
Click
Like