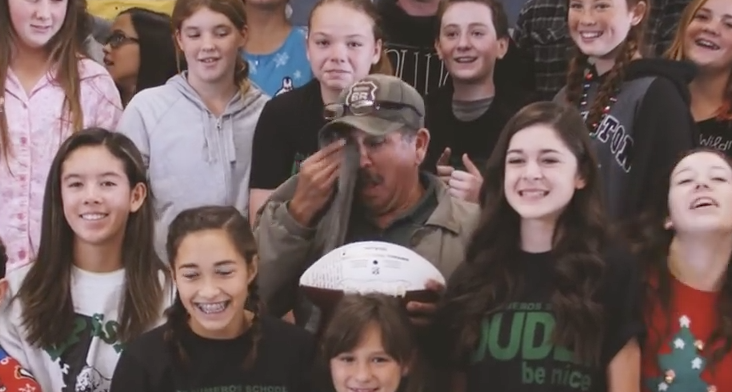 Image via: Youtube
Rocky has been a janitor at Los Primeros School in Camarillo, California for 37 years. He is the kind of man who has the special gift, of spreading his own happiness, gratitude and joy of living to all those who are fortunate enough to know him. For generations he has brightened student's days with his genuine caring and happiness at seeing them each day.
The current students at this school just adore him, and wanted to surprise him with a showing of their gratitude for the sunshine he brings into their school each day! The video you are about to watch below, came about as a result of the kids teaming up with a clothing company called "Dude Be Nice". The goal of their company is to " [encourage] inclusiveness, kindness and gratitude."
Rocky is called by walkie talkie to the school auditorium by the principal, who told him a child had gotten sick during the assembly, and that they needed his assistance cleaning up. When he enters the auditorium the kids start chanting "We Love Rocky!", and he can't contain his emotions. Other surprises ensue, in this heartwarming video posted on the YouTube channel, "Dude Be Nice". This will make your day!
Please SHARE this amazing moment with family and friends

Click
Like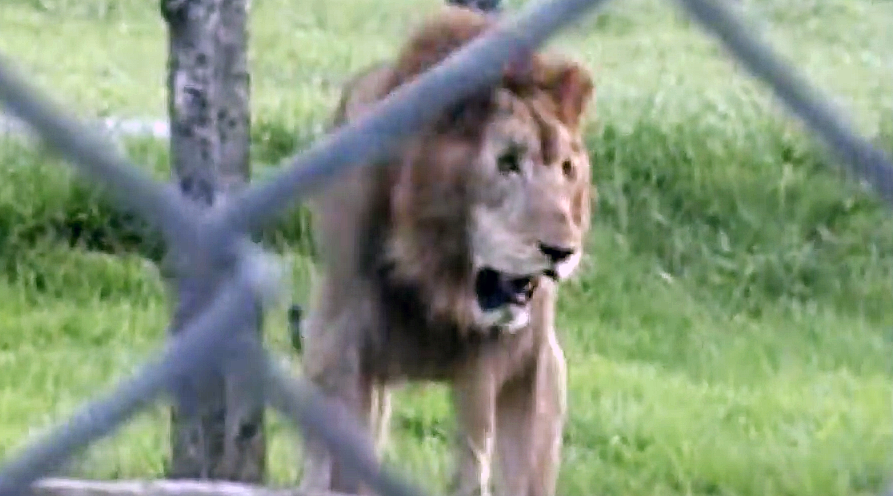 Image via: Youtube
After spending his entire life locked in a tiny metal cage, the video you are about to watch below, captures this lion's first moments of freedom after being rescued.  For 13 long years Will had been forced to perform in a traveling circus, before the Brazilian animal sanctuary Rancho dos Gnomos came to finally release him from this awful captivity, where he was confined to a cramped cage when not performing.
When his cage is opened, it takes Will a moment to realize what has happened, before he jumps from confinement and romps towards the earth, grass, rocks and trees.  He revels in feeling nature beneath his paws with such obvious delight, that it brought tears to my eyes.
Rolling onto his back in the grass and experiencing all of the smells and textures of nature beneath his paws, as he explores his new home, brings home the importance of allowing wild animals to be in a natural environment and the cruelty of this deprivation.  The heartlessness of animals being held captive in order to entertain humans, instead of being able to live their lives in their natural habitat, should never be allowed or tolerated.
The happy ending for Will, according to Marcus Pompeo, the lion caretaker and founder of the sanctuary, where he "loved to lie in the grass and look at the sky..[and] was a very happy lion", is heartwarming.  The fact that he was able to spend the last five years of his life in this beautiful sanctuary, before dying in  2011, was a wonderful thing.  Hopefully sharing his story and this video will help to free other big cats who continue to be enslaved to this day.
Please SHARE Will's Story With Family and Friends
Click
Like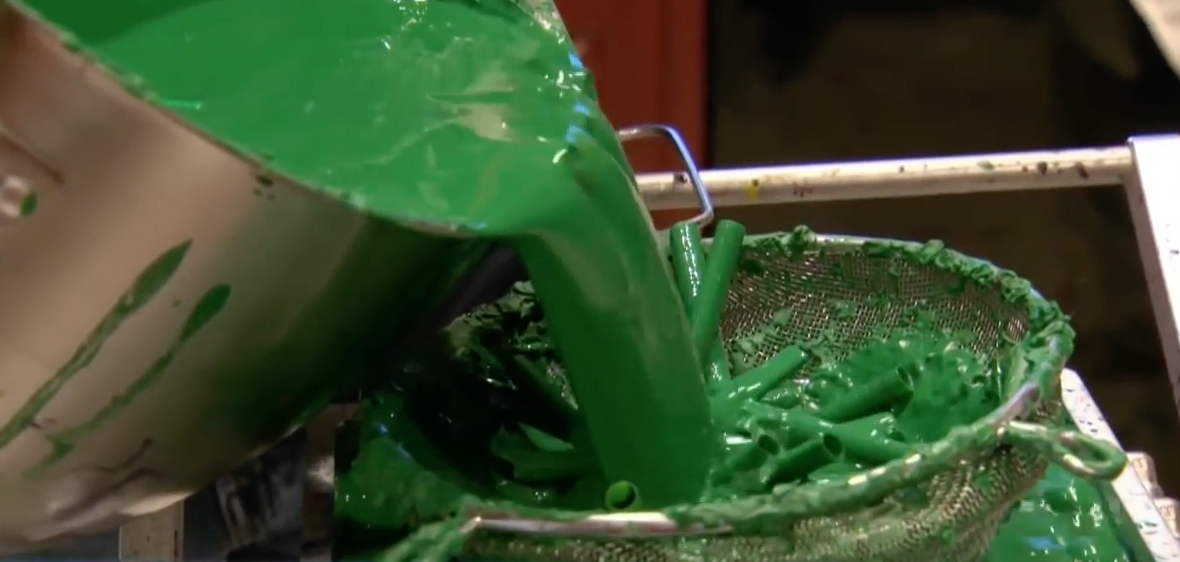 Image via: Youtube
Just about every household in America, especially those with young kids, has a box of crayons laying around somewhere. The colorful wax sticks are a childhood staple, who doesn't remember doodling and coloring for hours on end! Parents also love crayons because they're non-toxic, inexpensive, and less messy or permanent than paint or markers. They also never become unusable or dry up, which is half the reason why they usually end up somewhere in a box that gets put away and forgotten.
One man realized how crayons often sit around unused, collecting dust for years before eventually being tossed out in the trash, and decided to put them to a better use. His name is Brian Ware and he started The Crayon Initiative at his house in Northern California. The program collects unwanted crayons from area schools and restaurants and recycles them into new and improved ones. Once the crayons are collected in bulk they get sorted by color and melted down in large pots. The wax is then strained and poured into molds that Brian fashioned himself in order to make the crayons bigger than their original shape. The new up-cycled crayons are finally boxed up and sent out to local hospitals where they are distributed to children recovering from surgery or treatment.
The Crayon Initiative has grown in scope size and it takes a small army of volunteers to sort through them all and melt, box, and distribute them. Brian estimates that on an average day they go through about 4,000 crayons! Stacks of boxes filled with donated crayons take up space in his house and everyday new boxes arrive. Recently 100 volunteers gathered to help sort and process them and as you can see in this NBC Nightly News video, it's no small task.
The children who end up with the crayons are thankful for the small gift. Some are recovering from surgery or illness, others are receiving treatments or have special needs, but they all want a distraction and something to keep their minds occupied. The children interviewed in the news segment say that coloring helps them stay focused, positive, and less stressed. It gives them a creative outlet that's therapeutic in a way and helps to keep their minds off of the pain and situation they're in.
If you've ever stayed in a hospital then you know how boring and stifling the experience can be. Getting a box of crayons would brighten anyone's day, especially kids, since it gives them something to do for hours one end, it's perfect.
If this story doesn't give you a reason to pull those old crayons out of storage and put them to good use again, nothing ever will! To learn more about The Crayon Initiative you can find them online at thecrayoninitiative.org, and they are on Facebook and Twitter as well.
Please Share this story to help spread awareness of the work they do and inspire others to get involved!
Click
Like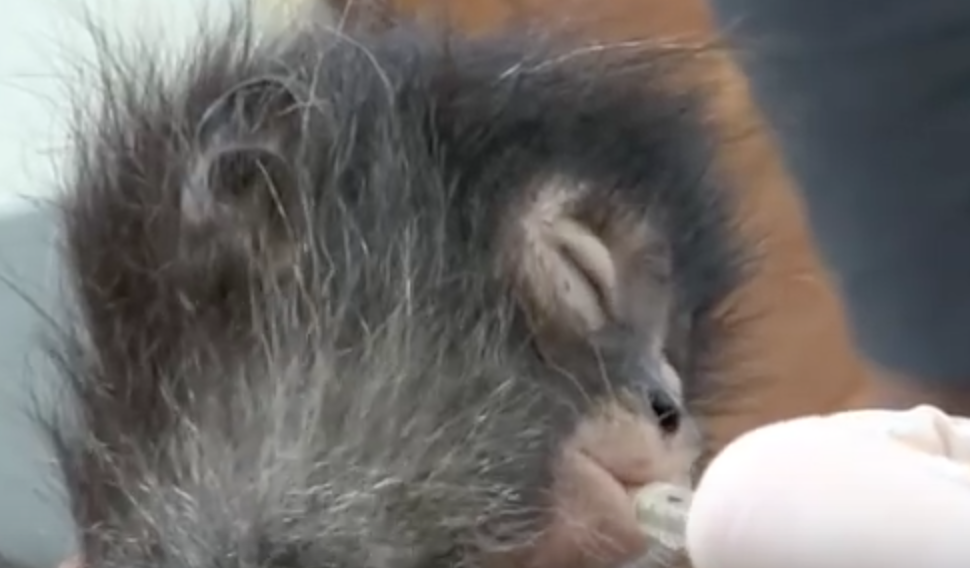 Image via: Youtube
You are about to hear a story that will both break and warm your heart.  An 8-month-old baby spider monkey was captured by poachers, who do this illegal activity in order to sell monkeys as pets.  Neither poaching nor having a monkey as a pet is legal in Belize, where this baby who was clinging to her mom in a tree, was snatched after the poachers shot and killed her mother.  She was put in a sack, and this terrorized little one was tied up for days without food or water.
Against all odds, her capture was reported to the Belize Forest Department who were able to locate her quickly, and rush her to The Belize Wildlife & Referral Clinic.  In the video you will meet this poor baby who was barely clinging to life, as she is received by the clinic staff, who lovingly named her "Izzie".  Shock and Dehydration had brought her close to death, but the first thing that the doctors and nurses did was hug this little angel, and then began to slowly administer fluids.
As they gently examined her, you will see Izzie communicate her pain, which made them realize her arm was broken.  The X-Ray showed that not only was she suffering from broken bones, but 5 shotgun pellets were lodged in her body, as a result of the killing of her mother.  Luckily they had the funds to bring in a surgeon from the US so that she could receive the kind of intricate treatment that allowed her arm to be saved.  This fortunate little monkey required 4 surgeries to save her life.
The video of the care she was given, is just filled with such compassion and nurturance, that it made me cry with happiness. While her recovery was slow, her rehabilitation in the dedicated and loving hands of the "Wildtracks" caregivers, allowed Izzie to gradually gain confidence and strength.  Eventually she was able to use her injured arm to first swing and then climb!  Joyfully, she was once again able to be back in the trees, that she was so devastatingly ripped from.  Watching the footage of her rescue below is incredibly moving; knowing that she has gone on to live a full life is nothing short of amazing and wonderful.
Please SHARE Izzie's Story With Family and Friends
Click
Like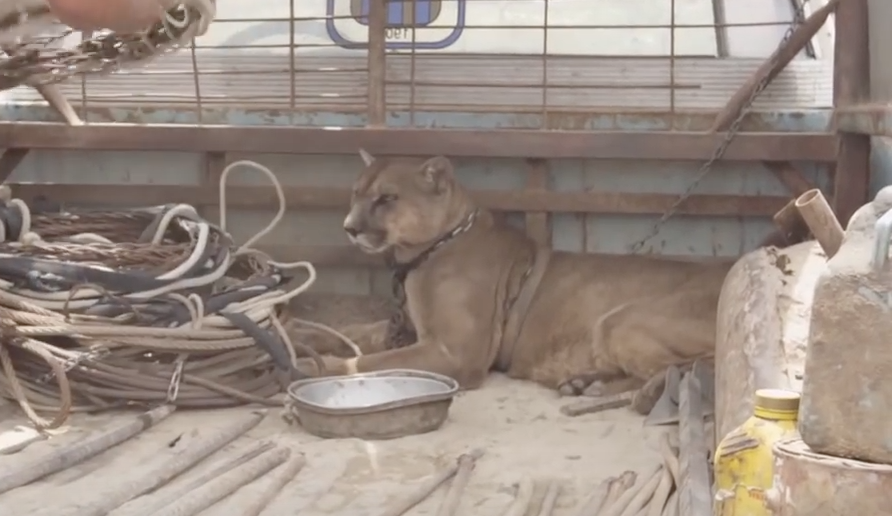 Image via: Youtube
The back of a rusty old pickup truck is no place for any animal to live, let alone a full grown lion. Sadly, that's exactly where a mountain lion named Mufasa was forced to live his life as part of a traveling roadside circus in Peru.
While the details of Mufasa's early life remain mostly unknown, it is believed that he had originally been born free in the wild somewhere in South America. He was likely stolen from his mother when he was still very young and sold into captivity shortly thereafter. Over the following 20 years he was mistreated and kept bound up in heavy metal chains while being forced to endure life on the road with the circus.
Life was anything but natural and comfortable for Mufasa. His captors brought him from one town to the next in the back of an old pickup truck, where he was further chained to some old rusty pieces of equipment. He barely had any room to move around and no bed or clean spot to lay on, just a dusty corner surrounded by metal bars and dirt. There was no shelter over his head to protect him from the elements and so the hot sun and pouring rain beat down on him The neglectful state he was held in was shockingly horrible and sad.
The circus that Mufasa was found with was believed to be the last of many in Peru which for years had been illegally using wild animals in their shows. The country recently changed the law and passed a circus animal ban in response to widespread abuse, cruelty, and the sub-par conditions in which most circus animals were kept. The ban made it illegal to keep and/or use animals in circus shows and authorities, with the help of animal advocacy non-profits, including Animal Defenders International (ADI), have been enforcing it strictly.
The ADI group had recently received a tip that the circus was still holding a mountain lion and they accompanied police and local wildlife officials to investigate it further. That's when they found Mufasa chained up in the back of the truck. What followed was a long, strained eight hour standoff, but eventually the circus surrendered Mufasa and this video captures the emotional moment he was finally released from his heavy chains. The elderly lion can be seen sitting quietly as he patiently waits for officials to cut the harness off and finally free him from a life of captivity and neglect. For the first time in perhaps 20 years he's able to fully stretch himself out and perform the one action that cats of all types and breeds seem to love best.
Wildlife officials, with the help and support of the many volunteers who'd worked tirelessly to track down and free circus animal all across Peru, transported Mufasa to ADI's Spirit of Freedom rescue center for rehabilitation. After he'd been checked out and deemed healthy enough to travel, he was taken on a 3 day journey into the Amazon rainforest to his new home. Mufasa will live out the rest of his life at the Tambopata Reserve where he's free to wander about his new habitat completely unchained. He no longer faces a life full of uncertainty and constant travel and there are no more people gawking at him. Instead, he finally has the chance to spend his final few years in the wild jungle where he's protected and able to move about on his own, and that is beautiful.
Please Share This Story With Family and Friends
Click
Like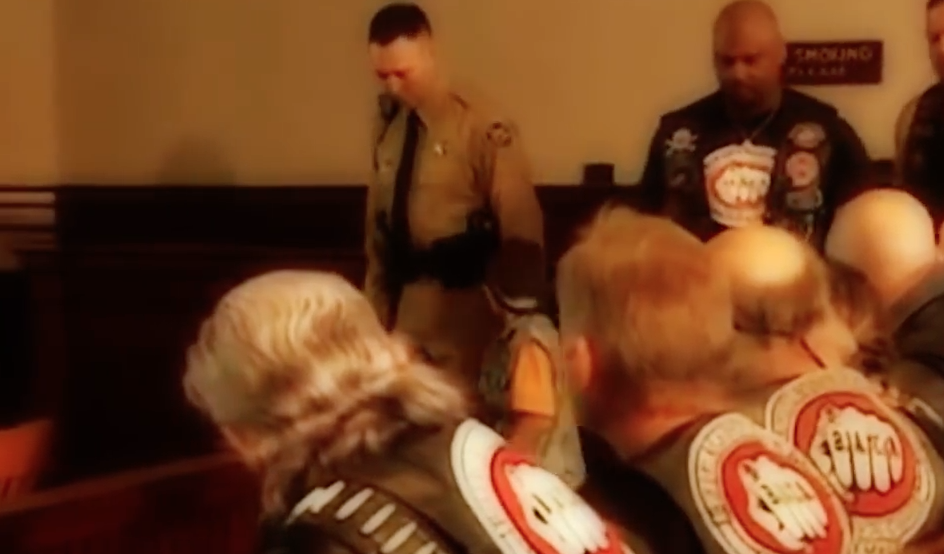 Image via: Youtube
You are about to watch a video about a group of bikers, who will truly restore your faith in the goodness of humanity.  Bikers Against Child Abuse International (BACA) is an organization of "tough guys", whose sole purpose is to provide a sense of safety, and ultimately restore a belief in themselves for children who are victims of sexual abuse.
In the footage below, filmed by Crime Watch Daily, you will hear interviews of the "BACA Crew" and some of the victims they have worked with, to give them the courage to prosecute their perpetrators.  They are so devoted, that they give these traumatized kids 24-hour-support, until they are unafraid and ready to go on and live full lives.  This support comes in the form of constant physical presence, as well as phone support to talk at any time of day.
BACA members are carefully screened before they are trained for a years time, to fulfill their complex duties, which require all forms of stamina, sensitivity, and psychological understanding and skills.  The devotion of this group, which is solely funded by donations (some of which comes from their own), is such a powerful example of decency, caring and devotion.  Often, the abused won't go to court for fear of facing their perpetrator.  BACA members not only escort them there, but sit in the courtroom, lending a show of strength and power that fills the frightened and intimidated child with the courage  needed to testify.  As one of the BACA members explains about the effect of looking out at their powerful leather-clad friends, "The kid looks at us, concentrates on us, knows we're there for them"; they continue to be physically on call for the traumatized kids after testimony for as many months or years that they are needed!
Please SHARE This Story With Family and Friends
Click
Like