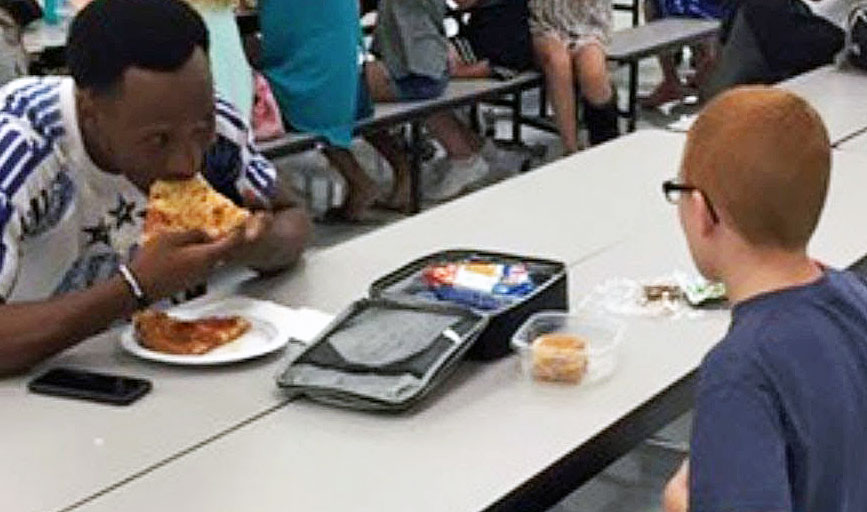 image via – youtube.com
Parenting is definitely the hardest job in the entire world. Not only are you on the clock 24 hours a day and 365 days a year, but you have to wear so many different hats. If they are sick, you have to be a nurse, if they are hungry you have to be a chef, if they need to go somewhere you have to be their limo driver.
On top of all of that, once they are school aged, the worry never ends. Will they get good grades? Will they make friends? Will they be bullied? All these questions and nothing is for certain and you only get to find out the answers once you are in the 'parent trenches' day in and day out.
Today's story features a great mom named Leah Paske from Tallahassee who is raising a beautiful son named Bo who goes to Monfort Middle School. Bo is on the spectrum and is an autistic sixth grader who has a lot of trouble fitting in and dealing with stuff normal kids do everyday.
Kids can be cruel and bullying is an ongoing epidemic. Because of his autism, Bo wasn't invited to most of the kids birthday parties and he always ate lunch alone at a table by himself. His mom was pretty concerned about her precious son, but he tried to reassure him eventually everything would be okay. He would just have to work a little harder than everyone else but things would eventually workout and his life would be just as good as all the other kids.
One afternoon, a surprise visitor came to Bo's middle school. He is a bit of a local celebrity in Florida, he is none other than Travis Rudolph Florida State Football Superstar. Travis was with a few of the other players on the team and they were just meeting the kids and faculty and have a great old time.
That's when Travis walked into the cafeteria and spotted a boy eating alone at a table secluded from the rest of students. Travis immediately could tell this boy needed a friend and a little company while he at lunch. Being the stand-up guy that he is, he immediately walked over to young Bo sat down, pulled out his own lunch and the two ate together.
Bo was super excited as they ate their lunch and had a chat about life, school and football. Before the lunch ended one of the faculty snapped a pic of this beautiful heartwarming moment. The teacher who took the photo sent it to his mother Leah. When Leah first got the photo it touched her so deeply that she broke down in happy tears.
Leah decided to upload the photo on social media and it immediately went viral. Neither Travis nor Bo expected this little lunch moment to touch so many people hearts as it did.  The photo was viewed by millions of people and picked up by publishers and bloggers from all around the world.
This story is a good reminder that one small kind gesture and paying it forward can end up changing someones life for the better!
Watch the video below for the full story:
Please SHARE This With Your Family and Friends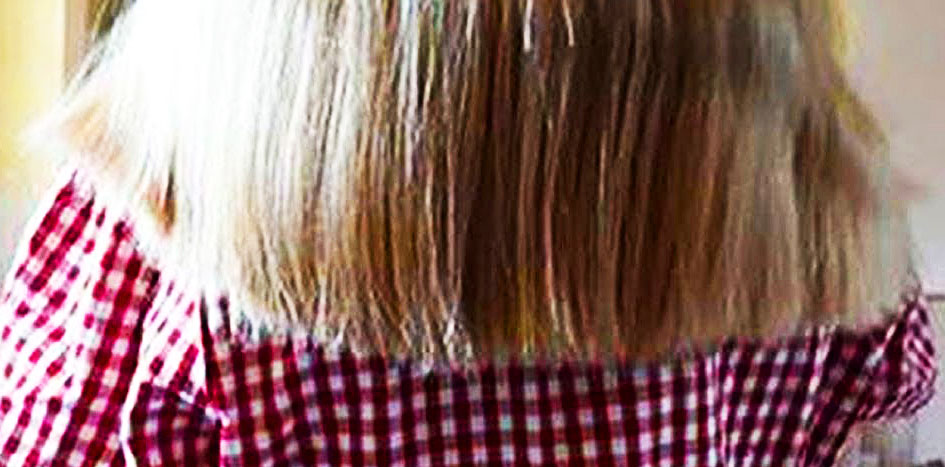 image via – youtube.com
School is supposed to be a safe place and environment for kids to learn and get a great education. It is also a place for kids to learn how to be social, make friends, learn how to interact with adults and slowly but surely become self-sustaining adults that can survive in the 'real world'. The problem is a lot of time, this education comes with a price that many kids aren't prepared for.
Bullying has been around for a very long time and even as many schools attempt to stop this epidemic it still shows up almost everywhere. In almost every school there are always certain kids who get picked on and certain kids who tend to be the bullies. Many have just accepted this as 'the way it is' or a 'right of passage' but sometimes the victims of bullying never fully recover and carry this pain in fear from school into adulthood.
This brings us to today's story about a mother named Samantha Flemming and her daughter Melissa Flemming. Melissa was born with a rare condition called Microcephaly which caused her head to be smaller at birth than it should be and her brain development in turn develops slower than the other children. When the school year had begun Melissa had really long hair but her hair was strangely getting subtly shorter as the months progressed.
One morning mom made her little girl breakfast and sent her off to school like any other day, nothing was too out of the ordinary. When her daughter got back from school at the end of the day Mom had noticed that her daughters hair had gotten a lot shorter than when she left the house earlier that day. This was the most drastic it had ever been and Samantha had realized something was truly wrong.
At first she thought maybe her daughter was just cutting her own hair experimentally or maybe she and a friend were giving each other makeovers and cut each other's hair and this time the friend just went a little overboard with the clippers. However the truth would be so much worse than she initially imagined.
Because of Melissa's disorder she had a lot of trouble speaking and being able to vocalize how she felt and what she had been going through. Her mom began to fire questions at her because she was becoming very concerned at this hair shortening situation. Finally it became clear from Melissa's description that a group of 'mean girls' at school had been making fun of her and cutting clumps of her hair out for the past few months.
Watch the video below to see how Samantha handled Melissa's bully at school and for the full story:
Please SHARE This With Family and Friends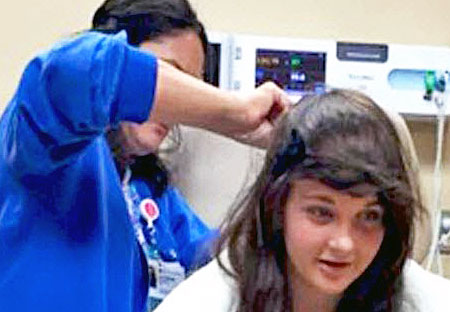 image via – youtube.com
There is no doubt, bullying is an epidemic that has plagued our society for far too long and needs to come to an end. So many kids out there are traumatized for life by bullies who picked on them and were evil and cruel to them while they were growing up. So many children from kindergarten even all the way up through the college years are bullied at some point in their life.
If you have ever been a victim of bullying, you understand how traumatizing and scary it can be. Especially when it's at school where you are supposed to be learning and getting an education, but all your energy is going into avoiding the bully and not getting picked on!
With that being said, this brings us to today's story which features a 15 year old Hannah Combs, who was attending Harker Heights High in Texas. Hannah was a brand new incoming freshman who already had anxiety like many freshman do about starting their first day of High School. All the older kids seem so big and cool but at the same time super scary. She was just starting to adjust to her new school and environment the best she could. Going to classes, trying to fit in and getting good grades of course.
One afternoon she was outside hanging with some of her friends when an older bully snuck up behind her and dumped a bottle of glue over her head and hair. At first she was just in shock, she had no idea who he was, what was in her hair or what was going on. She had been singled out and targeted by this particular ruthless bully, who decided to take his rage out on an innocent victim.
Soon, she quickly realized it was glue, but not just any glue, it was super glue! Once this stuff sets, it's almost impossible to remove from anything. The super glue was now embedded in her hair and scalp and was drying at a rapid pace. The bully ran off laughing as poor Hannah sat their traumatized.
The glue wasn't only setting, it was starting to burn and heat up her scalp and she was panicking. Not only was her hair rock hard and glued together, but now it felt like her scalp was on fire. The burning set in almost immediately and she said it felt like a sunburn times 10! She ended up getting rushed to the hospital. While she was there they diagnosed her with first degree chemical burns of her scalp. They tried to remove as much glue as they could, but the damage was done and it was too late to be salvageable.
Not only was Hannah suffering from a first degree chemical burn of the scalp, but she just received news that she was going to have to shave half of her head. The shaving would be the only way to remove the glue at this point. She was absolutely devastated. Not only was she already having trouble adjusting and fitting in as a freshman in high school but now she was going to be the 'weird girl with a half-shaved head'!
Luckily a local hair stylist heard about her story and was happy to give her a free hair cut, where she would style the have shaved hair into a cool punk-rock style that actually looked really awesome after she finished.
The bully did get disciplined, but his punishment was basically a slap on the wrist. He got an 'in school suspension' which is basically like getting a day off from school.
Hannah's father Christopher and mother Jessica were furious with how the school handled the situation. Their little girl got a first degree burn, had to shave her head and all this evil little bully got was a measly in school suspension?
Her mother Jessica got on social media and started a facebook page called Justice For Hannah. Hannah's story was getting out to the world to hear. Victims of bullies from all over the world felt empathy and love for her as the story quickly launched off and become viral. Hannah just couldn't believe all the support she was getting from all over the world. It was incredible and she never could've imagined that millions of people would know her story.
Although the bully only got an in school suspension, world wide media attention and the entire community was basically against him. An international public spotlight was exposing this bully for what he did. Hopefully this instilled enough fear and a lesson to the bully to never do anything like this ever again to anyone!
Although Hannah didn't need to get direct revenge, the snowball effect of this story blowing up on social media and the public outrage towards the bully and the support for Hannah was next level.
This is a lesson to all the bullies out there. If you are thinking about bullying someone remember Hannah's story..
Watch the video below for the full story:
Please SHARE This With Family and Friends