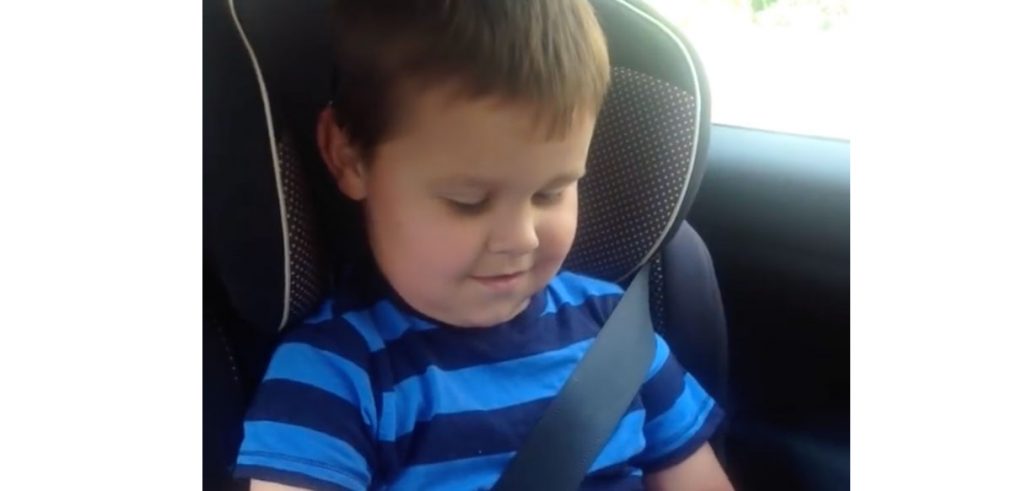 I know, I know…you've seen a million cute kid videos on the internet, but the one you are about to watch in the footage below is the most adorable one I have seen in ages! Five-year-old Ethan, has been begging his mom for a baby brother or sister for some time. His mom, Sarah Bromby, has put him in his car seat and before she starts the car, she hands Ethan an envelope.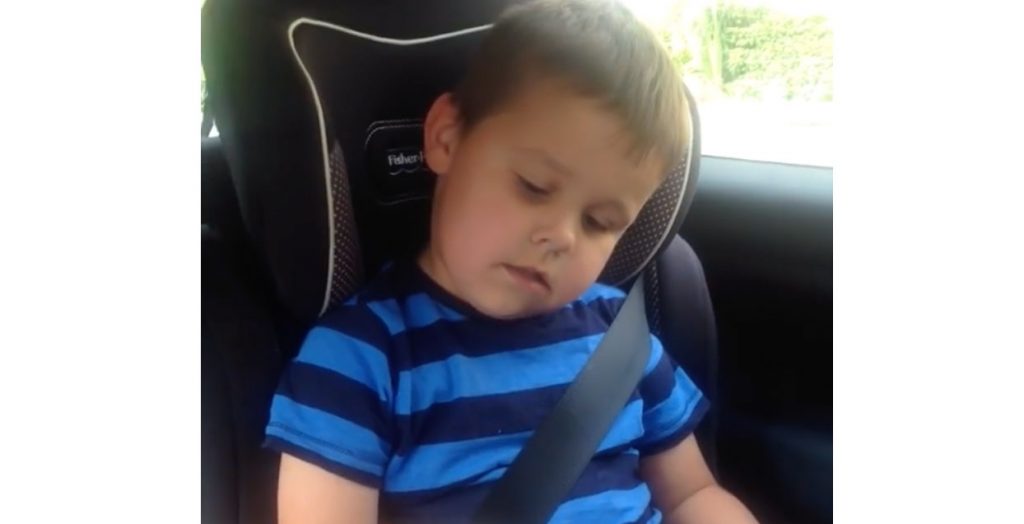 This mom, from the UK, tells Ethan to open it. He looks and sees some images, and she tells him to guess who is in the picture. The confused little guy begins to make some guesses, and then Mom breaks the news that he is going to be a big brother!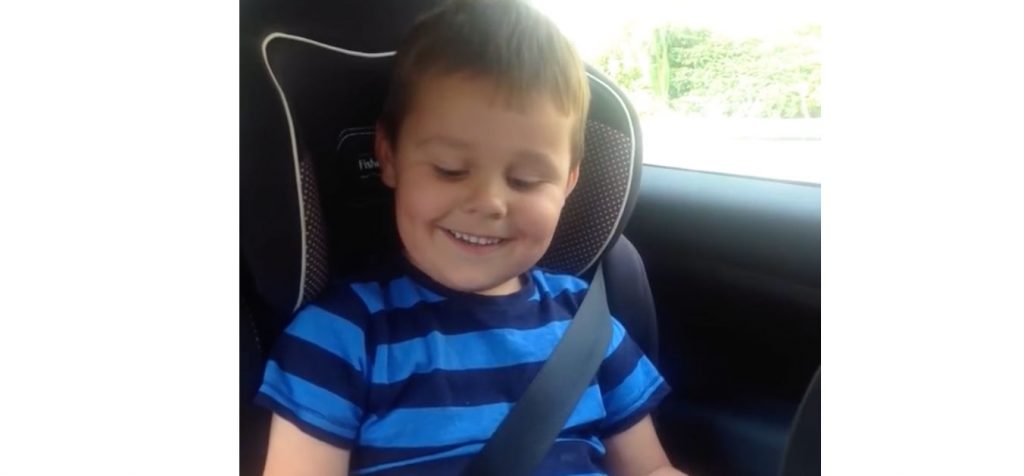 His reaction is priceless, when she explains that the ultrasound images, are pictures of the baby in her tummy. Thankfully she recorded his reaction, which captures his ecstasy and disbelief, that his wish is finally a reality.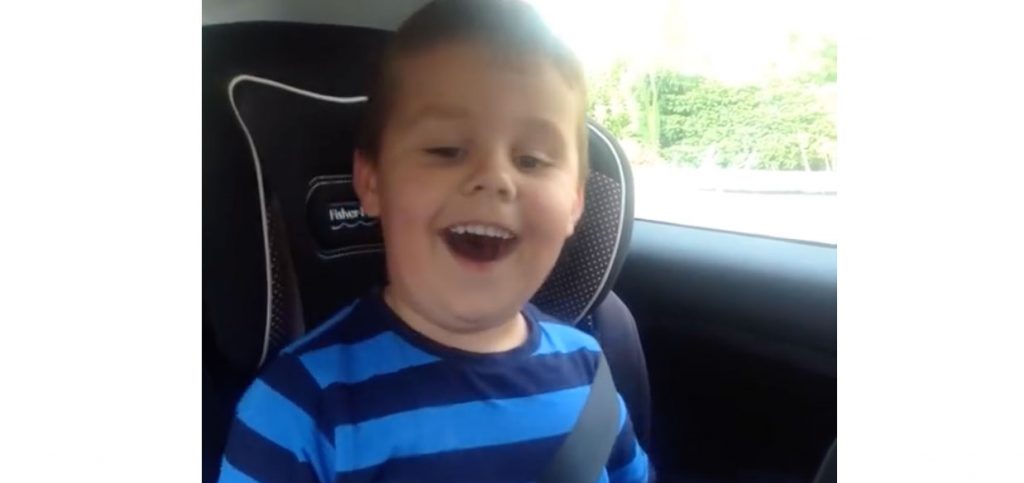 He alternated between complete joy and making sure his mom wasn't joking. Whether a brother or sister is on it's way, they are going to be so lucky to have a brother like Ethan. This footage, which encapsulates the saying, "out of the mouths of babes" is heartwarming, funny and joyous.. it will simply make your day!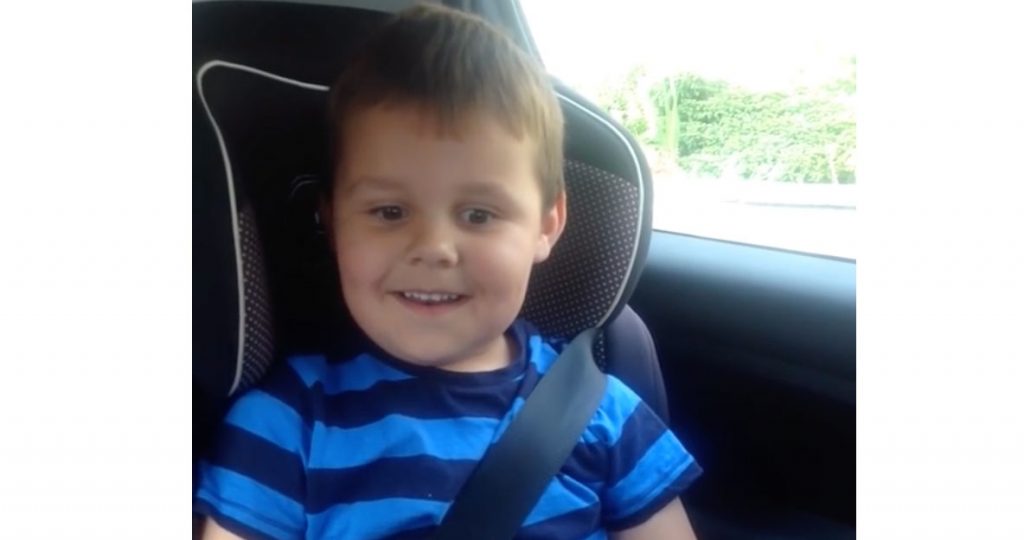 Please SHARE this video with your friends and family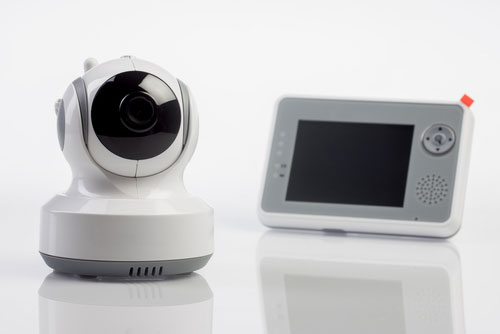 image via – shutterstock.com
Some people dream of being a mother their whole life.  Ever since Bernita Roger's was a little girl she had looked forward to the day when she'd have children of her own to raise.  After marrying her high school sweetheart Roy, the two set out to become parents. However, the couple struggled and their dreams of starting a family were crushed after Bernita suffered a series of miscarriages.  
After all the heartbreak Bernita set aside her plans of being pregnant.  She decided that for the time being she would adopt, not a baby but instead a pet.  Feeling depressed, she just knew that having a furry animal companion was what she needed in her life and was set to go look a puppy at the local shelter.
Before she could even go to the animal rescue center fate stepped in.  Bernita was out in her garden one day when a black cat appeared and started to rub against her legs.  The friendly feline was a stray but not for long because she fell in love with the kitty and adopted him on the spot.  She brought the cat inside and ended up naming him Midnight after his shiny black coat.
Soon after Midnight had joined the Rodgers family Bernita and Roy learned that she was pregnant again.  The unplanned pregnancy was a blessing and nine months later a healthy baby girl named Stacey was born. When Midnight first met the new baby it was love at first sight and he was always close by.
The new parents were extremely protective of their little miracle baby and watched over her closely.  When Stacey was just 6 weeks old she suddenly became ill and after checking her out a pediatrician told Bernita it was just a common cold.  She took her baby home and had put her down for a nap when Midnight suddenly started acting very strange. He kept pawing at her legs and seemed to be trying in vain to get her attention, but she brushed him off thinking not much of it.  
Midnight ran away and moments later she heard him screeching and crying over the baby monitor.  His strange moans sounded terrible and scared Bernita who jumped up and quickly ran to the baby's room.  When she got there, she found the cat near the crib and when she looked in to check on Stacey, she noticed something was terribly wrong.  The baby was struggling to breathe and starting to turn blue.
Bernita and Roy rushed baby Stacey to the hospital and because of their quick action doctors were able to save her after she went into full respiratory failure.  If not for Midnight's insistent crying alerting them to the dire situation, she may not have been so lucky.
Midnight's story was shared on YouTube and it brought a lot of media attention and interest.  Even Oprah Winfrey contacted the couple and they made an appearance on her show. As for Midnight, he and Stacey are inseparable, they're each other's best friend, and he's always by her side.
Watch the video below for the full story:
Please SHARE This With Family and Friends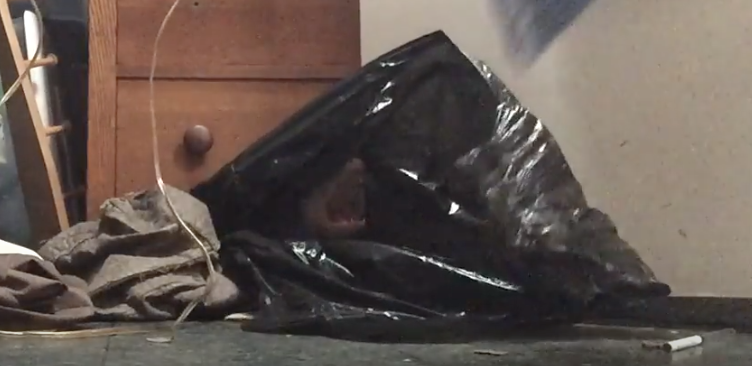 One woman was in for a huge surprise when she went to clean out her closet in an indoor/outdoor room at her Los Angeles area home.  After opening the door and starting to clean she heard hissing and angry noises coming from a black plastic garbage bag.  Inside the bag laid a large possum, which stuck its sharp fanged mouth out and looked ready to attack at any moment.  The normally nocturnal, shy, solitary, and nomadic creature was not behaving at all like a normal possum would have.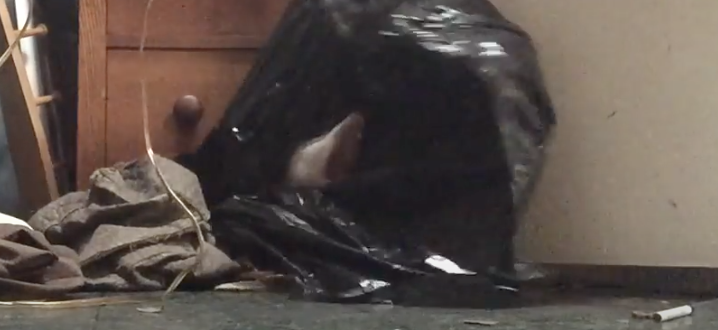 The aggressive behavior the possum was exhibiting soon had an explanation.  The woman, Tara McVicar, discovered that the garbage bag held a number of tiny babies who were hiding behind their mother.  The possum was only trying to defend her babies and felt threatened when Tara went to clean the closet.  They had probably been born in the tiny room, maybe even in the bag, and likely had not ventured far in the daytime world.
After this realization, Tara let the group calm down and slowly started to remove a few of the babies.  She placed them right outside her back door, safe inside a hutch, in order to lure the mother out when she went to go find them.  The mother gathered the babies she still had around her onto her back and cautiously began to move towards the door.

Slowly and surely she sniffed her way to her babies outside, and a short time later the family was reunited and all back together.  With the rest of her babies firmly latched onto her backside the mama headed off into the woods.  Tara reclaimed her closet and the possum family got back to nature, where they belong and will learn life lessons from mom!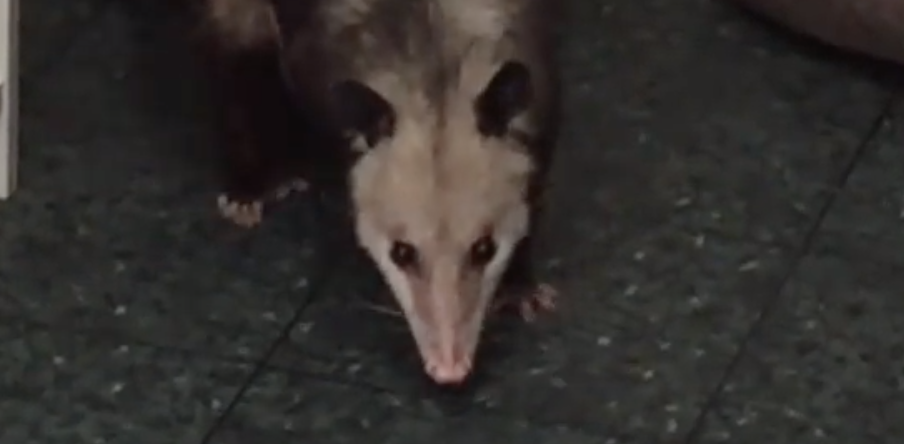 Please SHARE With Family and Friends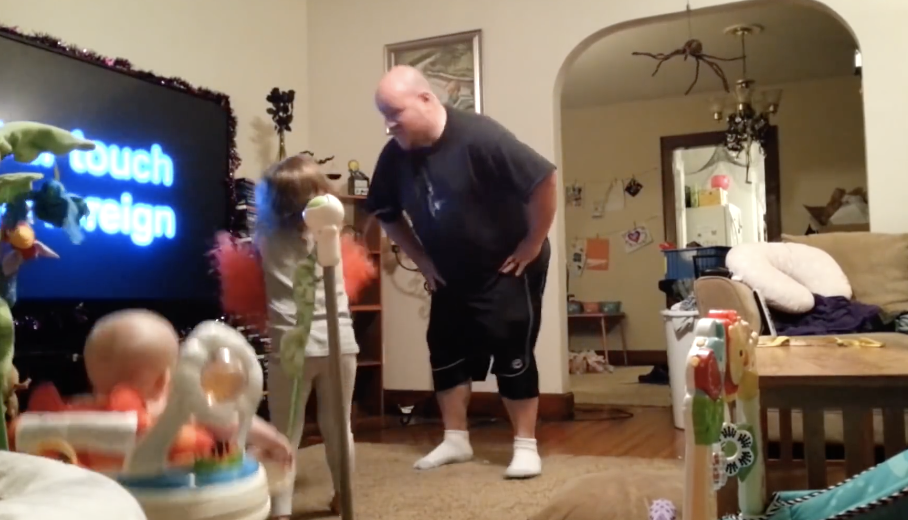 No one wants to give dads a bad rap, but if mom is the primary caretaker, she sometimes is a bit concerned about leaving the kids with him for a prolonged period of time.  Well, anyway, the mom who set up a hidden camera to see exactly what goes on in her absence had some concerns.
I don't want to tell tales out of school, but one time I left my 2-year-old son home with hubby (many years ago) for a few hours, and came home to find dad asleep and the baby outside taking a walk!  All is well, son has grown up, but that was a scary moment.
The dad in this video has been left in charge with his 3-year-old daughter and her baby sister.  We see the little girl in front of a giant screen tv bopping along to a song with baby in the bouncy chair. Where is dad?  Well, don't worry, this dad isn't asleep.  He enters the scene, puts down a laundry basket and what ensues is hilarious!
This mom has nothing to worry about.  Without a self-conscious bone in his body he and his girls enjoy time together that is adorable and heartwarming.  So you think you can dance?  Watch this loving pop in action. His little ones are the apple of his eye and his main priority.  Giggling and fun abound!
Please Share This Video with your friends and family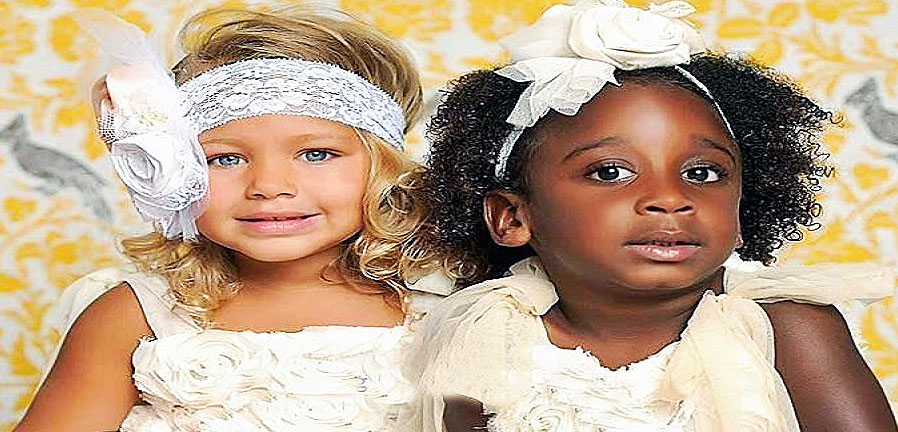 image via – youtube.com
Having children is probably the most fulfilling life event for any adult living on earth. That incredible moment of bringing new life into the world and starting a new family is absolutely amazing. For anyone who has experienced birthing a child or being a parent of a new baby can attest to this fact. Almost immediately upon bringing a child into the world, you're entire life paradigm changes from caring about yourself first and foremost to now caring for your child above everything and anything else including yourself!
In today's interesting story we feature a Married couple named Donna and Vince Alymer from Gloucester, England. Donna is 45 years old and her hubby Vince is 55 years old. Donna works at a warehouse full time while Vincent works as a scaffolder. This couple has a beautiful family of 3 amazing kids but they would soon find out that Donna would be pregnant again at age 45! At first they were a bit taken a back by the big news of the pregnancy but after that initial shock wore off they became super excited about the new little angel who would be added to their already amazing family.
They went to get an ultrasound hoping to get the good news that the baby looked and sounded healthy and possibly they may even be able to find out the gender of soon-to-be baby. While the ultrasound was in process and the doctor was examining Donna they were pretty stunned to find out they were going to have twins!
They went to get an ultrasound hoping to get the good news that the baby looked and sounded healthy and possibly they may even be able to find out the gender of soon-to-be baby. While the ultrasound was in process and the doctor was examining Donna they were pretty stunned to find out they were going to have twins! Also on top of that they were given more amazing news that both babies looked perfectly healthy and the pregnancy looked like it was going to run smooth without a problem.
They got home and told their 3 children George, China and Jordan that they were about to have not 1 but 2 new little siblings. The children were so excited while mom and dad were a tad nervous but at the end of the day realized that these new twins were a complete blessing and they were so thankful.
It was a beautiful sunny but chilly day on January 16, 1997 when mama gave birth to her fraternal twin baby girls. The birth went very smooth and both babies came out healthy. They all breathed a sigh of relief after knowing they were very healthy with no underlying health conditions which can be an issue with mom's who give birth in their late 40's.  The doctors brought the babies in for mom and dad to meet them and make their first impressions….
They were a bit taken a back because the fraternal twins couldn't look more different than they did. The first baby girl named Lucy was very fair skinned, had bright red hair and blue eyes. The second baby girl named Maria was the exact opposite with a dark complexion, dark hair and brown eyes. If a stranger were to set eyes on the two baby girls it would be unimaginable to even think they were related let alone fraternal twins!
Either way the family didn't care how different they looked, they were both little angels and a blessing no matter what other people thought of them.
Watch the video below for the full story and to see them all grown up:
Please SHARE This With Family and Friends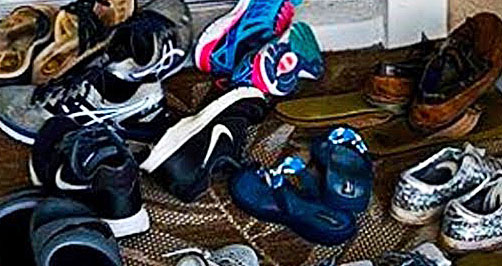 image via – youtube.com
It had been a long day of running around doing errands when Heather Duckworth finally got home. As she walked up the steps on her front porch, she was immediately greeted by the sight of children's shoes strewn about haphazardly in a pile by the front door. A wave of emotions washed over her as she thought about what all the shoes meant.
The mother of four snapped a quick picture and later wrote on her blog that the pile of shoes meant that her kids were home and their friends were over. They were inside hanging out either listening to music, playing video games or air hockey, watching shows, and most likely eating all her food! However, they also symbolized so much more than the obvious.
Those shoes represented the memories and realization that this would be the last summer before her oldest children went off to college. After 18 years of raising them, protecting and making sure they were safe, and teaching them the ways of the world, they were moving out. As Heather thought back to all the years that had passed by, the memories came flooding back. She felt nostalgic and sentimental, happy and sad, worried but hopeful.
Rather than get stuck on the overwhelming feelings of loss she had towards her children moving out, Heather chose to view the bittersweet moment as a sign that she should be thankful for the present. She knew she should be grateful for having such great kids who were going places and to enjoy her time with them while she could. She wrote that she simply wants to live in the moment and be happy, which is what her children would want her to do.
Watch the video below for the full story:
Please SHARE This Story With Family and Friends