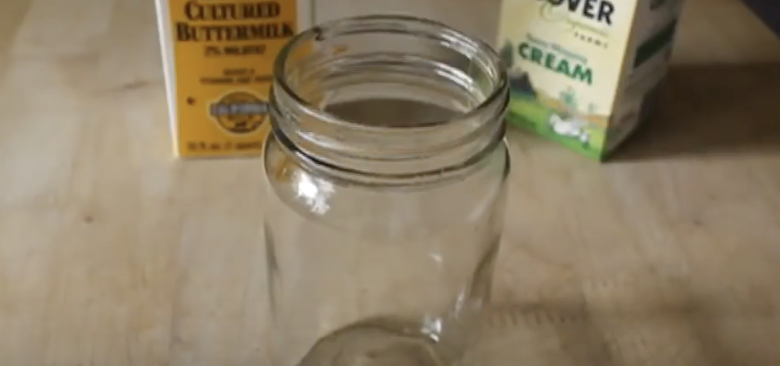 Here's a great one for all you DIY foodies out there, who would like to make something that a lot of expensive, "fancy shmanzy" restaurants out there, charge a lot for.  The more pedestrian term for Creme Fraiche is sour cream.  Technically, this might be the case, but the taste of real creme fraiche is a long way from the sour cream you buy in the supermarket.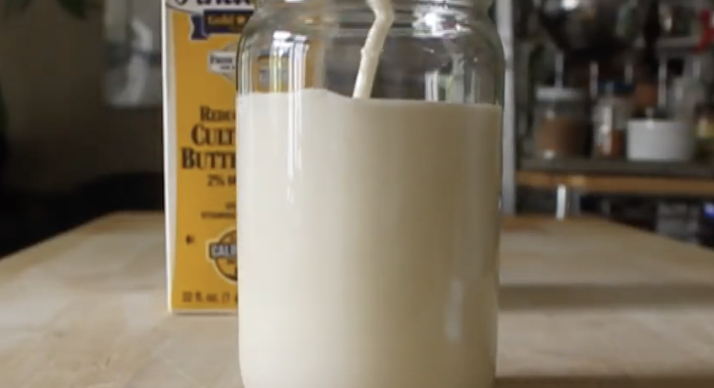 The guy in the video has a really relaxing voice to listen to as he gives us the simple step-by-step instructions for making this delectable treat.  If you're like me, you like finding do-it yourself ways to make items that you rarely get to enjoy at home.  With a mason jar, real buttermilk and a coffee filter you will learn how to make this slightly nutty tasting super creamy delicacy.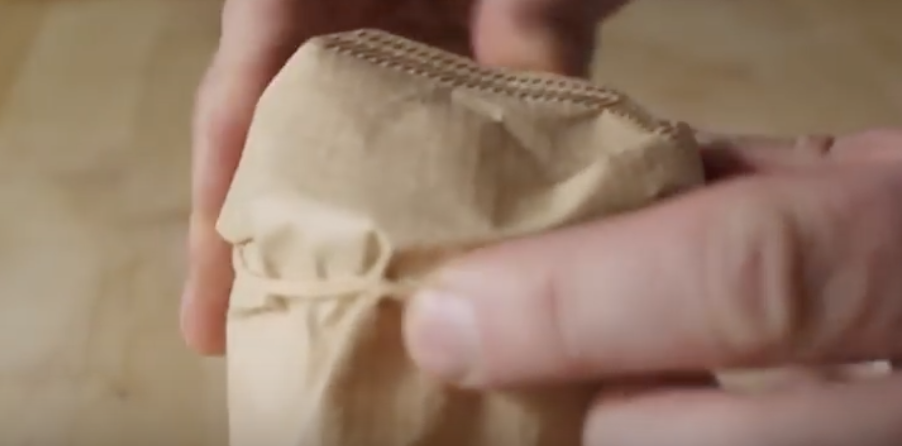 I hope the video encourages you to try this at home, and share it with your foody friends who like to learn new ways to make things on their own.  This is an absolutely delicious tasty treat. Enjoy, Bon Appetit and Good Luck impressing your friends and family!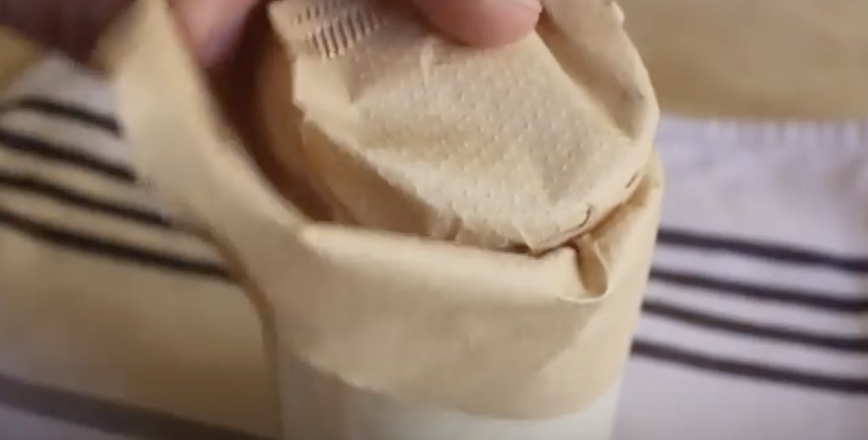 Please SHARE With Family and Friends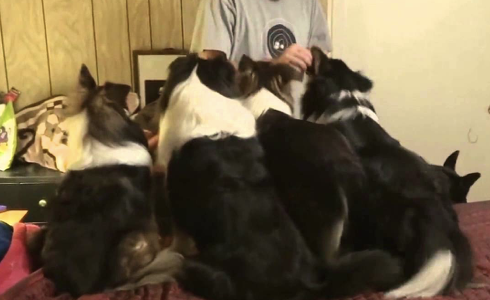 image via – youtube.com
It never ceases to amaze me how clever dogs are. In the footage you are about to watch below, it is treat time for this man's pups. The four of them are all of the same breed and approximate size, so it's a little hard to keep track of who has gotten what. Dogs are so intelligent but there is definitely a sliding scale and some pups are just a just a littler sharper than the others!
It seems that one of the dogs has an inkling that his human isn't paying very close attention, and he has come up with a scheme to work that to his advantage. Honestly, I couldn't believe my eyes when I watched him get the most out of this situation. This clever pup has truly mastered his human and has him trained perfectly!
As he does his thing, his siblings don't even catch on. OK, maybe he's not the most honest of the bunch, but what he lacks in morality he makes up with entertainment and intelligence. Enjoy this laugh-out-loud footage, and it is guaranteed to make your day! I hope you enjoy this video as much as I did!
Let us know what you think of this pup's hilarious scheme!
Please SHARE This With Your Family and Friends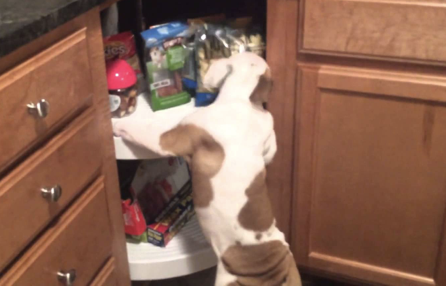 We all catch our kids going into the snack cabinet before dinner, but it's another thing catching our puppy!  This Bulldog puppy has mastered how to open one of those corner cabinets that swivel.  When he thinks no one is looking he goes hunting for a snack.
He is so engrossed in getting to the snack he is looking for, that he has no idea he is being videoed in action.  You will not believe the footage you are about to watch!  This little guy will stop at nothing to reach his goal.  He actually looks like a little kid, in the way he uses his paws to get the bag off the shelf, that keeps swiveling.
Even as he hears his human mommy call his name to stop him, he won't relent, finally getting the bag into his mouth and to the floor.  It seems he's having the same problem opening the bag that we all seem to have these days.
He knows his time is limited, so he takes off with the bag and goes under the dining table to tear it open.  "Mmmm, this is cheddar-flavored popcorn", he thinks to himself with half his body inside the snack bag!  This little guy's antics are absolutely hysterical!  Mission accomplished, this pup has no guilt whatsoever.
Please SHARE this adorable clip with your Family and Friends 🙂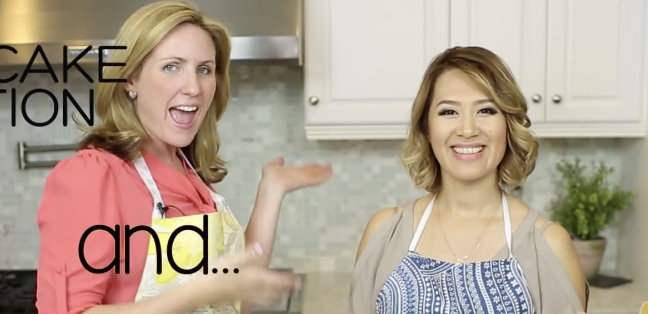 This video was posted as a great idea for a mother's day treat, but really it could be used for something special for a bridal shower, birthday, baby shower or for just a unique springtime dessert. You get a really special looking treat with, for once, not a ridiculous amount of effort or technique.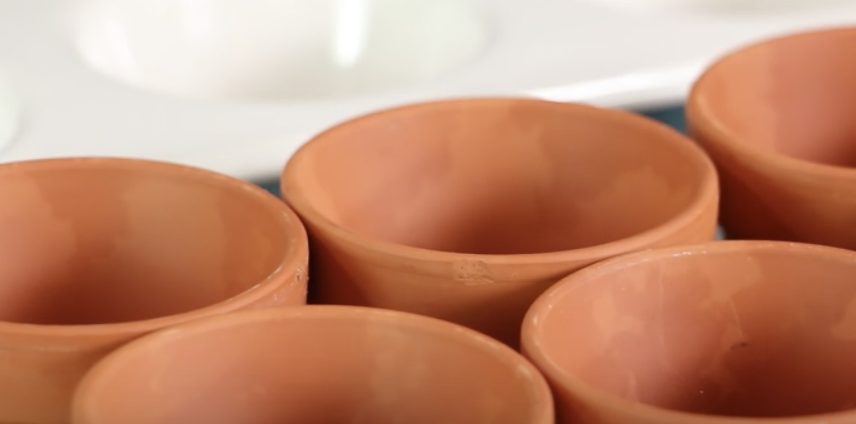 Using small terra-cotta pots lined with cupcake papers, chocolate cake batter is poured and baked. Then the decoration begins. These two lovely women from Orange County, California, decorate these flower-pot inspired treats. It's so simple, even I'm going to try it this weekend! With just a couple ingredients and a little extra love this is the perfect treat for any occasion.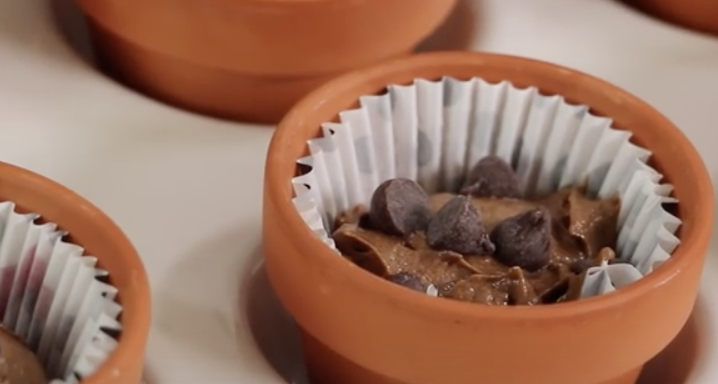 When the pots cool add the little flowers and leaves as demonstrated. This crosses the simplest crafting technique with baking resulting in a dessert that looks too good to eat! I kind of just want to keep one as a sculpture decoration! lol! Pass on this simple demonstration that will delight you, your family and friends. This recipe is sure to be a crowd pleaser!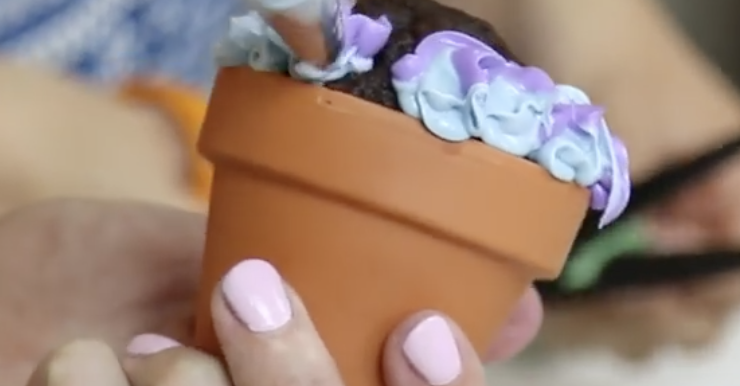 Please SHARE With Family and Friends