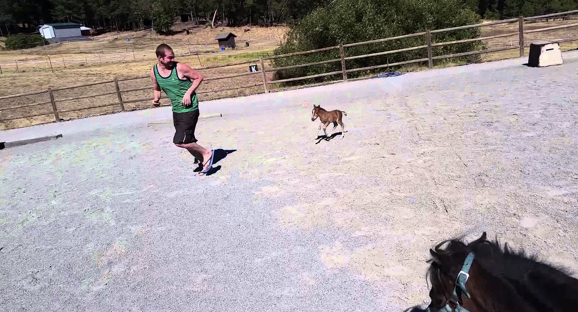 image via – youtube.com
If you love horses or any baby animals, get ready for the sweetest video. This tiny, 3-day-old horse named Sammy is in the corral with her mother, Grace, and one of the owners of the farm, Sterling Bartow. His darling game of tag with this miniature horse is quite extraordinary, given that Sammy is only 3 days old.
Their fun game is videoed by a woman who exclaims at how extraordinary the scene is. This clip of farm life has gone viral, as the special bond between the man and the mini horse is so heartwarming. Grace, the mother horse, looks on as the two play, with some maternal protectiveness.
Finally she goes over to the playmates to sniff out the safety of the situation. It is normal for miniature horses to form bonds with humans, but Sammy is exceptionally young for such play. Such an early bond bodes well for his future life on the farm with Spencer and his family.
Hopefully more videos will be posted so we can all enjoy this adorable creature as he grows up.
Please Share With Family and Friends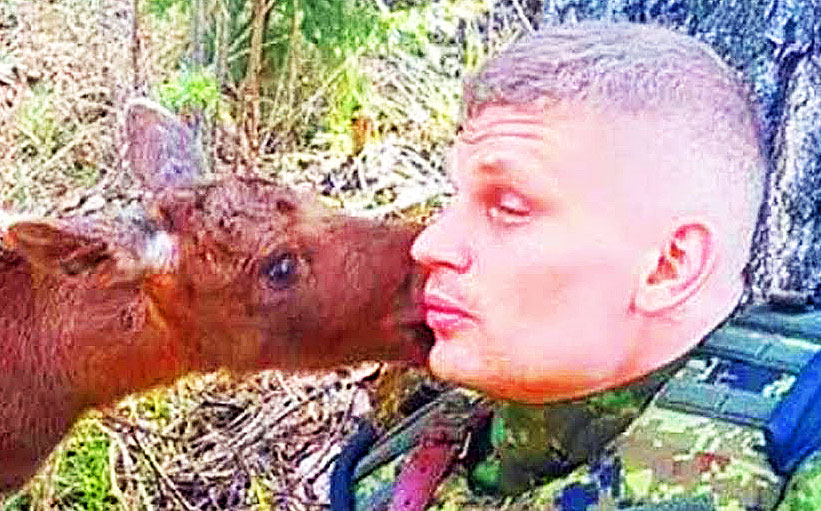 image via – youtube.com
Last year Estonia was holding the country's largest ever military exercises to help train and test their troops.  Soldiers were stationed all across the country with allies from NATO taking part as well. The war games went off without a hitch and bolstered Estonia's defenses, they also led to a chance encounter of a lifetime for a few soldiers out in the field.
One unit had been stationed by the shores of Lake Võrtsjärv, the largest lake located in the middle of the country, when a soldier came across a baby moose.  Erich Jyri Prikko, a conscription member of the Estonian Defense Force, had gone into the woods to use the bathroom when a strange noise caught his attention. 
He described it as sounding like a cat or baby, and when he looked up, he saw a small animal ahead in the dense brush. At first, he thought it was a dog but when the animal moved towards him, he could see that it was actually a little baby moose calf.  
The calf seemed to be alone as there were no other moose in the area and its cries were heartbreaking.  Prikko assumed it must have been lost and separated from its mother somehow which wasn't good because it was so small and clearly very young.  Hoping that the baby moose would wander off in search of its mother, he decided to sit on the ground and make himself appear as non-threatening as possible.  
His plan backfired because the calf wandered over to him instead and began to nuzzle his face and neck, it even nuzzled under his armpit!  The calf must have been hungry and was trying to nurse thinking perhaps Prikko had some milk. After that the little moose had won him over and he knew he couldn't just leave the poor baby all alone in the woods.  
He walked off and called a veterinarian to ask about what he should do and was told to leave the calf where it was found and monitor the situation.  He was also advised to bring a bottle of milk in case he needed to feed the calf if its mother didn't come back. For the rest of the day Prikko and his unit laid low and did their best to not disturb the area, they didn't want to risk scaring off the mother.
That night they heard a moose call in the distance and the very next morning large moose tracks were spotted in the mud.  The baby calf was gone, it had more than likely been reunited with its mother. The memorable interaction made a lasting impression on Prikko and his unit. 
They went above and beyond their duty to protect and even though they were on a training mission, it didn't mean they couldn't have a heart and act with compassion towards those who need it most, like the small defenseless moose.    
Watch the video below for the full story:
Please SHARE This With Family and Friends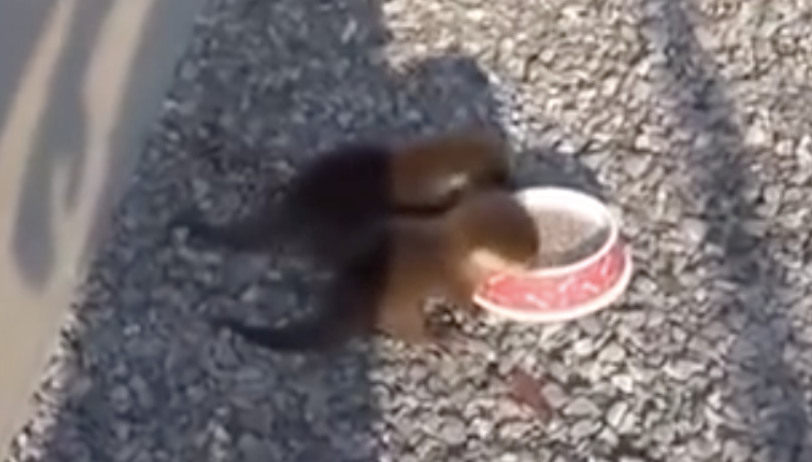 image via : facebook.com
It is truly a tragic reality, that in so many places throughout the world, poachers hunt wild animals in order to illegally sell them to people wanting exotic pets.  It is common for babies to be kidnapped; they often go into shock, suffer from hunger and dehydration, and die before being sold. It is horrible that so many animals are taken and kidnapped from their natural habitat and frequently taken from their mothers before they are developmentally ready. This is just so heartbreaking especially when you see how adorable, sweet and innocent these itty bitty baby otters.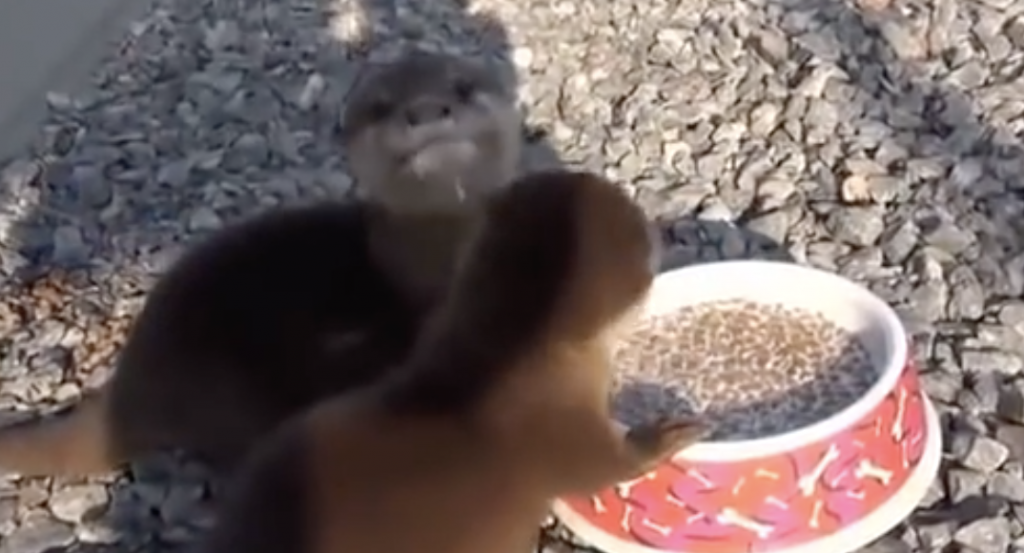 Thanks to the many animal-lover/advocates, like TV host Frank Cuesta, whom you will see in the video below, many animals get rescued and returned to the wild.  Cuesta resides in Thailand, where he hosts a show that has been compared to Steve Irwin. He explores, helps, studies and rescues wildlife just as the late great legend Steve Irwin did.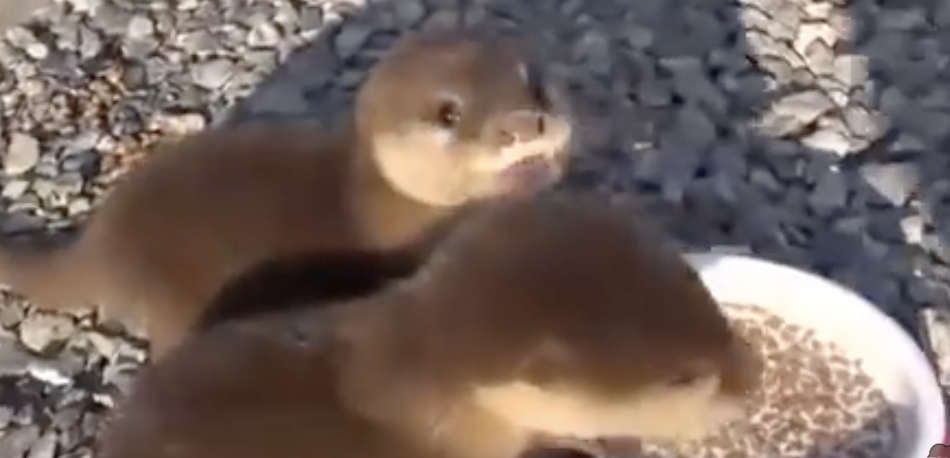 Cuesta is the hero of this story of a rescue of two baby otters, after he was tipped off as to their location, before they could be sold on the black market. He headed to the location and somehow managed to save them and get them away from the bad people who wanted to harm these poor sweet fur babies.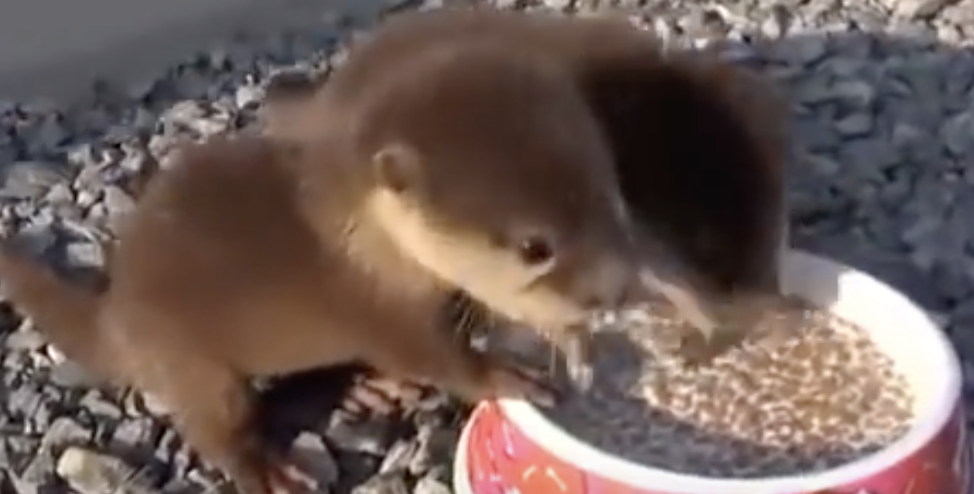 Having studied veterinary medicine, Cuesta knows that these orphaned otter pups not only have to have limited human exposure, but actually need to be trained to be afraid of people before being reintroduced into the wild.  This is necessary for their safety and for sustaining the otter population. Luckily Cuesta knows exactly what to do and these babies should soon be back in the wild and their natural habitat.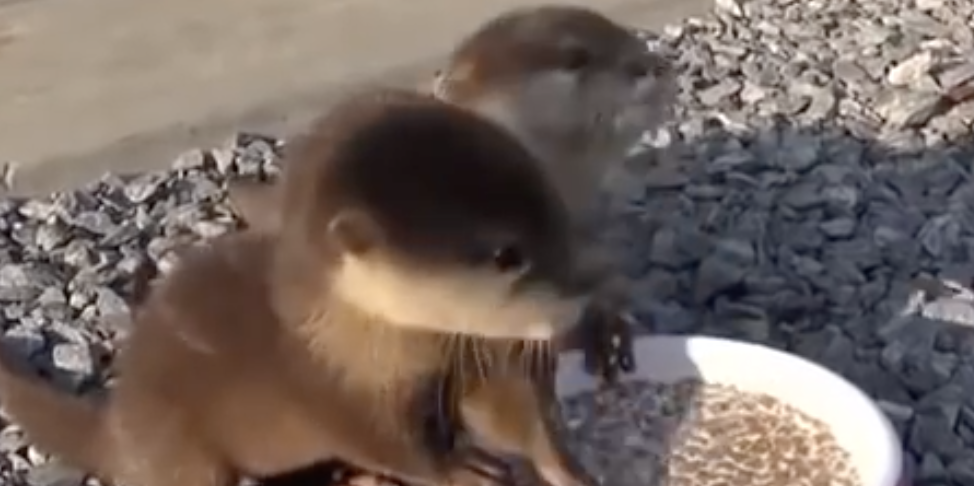 Unless you speak Spanish you won't understand exactly what Cuesta is tenderly saying to the pups he has saved, but you will get the gist of it.  Hearing the darling babies squeaking as they are finally fed, is simply joyful, as is the fact that they will safely be returned to the wild. The sounds of pure happiness emanating from their adorable little faces made my heart melt into a million pieces. Have you ever heard a sound so adorable in your life? Let us know in the comments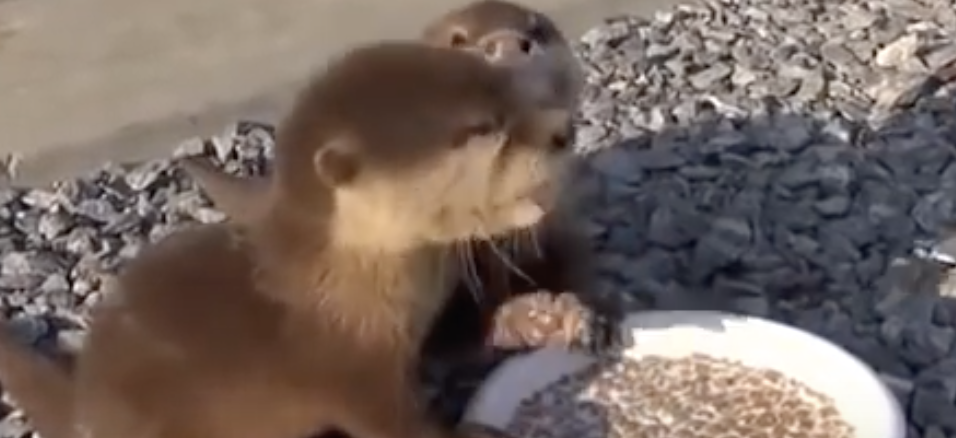 Watch the video below and let us know in the comments section if you want to see more animal rescue videos like this on our page:
Please SHARE This Story With Your Family and Friends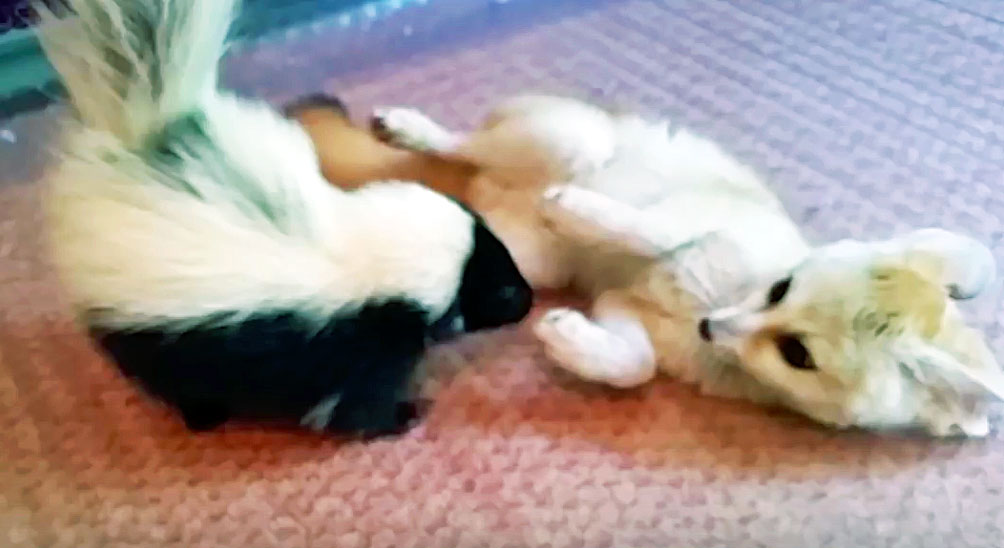 The two baby animals in this video make quite the unusual, and adorable, pair. They are Milo and Flower, the newest animal ambassadors for Amazing Animal Ambassadors. It looks like Flower really wants to play with her older brother Milo, as she playfully pounces on him and paws at his bushy tail.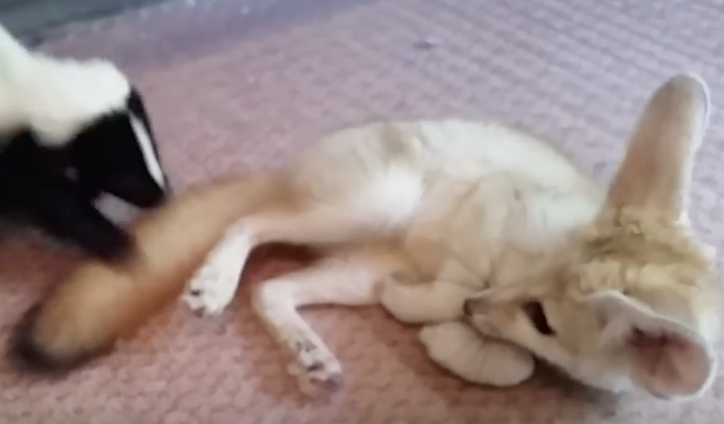 Milo watches his baby sister closely and throws a couple of nips her way before sniffing her and running off. Perhaps he got a whiff of her skunk smell! The animal odd couple look so happy and adorable, and since they met when they were so young they should bond together well.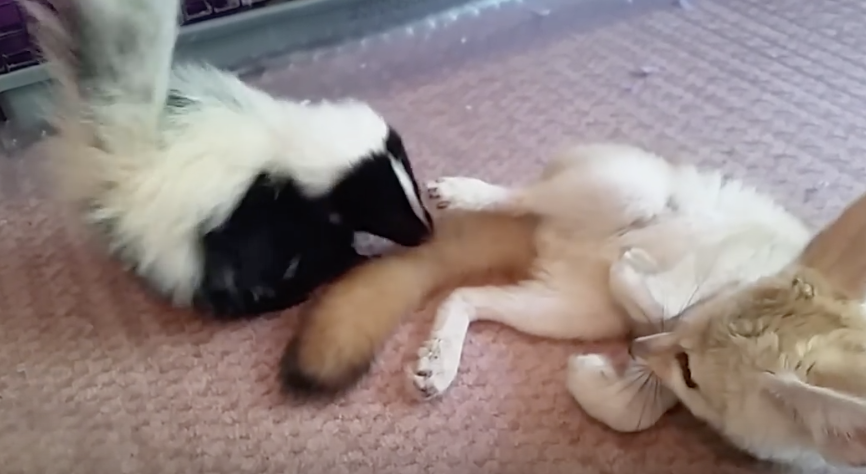 Milo is a Fennec fox and Flower is a striped skunk. Fennec foxes are the smallest species of fox in the world and hail from Africa, whereas striped skunks are found all over North America, from Northern Mexico to Southern Canada.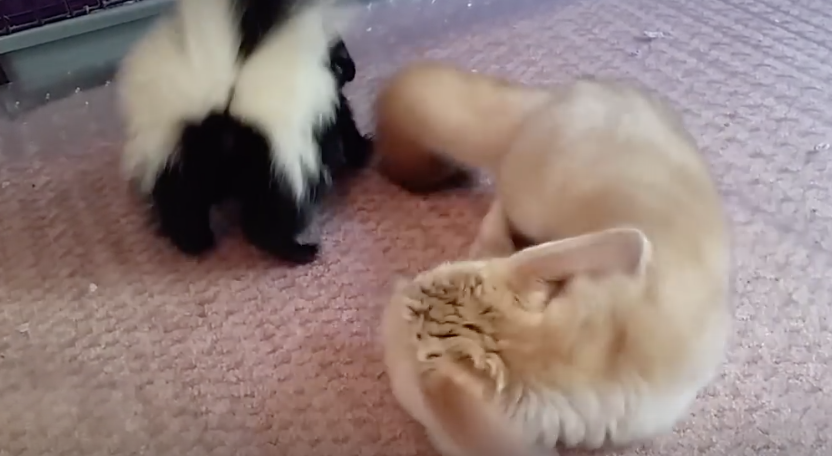 It's safe to say that these two would have never met or come into contact, but once they met they hit it off and are now best friends. Flower is about 6 weeks old in the video, and Milo is about 5 months old.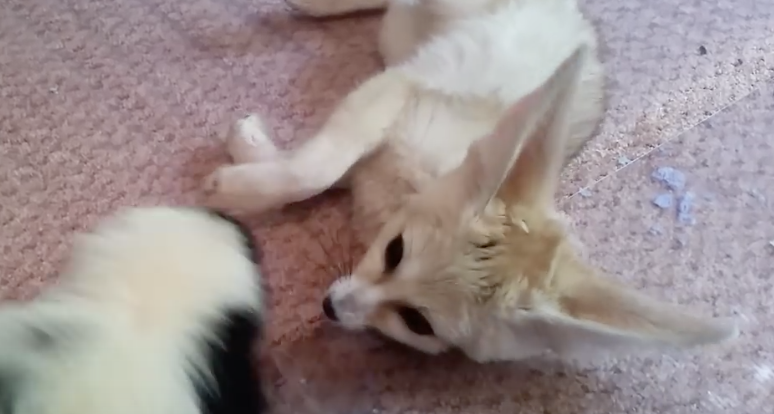 They are both growing up fast and soon will be young adults. Hopefully they will remain best friends and continue to play with each other, because they truly make an awesome, adorable pair!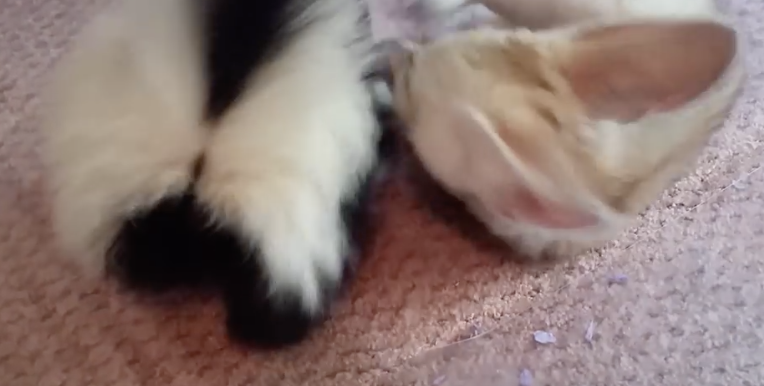 The Amazing Animal Ambassador program works to connect animals with audiences by providing hour long educational presentations that feature a variety of both common and exotic animals. Their animal ambassadors have visited classrooms, town libraries, summer camps, and other functions and places, bringing awe and delight to children and adults everywhere they go.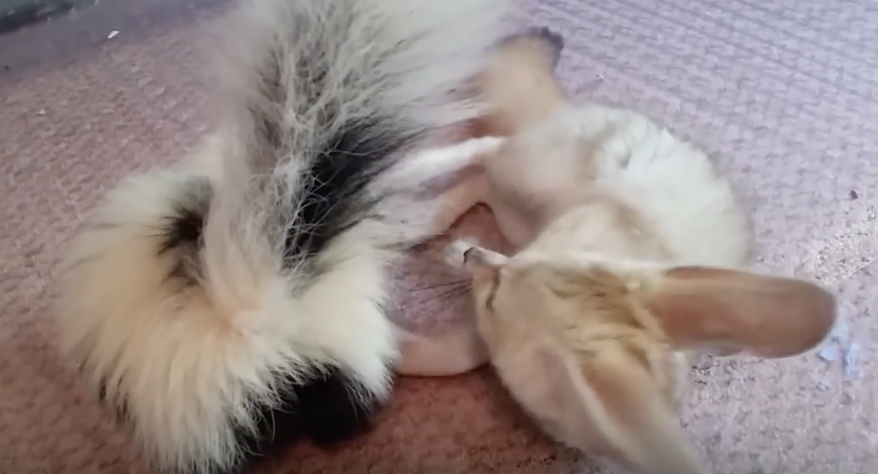 Please Share This Adorable Video With Friends and Family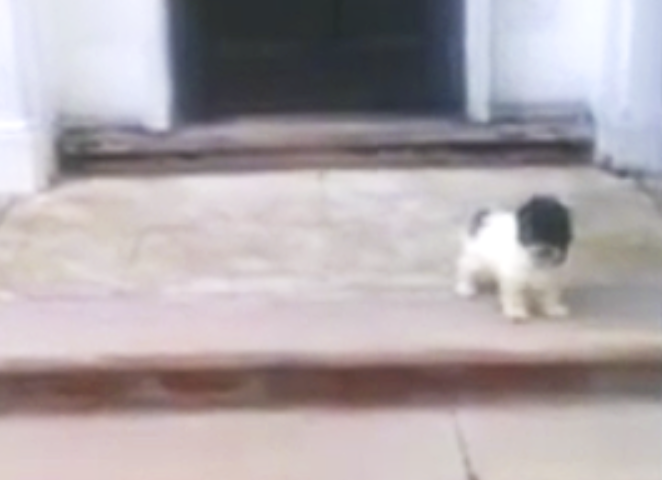 image via – YouTube.com
It never fails to amaze me how smart dogs are.  They are amazing problem solvers, as you will this in he video you are about to watch.  This little pup's 'dad' wants him to learn how to walk down the front stairs outside of  their front door.  He puts him down and encourages him to do it!
The adorable little ball of fluff, fully gets what is expected of him.  He goes to one side then the other, scouting out the situation of the stairs.  "Hmmm (he seems to be thinking) I don't think so"!  This little guy thinks quickly about what the best solution is to his dilemma.  Those stairs look like an obstacle course that just isn't for him!
He thinks quickly about how he is going to make it down the stairs without using them. His unexpected solution is laugh out loud hilarious!  He surprises everyone with what he does and laughter abounds.  Hope you enjoy this funny video as much as I did!
Please SHARE this with your family and friends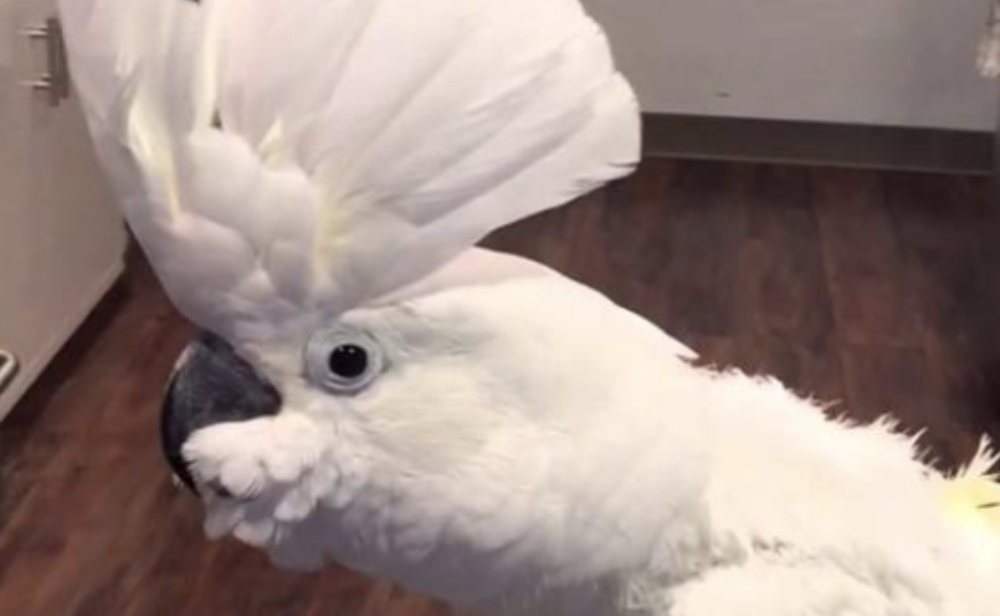 image via – facebook.com
Parrots are among the smartest species of birds in the world. The sometimes colorful, always clever, birds have long captured the imaginations and hearts of people everywhere. They are often quite playful and fun to interact with, and much more complex than a typical, average bird. In fact, parrots are anything but simple and they require a lot of attention, love, and training to truly thrive and be all that they can be. The beautiful snow white cockatoo in this video is proof of how energetic and fun loving parrots truly are.
Cockatoos are a sub-species of parrots and are recognizable by their less colorful plumage and showy head crests. The one seen here is named Louie the cockatoo, and he's happily rocking out to the 70's hit "Shake Your Groove Thing" by Peaches & Herb in this entertaining clip uploaded by Teresa Buxton to YouTube.
The boogieing bird bobs and dances to the catchy tune while his female friend cheers him on from off camera. The sprightly little fellow dances to the disco beat just as good, if not even better, than the dancers on Soul Train! He struts back and forth while pulling off some sweet moves and it's awesome to see this bird's energetic, hippity-hoppity display.
It's safe to say this parrot has a superb natural talent and excellent dancing abilities. At several points Louie raises his stunning head crest and fans it out to show it off completely in all it's glory. He seems to be having a fun time and appears to get really into the music.
His bird dance will make anyone smile and brighten the day! Interestingly, cockatoos love to dance and the beautiful birds share something in common with music history. They bear a striking resemblance to the king of rock and roll, Elvis himself, with their prominent feathered head crests.
The crests look like the popular 1950's men's hairstyle, the type that Elvis rocked, called the pompadour. All 21 species of cockatoos, which are parrots, have the movable head crest which is usually raised when the birds come in to land or when they are aroused.
Going off that information, it's likely that Louie the cockatoo was excited by the music and he just had to rock out to it. It seems like he even manages to keep pace with the tune and overall he puts on a great show!
Please Share With Family and Friends