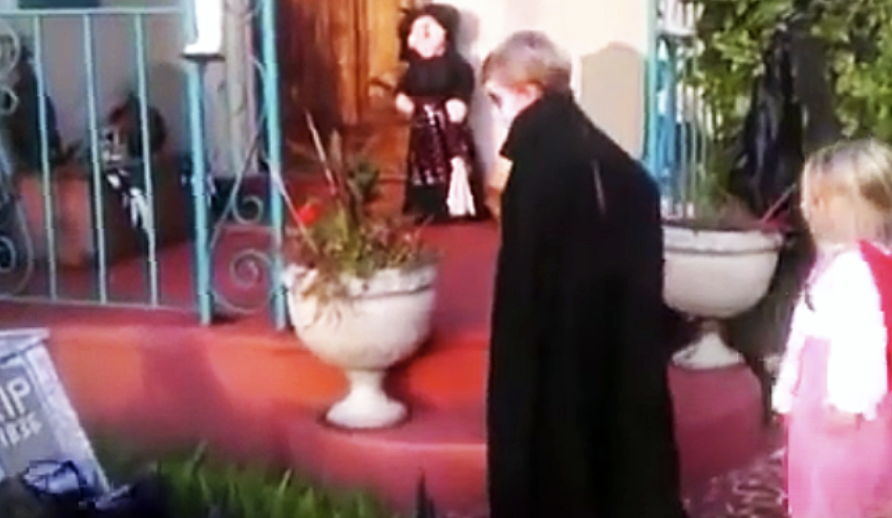 image via – facebook.com
Some of my favorite memories from childhood are from Halloween. The excitement leading up to it, my mom making our costumes, and of course going from house to house to collect unlimited amounts of candy. I hate to sound like an old timer, but decorations just weren't as terrifying back in the day.
Today front yard decorations tend to be a lot spookier and ghoulish. For some kids, depending on their age and particular sensitivity to scary things, braving the terrifying decorations to get to the delicious candy can be harrowing.
From the viewpoint of one young vampire trick 'r treating with his sister, a particular front yard was just a touch too close to a scene from "The Walking Dead".
The siblings look very close in age, but the sister seems to be the braver of the two. Seeing her brother literally shaking in his shoes at the sight of a gyrating ghoul, she takes matters into her own hands. She strides forward and with great confidence throws a few punches that swiftly take care of the matter!
The video is laugh out loud hysterical! Now onward to the candy!!
Please SHARE This Funny Video With Family and Friends 🙂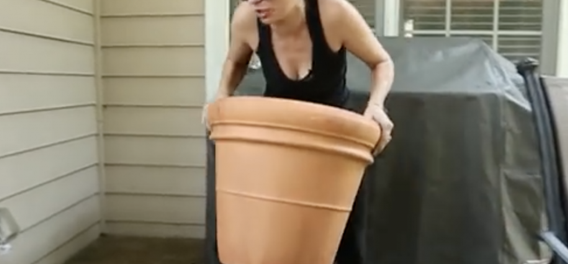 If your thinking ahead for the perfect Father's Day gift or a birthday present for your brother son or husband this could be the perfect homemade present for any of the special men in your life!
Generally speaking, men are hard to shop for and finding the perfect gift for your father can be downright difficult to do. Most dads don't even ask for anything, leaving you further in the dark, and would be happy to simply get a nice card and spend some time with you. However, a thoughtful present is the way to go if you want to show just how much you care and appreciate him.
If you need some ideas or inspiration for what to get, check out this video on how to build a homemade smoker. It's not only affordable and easy to make, it's also super cool and original. No store is selling anything like this and ones that are available cost well over $500. So if you're dad loves meat and grilling out, he'll love this smoker and the fact that you made it yourself.
All that this simple smoker requires is the following:
For the smoker: For the handle you will need these parts:
— 2 large terra cotta pots ½ x 8 inch steel pipe — 1 hot plate ½ inch coupling — 1 pie plate tinfoil ½ inch T pipe — 2-4 bricks 2 steel washers — woods chips 2 ½ x 3 inch pipes — grill grate 3 ½ inch pipe caps
Start by assembling the handle first. Attach the coupling to one end of the 8 inch steel pipe and the T pipe to the opposite end. Screw in each of the 3 inch pipes to the T pipe and seal them off with the ½ inch pipe caps. Attach the handle to the bottom of the terra cotta pot by placing a washer on the inside hole and threading the remaining pipe cap through it. Place the other washer on the outside of the hole and on the pipe cap, then twist on the end of the 8 inch steel pipe into the pipe cap. Make sure it's tight and sturdy, then set it aside.
To assemble the smoker portion take the other terra cotta pot and balance it on the bricks. Use at least 2 or more to ensure that it's secure and not rickety. Take the hot plate and place it in the bottom of the pot, thread the cord through the bottom hole, and set the pie pan filled with wood chips atop it. Next, put in the grill grate and make sure it sits flat and rests snugly against the sides because you don't want the meat tipping off it later on! All that's left to do is place the pot with the handle directly atop this bottom piece and you're finished.
To use, simply plug in the hot plate and place some meat on the grill. Set a timer for 6-8 hours and by then the meat should be smoked to tender perfection. Smoking times will vary depending on the type of meat, the cut, and size you use, so adjust accordingly.
Elissa Benzie, the woman who guides us through this project on the Rare Life channel, says that she spent under $100 total on all the materials for this. If you already have some of the parts on hand, it'll be even less. This smoker even turned out to be good looking, dad won't be embarrassed to use it, and it works great which is most important!
Check out the video for more detailed instructions and to get a better visual idea of what it will look like at each step.
Please Share This With Family and Friends 🙂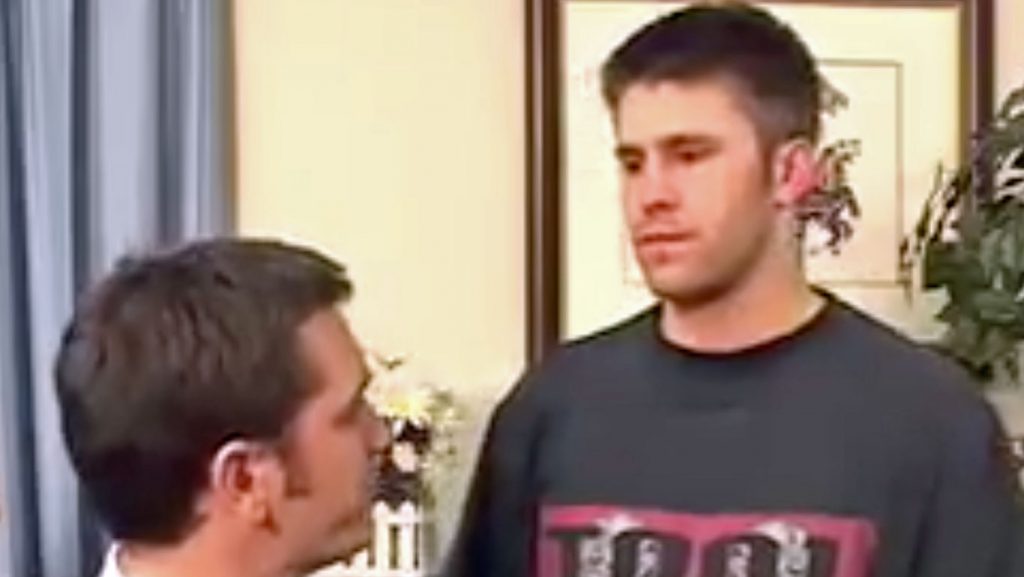 Ahhhhh….boys will be boys!  No matter what age it's always hard to get that family picture together for a holiday.  Siblings squirm as you try to make the family have that ideal appearance.  In the case of the hilarious video you are about to watch below, two brothers who look to be in their late 20's, are attempting to take a digital pic for their mom for Mother's Day.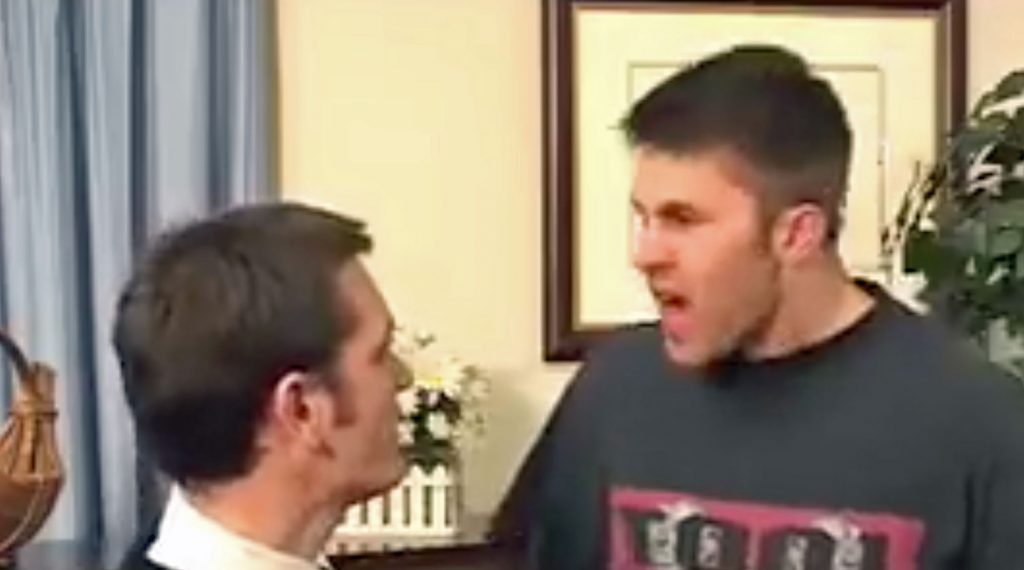 Thank goodness she is not there to watch them attempt to get the photo done for their Mother's Day card.  These "boys" from BaratsAndBareta clearly have not resolved their sibling rivalry.  Each attempt to get the picture to work grows more and more hysterical, as their exasperation with each other grow.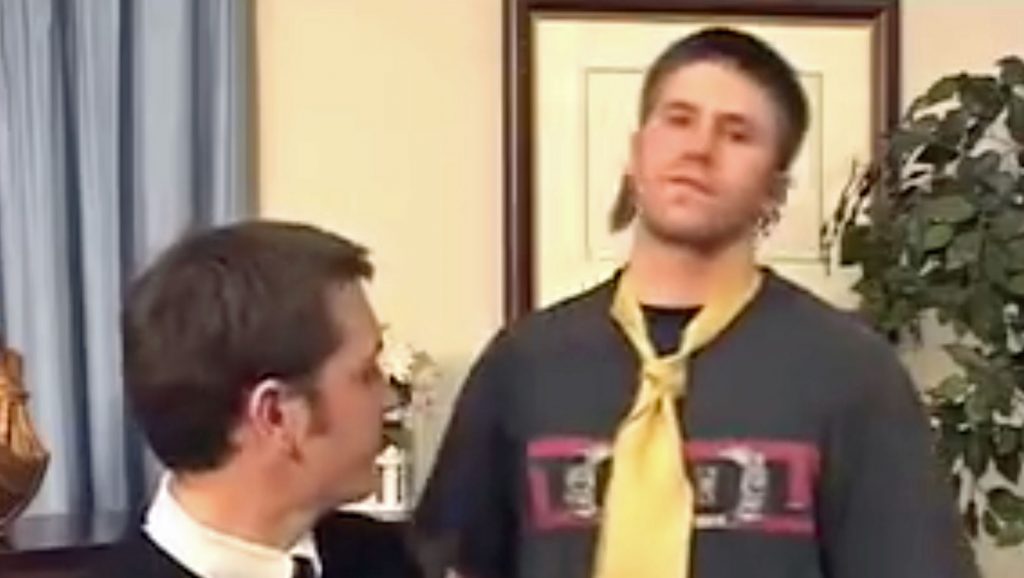 This comical scenario will have you crying with laughter.  Whatever the final shot they got for their digital card, I think their mom will definitely have more fine watching the footage of their attempts to make it.  You will see why the video has gotten more than 12 Million views and it's still going.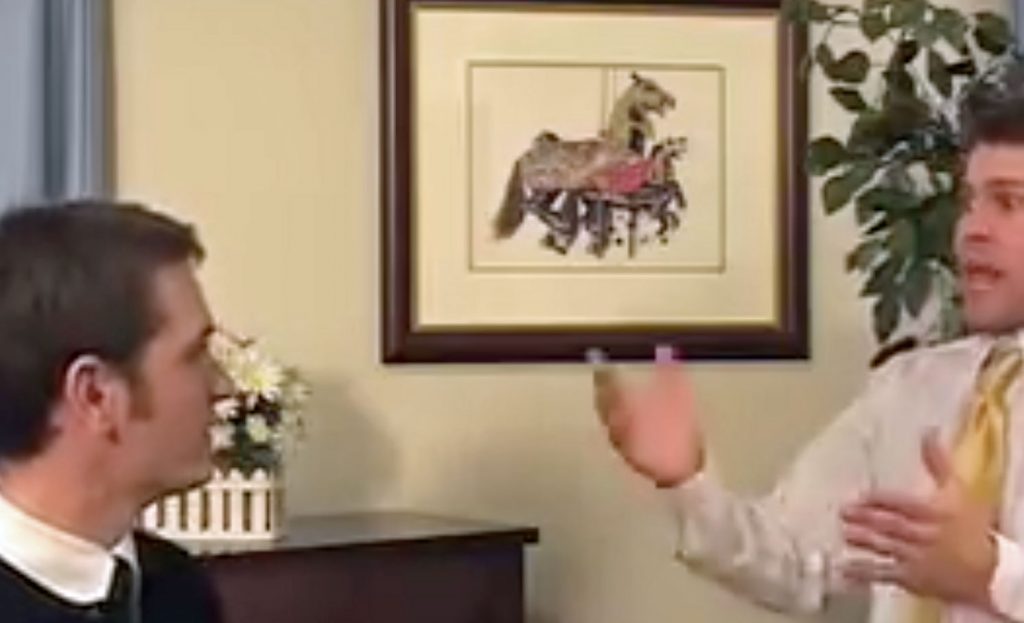 Please SHARE this hilarious footage with your friends and family!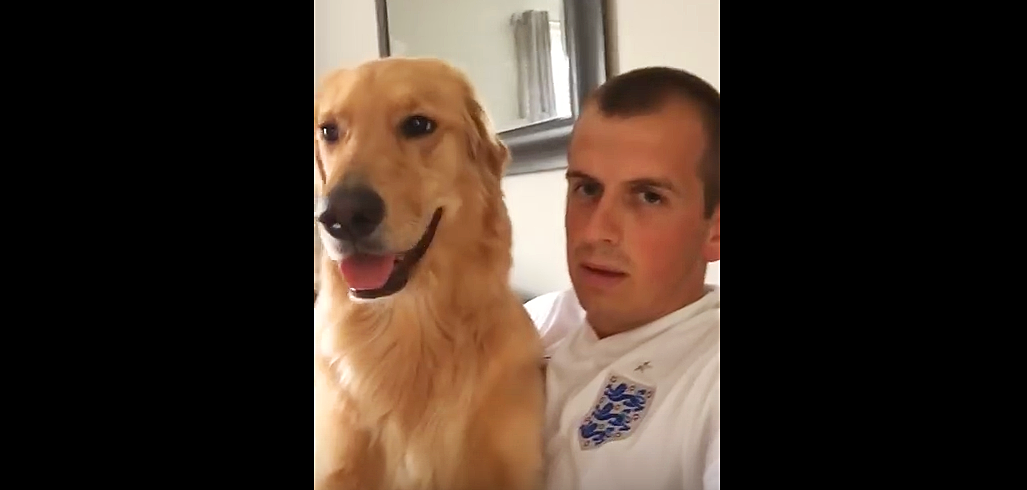 image via – rumble.com
The natural reaction is to smile and congratulate someone when they tell you that they are expecting a baby on the way. After all, it's a major milestone in life and wonderful, big news to break! Most people break out into smiles and there are happy hugs exchanged all around, some even cry and get quite emotional. There's often a wave of excitement and an unmistakable buzz of anticipation spreads across the room.
Some people however, usually family members, don't react so happily to baby news. Most of the time it's an older sibling who doesn't want a new little brother or sister in the family. They're usually still too young to understand and one of the biggest concerns seems to revolve around the thought that the new baby will take all of mom and dad's attention away from them.
Sometimes even our pets find baby news hard to take in. They're part of the family too and fur-babies in their own right! Such was the case for this funny and adorable Golden Retriever who really wasn't ready for a new sibling. When the dog's owner, John Bache, sat him down on the sofa for a man to man talk the Retriever adorably crawled up onto his lap to get even closer and snuggle.
When the moment of truth finally arrived Mr Bache told his dog in a very straight forward manner that "Someones going to have a baby brother." Upon hearing the big announcement the dog's face and behavior changed instantly and dramatically. He stopped panting, closed his mouth, and whipped his head around to face towards Mr. Bache. The Retriever seemed alert and yet at the same time he suddenly appears to be far away as he gazes off into the distance, as if searching for something.
It's quite a strange reaction but who really knows what was going through his head at that moment. However, one thing does seem certain and it looks like he's really not all that excited about having a new baby brother!
The Retriever's funny response is definitely not what you'd expect when telling your dog you're expecting. The expression on his face is priceless so check him out if you need to laugh or smile!
Please SHARE This With Family and Friends 🙂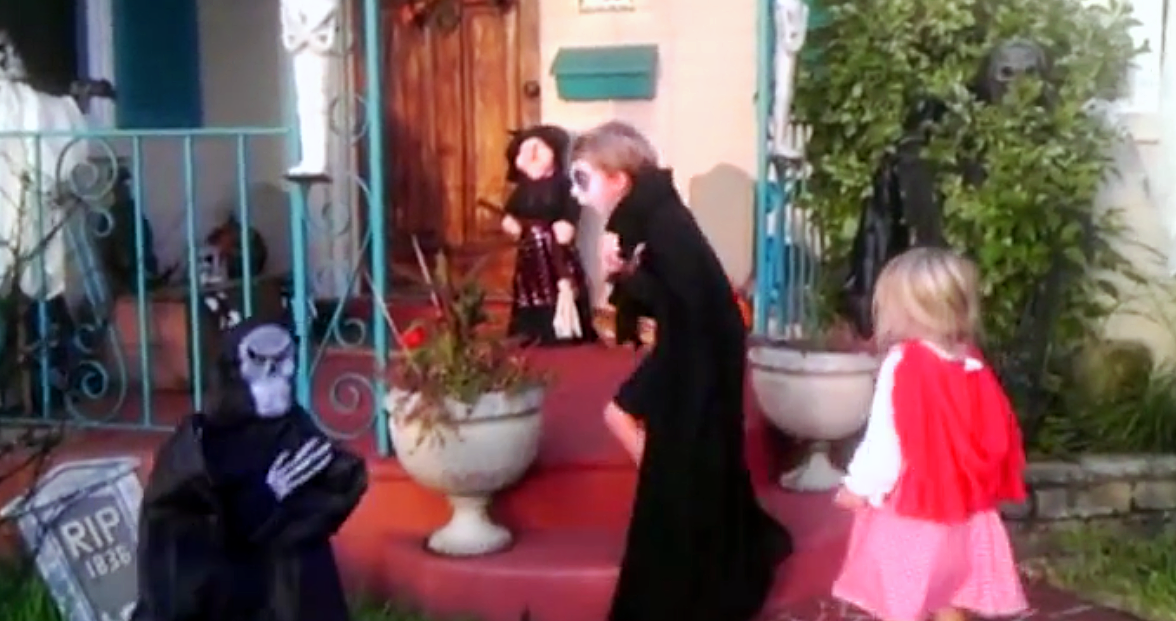 image via – rumble.com
The end of October happens to be many people's absolute favorite time of year. In the days leading up to Halloween both children and adults are busy preparing and making last minute alterations to their costumes and decorations. Whether you're looking to be scared or to scare others, there's something for everyone out there!
In fact, lots of people go all out with the spooky décor and scary accents. They're easy to spot because they are the ones whose houses are jam packed with skeletons, spiders, ghosts, witches, and interactive ghouls both inside and out. With each passing year there seems to be more and more hyper realistic, complex, and unexpected spooky accents that keep popping up. These decorations can fool just about anyone, including the people in this funny video!
The best part of the clip is hands down the little boy and his sister who are out trick or treating for goodies. As they excitedly approach the front door of a house a grave marker catches the boy's attention. Right as he's staring at it a grim reaper looking skeleton pops up from the grave! It takes the boy completely by surprise and he screams aloud in terror, but his little sister is completely unfazed by the whole thing. Instead of freaking out like her brother did, she steps up to the reaper and punches him square in the face right between his blinking red eyes! She is one tough girl who is not to be messed with!
Check out the adorable pair and all the rest in the video short. There are some really funny reactions that will definitely catch you by surprise, especially if you're easily spooked!
Please Share This With Family and Friends 🙂