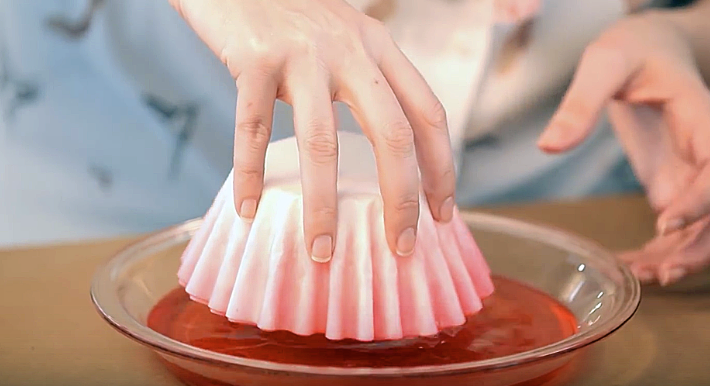 image via – youtube.com
When it comes to decorating for any seasonal holiday, you want to look festive and on-point without breaking your budget. There's no better way to achieve a fresh, spring or summer look than with these dip-dyed coffee filter flowers. While they may sound cheap and thrifty, which they are, they'll end up turning out beautiful and vibrant looking every time.
They're super easy and inexpensive to make even if you're not a crafty type of person. The homemade, handcrafted flowers make for some uniquely thoughtful decorations and they can be used as neat little candy holders or a centerpiece down a table. They're even perfect for gifting at any time of the year and no special occasion is needed to hand these beauties out. Present one to someone you appreciate and show them how much you care!
To make your own pretty dip-dyed flowers you will need the following items; coffee filters, food coloring, cups, scissors, a shallow dish or pie plate, warm water, a hot glue gun, a cooling rack, and a baking sheet. In the accompanying video Marianne from HGTV Hand-Made shows us step by step exactly how to make these flowers. Read on below for instructions and watch her transform plain old coffee filters into pretty spring blossoms.
In a shallow dish mix up the dye one color at a time, using a ratio of 10 drops of food coloring to one cup of warm water. Take a stack of about 10 coffee filters and place them upside down in the warm water. Remove them once you notice that the dye reaches the top edge of the filters and place them on a cooling rack to dry.
Make sure to place a baking sheet under the cooling rack to help contain the mess and catch any dye-colored water that drips off the filters. Now repeat the process with the other colors you want to make and allow them all to completely dry before moving on to the next step.
To make the flowers, start off by taking a paper cup and carefully trim it down with a pair of scissors so that it's about 1½ inches tall. Use a total of 3 coffee filters from 2 different colors each and stack one bunch atop the other. Flatten them down and fold them in half, then cut a 1-inch notch in each fold.
Fold it in half again (so it's in quarters) and cut a one-inch notch in the resulting fold, plus another notch in the middle of the fan-shape that you have at this point. Unfold it one time, so that it's still folded in half, and trim away the edges near each of the notches so that they end up resembling petal-like shapes.
To assemble each flower, take a cup and dab a little bit of hot glue in the center of it. Take one colored coffee filter, center it over the cup, and press it down into the glue. Fold the sides down roughly around the cup and then take another filter and glue it atop that one.
Take the third and final filter of that one color and glue it to both the bottom and up the sides of the cup, so that it's covered. Now take the 3 remaining filters from the second color and glue them all to the bottom of the cup. You can fan the filter edges out gently and arrange them so they look fuller, and now they're ready to use!
Let us know how yours turn out!
Please Share This With Your Family and Friends 🙂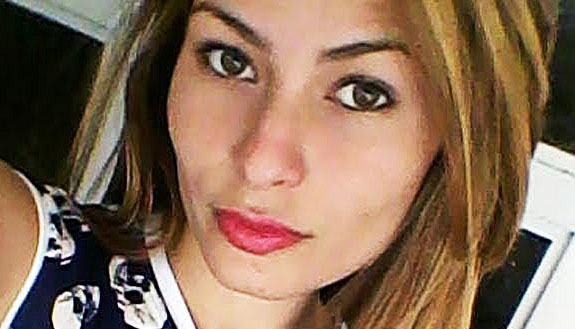 image via – youtube.com
Moving into a new house is just as exciting as it is stressful.  There's so much to get done, but once you're finished you can finally relax in your new surroundings and meet the neighbors.  There seems to always be neighborhood characters and little quirks that are unique to each location, and as time goes on you start to notice little things about your new place.  
For one woman in the UK named Rosie, a strange occurrence kept happening after she moved into her new house.  Pretty little pink flowers were regularly appearing on her porch seemingly out of nowhere. There were no matching flowers in her garden or on her property and the only explanations she could think of, such as the wind blowing them to the same spot time and again, just didn't add up.  
Miffed at the whole thing, Rosie kept an eye out for a possible secret admirer and went about her business. Time went by and the flowers kept coming, there was a new one every couple of days.  Then one evening Rosie was cooking dinner when she noticed a movement on her front porch.
It was the neighbor's cat, Willow, coming up with a pink flower in her mouth! The sweet kitty had been bringing her floral presents the whole time and now Rosie had witnessed it and knew the truth behind the mystery. Rosie had met Willow when she first moved in but had no idea the cat held her in such high regards.  
It turns out that Willow likes to go around to all the neighbors and visit them, but Rosie is the only one she brings flowers to.  Now that the two are closer, Rosie gives her extra special attention and treats. She even lets her in the house where Willow loves to curl up and nap on the couch.  
This is one cat who knows how to win hearts over! Enjoy the video below!
Please SHARE This With Your Family and Friends

I'm sure you have heard the saying, PRESENTATION IS EVERYTHING…well it may not be everything when it comes to food, but it certainly helps.  YouTuber yoyomax shows us how presentation added to a simple and delicious recipe for onions, illustrates how much a beautiful presentation can add to food..
In the video you are about to watch below, she demonstrates a way of cutting, cooking and plating onions, known as the "ONION FLOWER".  The recipe was first published in a Canadian magazine, "Food and Drink", and has caught on as a way of preparing red onions in a manner that will truly please both the eyes and palates, of your family and guests.
You will need four small to medium red onions, olive oil and balsamic vinegar.  In this easy-to-follow tutorial she first shows you how to cut the onion into consecutive quadrants and then eighths.  She then tosses them in the oil and vinegar mixture, and then roasts them in a 425 degree oven for 25-30 minutes.  When she plates the final result, you will be amazed at the beauty of this deliciously, crispy onion flower.  It is a side-dish that will be remembered by all!
Please SHARE This Recipe With Family and Friends 🙂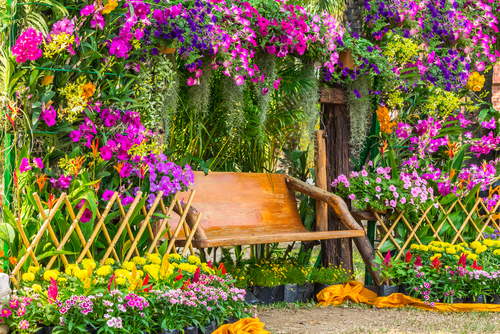 image via – shutterstock.com
Which birth flower matches your personality? Each month has a different flower associated with it, so depending on your birth date, you have a birth flower. This is very similar to the birth stones with which people are more familiar.
The tradition likely dates back to at least the Romans, who used flowers to celebrate birthdays.
January's flower is the carnation, which blooms in the colder weather in places that do not freeze. February has the violet, which symbolizes faithfulness, wisdom and hope. The daffodil is the March flower and is associated with spring and rebirth.
April has the sweet pea, youth and purity are its hallmarks. May is the lily of the valley, a flower of humility and sweetness. June is the rose, representing love and appreciation.
July gets the larkspur, with its levity and lightness. August is the gladiolus, a flower I have never heard of, which represents strength and remembrance.
The aster goes with September and is associated with patience and affection. October has the marigold, warm and fierce. November is chrysanthemum, which represents compassion and friendship. Finally, December gets the poinsettia, with its good cheer and success.
What flower did you get?
Please Share With Friends On Facebook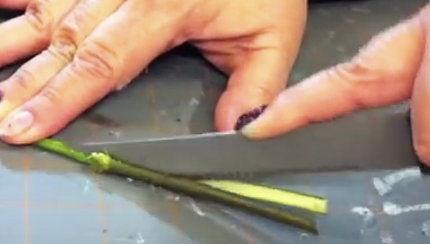 I've seen tie-dyed roses many times, but had no idea I could make them myself.  The video you are about to watch below, was made by Kathy the CRAFTY CHICA who always wanted these roses herself, and made it her business to put together an easy and fun-to-follow tutorial on how to create this kaleidoscope effect.
With just some white roses, a packet of dyes, scissors, a knife and some clear plastic cups, you will see how easy this is to do. Each plastic cup will have a different color dye in it.  Kathy shows you how to prepare the roses for optimal absorption of the different colors.
The angle and length that you cut the stems is critical to obtaining the most vibrant outcome.  Additionally you will get to see how the color gets established from hour to hour over a 24 hour period.  The great thing about creating these really cool color gradients, is that you have control over the hues you want to establish.
This is just such a great DIY to create for your own pleasure, to bring to a party, or to do for different holiday adornments.  This will be totally perfect for Mother's Day this year!  Have fun watching this and let us know if you will try creating your own.
Please SHARE this with family and friends 🙂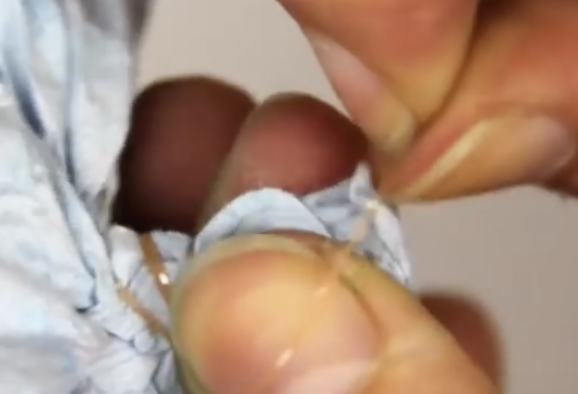 There is nothing like the gift of flowers, that is, except homemade flowers! Jamie Pettito is a YouTuber who has a channel called "Do it, Girl".  She specializes in the best homemade gifts that really say "I care about you".
Although she was trying to save us money for the flower extravaganza of Mother's Day, this coffee filter bouquet of flowers makes a beautiful gift any time of year!  It's especially nice in the winter time, when we can't go out and pick flowers, and we don't want to spend the money on an item which has such a short life.
This easy-to-follow tutorial that you are about to watch below, allows you to give a gift with a personal touch, or just cheer up your own space with flowers that will give you pleasure every day.  All that is required are some coffee filters, scissors, pipe cleaners, masking tape, rubber bands and basic glue.
She shows you how to make 2 different kinds of flowers.  When you see the finished product, it will inspire you to try it yourself.
Please SHARE This With Your Family and Friends 🙂