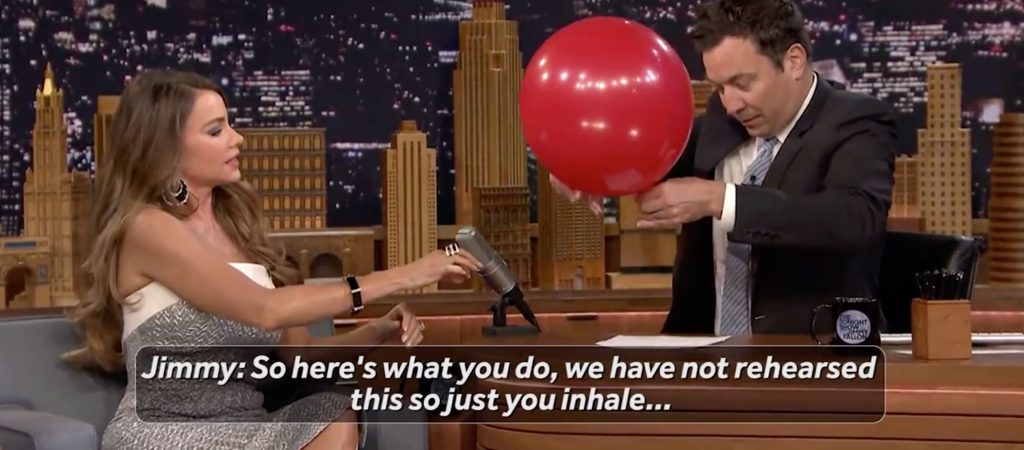 image via – facebook.com
When you inhale helium from a balloon and talk, expect to sound kind of like a chipmunk! Many of us have fond childhood memories of sucking on a helium filled balloon and saying whatever came to mind. We just wanted to hear what our voices sounded like and it was always hilarious and so much fun. If you've never tried it before, then you're missing out on one of life's little joys.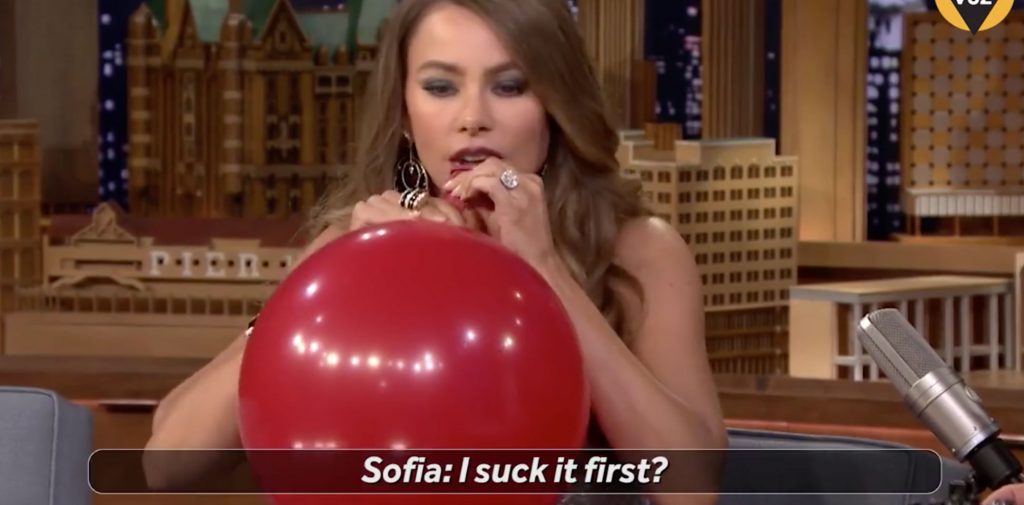 This funny video clip from The Tonight Show Starring Jimmy Fallon is the perfect case in point. He was interviewing none other than the beautiful and talented actress Sofia Vergara when he suddenly pulled out a big red balloon filled to the max with helium. If you've ever seen the show you know how ridiculous and silly Jimmy can get.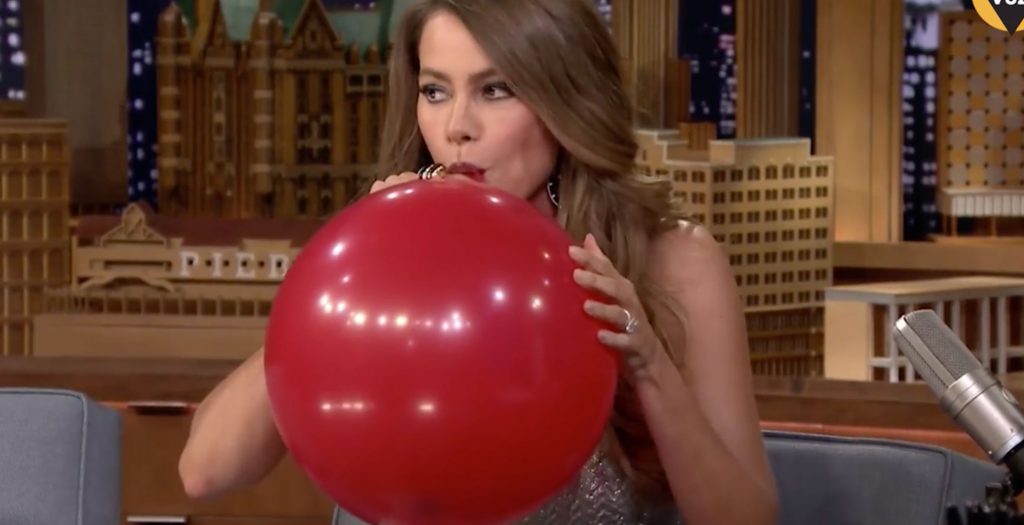 He's had his guests play everything from Charades to Egg Russian Roulette and participate in dance offs, slow jams, games of flip cup, and so much more. On this particular episode, Jimmy told Sofia how he thought it'd be awesome just to hear her talk on helium and he was right! Her accent + Helium = Fun and Entertainment.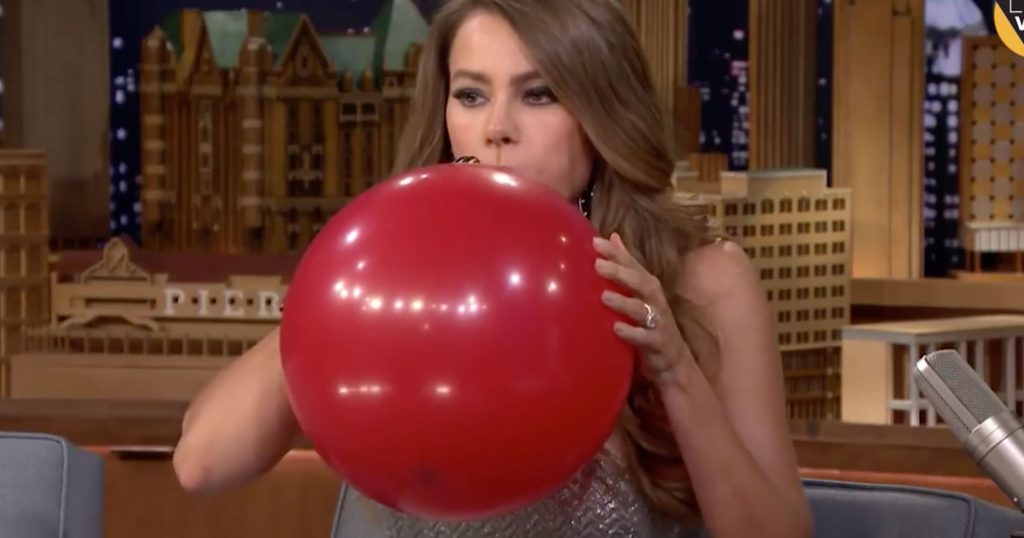 The first thing he asked her to say was "My name is Sofia Vergara." After she inhaled from the big red balloon she opened her mouth to speak and managed to say "my name" before she immediately started cracking up. The sound of her suddenly high-pitched voice surprised her and the crowd loved it. After repeating the full phrase she couldn't help but comment about how good the helium made her English sound and she was right because it seemed to give her less of an accent.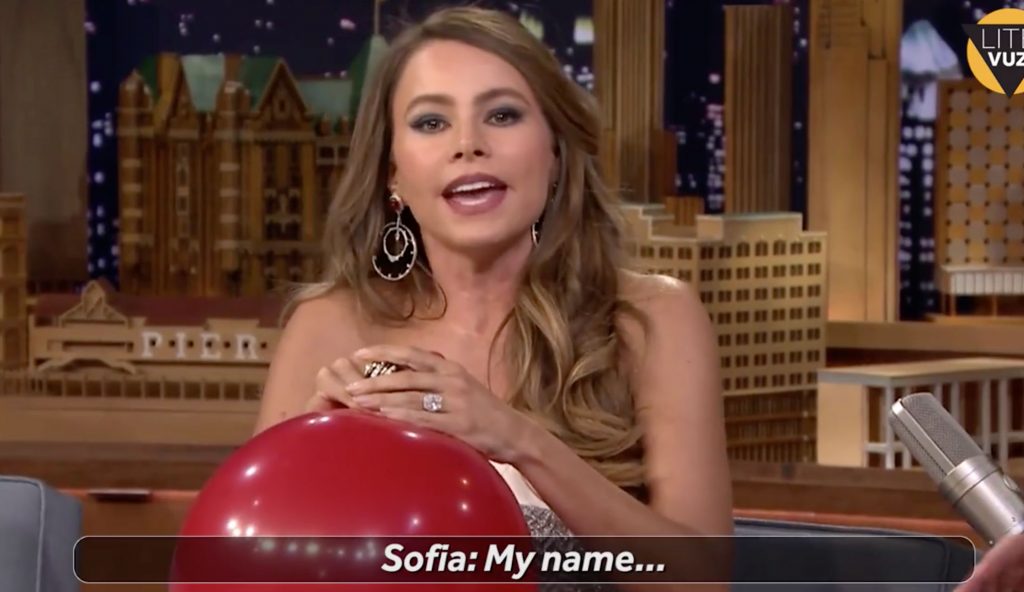 Then Jimmy asked her to say something in Spanish for all of the Spanish speaking viewers watching, before he finally told her to say one last thing, "Ben Roethlisberger." Accent or no accent, the football player's name is already quite difficult to pronounce, but the way it rolled off her tongue all jumbled up from the helium made it sound so darn funny. You just have to hear her say it!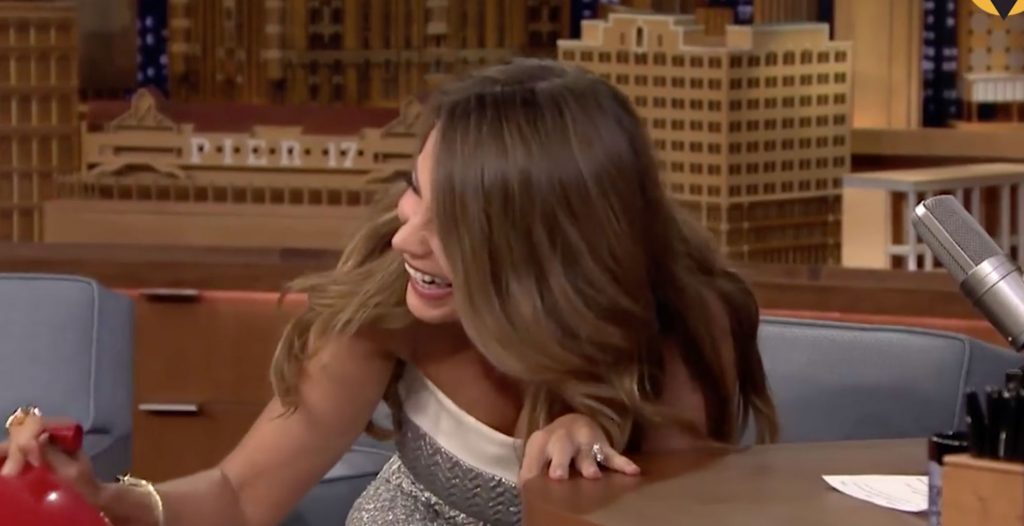 Sofia was such a great sport throughout the entire thing and she kept going back for more helium like she couldn't get enough! The audience clearly enjoyed the whole bit as well, and of course Jimmy was as entertaining as he always is. Check it out for a good laugh and pass it on!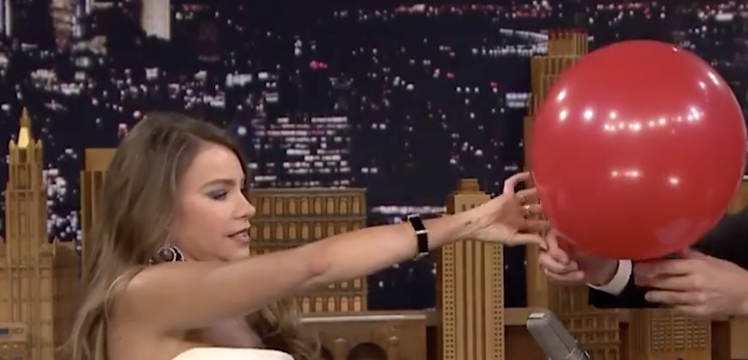 Please Share This Hilarious Video With Family and Friends Who Need a Smile Today 🙂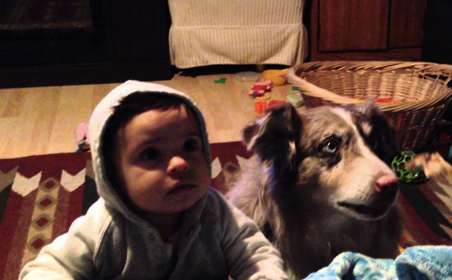 Dogs love eating. Whether it's their kibbles and bits, stuff they find outside, or a special treat, they're usually ready and willing to chomp down on it. Even if they come across something that's really gross to us humans, they'll give it a bite and see how it tastes. However, nothing seems to taste better to them than people food!
When a dog sees their owner eating, they will hone in on it and instantly become their new best friend. They will sit and watch you eat your dinner, waiting for a piece of it to fall or for you to offer them a bite. Some are more clever than others and will perform tricks or commands in hopes of a reward, like the adorable Australian Shepherd dog in this video. The dog's owners were videotaping their attempts at getting their young son to say his first words but they captured something just as cute instead.
The clip starts off with the mother trying gently to coax her toddler into saying "mama" while holding up some food on a fork that's hovering over her plate. She's offering it to her son who's standing right in front of her and the food has definitely got the family dog's attention because he's right beside the baby begging and whining for a bite!
While the mother's attempts at encouraging her child to speak are not going so well, the dog is a different story. He's giving it his best shot and after what sounds like several attempts to say the magic word, "mama," he works up the ability and finally ends up speaking the word successfully! The dog managed to do what the baby couldn't and definitely earned a bite to eat!
All the while the adorable baby boy has been standing by the dog, switching his attention from looking up at the camera, to the dog, to his mom and the fork, and back again. His mom's bribe didn't end up working but maybe he didn't like the food she was offering, either way he looks sweet as can be. And one last thing- many viewers commented on the video and noted how the dog never got a bite to eat.
They expressed a lot of concern over this, in fact they were so up in arms about it that the dog's owners posted a second follow-up clip to this one, showing that the dog did indeed get a treat! All's well that ends well so check it out, share the love, and enjoy!
Please SHARE This With Family and Friends 🙂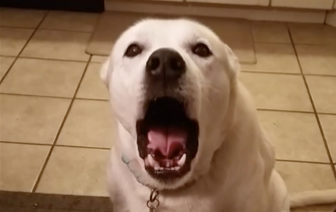 Pet owners love chatting with their animal companions and oftentimes our furry friends love talking back! Just about everyone is guilty of having full-on conversations with their pets as if they were a fellow human being at some point in time. After all, they're part of the family and besides, it just happens!
Which leads us to this adorable video of a family trying to figure out what the heck their dog is trying to say. The camera is trained on the sweet white puppy named Charlie and as you can see he's very vocal. He's hanging out in the kitchen with a little girl, probably his sister, who's egging him on and getting him to talk!
Charlie makes some interesting noises that can be interpreted to sound like "blahblahblah" and "i love you," but it's anyone's guess as to what he's truly saying. If he's like most dogs then he's most likely asking for food!
When we talk to our pets it's a natural, normal, and possibly even instinctual way to both communicate and bond with them. Some pets will even initiate conversations rather than just talk back and a recent survey found that 67% of pet owners claim they understand their animals barks, meows, purrs and all of the other sounds they make. Out of those surveyed, 62% reported that when they speak their animals seem to understand and get the message!
The numbers above are from an AP-Petside poll conducted in 2008 so they've likely higher now, as pets are increasingly being considered important family members. Many people even place their beloved animals on equal footing with children, hence the name fur-babies!
Please SHARE This With Your Family and Friends 🙂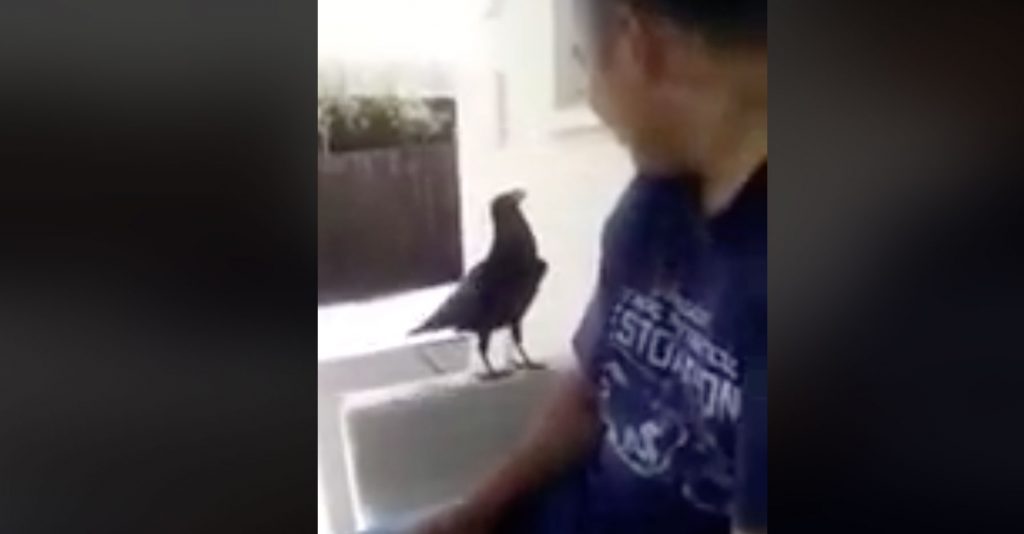 If there is one thing for certain when it comes to wild animals, it's that they are always full of surprises! The black bird in this hilarious video clip is no exception to that sentiment. It manages to really shock the heck out of the couple it chose to interact with and once you see what it does, you'll be flabbergasted too!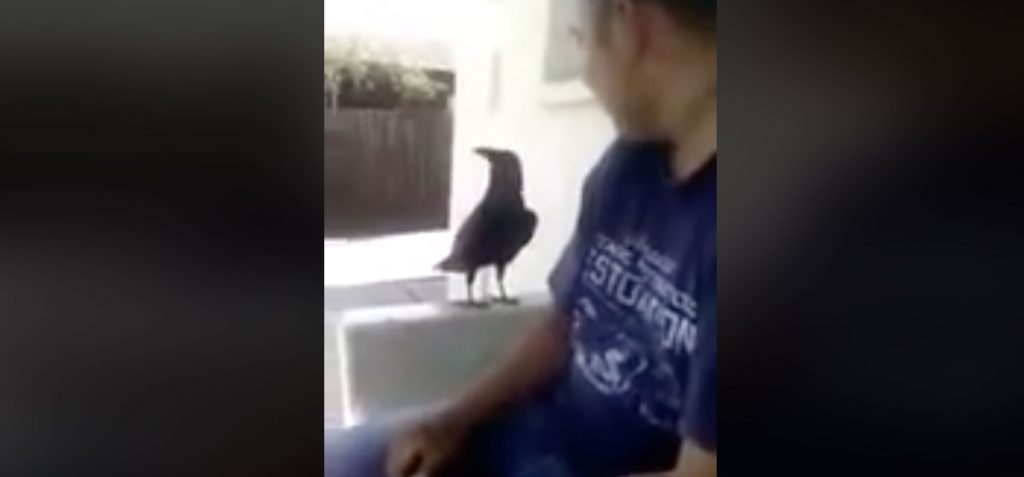 The wild bird appears to be either a raven or a crow but it's hard to be certain for sure which one it is because the video quality isn't the best and both species look very similar in appearance. Either way, these two types of birds are incredibly smart so what happens here is totally understandable.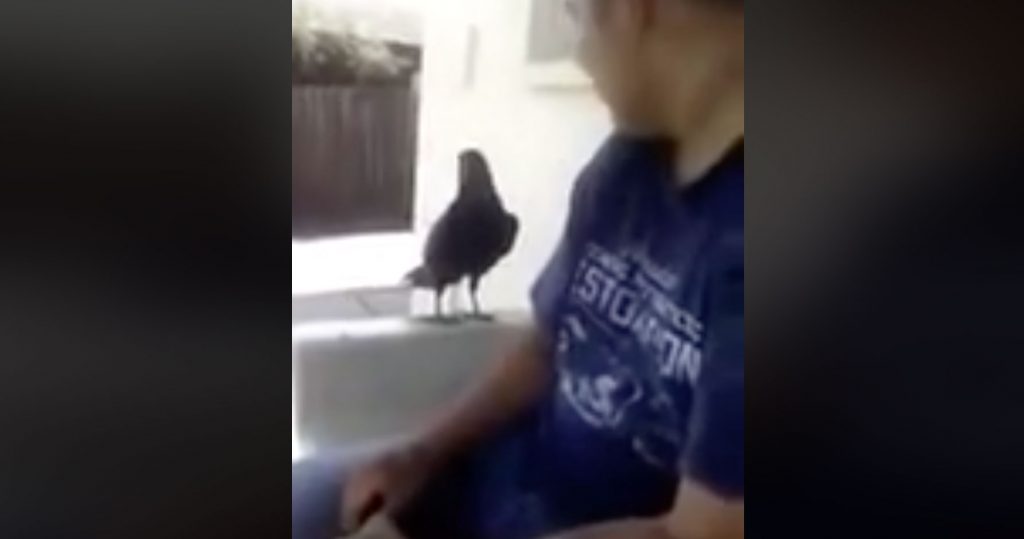 The bird landed right at the feet of a man who was relaxing and sitting outside on a bench while chatting with a woman. The little feathered fella then hopped up next to him and perched on the armrest, so that the two were practically at eye level with one another. The woman can be heard in the background encouraging the man to try and pet the friendly bird, but he takes one look at its long, pointy beak and says no way! At this point it's quite amazing that the bird is chilling on the bench alongside the man, let alone that it landed so close to him in the first place. But what happens next is the funniest, most unexpected thing ever. The bird opens its mouth and says clearly 'bleep you' to the man!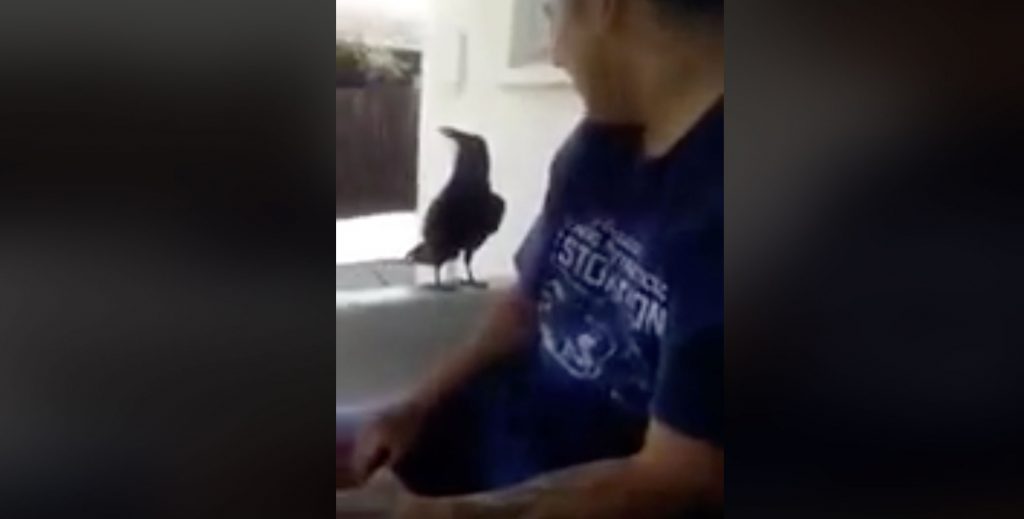 Upon hearing that the guy bursts out laughing and repeats the curse aloud, it's as if he can't believe what he just heard this innocent looking little bird say to him. He's not alone, that was the last thing anyone would expect to happen! Plus, where in the world did a wild bird pick up such foul language?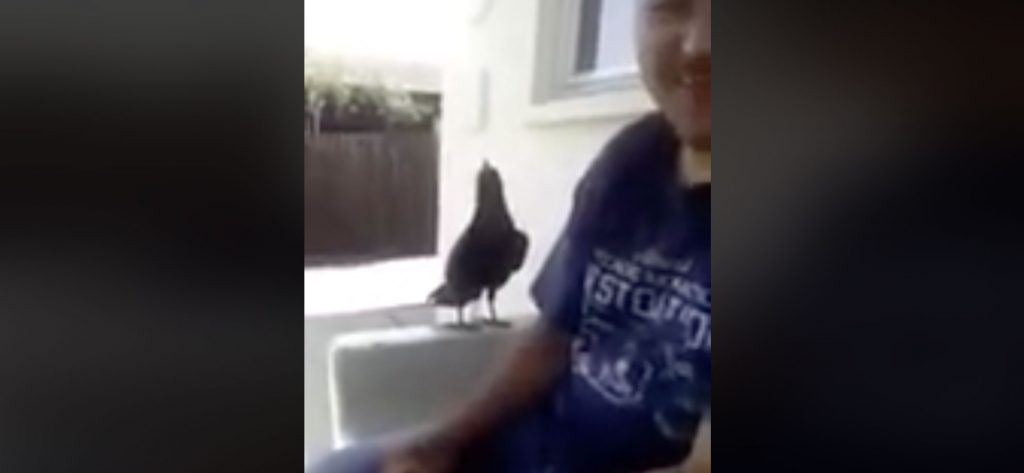 This video just goes to show how intelligent certain bird species are and both ravens and crows are at the top of the avian IQ scale. They have passed numerous logic tests including ones that test their ability to count and work in steps in order to solve problems. In addition, they have been observed using tools and love to play around, both of which are behaviors associated with intelligent animals. Perhaps picking up foreign languages, or cursing, is yet another one of their unique talents! Note: If Trouble Playing Video Turn Mobile Device or iPad Horizontal.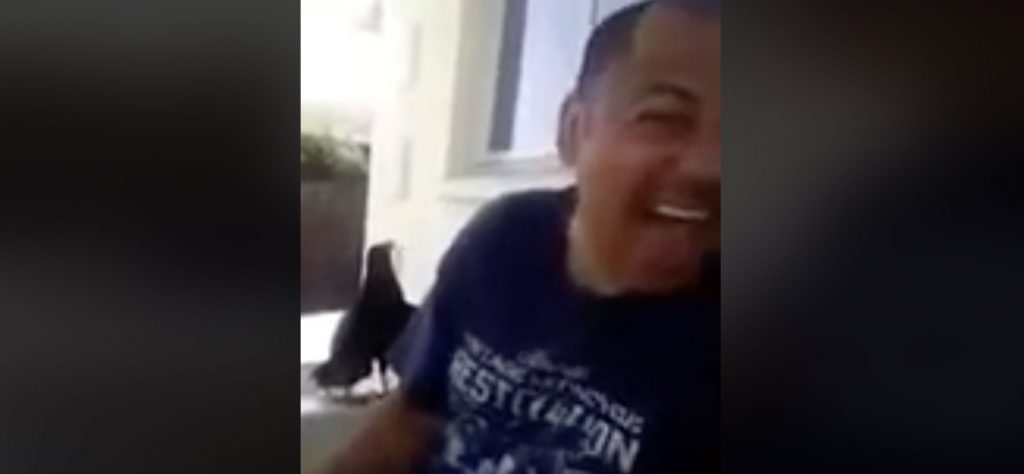 Please Share This With Family and Friends Who Need a Smile Today 🙂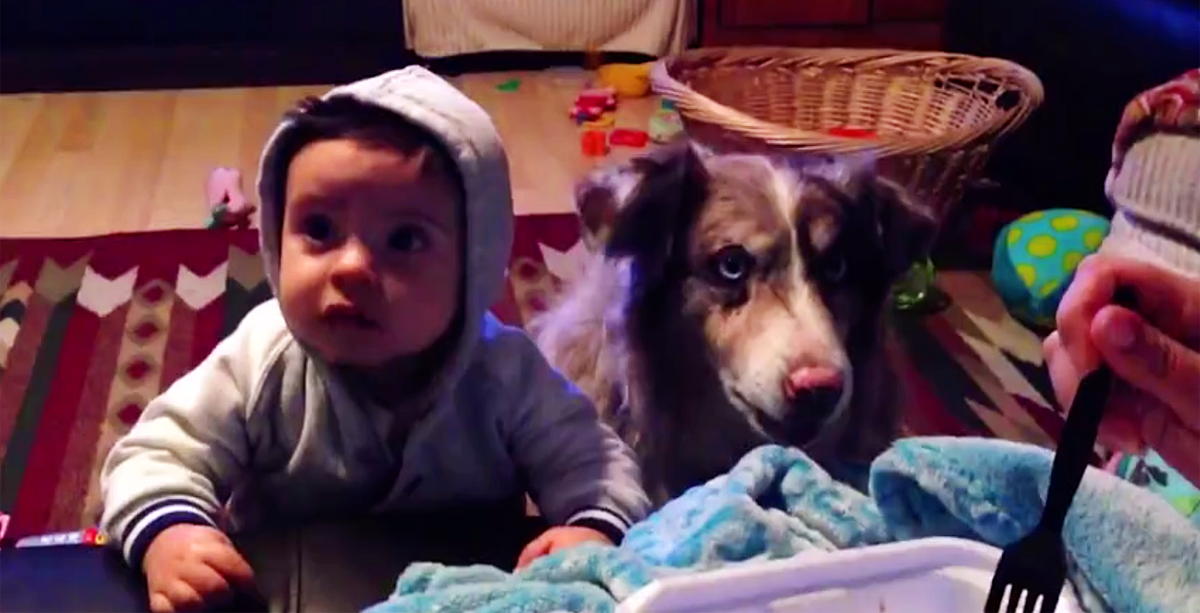 image via – rumble.com
Parents of newborns always look forward to the day when they finally hear their little baby say 'mama' or 'dada' for the very first time. Those simple words are just so special to hear and mark a momentous occasion in a babies life and development.
Even though you can never know when a child will say their first words, that fact has never stopped a parent from trying to get their baby to say something. That's exactly what was going on here in this sweet short clip. Andrea Diaz-Giovanini was gently trying to teach her toddler son Sam how to say "mama" while offering him a tasty little bribe. As she holds up a forkful of food she repeats the magic words to her baby boy, who is standing right in front of her alongside Patches, the family dog.
While Sam seems somewhat oblivious to the yummy food being waved around in the air, Patches has honed in on it with laser focus. The Australian Shepherd's attention is completely focused firmly on the fork as he whimpers and whines for a bite. In terms of encouraging her son to say anything, it's not going so well for Andrea, but Patches is a whole other story. The clever dog is giving it his best shot and doesn't give up so easily. After what sounds like several attempts to say the word "mama" he eventually works out the sound and ends up actually speaking the word successfully. This is something you really have to watch and see him do, it's awesome and hilarious how much he sounds like a person!
In the end, the dog managed to do what the youngster couldn't and so he definitely earned a bite to eat as a reward for his hard work. While Sam's parents set out to capture and preserve his first words on videotape for posterity, they ended up capturing a moment that was just as cute and special instead; their dog's first human words!
Oh and one last thing. Many viewers commented on the video and noted how Patches never got a bite to eat. They expressed so much concern over this that the Diaz-Giovanini's posted a second follow up clip to the one seen here. That video was longer and showed that the dog did really get a tasty treat so check Patches talents out and enjoy!
Please SHARE This With Family and Friends 🙂