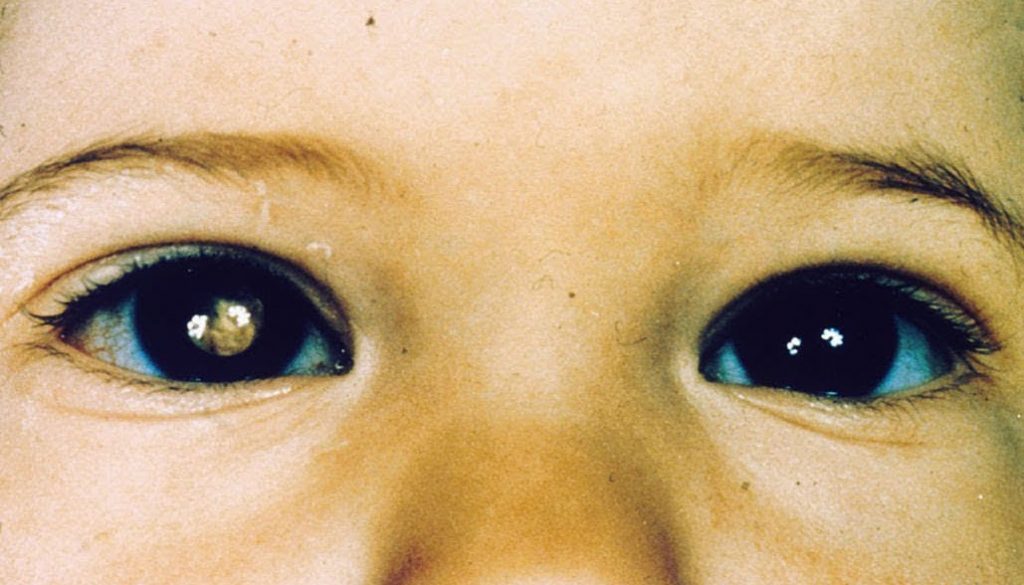 image via – youtube.com
As soon as you log on to social media, there is a good chance you are going to be bombarded with 100's of pictures of your friends babies, toddlers, grandkids exc.. Parents from all around the world love taking beautiful family photos and sharing their happy lives with everyone online. For the most part, this is a great way for friends and family from far and wide to get updates on their loved ones but sometimes it can lead to more serious consequences.
In today's featured story we will discuss a story about a mom named Madeline Robb who is from Stratford, England. Madeline has a job as a business analyst for a company back in 2007. In that same year she and her spouse Doug found out the amazing news that they would be having their first child. The couple was ecstatic and couldn't wait to start their family. Madeline being an analyst by trade also loves to carry this over into other parts of her life by researching and 'analyzing' things she is interested in.
As soon as she found out the great news about being pregnant she joined an online pregnancy group chat app called befit where expecting moms can talk and discuss everything they are experiencing and going through while receiving support simultaneously. She quickly hit it off with another mom on the chat app named Megan as they bonded and built up an amazing bond and wonderful friendship. As it turns out the two expecting moms and best friends ending up giving birth on the same exact day!
Megan gave birth to her daughter Rowan and Madeline gave birth to her daughter Lilith. After they both gave birth to two healthy babies they continued their friendship and exchanged messages, photos and videos of their new families almost daily for the next year. Everything was going incredibly well for both moms and their families until one day everything changed…..
On this fateful day Megan posted an adorable picture of her daughter Rowan. On the surface it just seemed like a really cute photo but Madeline saw the photo and instantly became a bit concerned about a strange whitish blurry reflection in Rowan's eye. Madeline vaguely recalled reading a story about a similar whitish blurry shadow in a child's eye which turned out to be a rare form of cancer. As she tried to remember exactly what the story was she googled it and then her memory became crystal clear.
Before Madeline decided to alert Megan of her findings she wanted to be 100% sure about the hunch she had before sending Megan into a total mommy melt down. She went through tons of stories and articles just to clarify what she thought could possibly be going on and finally she decided to tell Megan that Rowan should immediately go see an eye doctor because there was a good chance the young child may have a rare form of eye cancer called Retinal Blastoma….
Watch the video below for the full story and to find out what happened to baby Rowan:
Please SHARE This With Family and Friends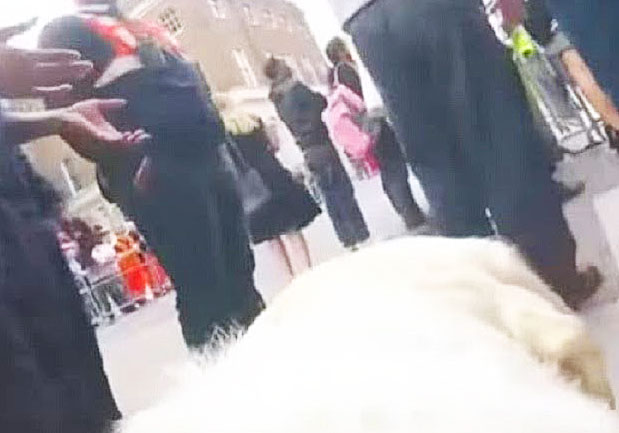 image via – youtube.com
Many of us who have no eye problems take our vision for granted. While the blind will never get to see all the beautiful wonders of our incredible planet earth. The blind will never get to see all the amazing shades of the color spectrum, the beauty of nature, the tender face of a loved one, the beautiful wonders and architecture of the world, the silvery light of the moon and the twinkling of the stars.
Can you for a second imagine what your life would be like in complete darkness? Can you picture yourself navigating to work without the help of your vision? Life is already difficult when all your senses are in working order. I can't even begin to fathom what a blind person experiences everyday of their life.
There are people who are born blind and learn from day one how to function and live in a world of darkness. Then there are others who had their sight and went blind either in childhood or adulthood leaving them in a dark void where they must figure out and re-learn how to function in a world that was once so vivid, colorful, full of life and vibrance.
This brings us to today's story where we are featuring a blind man named Amit Patel who at the age of 32 went blind after being able to see for his entire life. He got a disease called Keratoconus which cause changes in the shape of the cornea in your eye and if it's a bad enough case can leave you completely blind. This is what happened to Amit, luckily for him he had an angel of a wife named Seema who was there with him every step of the way giving him much needed care, love and support.
After Amit tragically went blind he got a special seeing-eye-dog named Kika who would be his main source of vision as he navigated around his new dark environment. Before Kika arrived, Amit was so scared to go out on his own and be an independent person. He was completely dependent on his beautiful wife Seema anytime he needed to go from one place to another.
At first his Amit and his new pup Kika were a bit awkward together stumbling around as they would slowly get used to each other. Then after a few weeks of practice and bonding they blossomed into best friends that could work together as one cohesive unit. Amit was ecstatic because now he was no longer timid and trapped alone in a dark corner. He could go out as he pleased just like any other human on earth.
This happiness began to fade a bit because he had noticed something strange and unexpected happening every time he was out with his seeing-eye-dog. He thought people would be kind, helpful and at the very least not mean.
However, he quickly realized the reality of being blind, as people would openly mock him as he walked by. He couldn't believe it and neither could his wife so they decided to place a Go-Pro Camera on Kika so that others could visualize what a day in the life of a blind person was truly like.
The next day Amit and Kika went out into the world like any other day to do a little shopping and run a few errands. They were out for a few hours and when they returned Seema took the Camera off Kika and began watching the footage that had been captured. Seema was absolutely horrified and disgusted with what she saw on the video…..
Watch the video below for the full story:
Please SHARE This With Family and Friends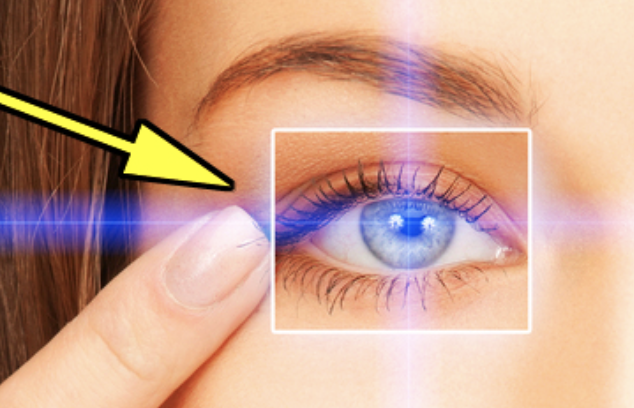 image via – shutterstock.com
A twitchy eye can be extremely annoying and uncomfortable. You've likely experienced it many times before and it always seems to come out of nowhere. One minute everything is fine and normal and seconds later it feels like your eye is about to jump out of the socket.
The nerve or muscle or whatever the heck it may be is spasming and shaking all around, making you squint and worry about what is actually going on in there. If you have ever wondered what is causing your eye to twitch and whether or not you should be worried about it, here is the answer.
There are several different types of eye twitching and each one is considered a separate condition from the rest. They are all caused by different things and the most common type, that you have likely experienced, is called eyelid twitching or myokymia.
The Mayo Clinic describes it as "affect[ing] only the eyelid. It can involve either the upper or lower lid, but only one eye at a time. The eye twitching can range from barely noticeable to bothersome. The twitching usually goes away within a short time but may recur over a few hours, days or longer."
The twitching is caused by tiny muscles and nerves located around your eye. Just like any other muscle that suddenly spasms out of control, the ones in your eye can as well. There is nothing serious about this type of twitch and it's relatively normal.
A less common type of twitch you should be worried about is called a blepharospasm, which is when a twitching in both of your eyelids gradually increases and worsens. It gets to a point where the intensity and strain of the twitching becomes too much and may even lead to near or complete blindness. However, this is a very rare occurrence and if it ever happens to you, see a doctor immediately.
While doctors and scientists have yet to agree on what exactly causes our eyelids to twitch, they have narrowed down some of the main factors that contribute to it. In the accompanying video Dr. Matthew Palmer, O.D., from the Southwestern Eye Center explains the basics about eye twitching and reassures us all that it isn't a major health issue or concern.
In fact, it's the opposite and normal, many people experience it throughout their lifetime. Here are a few basic things you can to to cut down on the frequency and severity of when it happens to you:
1) Relax and De-stress- The less stressed you feel, the less likely you are to end up experiencing an eye twitch. Stress is believed to be one of the main causes of myokymia and it's also an aggravating factor which will make your twitch stronger and thus worse.
2) Get a Full Night's Sleep- A lack of good, quality sleep can wreak havoc on your body, especially your eyes. Having to focus and re-focus a countless amount of times each day is hard on your eye muscles and they get fatigued just like any other muscle in your body. Not getting enough sleep also adds further stress to our lives and bodies, so rest your eyes and try to get as much sleep as possible.
3) Caffeine- If you really have eye twitch problems, cut the caffeine out of your diet because it can trigger them. Caffeine also causes our bodies to release serotonin and noradrenaline, two chemicals that stimulate and excite our nerves, which an lead to more frequent and severe eye spasms.
These three factors all contribute to eyelid twitching, but there may be other potential causes. If you have an eye twitch issue that is extremely annoying, frequent, and bothersome, there are medications that can help with it. Botox has also been shown to be effective at managing and controlling the muscles around the eye and can help with twitching.
However, most of the time the spasms will go away on their own and are not so severe that they greatly impact our quality of life. Finally, there are no neurological problems associated with a twitchy eyelid, so don't worry about experiencing them or freak out when they happen.
It's a normal occurrence and should pass in a few seconds or minutes.
Please Share This With Your Family and Friends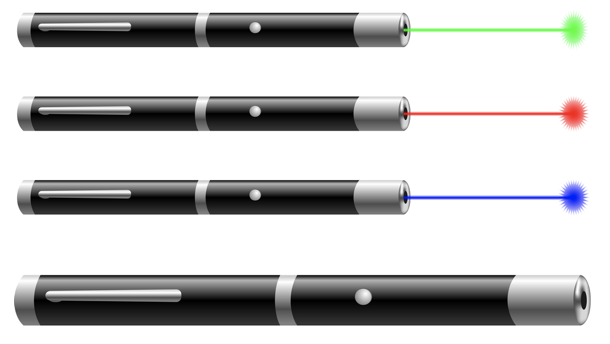 image via – shutterstock.com
Many people have laser pointers in their homes, and don't think twice about leaving them around, where kids of any age could play around with them.  Although lasers are frequently used in toys, they have been regulated so that they do not have the same radiation as laser pointers.
However, you will hear in the video you are about to watch below, that even those lasers have inherent dangers when toys are broken. A warning to all parents, has recently been issued from optometrists in Australia, saying: laser pointers ARE NOT toys.
This warning came about after a 14-year-old boy was seen after he pointed a laser pen into his eyes for only a short period of time. His vision was permanently damaged, losing 75% of his 20/20 vision forever!
The laser had burned his retina near the back of the eye, but as is common, no pain was experienced.  The reason medical help was sought, was because macular damage was immediate, which caused severe visual impairment.
Damage to the macula from laser burning, glasses nor surgery can ever restore this boy's central vision, which allows for visual acuity needed for reading, driving etc.  Laser pointers should never get in the hands of children, as is discussed in the following footage.
Broken toys which have FDA approved laser strength, can become just as dangerous when broken.
Please Share This With Your Family and Friends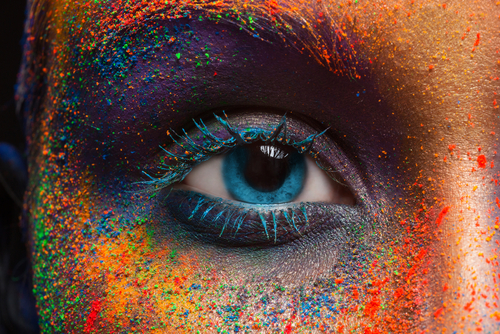 The internet has become divided yet again over what shade of color people are seeing. This time it's not the infamous dress of yesteryear that appeared to be either black and blue or gold and white. Now it's simply one color that is splitting people up in two distinct camps and it's those that see blue versus those that see green. Check out the color below and decide for yourself which one you see!
Optical Express, a company based in the United Kingdom, conducted a public survey on color perception in which they asked people to identify the color as belonging to either the blue or green color family. At first glance, 64% answered green and 32% answered blue.
The same participants were then asked to identify the same color once again, but this time it was in-between two colors that were clearly blue. The second time around a whopping 90% responded that the color was green! According to the Optical Express website, the color is in fact more green than blue, and this becomes much more clear when it's placed next to shades that are definitely blue.
However, the real lesson to take from all of this is that how we see and visually interpret the world can drastically differ from one person to the next. It's not only that particular shade of color we see differently, that's a very basic example, it can be anything else we're visually perceiving that may be different..
Amazing how one little swatch of color can spark such interest and illustrate how unique we all are. Share this with your friends and family and see what color they think it is!
What color do you see? let us know in the comments
Please SHARE This With Family and Friends To Find Out What Color They See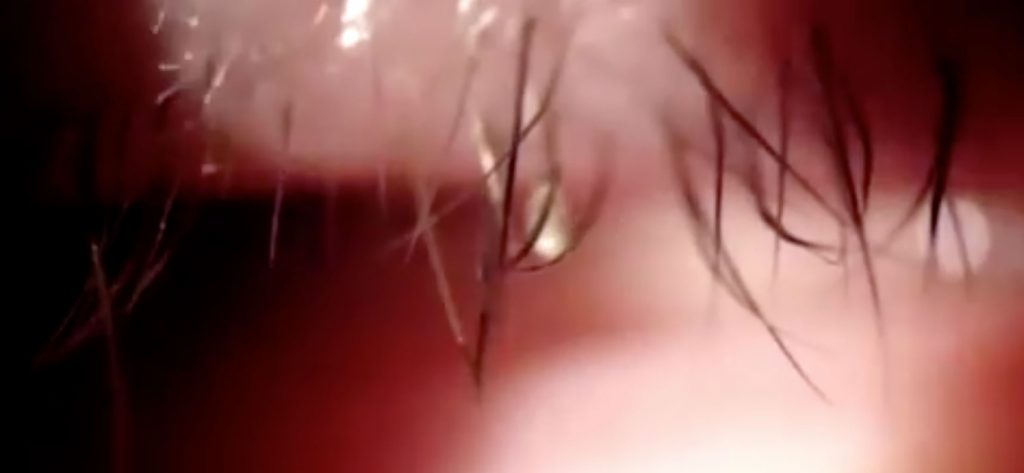 A woman had been plagued by an uncomfortable and itchy sensation in her eye for several days so she finally decided to visit an eye doctor. He found something quite unusual and very uncommon; eye lice in her lashes. The woman, Ms. Zhang, hails from Northeast China and had suffered from a stroke two days prior to seeking medical help for her eye problem.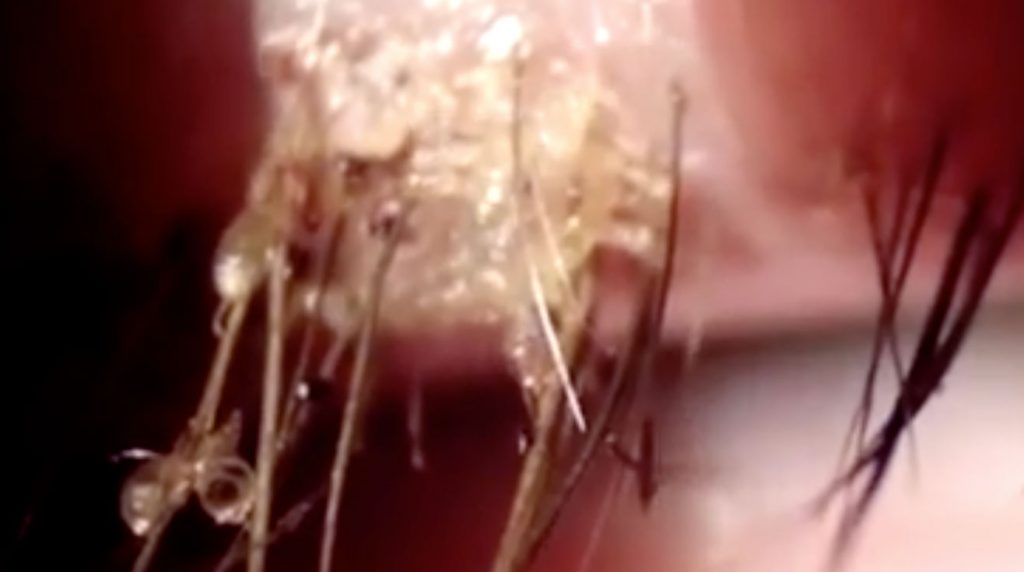 She'd had an annoying, itchy problem with her eyes for some time and ignored it until it became unbearable. At her request, her son inspected her eye and he immediately noticed a few extremely tiny, crab-like bugs crawling around on her lashes. Her eye doctor confirmed and diagnosed her eye lice problem and promptly removed them with a pair of fine forceps. When it was all done, he had pulled over twenty of the tiny parasites off her eyelid.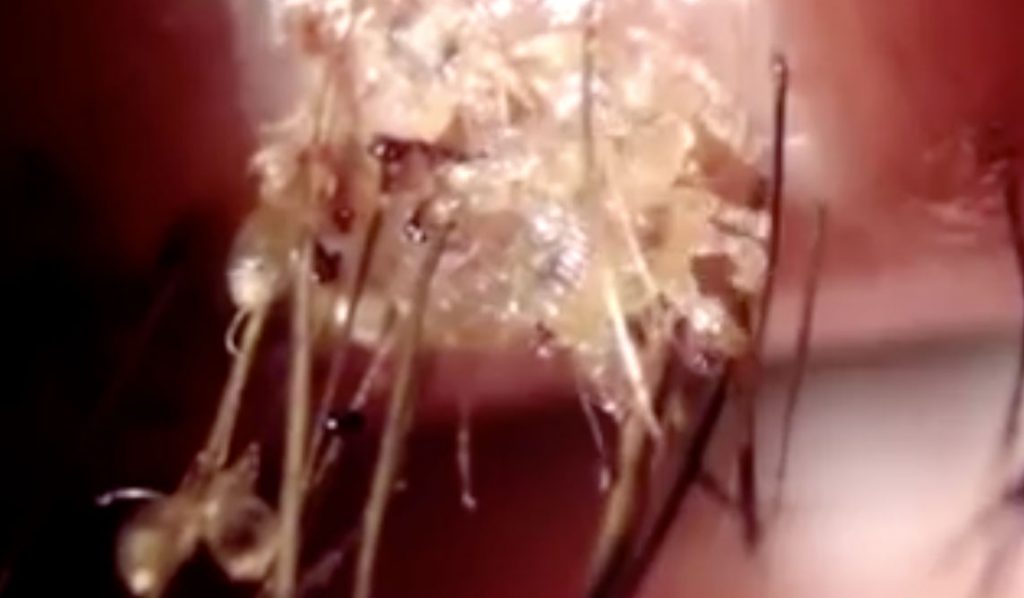 While most people know about head lice, the tiny insects that live on the scalp, few people are aware of eye lice. Eye lice are almost microscopic, white parasites that live in the eyebrows and eyelashes of people where they feed off of blood and skin.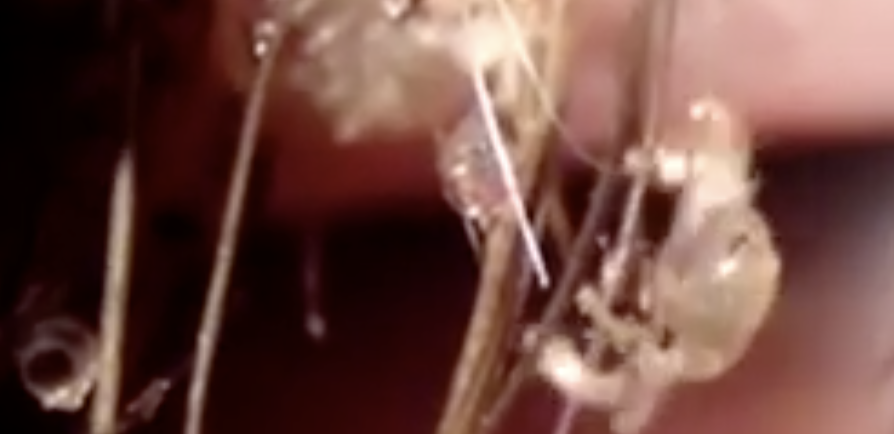 Adults will attach themselves to the skin around a lash, lay eggs which are called nits, and 6-10 days later they hatch. After 15 days the nits are full grown and they start to lay more eggs, thus causing an infestation. Symptoms of eye lice include sudden and extreme itchiness on your eyelids, tearing, feeling tired or ill, small red spots from lice bites, eye redness, and conjunctivitis.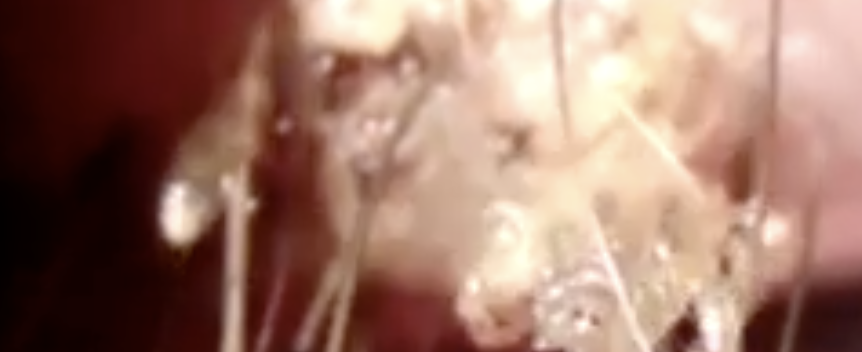 To treat the problem, a doctor has to remove them individually and often will prescribe an antibiotic which suffocates the lice. Harsh, commercial chemicals are not used since they can easily hurt or damage sensitive eyes. This type of lice is very uncommon and most often stems from contact with either pets or eyelash extensions. Hopefully, this is the only case of it you will ever see in your lifetime, it looks really gross and painful.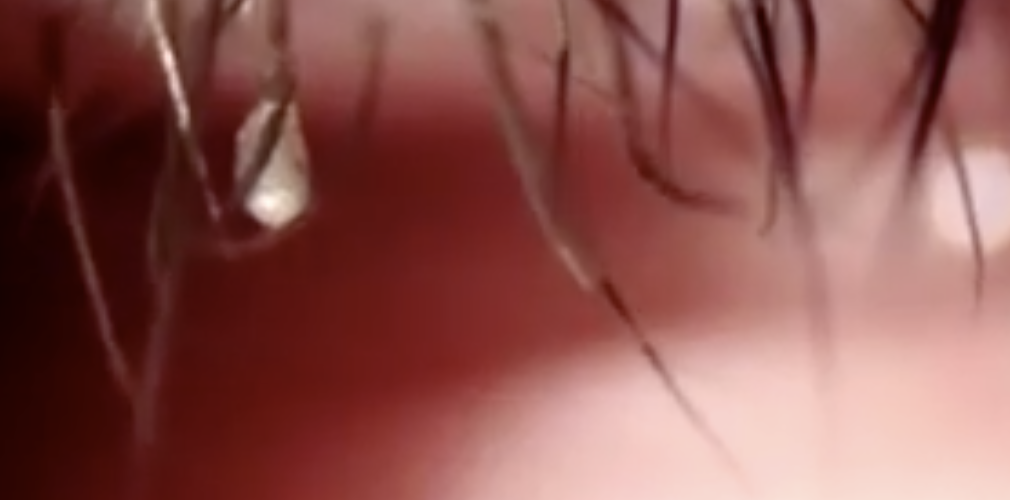 Please Share With Friends On Facebook