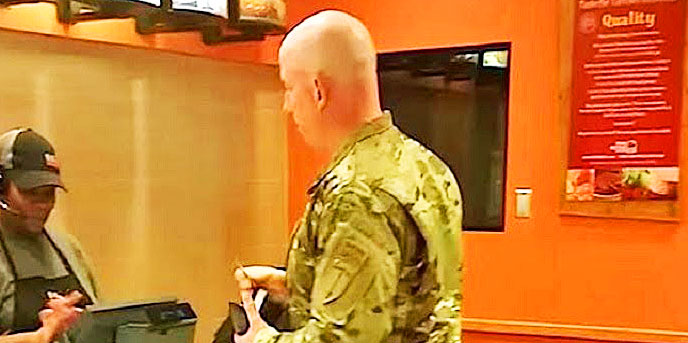 image via – youtube.com
Soldiers sacrifice a lot to keep our country safe.  They train tirelessly and are sent on deployments all over the world in some of the toughest, most dangerous places on Earth.  That's why they're taught to be disciplined, self-sufficient, and strong. Sometimes they even go beyond the call of duty when looking out for others and Lt. Col. Robert Risdon Jr., a U.S. Army Ranger, happens to be one of those men.  
The father of two is stationed in Georgia where he's the head coach of the Columbus Lions, the Fort Benning football team.  He had been travelling through Alabama after watching a practice for an upcoming Senior Bowl game on a cold, rainy day with his co-coach Jason Gibson when the pair decided to stop off for a quick bite to eat at a local Taco Bell.  After ordering their food they sat down at a booth to eat when two young boys came into the restaurant.   
The boys looked tired, cold, and were soaking wet after being out in the storm.  They had come to Taco Bell to try and sell homemade desserts to raise money for their church and had figured the dinnertime rush was the ideal time to so.  They went up to Lt. Risdon's table and asked him if he'd like to buy any of the treats that they had for sale but since he only had a credit card and no cash on him, he politely declined.  
However, seeing that the boys were clearly cold and hungry, he asked them if they'd eaten dinner yet.  The nine and twelve year old kids told him they had not and so he told them he'd buy them some tacos and sodas.  Upon hearing this awesome news the boy's smiled and immediately perked up. They all went to stand in line and after they got their food they sat down together to eat and have a nice little chat.  
Lt. Risdon didn't know that while he was in line with the boys, his co-coach Jason Gibson had been recording the good deed.  He thought it was wonderful that his friend was looking out for the kids and being so thoughtful. When they got back to the base, he posted a clip online and soon people everywhere were sharing it and loving the simple act of kindness.  
As for Lt. Risdon, he was taken aback by the reaction and told the Huffington Post "I'm kinda embarrassed and humbled by the praise and don't need it.  I am a believer that we live in the best country in the world with the best people and that acts of kindness happen every day." As a father of two, his heart naturally went out to the young boys and he simply wanted to help them out .  Since he couldn't buy their homemade desserts, he bought them dinner instead.
Watch the video below to get the entire story:
Please SHARE This Story With Family and Friends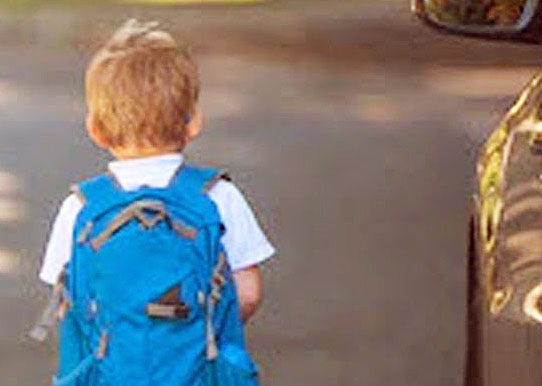 image via – youtube.com
School teachers deserve way more credit than they get. They pour their hearts and souls into educating kids often on a less than ideal salary. However, some teachers go far beyond just teaching their students in school. The best teachers are emotionally invested in their students and express concern for them outside of the school setting. This story is about one such teacher.
Keller Sutherland was an elementary school teacher in South Carolina. One night, she was driving home and noticed something odd. A young boy ahead of her car was biking in the middle of the highway. The boy appeared panicked as he weaved in and out of cars. As Sutherland passed him, she realized that he was a former student of hers named Cameron. Out of concern, she stopped her car to check that he was okay.
When she asked him what he was doing biking on the highway, he initially gave a vague answer that he was going to his grandma's house. Something about this didn't seem right to Keller. She decided to question him further. Keller asked him if his father knew that he had left the house. That was when the truth came out.
Cameron told Keller that he had come home to find his dad sprawled out unconscious on the kitchen floor. He knew that his dad had diabetes and had passed out due to his need for insulin. He attempted to call the police on his father's phone but was unable to because it was locked. Cameron looked for neighbors but no one was home. The only other place he could think of to go was his grandmother's house. The only problem was that it was 5 miles away and he would need to take the freeway to get there. Nevertheless, Cameron bravely mounted his bike and began the long journey.
Keller immediately called the police. Luckily, they were able to send paramedics to take care of Cameron's father. Keller had saved Cameron's father and possibly Cameron as well. Who knows what would have happened if Cameron had continued to bike along the busy freeway. Keller was a hero that day and set the example for all teachers that the job extends far beyond the classroom.
Watch the video below for the full story:
Please SHARE This With Family and Friends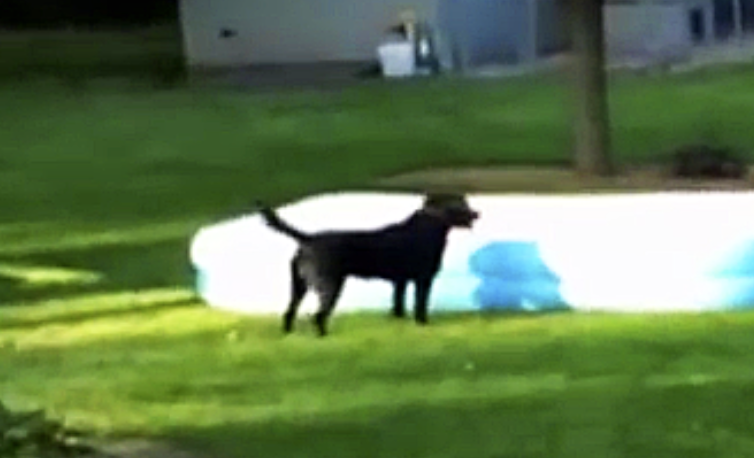 image via – youtube.com
The mom and kids in the video you are about to watch below, are always going to remember this hilarious moment that happened in their back yard.  As the warm weather arrives so does the fun and the sun for families all around the world. Thankfully, mom had her camera handy to catch the fun, so we all get to have a good laugh too.
They had a big blow up pool and their black lab to play with.  No water had been put in the pool yet, so the kids decided to hide under it.  The dog dashed over to try to find them and the giggles ensued as the dog knew exactly where to find them.
What happened next was straight out of a sitcom; you couldn't ever choreograph such a hysterical scene.  They all watched as the dog took off with the pool…except you couldn't see the dog.  All you can see is a giant blow up baby pool running around the back yard.  Enjoy this good belly laugh!
Watch the video below it is guaranteed to make your day!
Please SHARE This With Your Family and Friends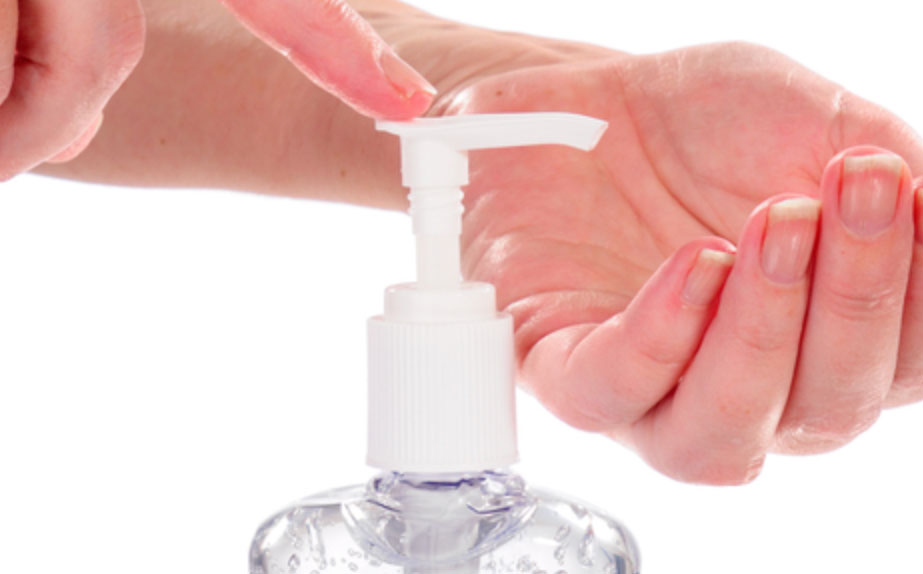 image vai – youtube.com
How is this possible? What is wrong with education systems that children are so bored, they are stooping to levels low enough to ingest hand sanitizer as an attempt to have fun? If younger generations were challenged properly, it seems possible that they could be satisfied enough with their lives that they would not need to find health damaging ways to alter their state of mind for entertainment.
This does not mean overloading them with work that they are disinterested in, but instead finding ways to captivate their mind, body, and especially emotions, in order to guide them in their development. On the other hand, what's new? Kids have been pushing boundaries since time immemorial, and that includes experimenting with whatever drug they can get their hands on.
Over the years, youths have been increasingly creative in their methods of intoxication, as the world of chemicals which they are surrounded by provides ample opportunity for trial and error. Aerosol cans, glues, over-the-counter syrups, common household herbs, prescription medications, canned whipped cream, bath salts, and more, are all readily available for abuse.
The problem is not only the health effects of these antics, but also lack of attention and support of the evolving adolescents. Parents and teachers are either too busy or too apathetic to provide the care needed for a growing child to feel fulfilled, which results in rebellion and poor choices.
This is an issue that is not new, nor is there an end in sight, as society's financial focus fosters boredom, resentment, and outcry of offspring worldwide. If troubled children's creativity would be encouraged and appreciated, they would more beautifully blossom in a way that doesn't not involve inebriation.
Please SHARE This With Family and Friends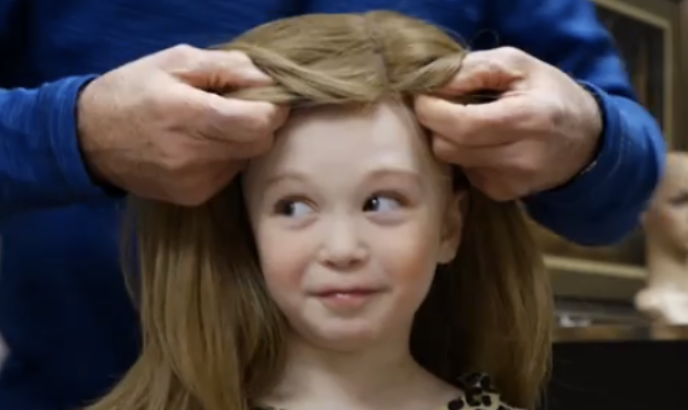 image via – youtube.com
Wigs For Kids is a non-profit organization that has been providing free hair replacement options and support to children for over 30 years. They mainly treat kids who have suffered hair loss due to chemo and radiation therapy, burns, Alopecia, Trichotillomania, and other medical issues that often cause hair loss.
The change in a child's self-esteem and confidence can often be seen immediately after they receive their new hair. By providing high quality and custom made hair pieces, Wigs For Kids helps to restore a child's appearance and the way people respond to them, and alternatively the way they view themselves.
To get an inside look at what goes into making these wigs BuzzFeed followed the hair donation process from start to finish. The first step was going to a salon with Hannah, a young woman who wanted to donate her hair and agreed to have the big cut filmed. The hair was then packaged and sent to the donation center where it was sorted.
Any hair that does not meet strict quality specifications gets separated and the remaining usable hair is sent on the the wig manufacturer. They sew ponytails together, brush the hair and wash it in a chemical bath. Next, a custom made cap is created based on the shape of the future wig owner's head.
Then the hair colors are blended and hand tied onto the wig one strand at a time to ensure it looks as natural as possible. It can take anywhere from 20-30 ponytails to make one wig. The process is very focused on quality and no shortcuts are taken that would jeopardize the goal of realistic, beautiful hair.
The end of the video shows Bridget receiving her brand new custom made wig, made from Hannah's donated hair. Bridget is a young girl who has alopecia which caused her hair to fall out. She waits excitedly in anticipation for her new look and can barely sit still. When she finally sees her new hair she cannot help but run her hands through it and once it is on her she lights up and brushes it.
Her mother explains that this is going to change her whole world and they both thank people everywhere who have donated their hair, including Hannah.
After watching this video your bound to feel good and have your faith in the world restored. For more information please go to Wigs For Kids website (http://www.wigsforkids.org/).
Please Share With Family and Friends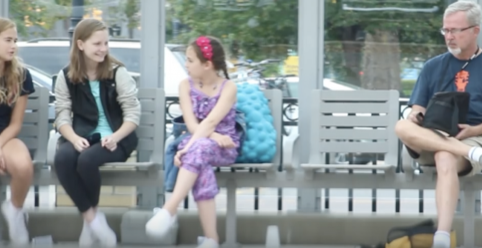 Bullying has been around for generations and generations.  In the case of children bullying other kids, you usually see this instinct stronger in children who have been abused or feel powerless in some way in their homes.  However, with the anonymity provided by the internet, kids and adults whom you would never think of being capable of bullying, express their anger in a vicious way that they would never do when face to face!
Whether bullying occurs in the schoolyard or on the internet, we who see it occurring need to stand up for the victims of this cruel behavior, that can cause a lifetime of psychological damage and even suicide!  It is estimated that nearly 70% of kids either experience bullying or witness it's occurrence on a regular basis.  This translates into millions of kids going to school in a state of fear daily!
Doing something about this isn't just a question of teaching kids to stand up for themselves..it requires adults stepping in to do what is required to teach life lessons, that will prevent further bullying.  The video you are about to watch below highlights the dangers of bullying and the importance of anyone stepping in to stop it, when they witness it occurring to a stranger on the street or when teachers and parents are informed of it happening in or outside of school.
Every child deserves to grow up without paralyzing fear of being a chronic victim of bullying!  When we ignore this destructive behavior we become part of the problem, instead of the solution.  So if you ever see someone being bullied remember this video.
Let us know what you think after watching the footage below.
Please SHARE this with your family and friends