Now that the warm, beautiful weather is finally upon us, many of the annoying bugs and insects are coming out of the woodwork in droves. Summer season is bug season and that means mosquitoes, gnats, flies, ants, wasps, and thousands of other different types of bugs are active. They can quickly ruin a fun outdoor picnic or turn a BBQ into a disaster by swarming and biting guests, getting into the food, and just making life miserable in general!
Many people turn to insect repellents, bug zappers, and fly swatters but all of these devices have a very limited effect. Lots of bugs manage to fly right by and avoid them all together. However, there is an alternative way to get rid of pesky unwanted insects that's much more simple and affordable than any of the aforementioned tactics.
The following method that's covered in this video offers you a completely safe and environmentally friendly way to create a no-fly, bug free zone in a matter of seconds. All that it requires is the following items :
1 clear plastic sandwich bag
a few shiny pennies
2.5 cups of water
1 teaspoon of table salt
2-4 squirts of lime juice
Start by mixing together the water, salt, and lime juice in a bowl. Take the plastic sandwich bag and fill it three quarters of the way with this solution before dropping in a few pennies. Seal the bag up securely and hang it near wherever you plan on spending time.
You can nail the bag to a fence, pin it up in the doorway, hang it from a tree, basically whatever you do will work fine so long as the baggy is elevated and able to catch the light. Also, the lime juice and salt are there to ensure that the pennies stay extra shiny, so if you don't have any on hand you can skip them but make sure you use the shiniest pennies you can find!
This simple bug deterrent has been used for years by people who know about it because it works really well. The strung up pennies submerged in water actively reflect light which creates prisms in the air that flicker and move all about. While people are unable to see these prisms, flies and other bugs can see them and steer clear of the light. It's believed that the reflected light scares them off by making it hard for them to focus.
They're also tricked into thinking that there's water in the air and thus avoid the area around the bag to keep from getting wet and going blind. In addition to pennies in a bag, old CDs hung from a tree also work just as well since they too reflect light.
One last thing worth mentioning is always remember to take down the plastic bags and dispose them properly when you're all done using them. You don't want to litter and the bags can be dangerous, even fatal, to animals who come across them and mistakenly ingest them thinking that they're food…
In the end, the plastic bag and pennies work to effectively create an invisible barrier that no flying insects are willing to cross. Try it the next time you have a BBQ or party outside and feel free to share this helpful tip and pass it along!
Please SHARE This With Family and Friends 🙂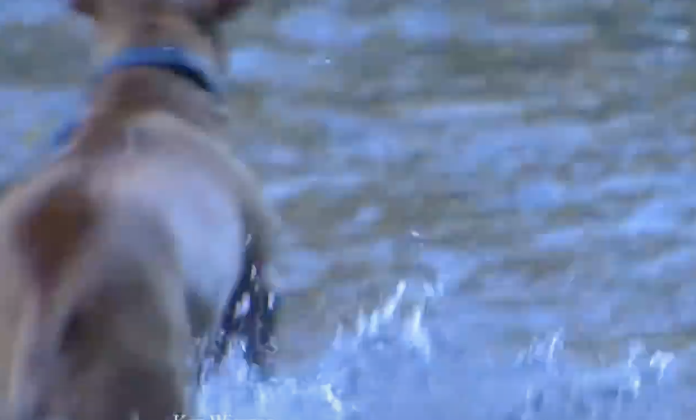 These two beautiful dogs have an unbelievable fishing tale to tell their puppies one day. The white and brown Pit bulls were down by the river on a walk when they decided to take a refreshing dip and play in the water. Much to their surprise, they noticed something strange as soon as they splashed in. They were not alone. Swimming upstream in the shallow waters were numerous scaly, slippery, huge, and kind of ugly, salmon. The gigantic fish were on their way to finish out one final act in their lives before they died, which was to spawn.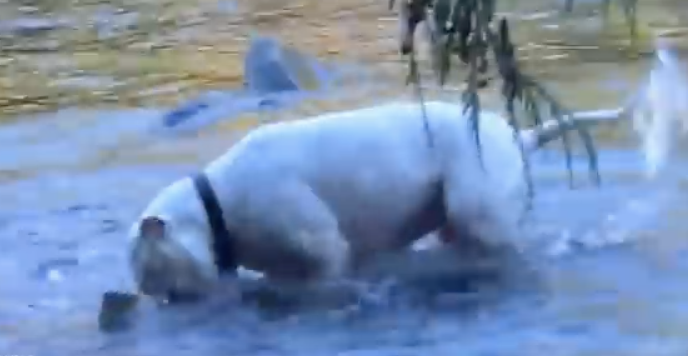 The fish were no match for the two large Pit bulls, whose massive jaws scooped them out of the shallows one by one. The dogs natural instincts kicked into high gear when they caught sight of the scaly river beasts and immediately they began fishing.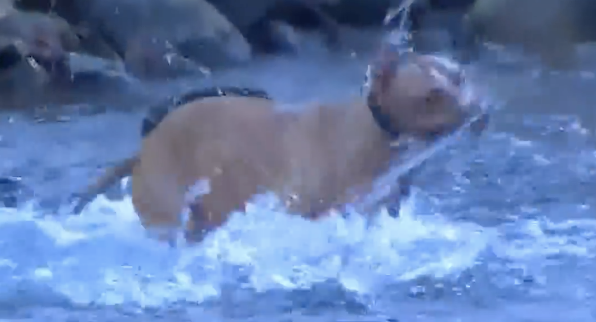 Once a salmon was snagged they would walk it over to the river bank and drop it on the ground. Even though a number of fish were caught, they all managed to slip back into the river and escape. The dogs at least have video proof of their catch and no one can deny how expertly they fished that day.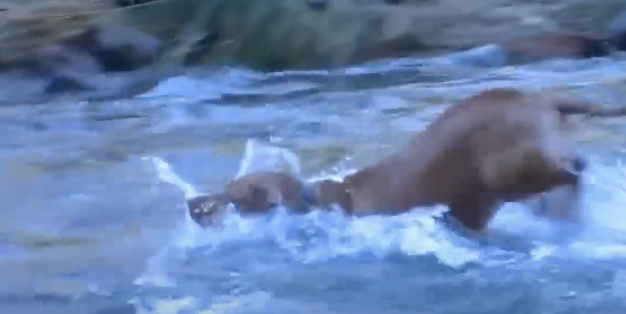 The YouTube user who uploaded this video, Ken Wiesner, wrote that he was not present when these events took place. His friend took his dogs for a walk and allowed them to catch the fish while recording it. Ken makes it clear that he does not approve of this behavior, but what is done is done, so we may as well view the unique and remarkable footage.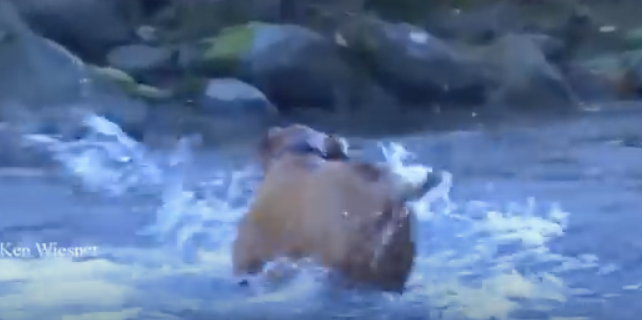 Nothing is intrinsically wrong with the behavior in this video. Many animals feed on spawning salmon every year, and what we see is nature running its course. Plus, the dogs look so happy and pleased, I am amazed at how they are able to handle a writhing, slippery salmon of that size so well!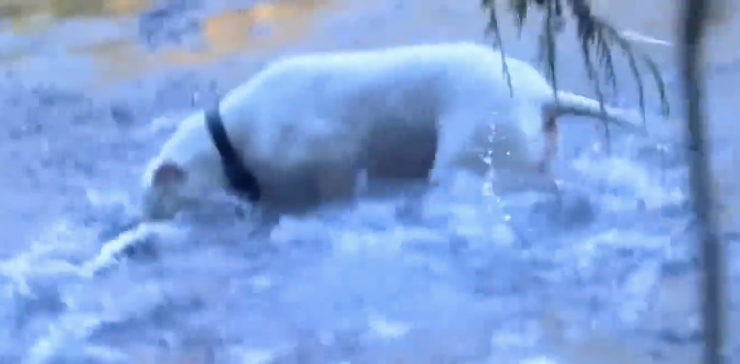 Please SHARE With Family and Friends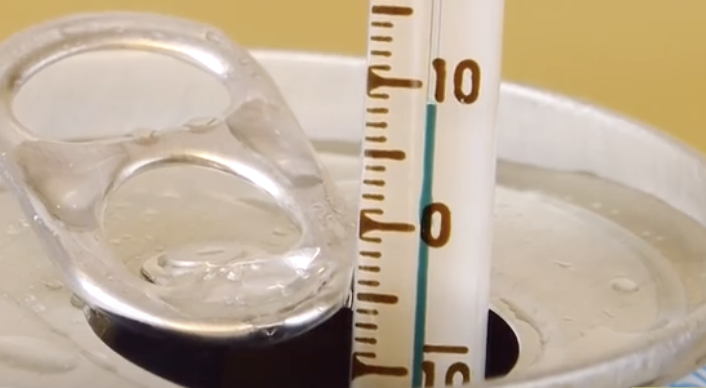 Nothing is as refreshing as an ice cold beverage on a hot summer day. And nothing is as disgusting as chugging a can of warm soda or beer that you thought was cold. Well, chugging a hot can of something would be worse, but you get the point. This summer, if you find yourself stuck with warm cans or bottles that you want to drink sooner rather than later, try this trick from DaveHax. He shows us how to quickly bring a beverage's temperature down from warm to cool by using 4 things that are in most everyone's kitchen. All you need is a bowl, ice, water and salt, plus a warm beverage.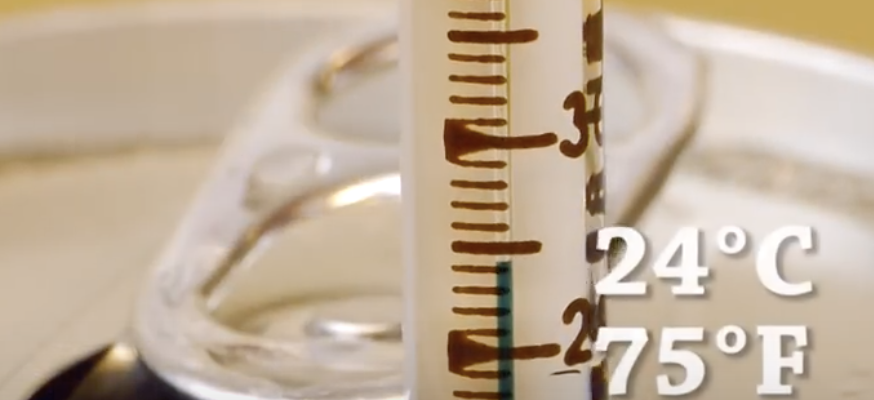 Put some water in a bowl then add about 1-2 tray fulls of ice to it. Sprinkle on a couple of tablespoons of regular old salt and mix it all up. Now place a can or two in the bowl, stir after one minute, and after 2 minutes the can will be cold. Take the can out of the bowl, open, drink, and enjoy!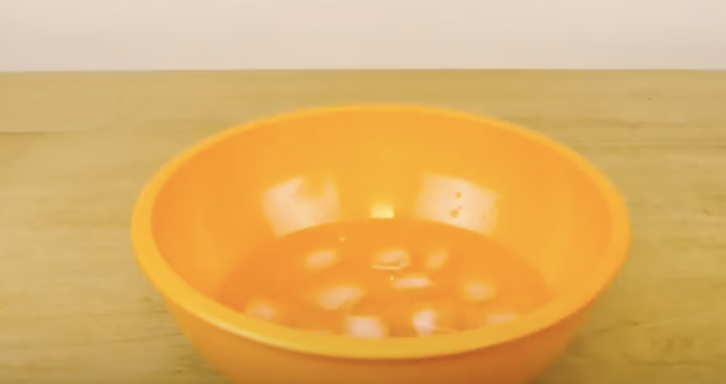 DaveHax explained the science behind this bevy hack by attributing it to the second law of thermodynamics, which states that 2 substances with different temperatures reach thermal equilibrium over time. He said that the salt causes the ice to melt faster but it needs to draw heat energy from somewhere, wherever it is possible and present, to do so. Here it was from the warm can.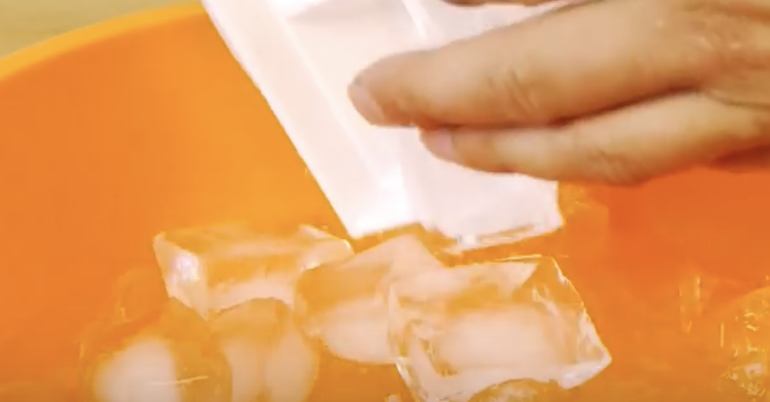 Thus, the can rapidly cooled down as the salt melted the ice even faster than it normally would have. The 2 different temperature things, the lemonade can and the ice, transferred their heat and cold to one another as they went towards thermal equilibrium, with the salt added to speed it up.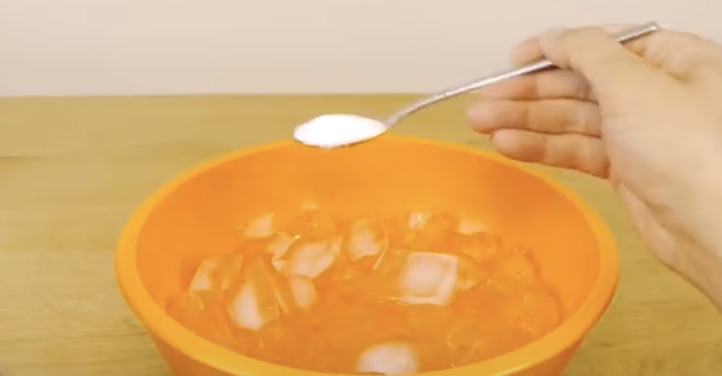 The temperature change was measured and shown to us in the video to prove the point. The lemonade started at a room temperature of 75 degrees Fahrenheit/24 degrees Celsius. After it chilled the can temperature measured 41F/5C, which means it dropped down a total of 34F/19C in just 2 minutes.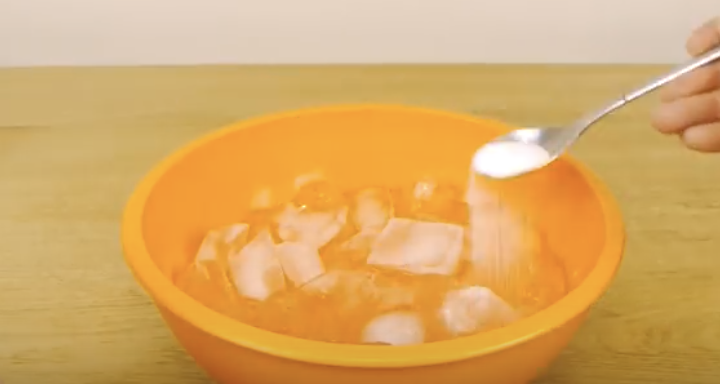 This method works great with soda, beer, juices and any other drinks that come in a can or bottle. It works wonders for all those people out there who hate waiting over half an hour or more for a drink to cool down in the fridge, or those like myself, who are just impatient. Now you can quench your thirst in minutes with a delicious ice cold beverage and skip the painful wait!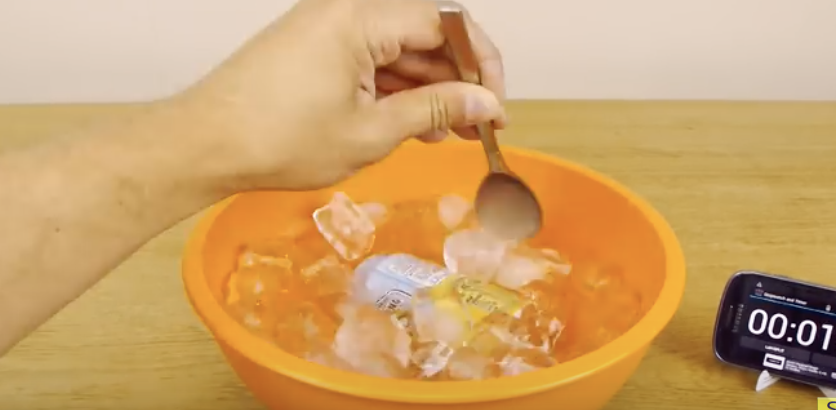 Please SHARE This Trick With Family and Friends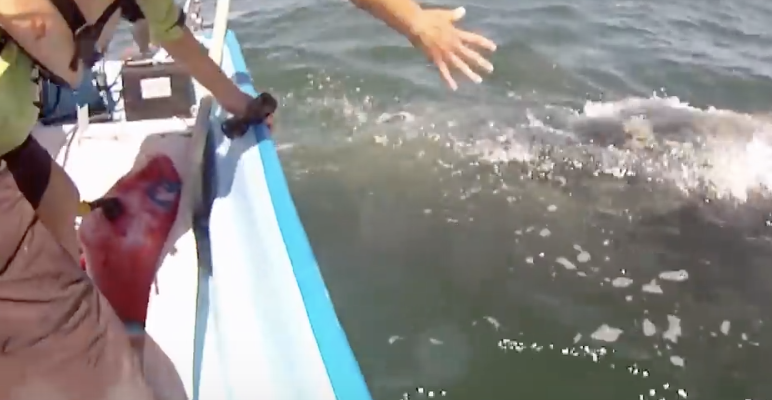 The oceans are filled with beauty and mysteries that most of us have never even begun to imagine. Every once in a while we are given a look at the miracles that bring this blue planet life. In this video you are to experience the majesty and wonder of whales.  Despite their gigantic size they command a kind of grace and peacefulness that intrigues those who watch them.  It is quite exciting when humans catch sight of them in their natural habitat.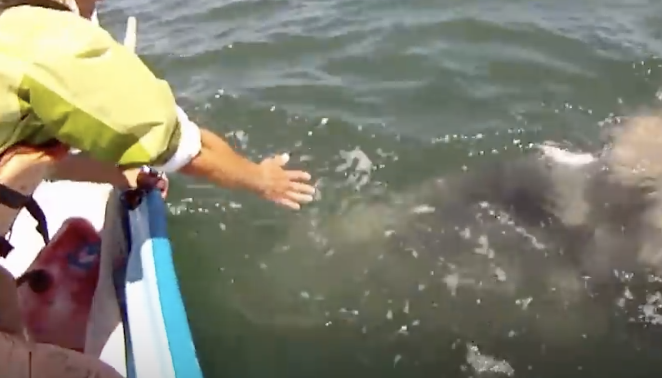 A group of whale watchers in the waters of San Ignacio, Belize were hopeful of catching a glimpse of these magnificent creatures, as they are often spotted in this area. They were elated to have this encounter with a female gray whale but had no idea they were in for a great unexpected surprise.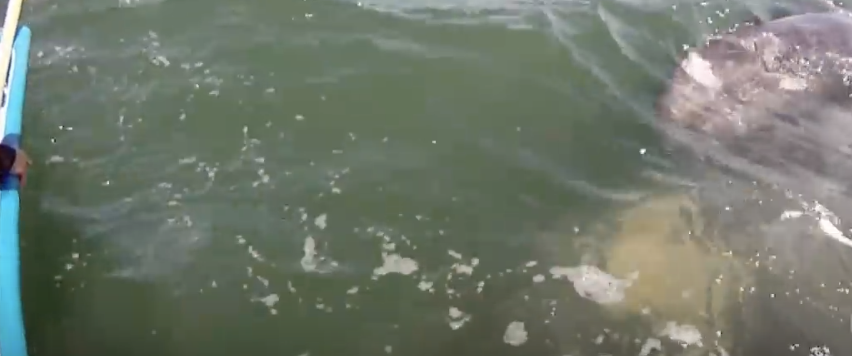 As the whale came right next to their boat she lifted her baby calf out of the water with a mother's pride.  As the watchers cooed and squealed with elation at the cuteness of this sight, they were able to pet the calf and it's proud mama.  This was quite amazing, as these great grey whales are quite protective of their cubs.  She must have sensed the friendly vibe and trusted that they were safe.  Enjoy this beautiful encounter.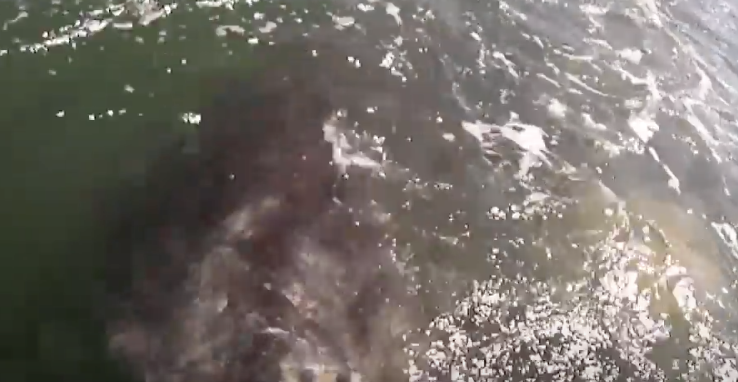 Please SHARE With Family and Friends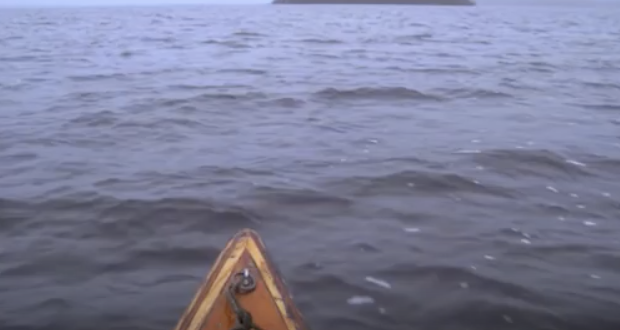 Two girls enjoying a canoe ride on the River Shannon had the luck of the Irish on their side when they happened across a beautiful display, courtesy of mother nature. They had set out on the water to do some exploring and took their cameras along to document the trip. After rowing only a few paces they looked up and saw thousands of birds filling the sky above them.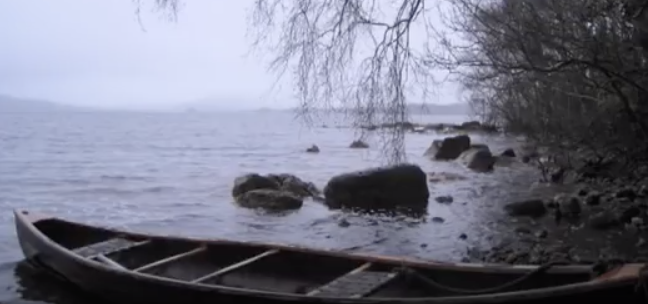 The birds were starlings and when they flock together in such large numbers it becomes an event known as a murmuration. The sight of all the birds moving in unison, swirling around, gracefully twisting, and swiftly flying back and forth is breathtaking to behold.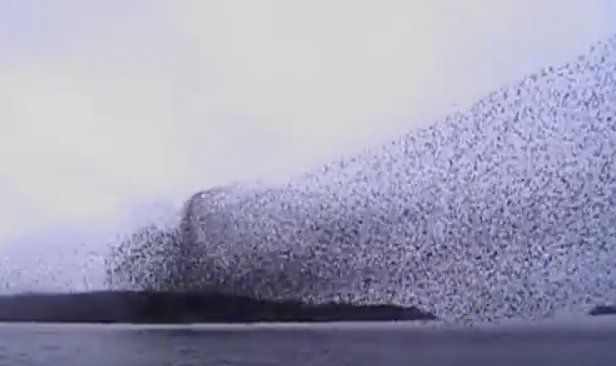 However, these aerial shows are almost always caused by the presence of a too close for comfort falcon. In order to put a safe distance between a predator and themselves the starlings use the murmuration's movements, along with strength in numbers, as a defense mechanism. Just like all flocks of birds, there is no one leader. Instead, the movement of the flock is governed collectively by each and every member.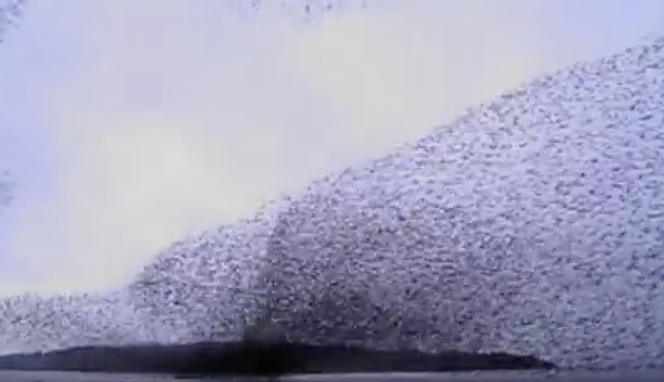 What makes starling flocks stand out from other flocks is the fluidity of their motions. When one bird changes either speed or direction, each and every other bird does so as well, adjusting almost simultaneously. The speed and accuracy of their movements in such large numbers is unrivaled by any other animal in nature. The starlings exhibit such a unique collective response that scientists have tried to study it. However the mystery endures as to how they manage to coordinate in such seemingly perfect interconnectedness.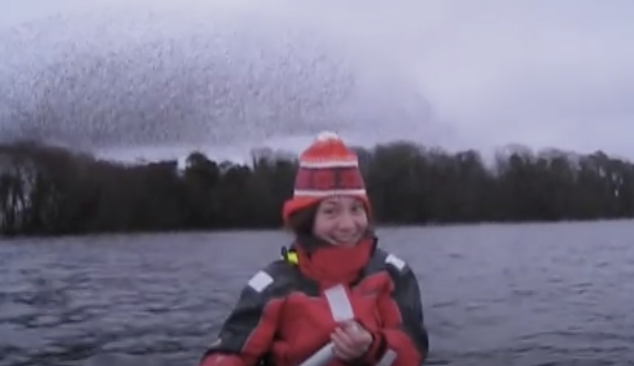 Please Share With Family and Friends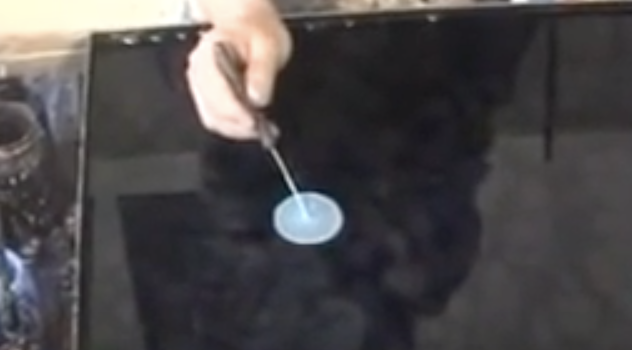 Paper marbling is a fun and incredibly easy way to create beautiful works of art. The print technique used captures a colorful image filled with the swirling types of patterns that certain stones, like marble, naturally feature. Each piece comes out totally unique and you don't need any specific kind of preexisting artistic skill to make your own awesome looking marbled pictures. To top it all off, it's relaxing and therapeutic to both do and watch. It's definitely something you should try once in your life if you haven't already done so yet!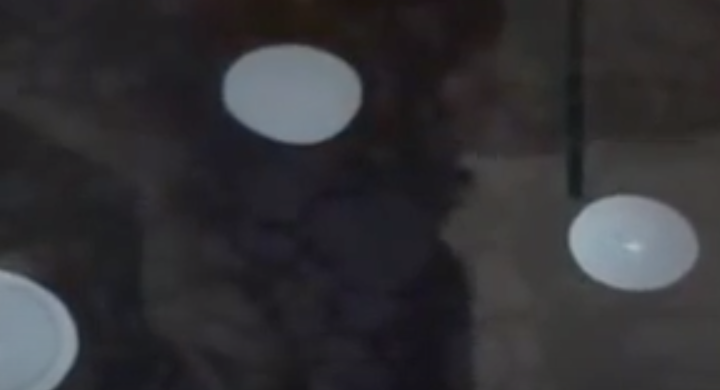 The art's practice is ancient and can be traced back centuries to Central Asia and Turkey, where it's referred to as Turkish marbling and commonly called "ebru" in the country's language. A large, shallow, rectangular tray is filled with water and paints are dripped onto the water's surface.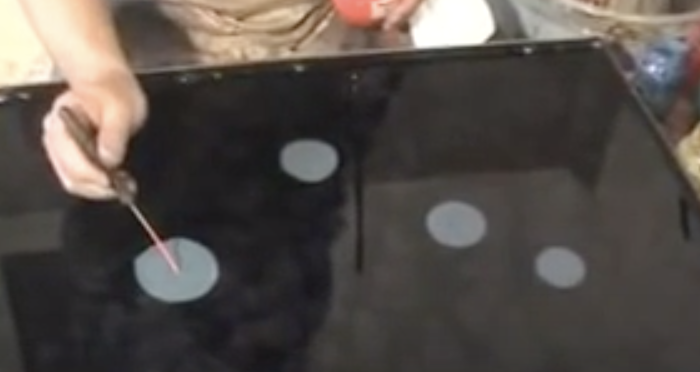 The paints are treated with a few drops of ox-gall liquid, which is what gives them the ability to float on the water because it lowers their surface tension. An assortment of brushes, needles, and other pointed tools are then used to drip the paints onto the water and move them around. By gently manipulating the paints you can create all sorts of specific shapes, swirling patterns, spirals, and wildly spectacular marbled designs.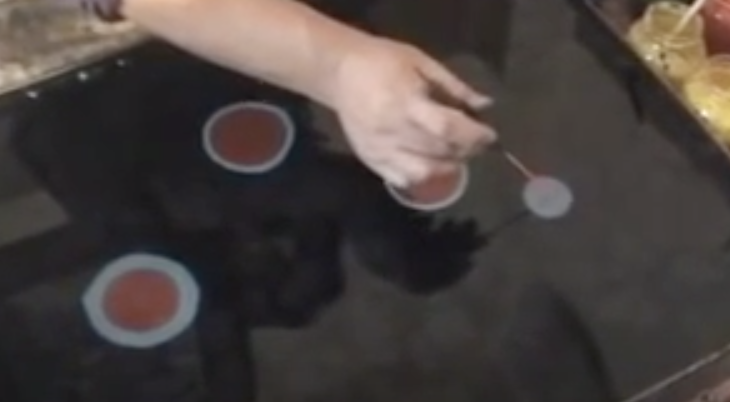 Once the painting part is complete, a large piece of paper is slowly and carefully laid over the water's surface and the paint is then transferred onto the paper. After a short while, the paper is peeled up and upon its removal the image comes to life and the work of art is finally revealed.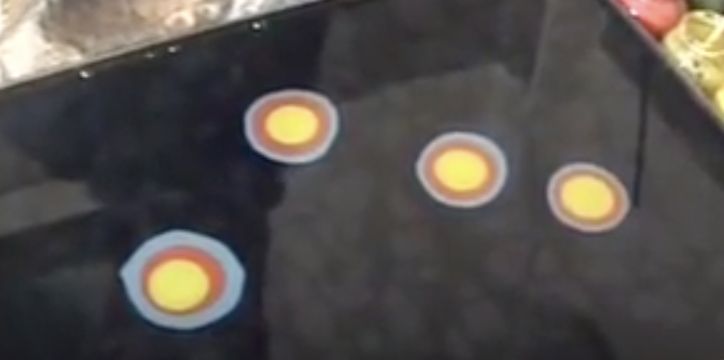 To see how the art of Turkish marbling in done, check out this video. It was captured by Mike Powell as part of his travel blog when he visited Istanbul for three months. He ended up taking a class on it and filmed his teacher giving a demonstration on how to paint on water.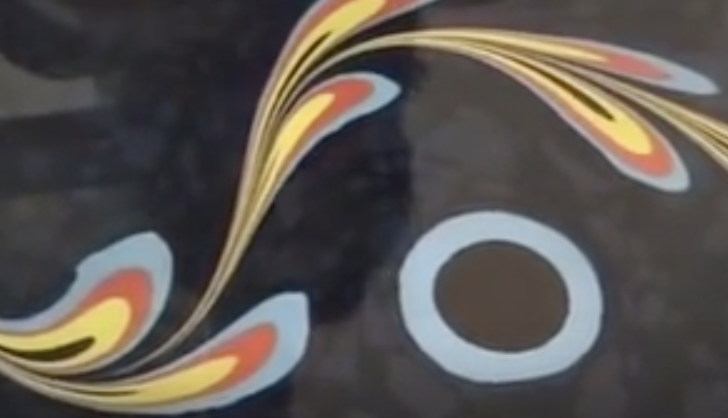 The man knows what he is doing as he goes about deliberately placing certain colors and drops of paint on the water. Then he moves a stick or needle across the surface and through the paints, which leaves behind a cool pattern. It's oddly hypnotic to watch and when the paper is finally pulled up to reveal the painting, it's like nothing you'd ever imagine it to be!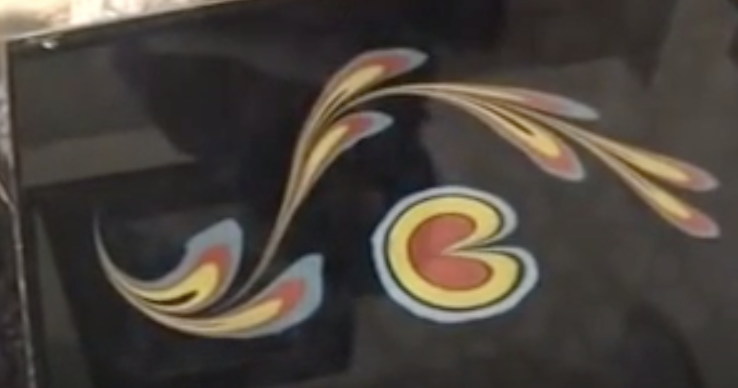 Please Share This With Family and Friends 🙂