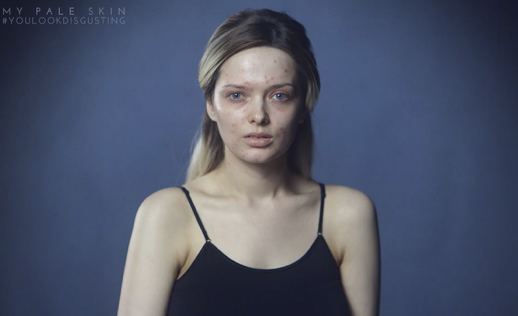 image via – youtube.com
What is perfection? Are humans responsible for being perfect? Or has nature made us exactly the way we should be? We have been taught by a long history of entertainment and media not only what perfection looks like, but that if we are not this perfection we should strive to be.
We believe we should have flawless skin, hair only in certain places, be completely symmetrical, and that our value is inversely proportional to our physical size. We have learned to base our self worth on what we look like compared to what we think we should look like.
The idea of aesthetic perfection is perpetuated by the allowance and encouragement of sharing opinions in response to what we are exposed to online. Through the use of social media people have been empowered to put their two cents in, whether it is positive or negative.
In this way we have been granted permission to forget all social filters and common courtesy because we often don't know the people affected by the feedback. The result is a build up of what has been deemed perfect and a harsh beat down of anything contrary. By creating this video, Em Ford shines a light on unrealistic expectations of beauty.
After posting images of herself sans makeup on social media, she was bombarded with hurtful remarks and insults. She used the criticism as inspiration to share her story and became a revolutionary for people who suffer from similar issues due to false ideas of perfection.
Em says, "You are beautiful – no matter how flawed you feel, no matter how upset you may be about the way you look or how hard you find it to make friends, or be confident. Believe in yourself, and never let anyone tell you you're not beautiful – not even yourself."
Let us know what you think!
Please Share This Powerful Message With Family and Friends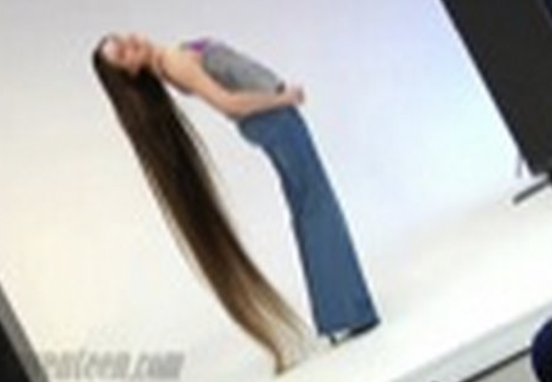 Anyone who has ever had long hair knows how nerve wracking and unpredictable a new haircut can be. To suddenly go from long to shorter hair is kind of a big deal. The different lengths feel strange at first, even when you trim just a couple of inches off.
Everything from running your fingers through it and brushing to the way it has to be styled feels new and weird. Your whole head feels lighter and the hair is much healthier, shinier, and manageable.
Imagine that you had been growing your hair your entire life and had never gotten a major haircut. After 16 years your hair reaches a point down past your knees and almost touches the ground. Seems crazy, right? That was reality for 16 year old Roxy Vice, a teenager from Stafford, Virginia who had never trimmed her hair.
Over the course of her life her brown locks had grown extremely long and straight. Having heavy, ultra long hair was the only hairstyle she had ever known and she was way overdue for a full on haircut and style makeover. Roxy finally decided to make a change and cut her hair because she was heading off to college in a few months.
Having average length hair would be more easy and manageable to take care of, plus she'd look older and not so young. When the big day came she documented the experience and remarked how excited and nervous she was about it all. After taking a few last pictures of her long hair she tied it up in a loose ponytail and sat back in the chair for the big chop.
The man who was about to cut Roxy's hair, Danilo, is a stylist who works with the hair care company Pantene. He performs cuts on behalf of the companies special hair donation program called Beautiful Lengths. People with hair at least 8 inches or longer can have it cut and donated to the program which uses it to make wigs for women battling cancer.
Danilo says that Roxy's hair is the longest that the program has ever had donated, and perhaps even the longest he has ever seen in all of his years cutting hair! After he did the big chop he styled Roxy's hair in ways which she has never known. He ended up giving her layers, bangs, and added a lot more texture and body.
At first Roxy was surprised and shocked at how short her hair seemed, even though it was still very long and reached down her mid-back. However, once it was completely styled and finished she says she loved it, and rightly so. She looks like a whole new person and the new look fits her well. She cut her hair for a good cause and turned out looking absolutely beautiful both inside and out!
Please Share This With Your Family and Friends 🙂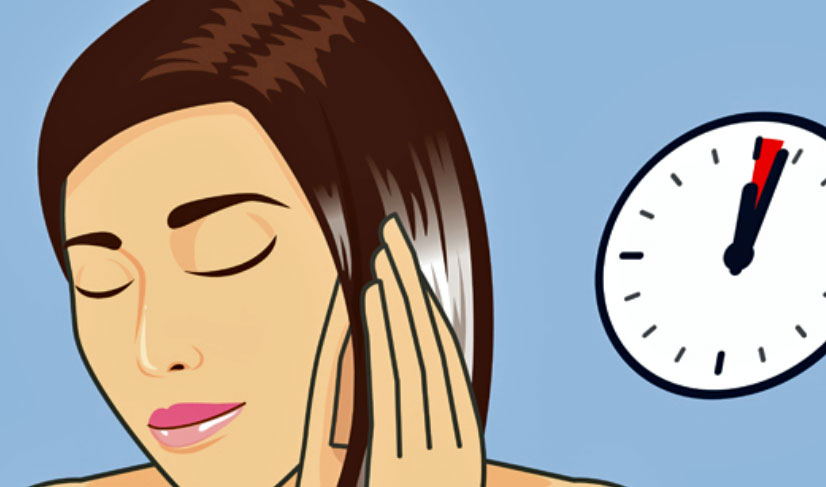 There is nothing better than beachy looking waves in your hair. Of course, salons and pharmacies sell sea spray hair products that are pricy. I have used them, but have always found that I need to play chemist, adding other products to achieve the look I'm going for.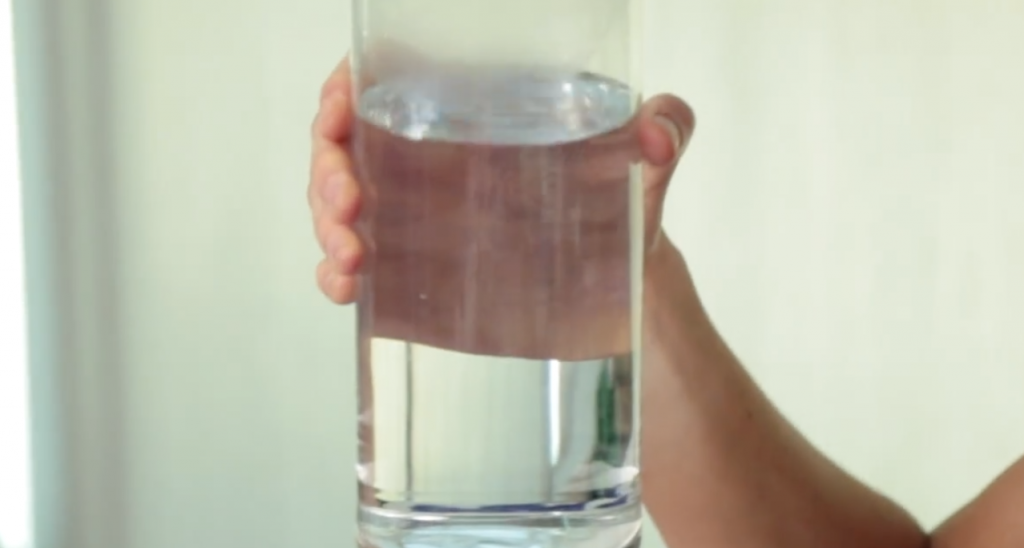 When I came upon this great DIY video , for achieving that beachy, cool,sexy looking hair at home,  I couldn't resist trying it. Sure enough, it worked better than the store bought ones! So, for those of you who love having this look, the video below is for you.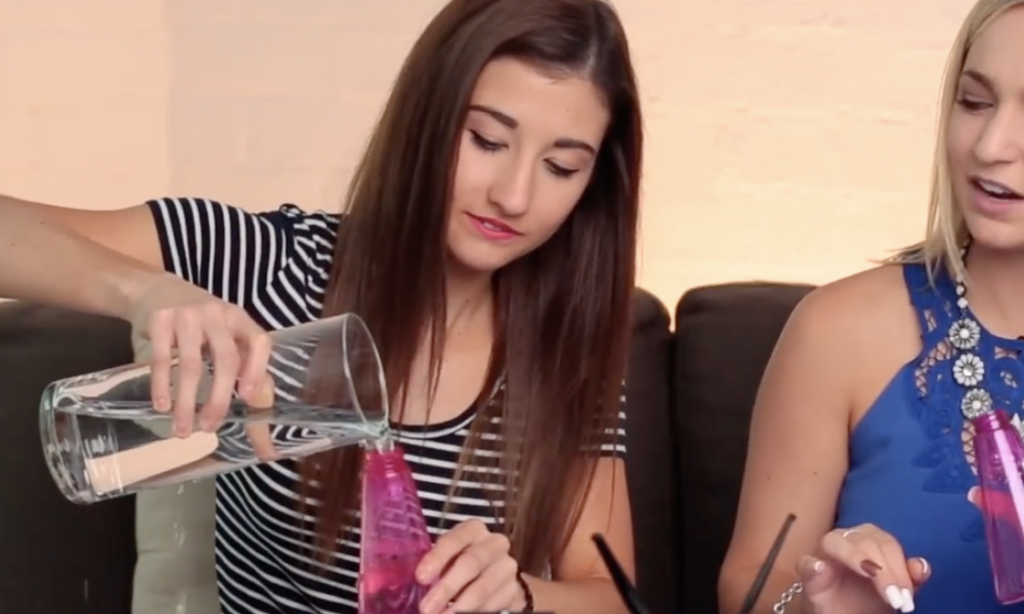 The key to making a DIY SEA SALT SPRAY to produce easy beachy waves, is using EPSOM SALT. Common table salt doesn't do the trick. All you will need is an empty clean SPRAY BOTTLE, WARM to HOT WATER, EPSOM SALT and HAIR GEL.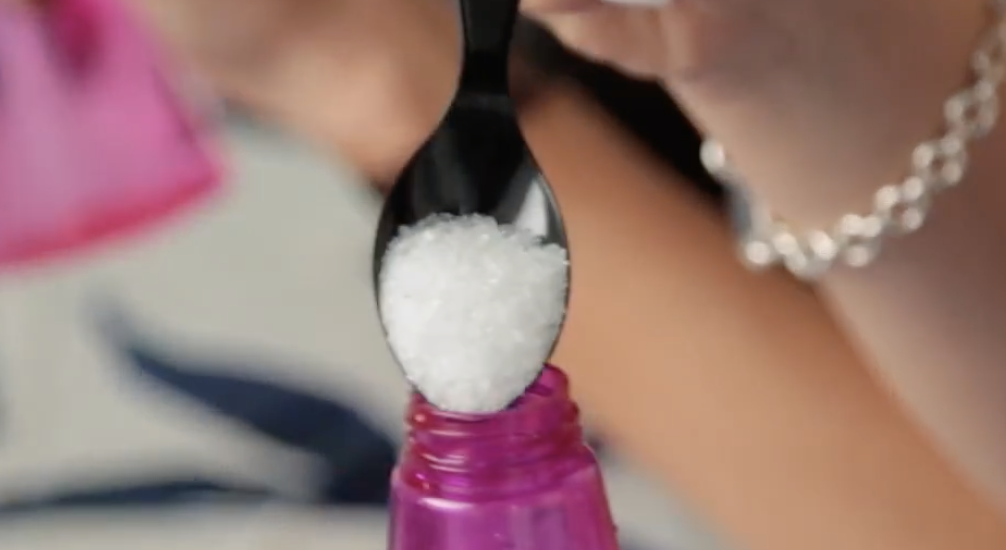 Watch the entertaining video below to see how they combine and prepare the ingredients, and then test it out on their model. I can testify, that it works amazingly to get just the right texture and look, for what you're going for when the beach just isn't available! Enjoy!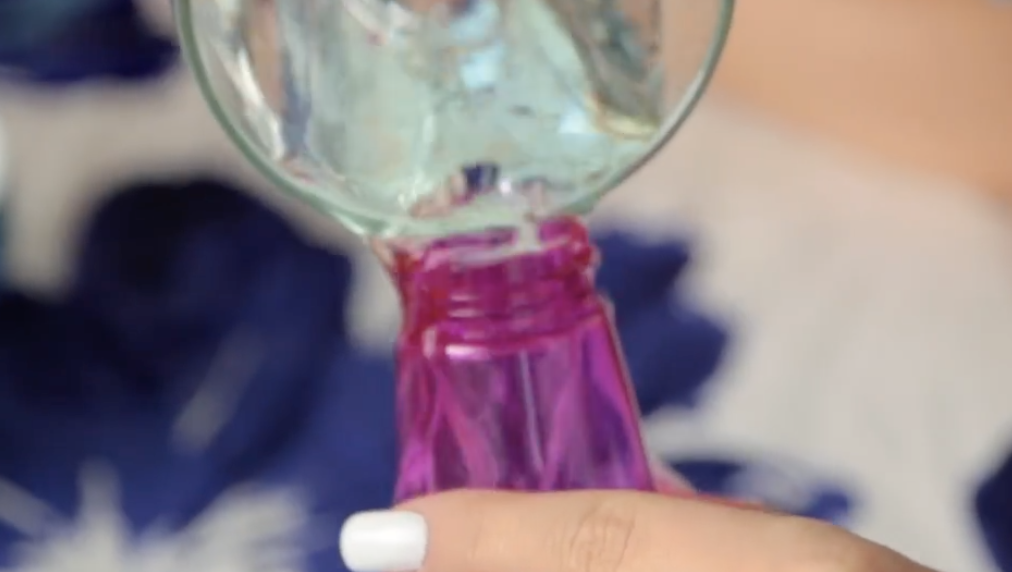 Please SHARE this great HAIR DIY with your friends and family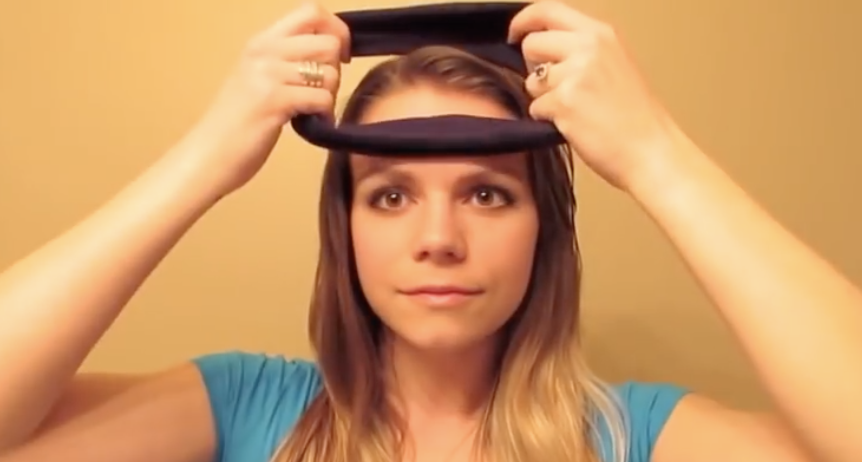 image via – youtube.com
Women have spent years using hot rollers, regular rollers, curling irons, blow-dry brushes…all in the pursuit of pretty manageable curls.  The girl in the following video shows us how to avoid all these heat damaging techniques.
She demonstrates a clever way to create lovely curls on her straight hair,  but this also works for curly, kinky and frizzy hair.  The bonus is that without the horrible damage that heat does to our hair, you can achieve beautiful shiny, bouncy curls, while you are sleeping!
Using a regular stretchy headband, watch this demonstration that gives you perfect romantic-looking, sexy curls.  You will see her put it around her head, 60's hippy style, and dampen it with a little sea spray.  She then winds her hair around it section by section.  Wait until you see what this straight hair looks like in the morning when she removes the headband.
I, who have naturally curly hair that has a mind of it's own, and some frizz, tried this technique.  I got the same results!  When you remove the headband, style it with your fingers, and finish with the cream or hairspray of your choice.  The curls hold for a couple of days until your next wash!  Sleeping on this is completely comfortable, but if you want a quicker result, you can achieve this look in an hour, if you have curly hair.
I've done this a few times and once I've started the twisting through the headband I don't even have to look in the mirror.  I just watched some TV and actually found the process relaxing.  Let us know if you will try this.
Please SHARE this Amazing Technique For Beautiful Curls Without Damaging Heat with your  Family and Friends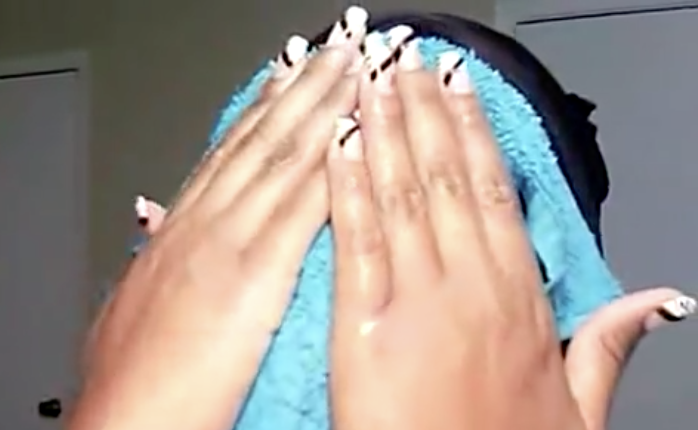 Blackheads are gross and a pain in the butt to remove. Most people turn to pore cleaning strips that supposedly work to help pull them out. In reality, all that the pricey strips seem to do is dry out the fragile skin on the nose and irritate it further, plus they can be quite painful to remove.
Instead of wasting more money looking for a solution to this age old beauty problem, try out this 100% natural method. All that it requires is lemon, salt, and warm water. It's much more effective than anything else at removing blackheads and it's incredibly cheap and easy to do.
In a small bowl mix together 1 tablespoon of sea salt, ½ a teaspoon of lemon juice, and 1 teaspoon of water. Apply the mixture to your face, paying special attention to where any blackheads are located or where they tend to pop up. Begin to gently massage the mixture into your skin using your finger tips.
Work in a circular motion, as if you are buffing a car, and focus on areas with blackhead. Keep massaging the mixture around on your face for at least 2-4 minutes before rinsing it off with lukewarm water. Wait a few minutes and then wash your face a second time using cold water. This will help to close pores and thus keep oil, dirt, and grime from building up and clogging them.
If you're wondering how this simple scrub works, here is a breakdown. Salt is a natural antibacterial agent and helps to unclog pores by fighting against, and ridding it of, germs. Lemon juice contains citric acid which also helps to fight germs and bacteria and thus clean skin.
The citric acid also brightens your skin, in a similar fashion to how a chemical peel works at brightening it, by burning the topmost layer off. While that sounds quite harsh, it really is not as bad as you may be thinking. The citric acid is simply dissolving away the dead skin cells, oil, dirt, and other pollutants that are clogging and blocking your pores. The result is that your skin is left glowing, refreshed, and visibly healthier.
If you want, you can also spread the lemon-salt scrub over the rest of your face. It's gentle and safe for practically all skin types and it works incredibly well to exfoliate and polish it. However, limit your use of this scrub to only 1 or 2 times a week and avoid sunlight when applying it because lemon juice attracts harmful sun rays that can potentially burn your skin. What are you waiting for? Grab a lemon and some salt and try it out for yourself!
Please Share This With Family and Friends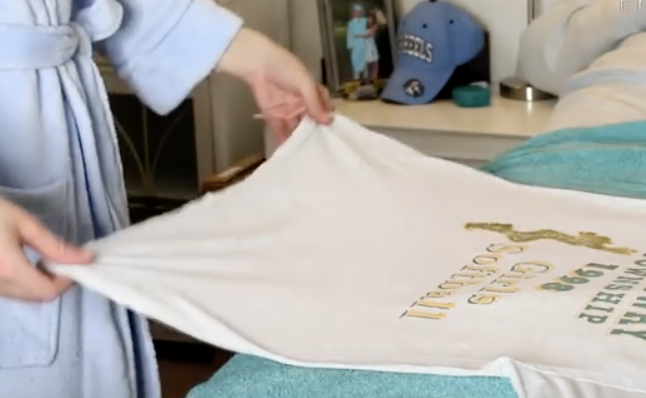 Curly hair can be a real pain when it comes to styling and creating the perfect look. Fussing with the curls too much often makes them frizzy and to combat the problem many people end up using lots of product that weighs down hair and makes it look bad. Others blow dry, chemically straighten, or run hot irons through their hair in attempts to get it under control.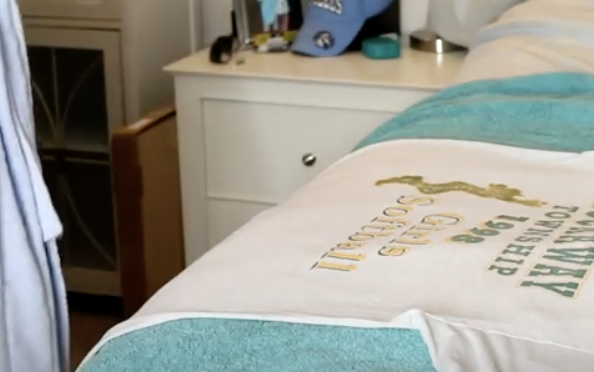 These can damage and ruin otherwise perfectly healthy hair and eat up a lot of time, patience, and money that could be better spent elsewhere. So what's a girl with curly hair to do? Try plopping or plunking it!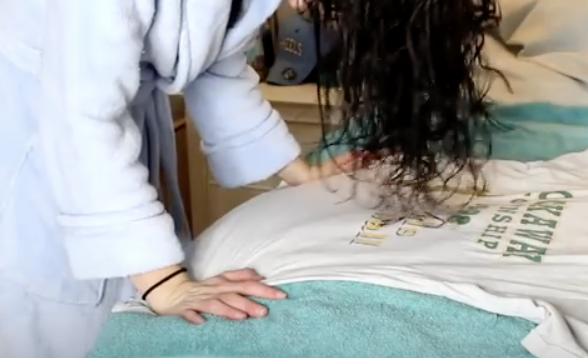 This video shows how to plop your hair, which is to say it will end up giving you frizz free, bouncy, and beautiful curls. The technique is easy to master and only requires a tee shirt, no expensive gadgets or serums are necessary. Plus, it takes place overnight so you will free up a lot of time in your morning routine and still look great!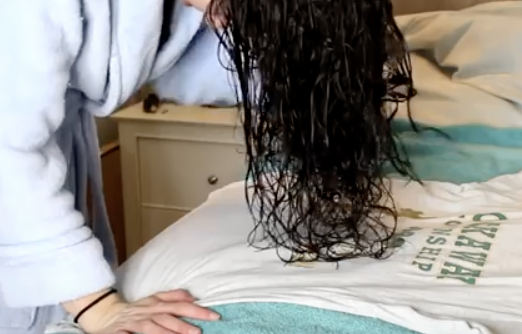 Shower and clean your hair, then towel dry it. Add whatever styling product you prefer to use, but only smooth them onto hair from the ears down. Do not put any product above your ears because it will weigh down hair and overtime it can result in product build up which makes hair look bad and unhealthy, so avoid the top part of your head.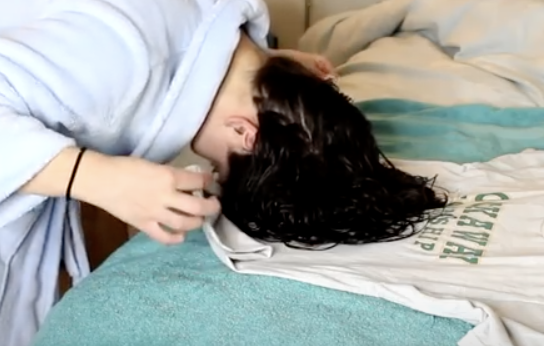 Comb them evenly through your hair and then lay out a large cotton tee shirt. Smooth it down on a flat surface in front of you, a bed works perfectly. Take your hair and shake it out, then flip it in front of you, and lower your head down onto the shirt. Do this carefully so that the curls don't get crumpled or tangled. Keep your head still and grab the bottom edge of the shirt, wrap it around towards the base of your neck, and hold it there in place.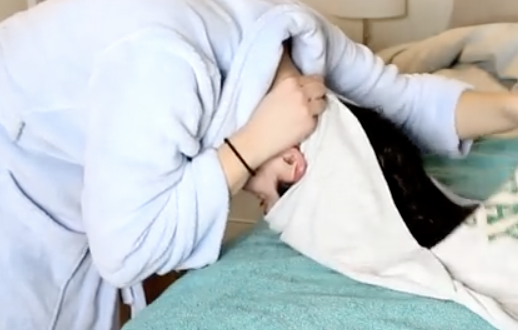 Grab the top of the tee and pull the neckline down to the base of your neck, pulling the sleeves to the side of your head. Tie the sleeves in the front so that you end up creating a turban out of the shirt. Tuck in the tails and any extra loose fabric so that it stays in place.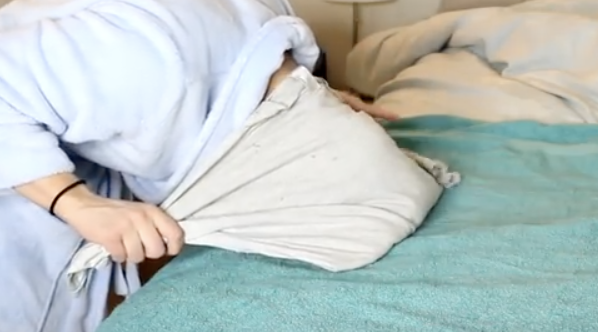 It may take a few tries to make the turban but eventually you will master it and love what it does. Overnight the tee shirt wrap will protect your curls as you sleep on them. All that's left to do is unwrap your hair in the morning and out should spring dry, bouncy, frizz free curls. You may have to reshape a few with a curling iron but that's it. Try plopping your hair tonight and never look back!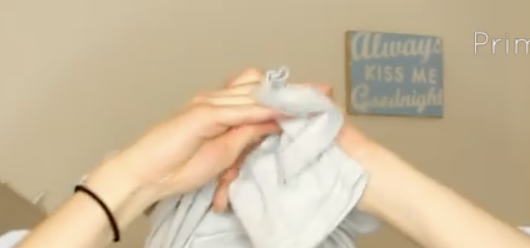 Please Share This Hair Trick With Family and Friends