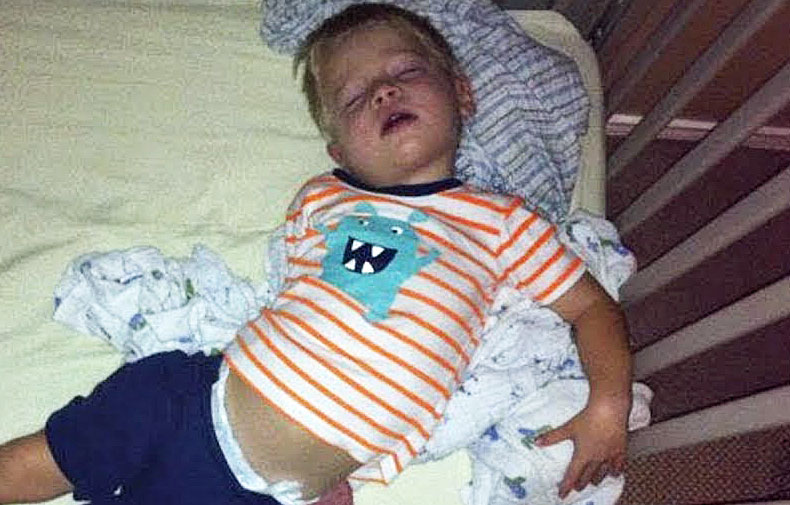 image via – youtube.com
Remember when you were a kid and your one and only safe haven that you could pretty much all your own was your bedroom? Even though your parents owned the house or apartment you lived in, 'your room' was the closest thing you had that actually belonged to you and was a place where you could go and feel safe. Every few months you would move stuff around, get some new posters, stuffed animals maybe even a new tv once you were old enough. One thing was for sure though, your room was a direct reflection of your soul and personality.
Today's story features an amazing dad and his son named Jack who was just about to grow out of his crib and get his very own big kid bed! Like many young kids, Jack was obsessed with trains, he loved every type from the vintage old steam trains to the new technologically advanced trains in Japan. He would have his dad read him books about trains and he would look through train magazines and memorize all the different types out there!
One day Jack told him about a dream he had where he was sleeping in a bed, but the bed was in the shape of a box car from a train. As he told his dad about the dream, his papa could see how excited he was getting and he wanted to do something really special for his son. He went downstairs grabbed some tools and a hammer. Put them all together, then headed out to the hardware store to get some plywood, and other materials as Jack's dad was now determined to make young Jack's dream a reality.
Jack's dad worked and worked and finally after many weeks of blood, sweat and tears Jack's dream train bed was ready to take on its main passenger who would be sleeping in this incredible bed for many years to come! That's when dad realized it was missing one vital piece that would make the bed complete and absolutely perfectly. He went to the garage, got some stencils and red paint, and created an awesome looking sign that would hang above the bed that read, 'Jack's Steam Express'!
Watch the video below for the full story plus another awesome bed make over:
Please SHARE This story with your family and friends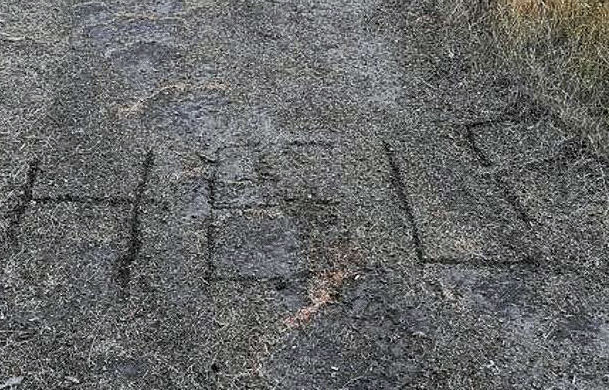 image via – youtube.com
Father and son trips can be the perfect time for some special bonding. Whether its a camping, hunting or fishing trip these are usually vacations that a dad and son will never forget. I remember going on fishing and camping trips with my dad when I was a young kid and they are truly some of the greatest memories of my life. While for the most part these trips can be stress-free, enjoyable and an incredible bonding time, sometimes the unexpected can quickly snowball and change everything..
In today's story we feature a stepfather and his stepson who were going on a regular old hunting trip to enjoy nature in all her glory. They were expecting to build campfires, hunt, fish and all the other fun stuff that comes with an outdoors father/son trip. Their trip took place in Hayden, Idaho a city with a population of around 13,000. Although there is a decent sized population, the stunning landscapes and beauty of the surrounding nature pulls in travelers from all around the world.
The stepfather and stepson would go out to their cabin in the woods multiple times per year and it was always a great time. This time however, nothing could've prepared them for what was to come. Immediately when they arrived in Hayden something just felt a bit strange.
As they arrived in Hayden, they noticed an active search party looking for a girl who had gone missing earlier that week. The missing girl was learning disabled and although she was 19 year old, she had the cognitive capacity of a 9-10 year old. This was no small search party either, there were around 60 people searching. There were helicopters, terrain specialists, firemen, police officers and locals all scouring the region.
Before the stepdad and stepson arrived in Hayden they had already heard about the missing girl on tv and the radio. They believed that once they got there they could be of great assistance to the current search party do to knowing the entire wooded area like the back of their hands. As they made there way to their cabin, they would have to walk a bit down a dirt road to get to the secluded house. While they were walking on the dirt road they saw something they never could've believed. On the dirt path in big letters it said 'Help'.
This seemed super creepy to the young boy but his stepdad thought it was most likely a hunter or someone from the search party just laying some tracks. He thought most likely it was another hunter who probably needed help moving a deer or something of that nature. However, the stepson had a gut feeling that this message had been written by the missing girl!
They took a picture of the 'Help' written in the dirt and ran it over to the search party that was about to pack it in for the day, call it a night and begin looking again early the next day. When they showed the search party the image they immediately called off the plan to end the search that night and they would follow that path to try and find the poor missing girl…..
Watch the video below for the full story:
Please SHARE This With Family and Friends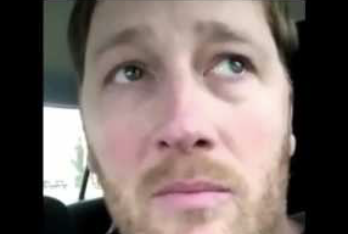 image via – youtube.com
What you are about to view in the video below, is a father, Rob Scott, who needs to share his truth, after overhearing a moment between another father and his son.  The child asks what Downs Syndrome is, and the dad answers, "It's a disease of not knowing anything".
This response deeply bothered Rob, whose son was born with Down's Syndrome.  What he experienced at that moment of hearing this other father try to probably simplify the condition for his child, was heartbreak.  He desperately wanted to correct what this father was telling his son, but didn't have the courage to speak up.
What you are about to hear him say was recorded a few minutes after this occurrence.  Rob was upset with himself for not speaking up, and felt the strong need to record what was in his heart, as a way of standing up for his son who has been the greatest gift of his life.
His intention in recording this footage, was in no way motivated by a desire to shame the father who responded to his son's innocent question in that way; he just needed "to karmically reset what just happened".  Rob's son, Turner, has been the greatest teacher about what the meaning of joy and love truly is.
He so aptly notes that the word "disability" is a term that encapsulates perception rather than fact.  His words brought me to tears; what he has to say is about so much more than Downs Syndrome.  Let us know your thoughts about this father's moment of soul-searching honesty.
Please SHARE This With Your Family and Friends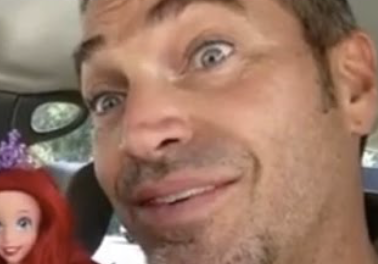 image via – youtube.com
Children grow very quickly and their evolution encompasses all that they are. A child's body and mind change so rapidly that, as a witness to their process, an adult can only accept, adapt, and encourage the development. To do anything contrary would be to limit the child from experiencing his or her own self.
When a child is fully supported, their small seeds of livelihood are able to take root and sprout into the beauty that they are. Their purity is maintained and harvested, paving the way for a bright future. Part of the adult role in a child's life is to guide them toward proper behavior and away from destructive tendencies.
As long as this is done in a gentle, loving way, and the child is given full explanation of specific circumstances, the little one is happy to oblige and adopts the learned morals as their own. They begin to understand how to apply their strengthening values to events of their own life and the result is a well balanced, thoughtful individual.
But, just because a child is well behaved, does not mean that they are not repressed. If a child is not given the freedom to voice their own opinions and desires, the consequence is an unmeasurable backlash of anger and resentment which can manifest in a multitude of ways, over an infinite amount of time.
The father in this video acknowledged the importance of personality privileges for a growing child. He energetically advocated free choice for his sons so that they could openly be whoever they wish to be. The relationship is heartwarming and inspirational for all of humankind!
Let us know what you think!
Please Share This With Family and Friends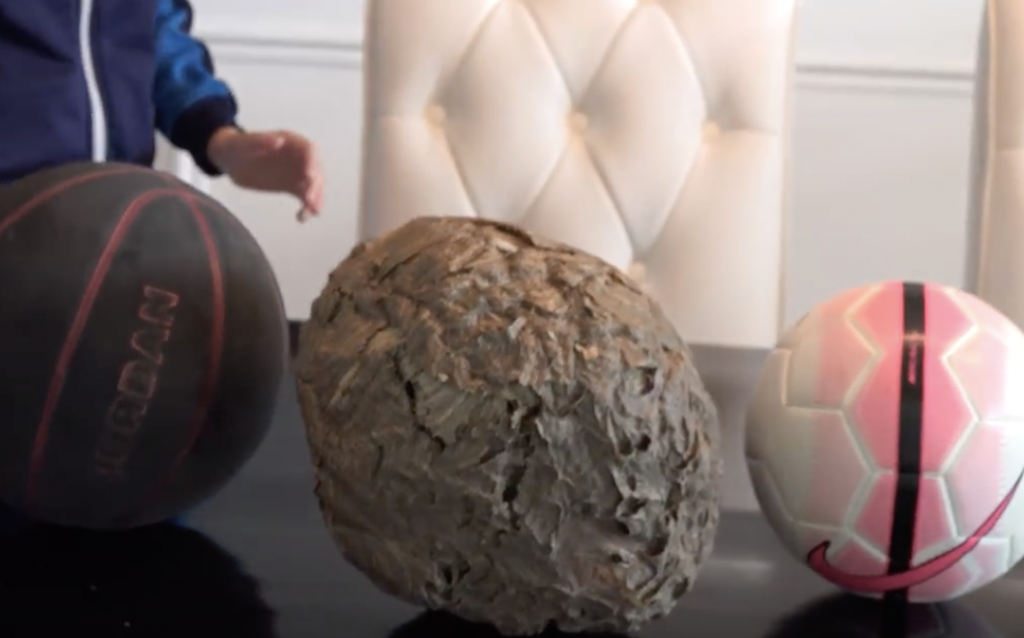 There is something so mysterious and intriguing about what lies inside of things that we are usually not privy to.  Dan and his son Lincoln have created a YouTube Channel named, "What's Inside", where they open up all kinds of things together to discover what lies inside.  In the video you are about to watch below, we join them in discovering what lurks inside of a WASP'S NEST!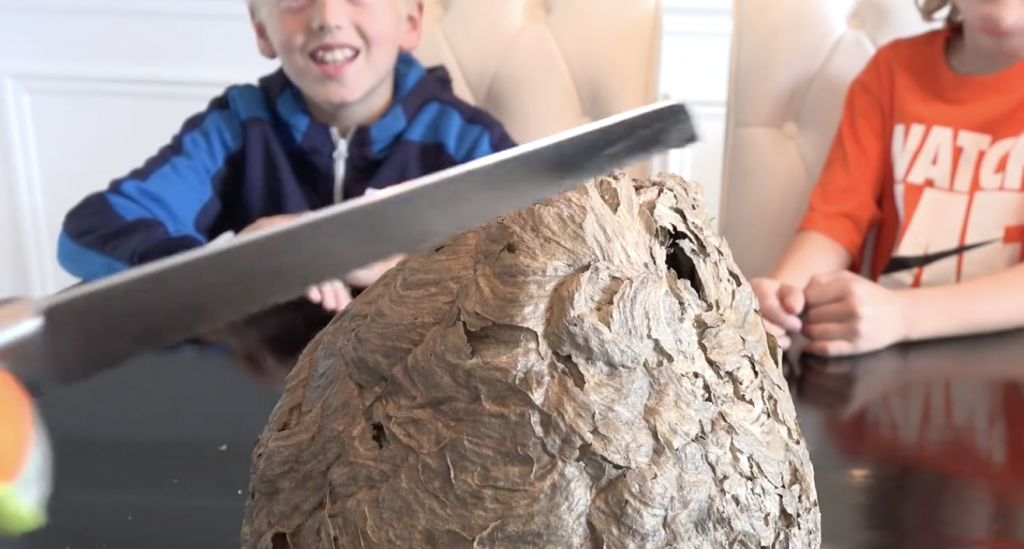 Obviously they were not going to go near a live nest, so they ordered one that was no longer inhabited, from eBay.  I find it so admirable that Dan has been sharing his curiosity with Lincoln, in exploring such fascinating things, by doing these in home "science projects".  There is nothing better that a parent can model and offer a child, than the fostering of intrinsic curiosity about the world in general, and more specifically in the workings of nature.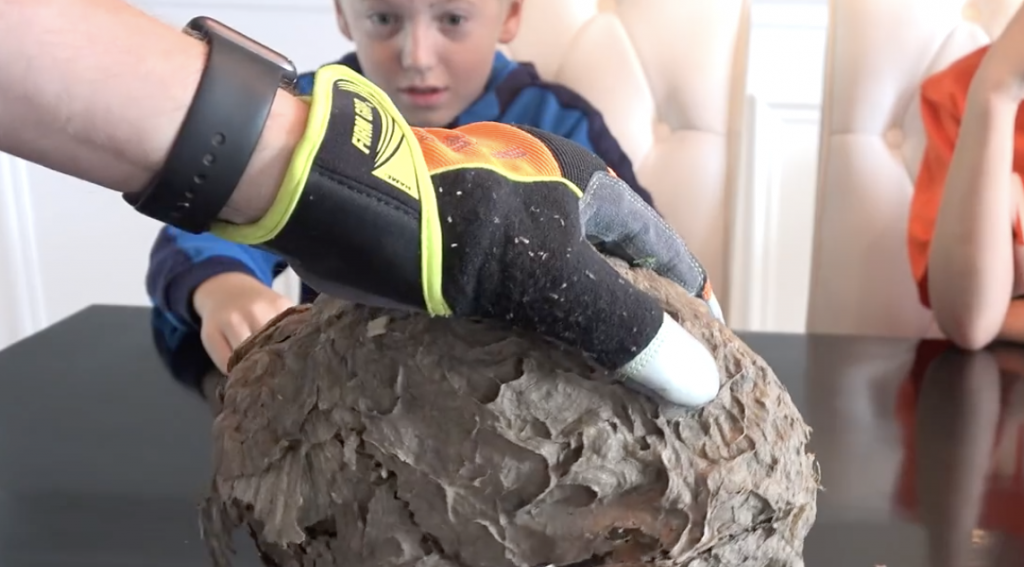 After unpacking the wasp's nest, you will see Dan begin the process of cutting open the nest, as Lincoln and his friend seem to be having a mixture of anticipatory excitement and a bit of squeamish fear.  I myself, watched with baited breath, as the cutting open of the nest proceeded.  Lincoln is a little bit afraid that there still might be a live hornet inside, despite the fact that they have been assured there is not.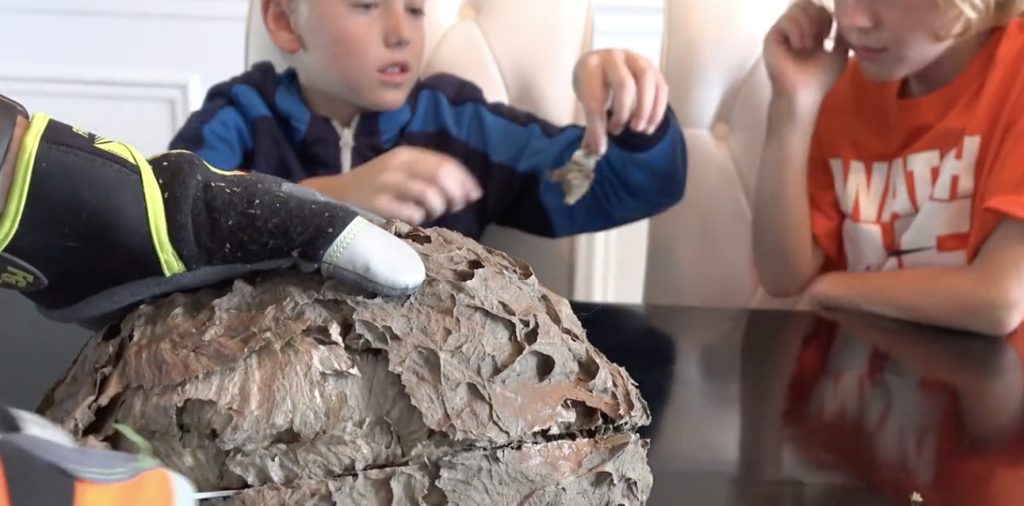 When the cutting process is finished their gasps of amazement at the intricacy of the internal structure, matched my own.  Nature is just so fascinating, and the building capacity of the insect kingdom, is truly mind-boggling to view.  Get ready for some really amazing footage!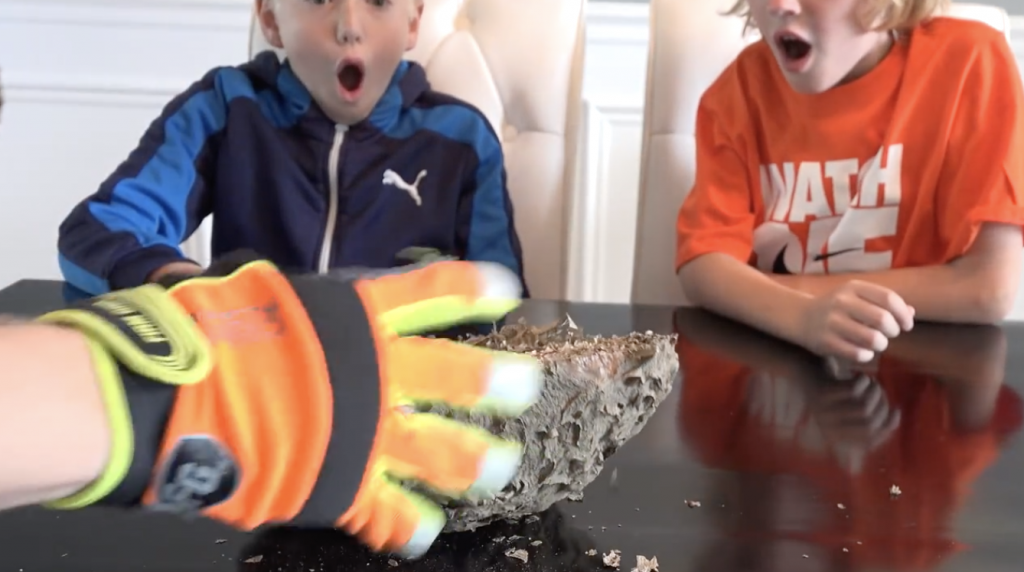 Please SHARE This Video With Family and Friends 🙂

If you were a young boy, and your father took you to an old gas station and with great excitement asked you what you thought about living there, do you think you would jump with joy? Needless to say, it's a rhetorical question! Robert Guthrie, an artist , kept looking at an old gas station with the idea of turning it into a home, but had to wait until he was able to afford it!
When he got the funds together and told his son he was going to turn it into a home for them to live in, his son really thought he had lost it! As you will see in the video you are about to watch below, that shows what an artist with a vision is capable of creating, you will be as blown away as his son and everyone who has seen it has been; the 'before and after' of this magnificent two-story loft is truly exciting
to behold!
Although he refurbished the outside, he maintained the look of an old gas station, but when you look inside Guthrie's masterpiece of architecture with quirky details that incorporate parts of the original…WOW! The transformation is truly a testament to this artist's imagination, vision and rare talent! Let us know what you think about this unusual living space.
Please SHARE this fantastic home that is truly a work of art, with your family and friends