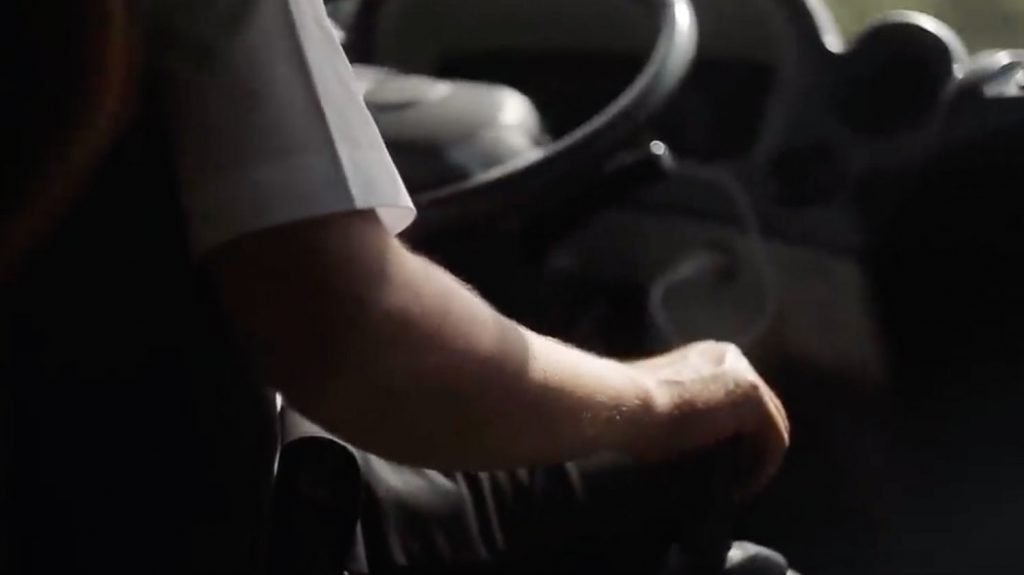 image via – youtube.com
The side of a busy highway isn't safe for anyone.  With the constant flow of cars and trucks travelling at high speeds and drivers who may be distracted, there's a heightened chance that someone on the shoulder can get hit, seriously injured, or killed.  It certainly is no place for a young child to be and no one ever expects to see a little kid all alone on the side of the highway. 
That's what one Milwaukee County Transit System bus driver saw one cold December morning while driving her route on the city's south side.  It was December 22, 2018, and Irina Ivic was driving the city bus when she spotted something shocking on the freeway overpass that she was about to cross.  On the side of the road was a little girl clothed in no shoes and nothing but a onesie. The toddler was wandering around all alone in the freezing cold and Irina knew she had to act fast.
She immediately stopped the bus and sprinted across the busy highway to reach the toddler.  Once she got to the child, she scooped up the crying baby and holding her close, she brought her back to the warmth and safety of the bus.  As she radioed for help a passenger who had witnessed it all took her coat off and gave it to Irina to wrap the baby in.  
When police, firefighters, and transit security arrived they checked the child over and determined she was cold, but safe and sound thanks to Irina's quick reaction.  In an interview, Irina said that 12 years ago she immigrated to Milwaukee from Serbia where she used to be a teacher. She has a natural affinity for children and has kids of her own as well.  She said that she wouldn't hesitate to help a child in need and would do it again in a heartbeat.
According to police, the little girl's mother may have been suffering from mental health issues, which led to her leaving the child outside.  After she was found and checked out, the little girl was reunited with her father and is safe. A commendation ceremony was held in Irina's honor to thank her for rescuing the child and what could have been a tragedy ended in smiles and feelings of relief.   
Watch the video below for the full story:
Please SHARE This With Your Family and Friends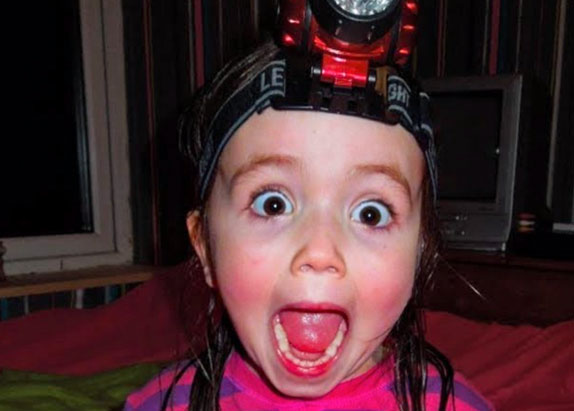 image via – youtube.com
Finally sweet sweet Summer is here. The long cold winter is over and now we can finally go outside and enjoy the warm sun on our faces, swimming in pools, laying out at the beach and going hiking through the woods!
With all that good coming from mother nature there is always a flip side. In this case all our outdoor activities require us to be vigilant and have a raised awareness for all the types of creepy crawly creatures. From red ants, wasps, bees, hornets, ticks and worst of all spiders!
This brings us to today's story which features 5-year-old Kailyn Donovan who spent a beautiful day outside in her backyard with her parents. The young girl was having so much fun that she was too distracted to feel a small pinch on her leg from some kind of bug. After a great day outside she came inside and everything seemed fine.
A couple days went by and her parents spotted what appeared to be some kind of bruise on the back of her leg. Her dad and mom didn't think much of and decided it was no big deal. They brought her to the bus stop and she got on the bus to go to school.
Later that afternoon the school nurse called Kailyn's parents and explained that she was feeling really sick and had a high fever. The fever was high enough that it warrented a hospital visit with a doctor.
Her mother and father picked her up from school and drove her to the nearest hospital. The doctor on rounds quickly realized it was a spider bite of some kind but he wasn't sure exactly what type of spider or how bad this bite could potentially get.
He gave her a prescription of antibiotics and she quickly began to feel better and her high fever broke. She felt good enough to attend her pre-school graduation but her mom and dad were still keeping an eye on that mysterious spider bite on the back of her knee even though she felt so much better.
After her graduation mom's 'spidey senses' began tingling as her motherly instincts kicked in she believed something was truly wrong as the bite began to transform in shape and size. It clearly wasn't healing well and it was starting to look pretty bizarre.
She brought little Kailin back to the doctor who decided to refer her to a Pediatric Infectious-Disease Specialist who would have a much better grasp and understanding about this type bite. The specialist quickly figured out that she was bitten by a Black Widow Spider!
Black Widow Spiders are one of the most poisonous spiders in all of North America! This was become a very serious situation as her parents, doctors and young Kaelin were all becoming very scared.
If Kaelyn was not treated immediately this could have become an extremely dangerous situation. Luckily the specialist recognized the bite because it has a very distinctive look to it. Just like in majority of these cases, Kaelin was administered a dose of anti-venom that will be fully remove the venomous poison out of the body.
Just for your information these are the signs and symptoms of a Black Widow Spider bite:  First you can feel nauseous, get a fever, cold sweats, chills and sometimes even muscle spasms that will begin at the original bite area and then slowly spread out to the rest of your muscles all over your body.
Every year in the United States about 2,000 Black Widow Spider bites are recorded and sometimes they can be fatal if not treated. However the number of fatalities from one of these bites is very low.
Luckily for Kaelin her parents realized this was no ordinary bug bite and they want other parents out there to be aware this summer so the same thing doesn't happen to their kids.
Watch the video below for the full story:
Please SHARE This With Family and Friends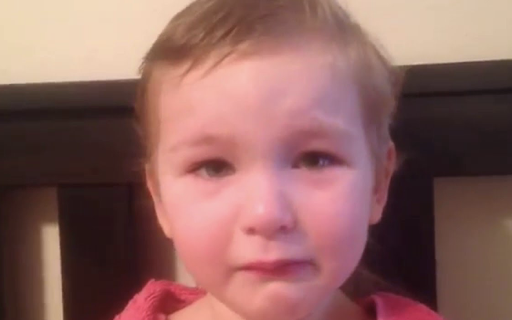 image via – youtube.com
Some children are more curious then others; they have an intrinsic desire to master the things they see adults doing in the world that fascinate them.  You never want to squelch your child's curiosity and their desire to learn through doing, but sometimes that can be problematic!
One of my daughters had a fascination with haircutting from a very early age; one day I came into her room and found all her Barbies had been to the "Hayley salon"; they had quite the look!  That was okay until she came to believe she had perfected her craft and was ready to work on her own head…Yikes!
The video you are about to watch below invites us into little three-year-old Ansleigh's world of experimentation.  She also has had a fascination with haircutting and was unable to contain her ambitions for this dream career!  When dad discovers what she has done, the conversation between them is priceless!
You don't want to miss this hilarious and charming interaction between dad and Ansleigh; they are both intent on expressing their point of view about the situation.  If Ansleigh doesn't become a hairstylist, she definitely has a future as a lawyer!
Enjoy the video below!
Please SHARE This Adorable Story With Your Family and Friends 🙂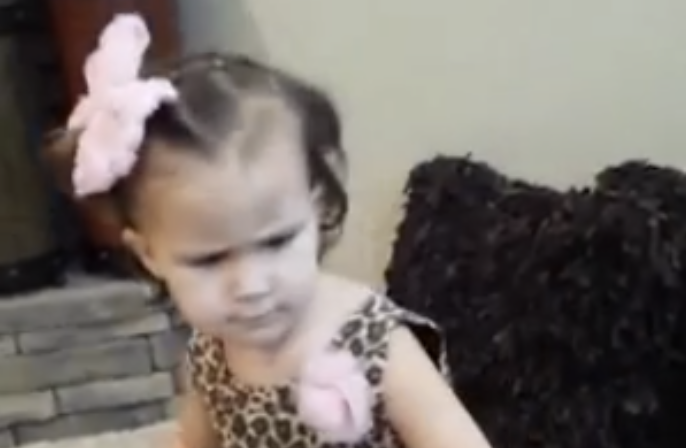 image via – youtube.com
Kids are always saying things that make adults crack up. There is some type of magic childhood innocence that makes what is ordinarily a normal moment into one that is uproariously funny. Turns out the little girl in this video possess some of that magic. The clip starts off with a little girl sporting a pink bow in her hair and decked out in a cute cheetah print dress.
She can be seen mean-mugging as she sways back and forth dancing to LL Cool J's late 80's hit "Going Back to Cali." She looks so into it as she sings along. Suddenly she stops moving and asks "Do you hear that bass mom?" Her mom cant help but laugh and answer, and can you blame her? The whole scene is just so perfectly adorable and funny!
This girl is definitely going be some type of entertainer when she gets older, maybe a dancer or artist or even a comedian! She is just too naturally focused and charming to not be! A star is born this video totally made my day.
Enjoy this instant classic! 🙂
Please Share This Hilarious Video With Family and Friends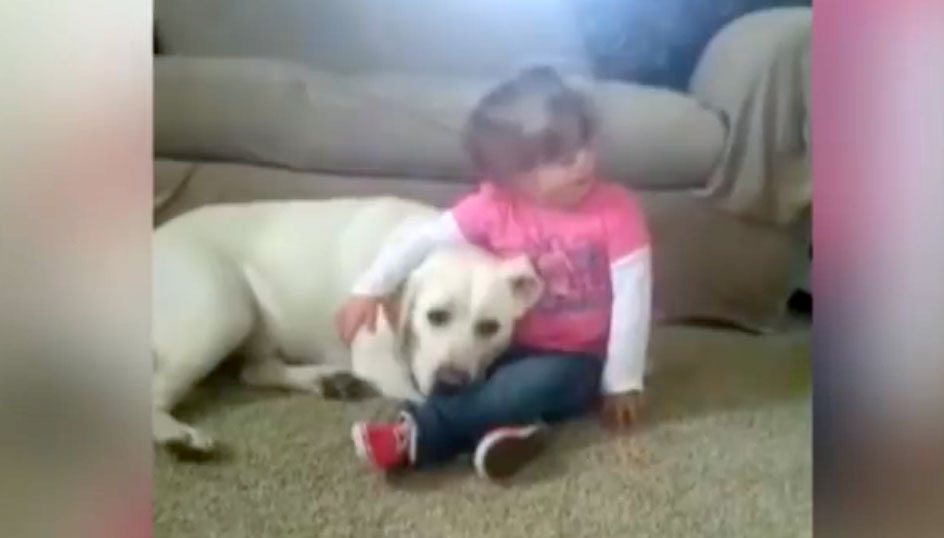 4-year-old Sadie, developed Type 1 Diabetes, at a very young age.  It is a disease that is hard to deal with, for adults, let alone for managing in young children who have difficulty comprehending what is happening to their bodies.  Strict dietary control and constant monitoring of blood sugars, can mean the difference between life and death!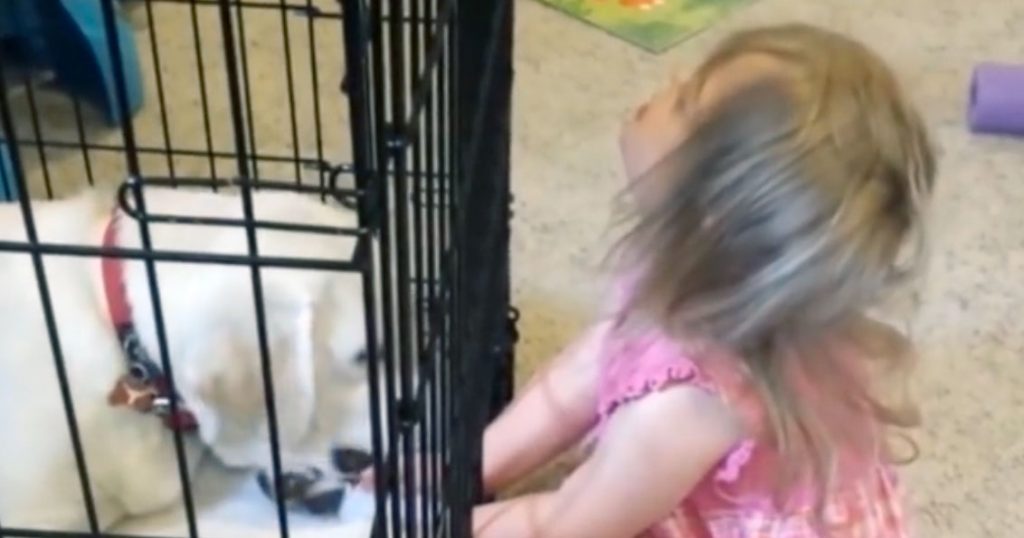 Sadie's parents made the decision to get her a 'diabetic alert dog', whom they named Hero, to aid in the monitoring of her blood sugar levels, so no severe change ever gets missed.  This gentle loving dog is trained, and has the ability to detect a dangerous blood sugar change through scent.  He is actually capable of letting her parents know whether it is too high or too low, by raising his right or left paw!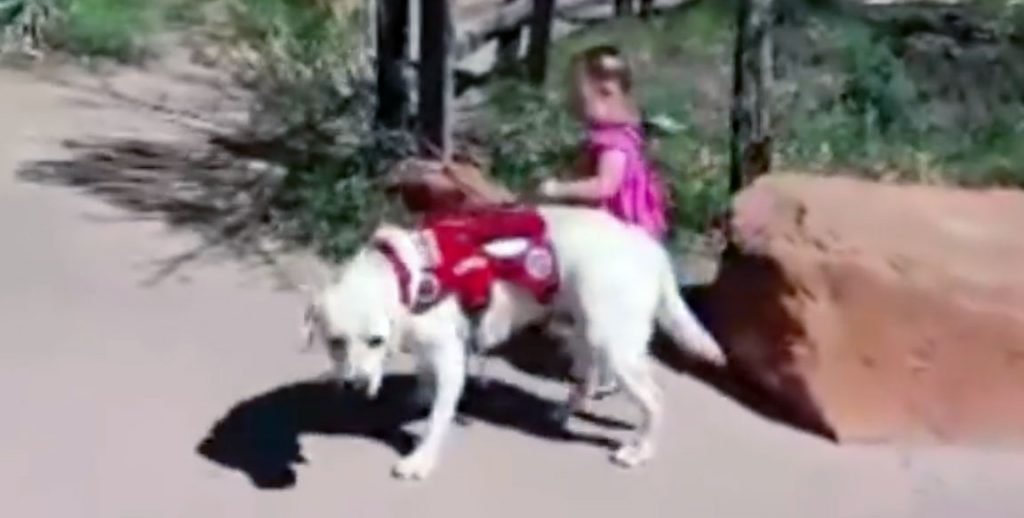 This ability, in and of itself is amazing, but the story you are about to hear in the video below, about Sadie and Hero is mind boggling.  Little Sadie was at school, more than 5 miles away from home and Hero, when the dog began to act up.  Atypical for his behavior, he began to whine relentlessly, until Sadie's mom called the school to check on her condition.  She was told Sadie was fine, but what happened next…well, you let us know your thoughts are, after watching the footage below.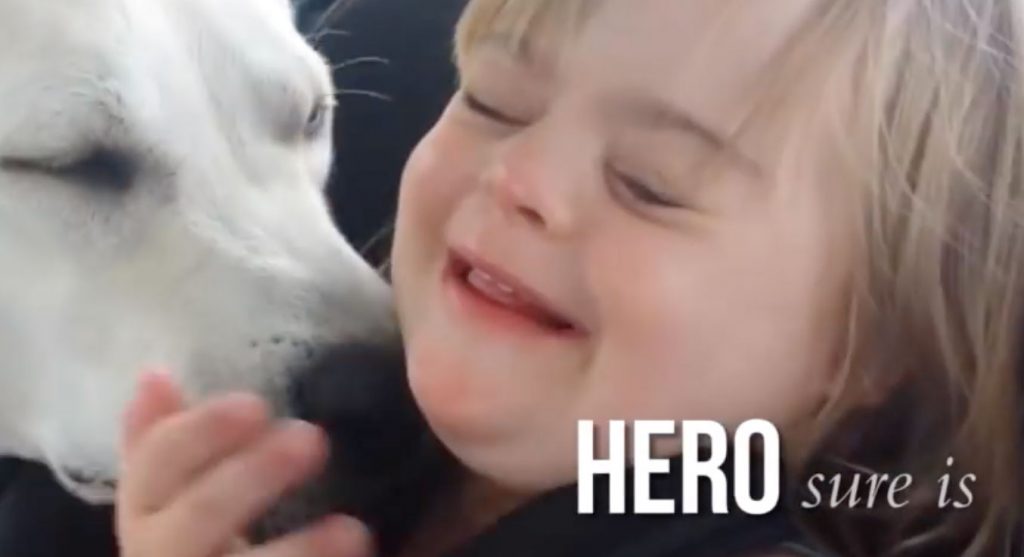 Please SHARE This Story With Family and Friends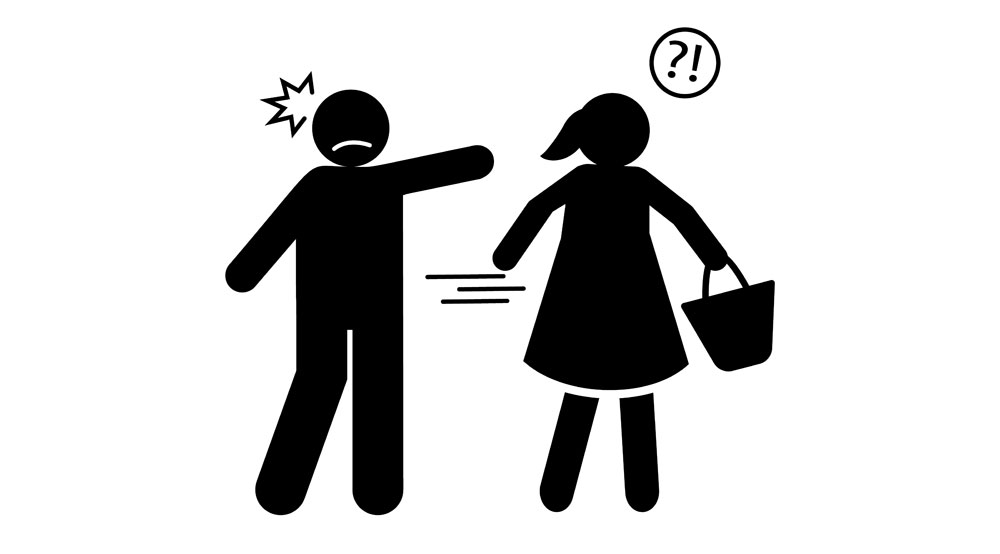 A 4-year-old little girl went to school one day and got hit in the face with a rock.  She was so badly hurt that her mom had to take her to the emergency room for stitches.  Traumatized both physically and emotionally, they went to check in when they arrived at the hospital.  Standing there with a swollen eye, bruised and clearly hurting, the man behind the desk looked at this 4-year-old and said, "I bet he likes you."
Somehow I think this man believed that he was being of comfort to this child; somewhere in his life he had learned or come up with the equation, that a girl being hit hard enough in the face to require stitches, meant that the perpetrator "liked" her.  It is truly horrifying that an injured, impressionable young girl would ever receive such a terrible message.
The fact that any adult would tell a child that being hurt by someone was a sign of affection is just so disturbing.  We all know that children hit each other when they are young, and part of our job as adults is to teach them that hitting is not an acceptable way of expressing their emotions.  It should never be tolerated or rationalized.  Her mom, who was outraged by the man's comment wrote the following: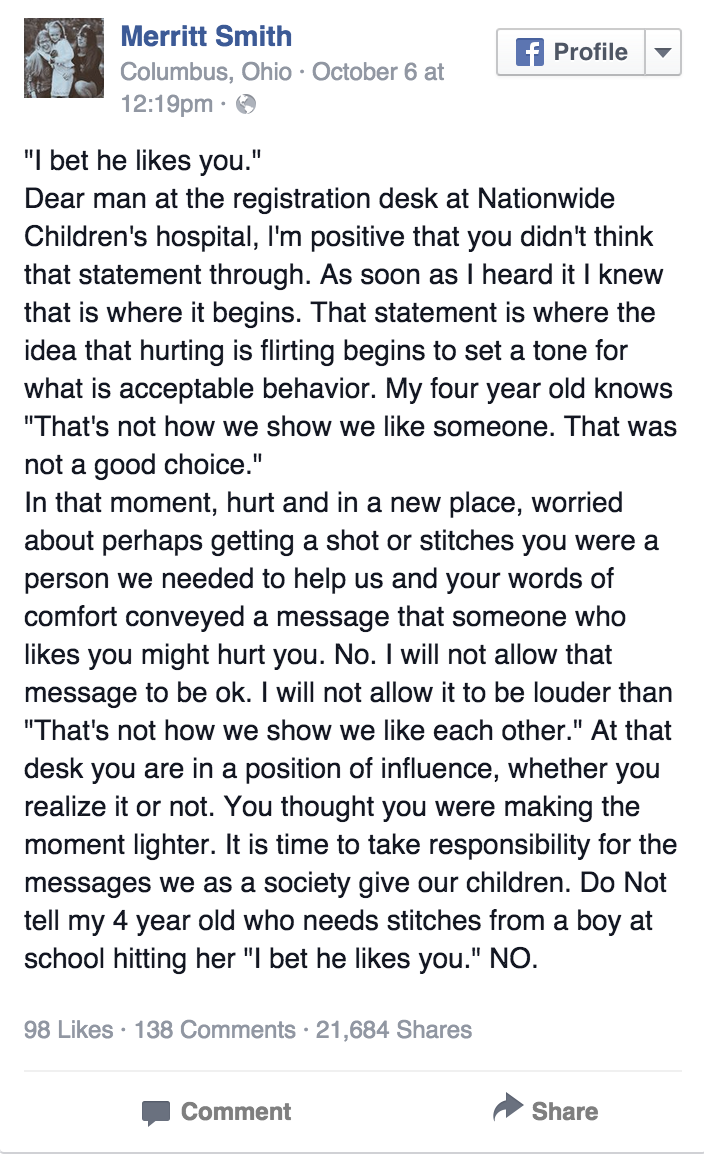 Source: Merritt Smith
This was posted on Facebook, and really says it all.  "I bet he likes you" are not words of comfort at any age.  Would he actually say those words if a young woman came in battered and needing stitches?  Is it ever okay for a girl or woman to rationalize abuse as being a sign of affection?
The answer is a clear NO.  The same answer applies to boys and men. In the video below watch the responses of little boys when they are asked questions about aggression towards girls.
Please SHARE this with family and friends