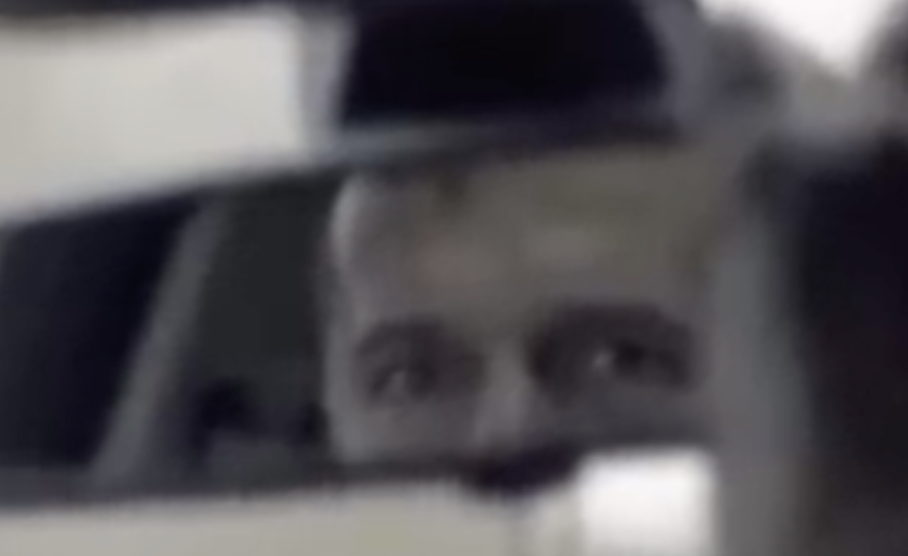 image via – youtube.com
A few years back a video surfaced on the internet that set the world on fire. The video opens with a man driving up to an adoption agency, where a little girl with red hair is watching waiting for someone to adopt her. Then it cuts to the little red head hopping in the car with the man holding her stuffed animal.
During this part of the video it clearly looks like this girl has finally been adopted. Because she is unsure and has trouble trusting she acts really nervous at first. Then the man gives her a look, pats her on the head and tells her she doesn't have to worry anymore because she will be taken care of from from now on.
The girl even through her nervous and uncertainity flashes back a little smile as if she knows her life is truly going to turn around and change for the better. When they finally arrive at her new house, there is already another little girl. At first it seems like a moment of weird awkward tension, but the other little girl quickly runs up to the family's new addition and gives her a big hug!
Then she looks at her new mom, clutches her little stuffed animal the mom flashes her a smile and it seems like a very beautiful moment. For months everything was going well, her nervousness, anxiety and trust issues were fading and she seemed to be loving her new family home.
But just as fast as her world changed months earlier, things began to take a turn for the worse as the family began showing her less attention. That's when her anxiety, nervousness , fear bright lights and loud noises begin haunting her world again. The family seemed to be very displeased as they thought things had initially been going well.
Soon after her new mom starts yelling at her for stuff she didn't do and her new sister stops playing with her. Her sister also grabs the little red heads stuffed animal and begins ripping it apart! Her mom and dad also begin to start neglecting her emotionally while they always seem too busy to pay her any attention.
They all felt she like she she was a problem child and there would be now way they could ever change her bad behavior.  The family even started asking themselves why they even adopted her at all. They has a private discussion about what they should do with her and they come up with a plan.
Her new dad tells her that they are going for a ride in the car to do some things. She hops in thinking wow this is great I'm finally going to get some time alone to spend with my dad. They drove and drove until they reached this old dirt road. They pull of to the side of the dirt road, dad opens up her door, she walks out and dad again pats her on the head. Then he deploys his family's plan to take carae of their situation.
He takes that stuffed animal she loves so dearly and throws it as far as he possibly can! She runs to go get it, thinking maybe we are just having some fun and playing a game. However, she couldn't be more wrong because just as she grabs the stuffed animal and turns back around she sees dads car driving away! Just before he gets out of visual sight, he takes a peak through his rear view mirror and sees the unthinkable..
Watch the video below for the full story:
Please SHARE This with family and friends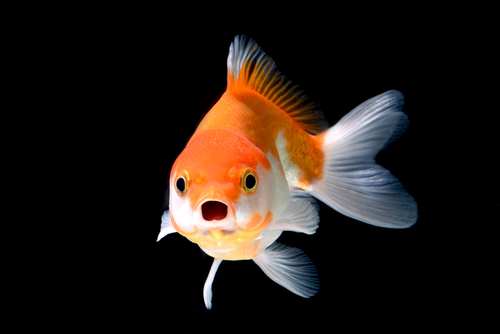 image via – shutterstock.com
Ever since he could remember, little four year old Everett Hamlin from Bonaire, Georgia loved his pet goldfish named Nemo.  The boy was just months old when his parents decided to get him his first pet and, being fond of fish, they ended up bringing home Nemo.  Everett would spend hours sitting in front of the tank just watching the goldfish swim around in his bowl and he'd often pick out special little things to decorate Nemo's home with.
As far as pet goldfish go, the average lifespan is not very long with most living about 2-3 years.  Being 4 years old, Nemo had outlived that average. Everett's mother, Tori Hamlin, attributed Nemo's long life to taking excellent care of him and cleaning his tank often but none of that mattered after one February night
After putting Everett to bed Tori and her husband heard a sound coming from his room.  They asked him what was going on and he told them that his dresser had made the noise. Brushing it off as him being fidgety and playing around, they told him to go back to bed and resumed watching TV.  A little while later, Tori went to check in on her son and immediately noticed that he had pushed a chair in his room up to the dresser. There on the floor beside it lay the fish tank but Nemo was not in it.  Everett was fast asleep in bed, so Tori cleaned up the tank yet saw no sign of the goldfish.
After looking all over the place with her husband for Nemo they finally found him and could not believe their eyes.  There in little Everett's hand was the poor goldfish. Tori was shocked but managed to take a picture before she woke him up.  When he saw that Nemo was dead, he was heartbroken and explained that all he'd wanted to do was cuddle with his pet fish.
Everett's parents knew he had never tried to pick up Nemo before and chalked it up as an innocent, one-time mistake.  After explaining what happened to their son the next morning, he told them that if he got another fish, he promised to never touch it and that from now on he would only touch fish when he went fishing.  
Trying to make the most of the sad situation, Tori decided she wouldn't punish her son.  Rather, she saw it as a chance for him to learn from his mistake. In the end, the family went to the pet store and got a brand new tank along with several goldfish, which Everett has promised not to touch.  After the story went viral, people everywhere praised Tori for showing empathy and understanding and giving her son a second chance to get it right.
Watch the video below for the full story:
Please SHARE This With Family and Friends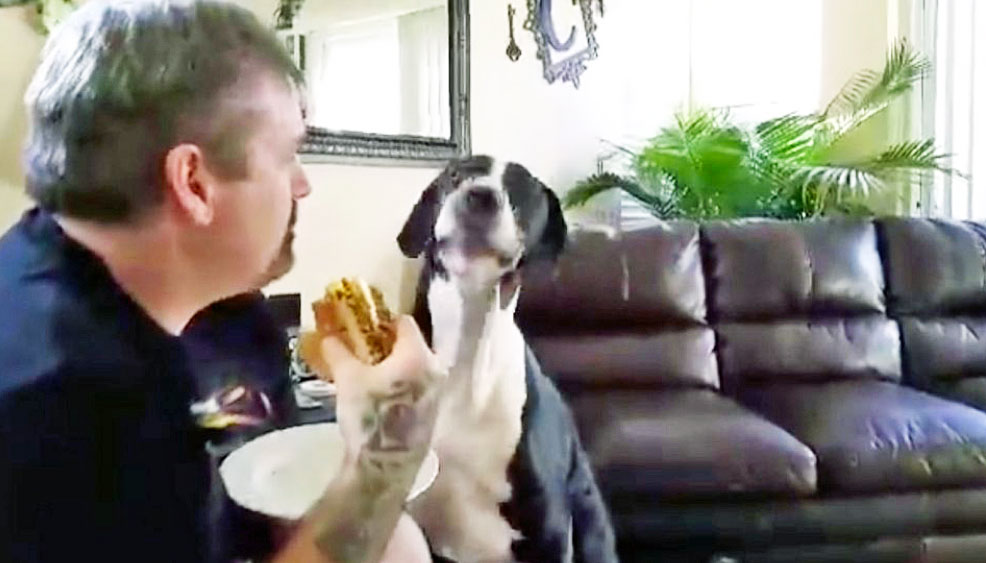 image via – facebook.com
In this hysterical video, Dinky the Great Dane throws a tantrum because his daddy, Ron, won't give up his egg sandwich. It looks so delicious, and Dinky loves eggs so much. He doesn't hold anything back as he lets his dad know just how he feels about the situation! In response, dad uses logics, "You didn't even eat your own food, why do you want mine?" to which Dinky repeatedly replies, "I love you!" It is a respectable and exceptionally effective move!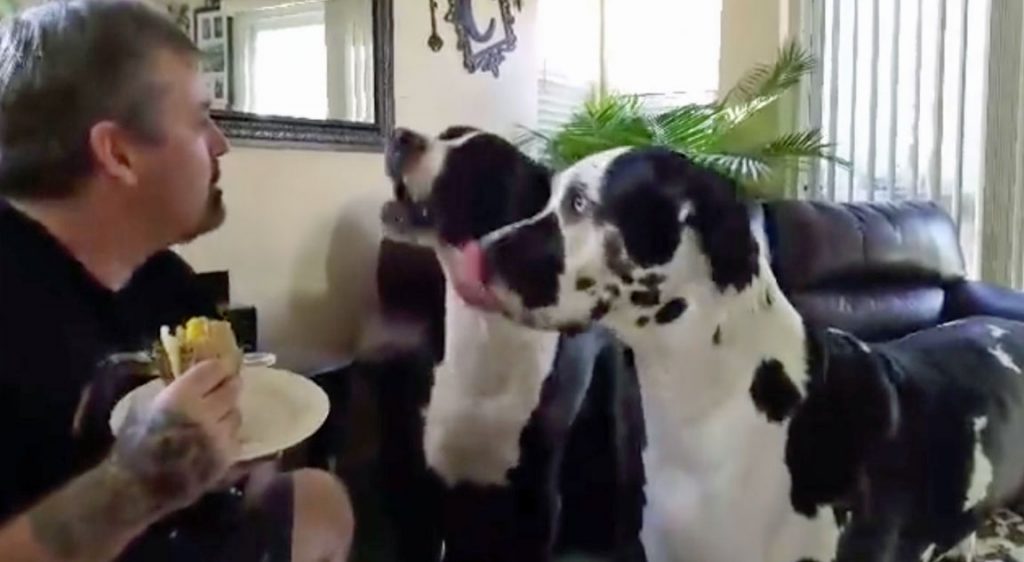 The situation eventually becomes too much for his brother, Romeo, who jumps up and performs a perfect sad puppy routine that no human, no matter how strong, would be able to resist. In a feat of indelible persistence, Dinky and Romeo finally manage to break down dad's defenses and manage to get a little piece of that sweet and tasty egg sandwich action. But, the real winner in this story is their little brother Peanut!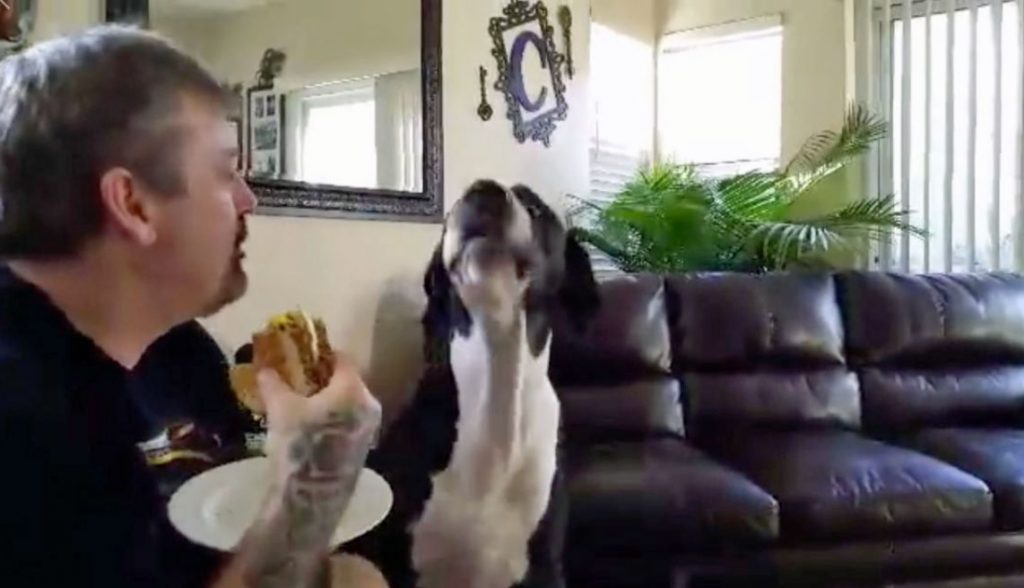 While his brothers were losing their minds over the dire situation, he played it cool and let them do all the work. He made sure to stay close by, however, so that when the inevitable payout commenced, he would get his fair share. Whereas Dinky got paid for his incredible vocal skills, and Romeo for his amazing sad eye performance, Peanut garners his wages through sheer conniving intelligence! Well played, Peanut, well played…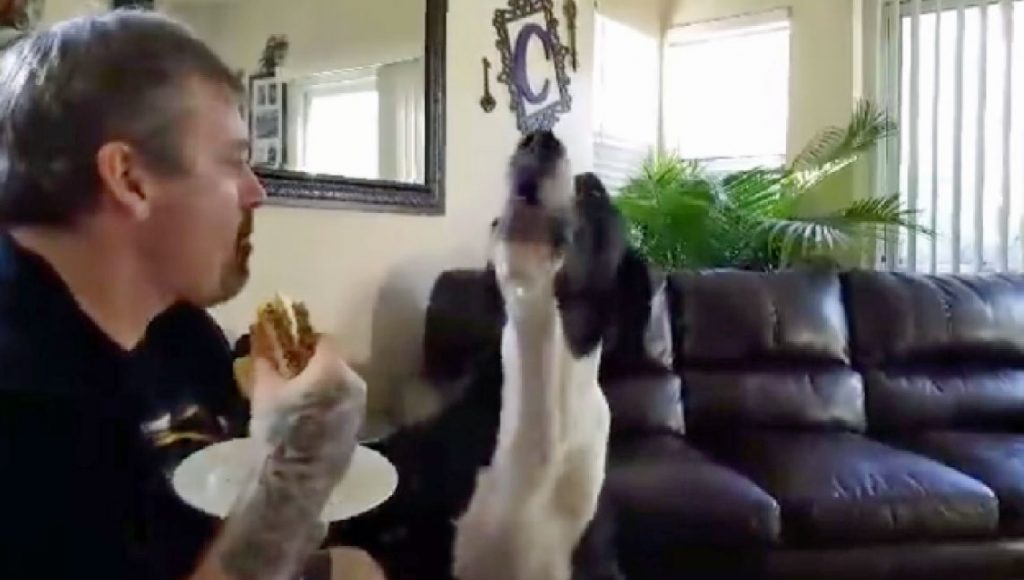 Watch the video below and enjoy!
Please Share This Hilarious Video With Family and Friends Who Need a Smile Today 🙂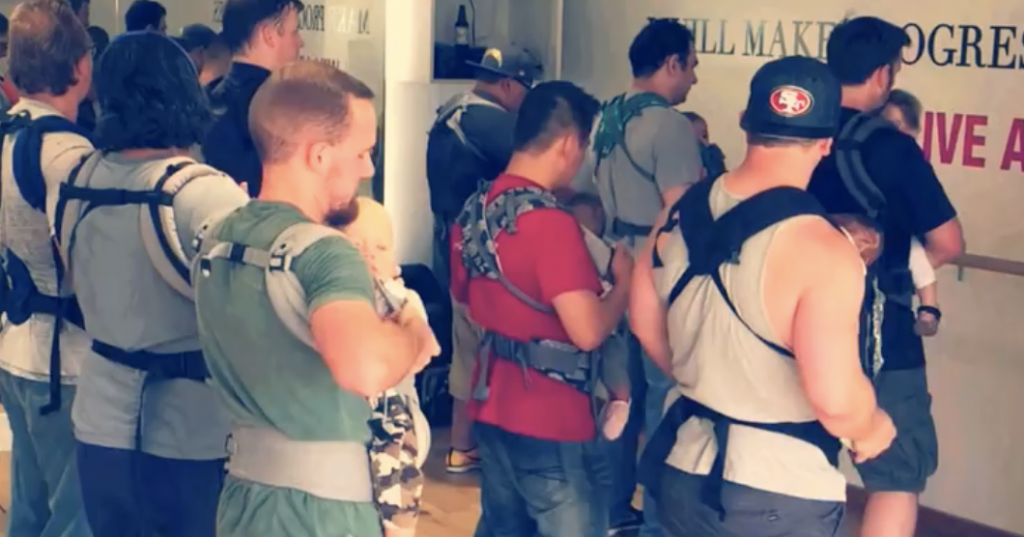 With Father's Day getting closer, this video that I stumbled upon, gave me such a lift! It got me thinking about how much the role of fathers has changed in our society, and how the whole family unit has benefitted from their increased role in their children's upbringing.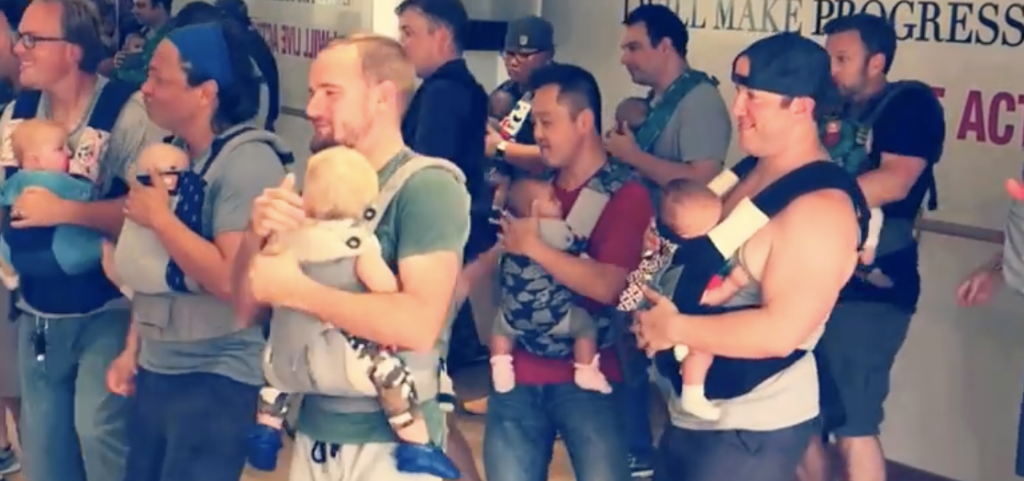 You are about to watch footage from the "GoovaRoo Dance Studio" that gets families to move together to great music, and build memories that will last forever. In this particular video, these wonderfully unselfconscious dads, have learned the choreography to "Play That Funky Music"…wearing their babies!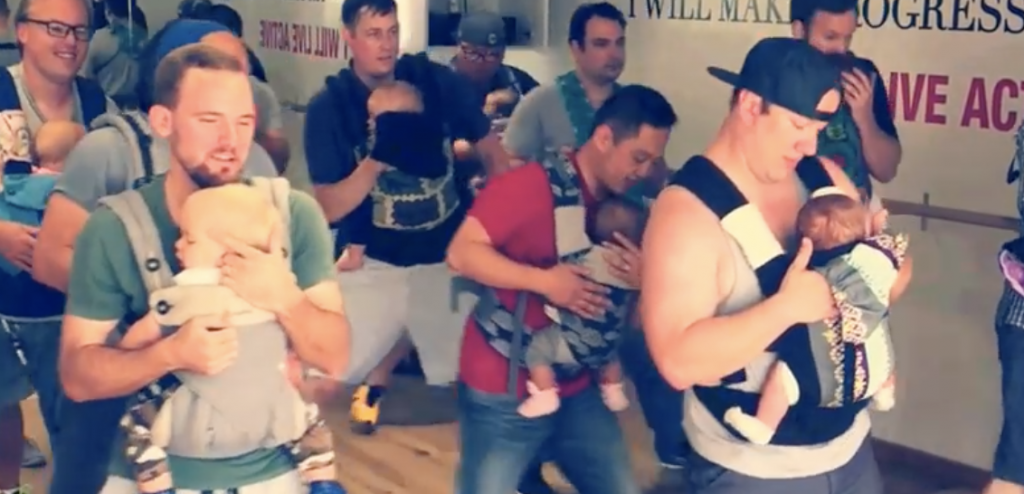 It brings a few minutes of sheer joy and fun, as you watch these loving dads show off their moves, all the while being conscious of holding their infant's heads appropriately.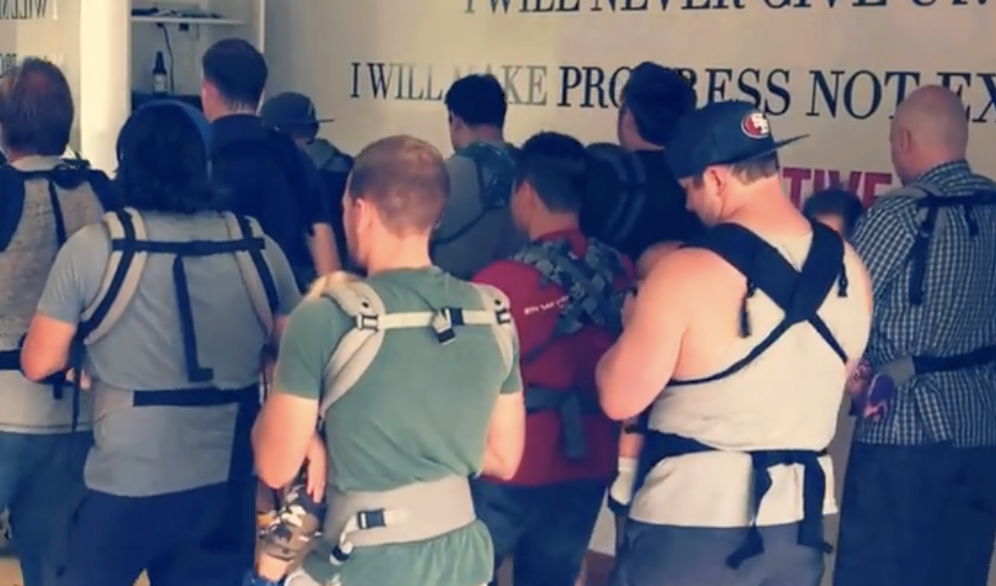 It's such an inspirational idea for family fun and bonding…as it ends with their wives and other kids joining them on the dance floor. This will put a huge smile on your face!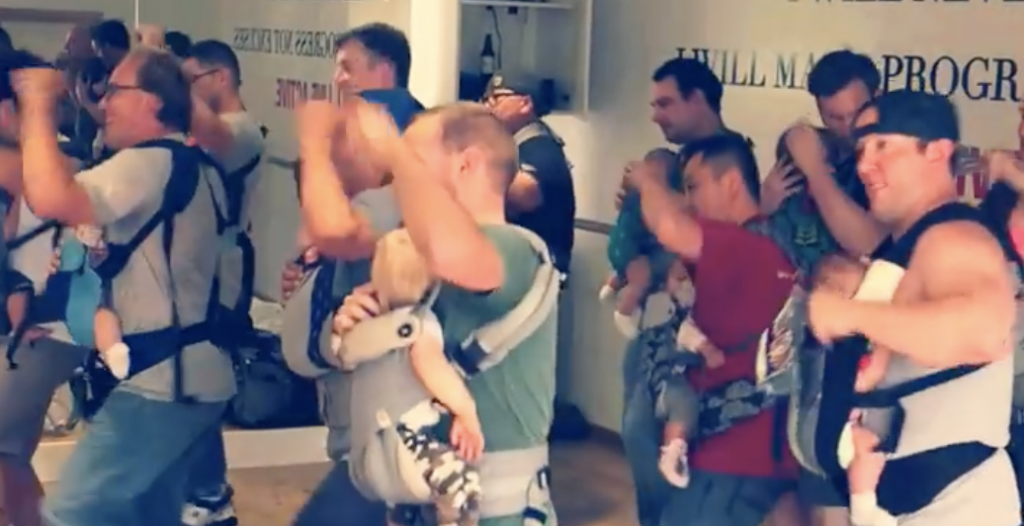 Please SHARE This Video With Family and Friends Who Need a Smile Today 🙂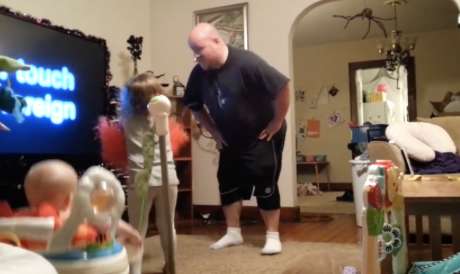 image via – facebook.com
Nobody wants to give fathers a bad rap, but if mommy is the primary caretaker, she sometimes is a bit concerned about leaving the children with him for a prolonged period of time.  Well, anyway, this mama set up a hidden camera to see exactly what goes on in her absence and she had some concerns…
I don't want to tell tales out of school, but one time I left my 2-year-old son home with hubby (many years ago) for a few hours, and came home to find dad asleep and the baby outside taking a walk!  All is well, son has grown up, but that was a scary moment!
The daddy in this video has been left in charge with his 3 year old daughter and her little baby sister.  We see the little daughter in front of a giant screen tv bopping along to a song with baby in the bouncy chair. Where is dad?  Well, don't worry, this dad isn't asleep.  He enters the scene, puts down a laundry basket and what ensues is hysterical!
This mom has nothing to worry about.  Without a self-conscious bone in his body he and his girls enjoy time together that is adorable and heartwarming.  So you think you can dance?  Watch this loving pop in action. His little ones are the apple of his eye and his main priority.  Giggling and fun abound!
Watch the video below and enjoy! 🙂
Please Share This Video with your friends and family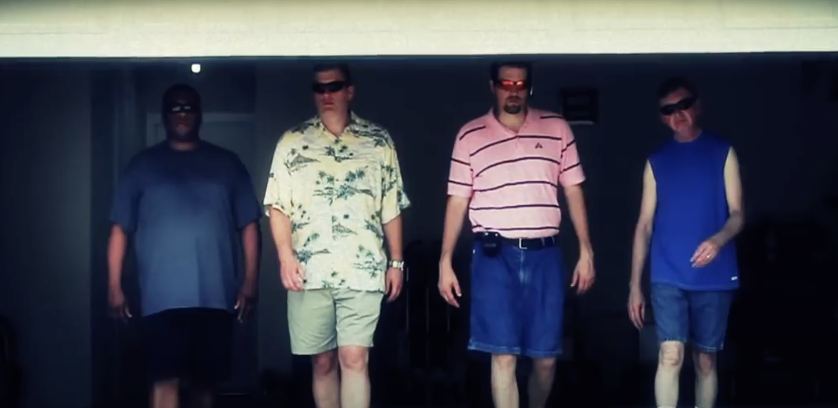 What do you get when you combine fathers with attitude, a killer hip hop beat, and well thought out lyrics about the things that dads do daily? This awesome and hilarious song called "Dad Life" that has become an anthem for cool father's everywhere. Do your father a favor and show him this video, it may just make his day, and possibly even make him a little cooler.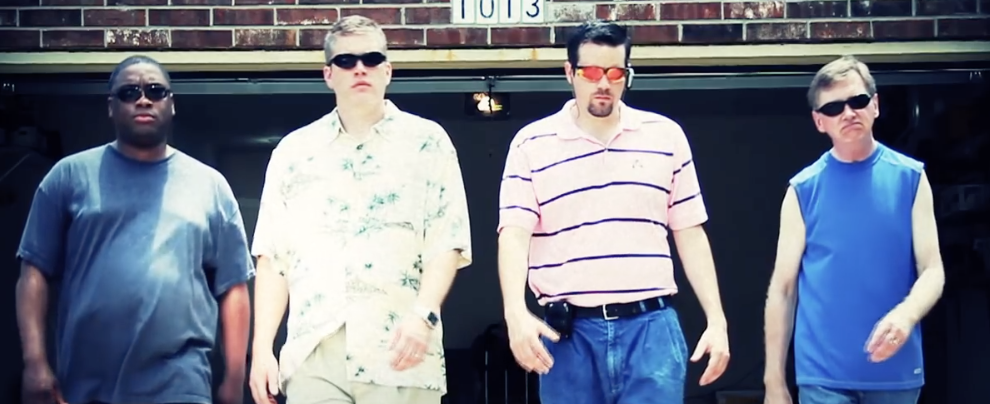 The men who produced the jam took all of the notoriously uncool aspects associated with being a dad and owned them. Their clever and witty lyrics touch upon everything from clothing styles and hanging with the kids to landscaping and grilling.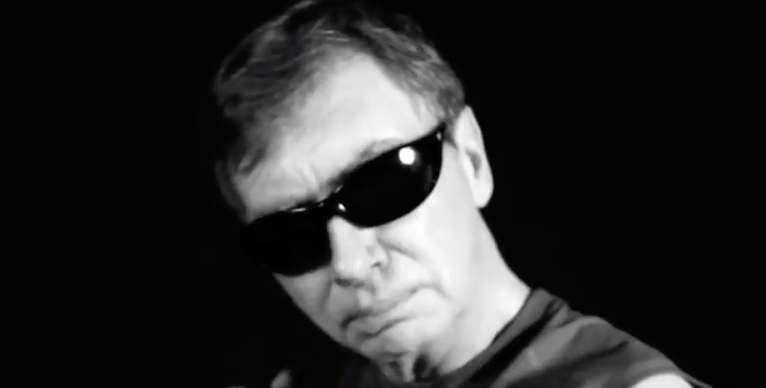 The song was done in a Weird Al-type-style of parody that draws inspiration from common hip hop tunes. The men pose with stern, unsmiling, hard looks on their faces and throw up dad signs instead of gang signs.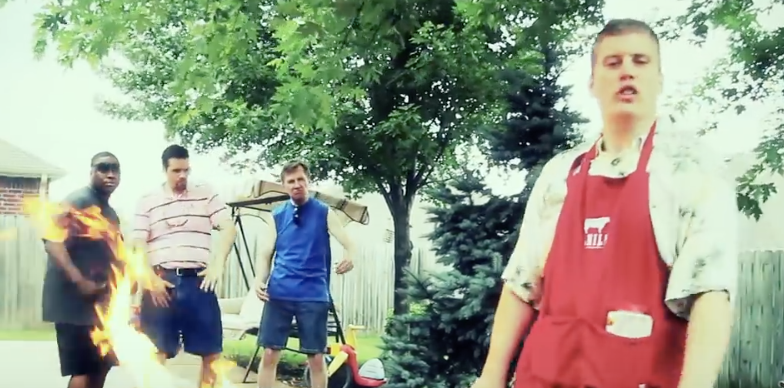 Instead of rolling around on the hottest custom wheels they whip minivans and ride lawnmowers. And forget about wearing designer clothes like Versace and Gucci, these men prefer the dad classic wardrobe of Dockers creased pants, St. John's Bay polos, and gas station sunglasses.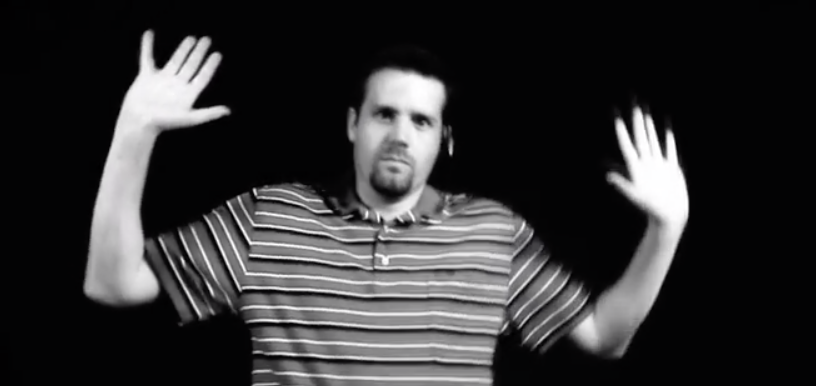 When they rap about money and their "dozens of dollars" it is in reference to how it all goes to their families. The only thing they shoot is "vids of the kids" and when they say "clip for my piece" it is in reference to a cell phone belt holder. They also name drop Disney characters and refer to their children as an entourage.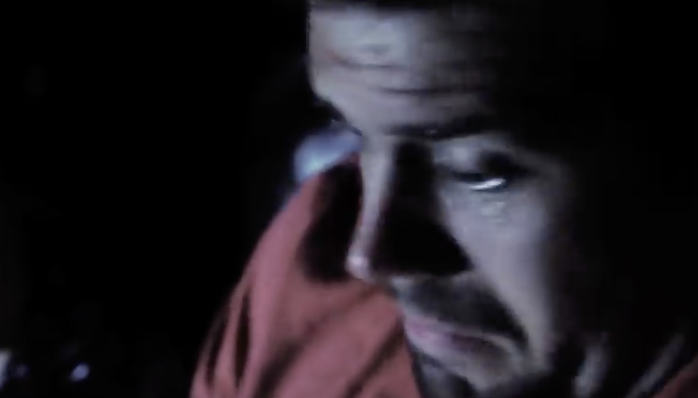 There are so many more hilarious and well played lyrics in the song that make everyday chores and tasks sound hip and fun.  Listening to this song will make everyone appreciate how much they often do for their kids, wife, and others in the family, and for that they deserve respect.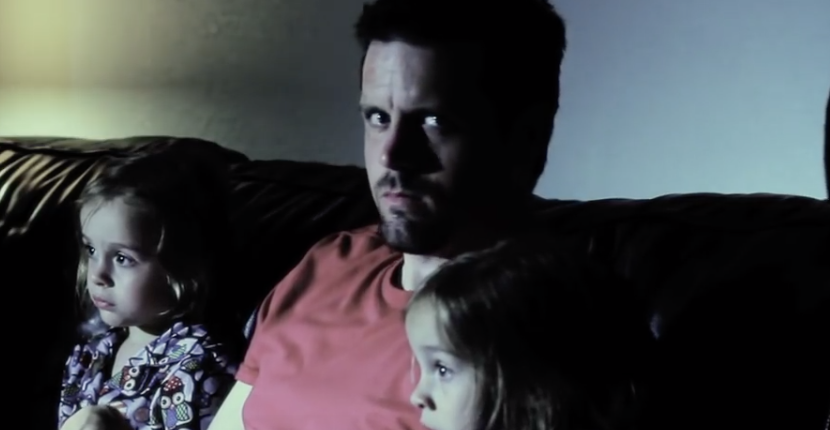 Please Share With Family and Friends